Insights
September / October 2016
Creating Supply Chain Excellence, Achieving Superior Performance
An Interview with Lou Schmukler, President of Global Manufacturing and Supply at Bristol-Myers Squibb
The transformation of Bristol-Myers Squibb (BMS) from a large, diversified pharma company to a focused, specialty biopharma company has been widely recognized as a remarkable business success story. The transformation started in 2007 and was guided by the vision to create a company that would represent the best of both pharma and biotech. The company pursued a three-pronged strategy defined by innovation, integration, and improvement. With the patient as the focus, innovation efforts centered on select therapeutic areas targeting serious disease and unmet medical need.
The company's "String of Pearls" business development strategy largely defined its approach to selective integration. And a comprehensive continuous-improvement program drove efficiency and effectiveness across the entire company. BMS divested businesses, rationalized the portfolio, consolidated the manufacturing footprint, and much more. By practically all measures, the transformation has elevated it to a position of industry leadership, but the company is not complacent. It continues to be bold and evolve with an eye on the future.
BMS's Global Manufacturing and Supply (GMS) organization played a key role in the company's transformation. Pharmaceutical Engineering met with GMS President Lou Schmukler, who shared some views on a number of key supply chain topics. Schmukler started on the shop floor more than 35 years ago and has broad experience across various sectors of the industry.
Reducing variability is synonymous with improving and attaining high quality.
PE: What is your philosophy with respect to supply chain strategy for the industry?
Lou Schmukler (LS): It depends, and by that I mean that the supply chain strategy should be fully aligned with the business strategy for the enterprise. The best supply chain strategy, and the corresponding required capabilities and performance targets, should be primarily driven by the enterprise's business model and objectives. For example, the optimal supply chain strategy for a specialty-care biopharmaceutical company may be quite different from that for a generics pharmaceutical company. That said, there are certainly key emphasis areas that are universally important. I like to refer to these universal areas as "non-negotiables expectations" or "table stakes." These should be foundational to any supply chain and the target should be excellence. These areas include such things as product quality, GMP compliance, safety, environmental sustainability, people development, and organizational culture. I believe that no supply chain organization can aspire to world-class status without first having these core elements well established. Once this strong foundation is in place, the supply chain organization can focus on the next level of strategy, which encompasses making a series of important strategic decisions that will serve, in large part, to define the future strategic framework and operating model for the supply chain.
By working closely with R&D and commercial partners, the supply chain organization can make the best strategic choices so that finite resources are best allocated toward those areas that support the overarching company priorities and create a superior competitive advantage. This effort can lead to what's sometimes referred to as a "segmentation" strategy to supply chain management. The approach entails having different operating principles, investment plans, and metrics across the business from both the portfolio and geographical perspectives, based on unique business needs. An example of this is where two different planning models may be utilized, such as make-to-order vs. make-to-stock. The third level of supply chain strategy builds on the first two. This is where specific priority programs and projects are identified to really maximize the supply chain value proposition for the company and its customers and patients. You could consider these the "game changers" because they unlock tremendous value. These plans usually involve substantial cross-enterprise collaboration and thinking differently about the business. To be a little more specific, for us at BMS Global Manufacturing and Supply, these efforts are mainly associated with the acceleration of bringing new transformational medicines to patients and enhancing the customer-patient focus and experience. An example of this would be a project to re-engineer the new product-launch process such that the time from approval to patient is measured in hours vs. days.
PE: Are there some key elements you have developed or learned through experience?
LS: First, strategy is about choices and tradeoffs. Deciding what you are not going to do is often more important than deciding what you are going to do. I believe this is where some organizations struggle. Without making necessary difficult decisions, prioritization suffers and the resulting dilution effect on focus is not a recipe for success. Said another way, when everything is a priority then nothing really is. The second point is the importance of having a robust strategic planning process. At BMS Global Manufacturing and Supply we utilize Hoshin Kanri, which is a method for ensuring that the strategic goals of the organization drive progress and action at every level within the organization. It eliminates the waste that can come from inconsistent direction and poor communication, and it strives to get every employee pulling in the same direction at the same time. It achieves this by aligning strategic goals with plans of middle management and the work performed by all employees. Achieving this level of alignment within a large organization is not easy but is absolutely key. Vision and strategy without execution is just hallucination. Hoshin Kanri coupled with strong program management discipline ensures effective execution.
Lastly, the ultimate measure of a good supply chain strategy is if it provides the right roadmap that supports the company objectives both near and long term and drives superior competitive performance. By definition, it is an iterative process always involving the cost-benefit analysis and respective tradeoffs of the various operational components.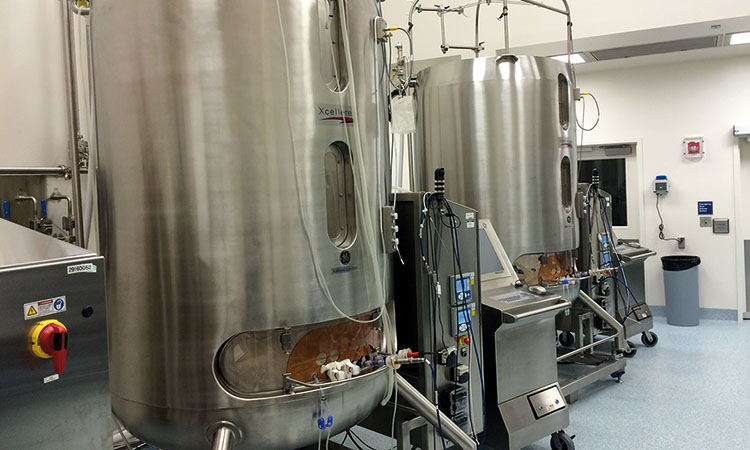 PE: What other supply chain key capabilities and best practices are important?
LS: I believe there are a number of key capabilities and best practices that all supply chains should embrace to achieve superior performance. I like to think about these in three dimensions: people, process, and technology. I will just comment on several of the major ones here, two of which were highlighted earlier: a strong linkage to the business strategy and creation of a tailored supply chain using segmentation. When it comes to supply chain key capabilities and best practices, an appropriate place to start is the company's integrated business planning process. This process is the backbone of a company's supply chain. Translating the company's business plan into a good forecast and executable manufacturing plan is extremely important.
An effective sales and operations planning process is a key component here as well as strong data management. We all know how difficult forecasting can be, especially for new products. But this is just one of the potential uncertainties the supply chain must be designed for and prepared to manage, which brings me to the need for a solid business continuity program. Stated in simplest terms, a business continuity plan starts with a comprehensive risk assessment followed by a risk mitigation plan. There are multiple kinds of risks that must be considered in addition to forecast or demand variability. These include product failures, potential competition scenarios, major supply chain disruptions such as natural disasters, and variables around the regulatory process.
Each company needs to be deliberate in setting the risk appetite thresholds deemed appropriate for their business. There are several levers by which risks can be mitigated. A combination of approaches are often employed that can entail products that are dual sourced across facilities and suppliers, strategic inventory, and/or agile lead times to shorten time of recovery. An important point here is that risks can be significant and the associated mitigation plans expensive, so decisions should be made cross functionally with executive management understanding and endorsement.
Next, there is the need for a well-thought-out supply network strategy. Most companies do not have the luxury of starting with a "clean sheet of paper" when it comes to their supply network strategy; they already have their legacy network, which often is not optimally designed to support current and/or future business requirements. Questions around site locations, scope, and technology platforms all need to be addressed. Multiple decision-making criteria go into designing the ideal supply network, and this can involve balancing competing priorities. For example, maximizing asset utilization to optimize cost may conflict with installing redundancy in order to mitigate risks to ensure business continuity.
GMS Product Robustness Approach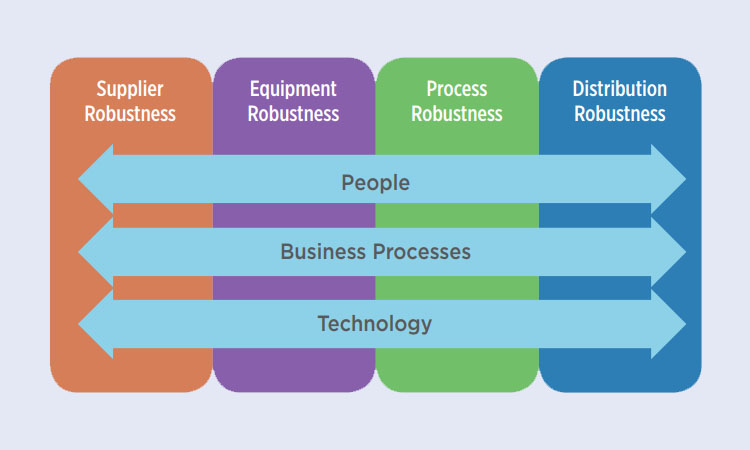 Requirements for local manufacturing can further complicate decision making. Another important strategic decision here is determining what operations and activities to perform internally vs. externally. Outsourcing can be driven by a number of factors. It might be desirable when there is a need for external proprietary technology, backup capacity, a necessary geographical presence, incremental scalable capacity, or cost leverage. Over the past decade, progressive supply chain organizations have focused on new external manufacturing paradigms to achieve a more integrated and seamless relationship with their contract manufacturing partners. The bottom line in all of this is that the ideal supply network should be fit for purpose. Two attributes for the supply chain organization that have become more and more important are agility and flexibility. With the increasing number of disruptions, uncertainty, and volatility, these two attributes are both necessary core capabilities and a potential source of competitive advantage as well.
An initial assessment of where these capabilities are most needed is a good place to start. This activity should be undertaken with an end-to-end view of the supply chain. Then the effort needs to turn to the building of these capabilities for the targeted functions and processes. Having the ability to "look around corners" to sense, detect, and respond to events in a timely manner is important. The focus should cut across the supply chain and include product development, purchasing, production and planning, and logistics. Some of the relevant programs that supply chain organizations have implemented with great success are lead time reduction initiatives, late-stage customization or postponement, flexible multi-product operations, scalable variabilized capacity, and supplier contingency planning. I would also add here that external focus, or looking outside the industry, is an invaluable exercise. Especially in this area of agility and flexibility where there is much to be learned and best practices to be replicated from automotive, high tech, consumer goods, and other industries. Lastly, there are a few other areas that could be particularly relevant to a given business. One is the area of complexity.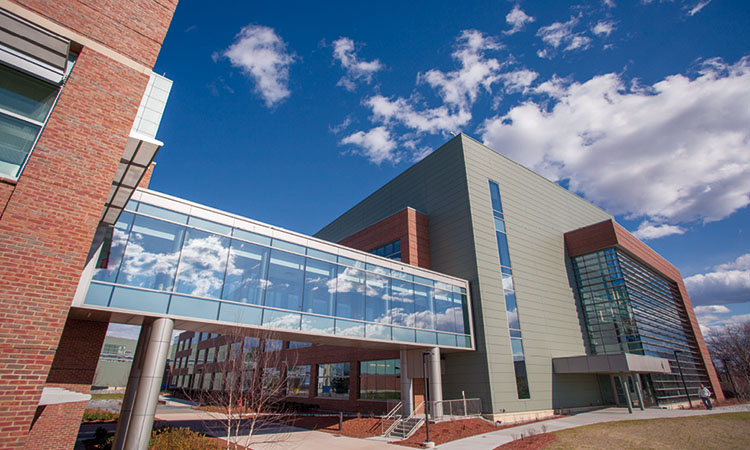 Complexity is increasing and a major challenge for the supply chain. Complexity management can greatly improve supply chain efficiency and effectiveness. Through a cross-enterprise pragmatic approach, the elements of complexity can be best managed. Main elements to evaluate can include the number of products and SKUs, geographies and different regulatory requirements. The second area is that of measurement. We are all familiar with the saying "you can't manage what you don't measure." Having a complete and balanced scorecard, incorporating leading and lagging key performance indicators, that measures results as well as capabilities internally and externally is central. And the third area is collaboration from end to end. I emphasized alignment earlier. Supply chain management is a team sport. An integrated approach, shared objectives, transparency, and communications are all key success factors.
Vision and strategy without execution is just hallucination.
PE: You stated earlier that quality was a basic and foundational element. What is your view of the linkage between quality and supply chain excellence? LS:
Enemy number one of the supply chain is variability, so a primary goal needs to be the identification and minimization of all forms of variability. Reducing variability is synonymous with improving and attaining high quality. You cannot hope to have a reliable, agile, and cost-effective supply chain without high quality. So pursuing high-quality outcomes and getting it right first time should be viewed as an investment and not a cost. For many years, the Juran Trilogy Model for quality management has been fundamental to my view of high quality. It consists of three important management tools that work together: quality planning, quality control, and quality improvement. In Six Sigma terms, the related process is called DMAIC. Dr. Joseph Juran was a pioneer in emphasizing the important role of statistics in manufacturing, which I like to refer to as the language of variability and quality. Originating from all his work was the concept of cost of poor quality, and it is in this concept that the business case for high quality and its linkage to supply chain excellence is made. This is all about understanding the cost of providing poor quality and service. By focusing on root cause and prevention, you maximize return on quality (ROQ) and drive down non-value-added failure and appraisal costs that can be significant.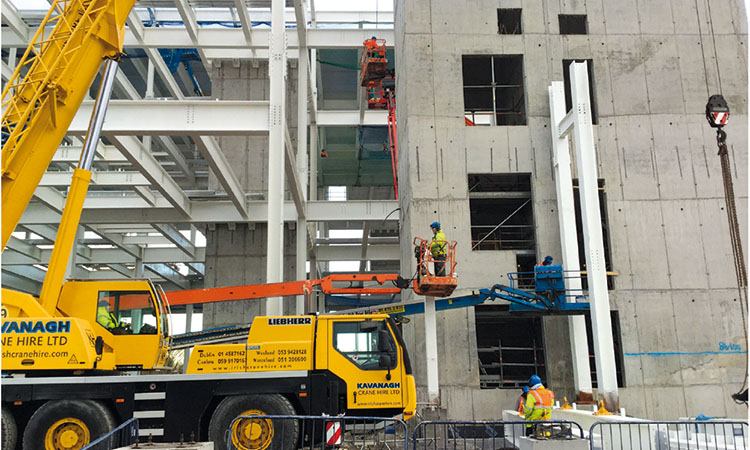 PE): How is that put into practice at BMS?
LS: Our aspiration has been to move from a reactive to a proactive mindset and thereby realize the greatest ROQ. This is at the heart of our quality system and plan. A main component of our approach is our product robustness program. The vision for this program is the certainty and ability to prove that any product, at any time, in any place, from any site (internally or externally), meets BMS's high-quality standard and is available when and where it is needed. It has four pillars: supplier, process, equipment, and distribution robustness with process, technology, and people elements common to each pillar. Program scope includes the full product life cycle, from development to late life cycle and discontinuation. We set targets for CpK across the portfolio and for each of our supply nodes with a goal to exceed 1.33 for all critical quality attributes.
This robustness work, coupled with our "inspection-ready everyday" philosophy, has been pivotal to raising the reliability and performance of the supply chain. In addition, BMS has been very engaged with our peer companies, regulatory partners, and ISPE on both the drug shortages and quality metrics topics. Our supply chain and aligned quality efforts are obviously key to our methodologies for both of these. Lastly, I want to just briefly comment on the "soft" side of attaining quality excellence: the people and culture aspects. As with any business-critical priority, the tone must be set from the top and reinforced by every leader in the organization. Painting a vivid picture of the future state for quality and the associated expected behaviors is very important. It is then incumbent on leadership to create an environment in which people are empowered to identify and raise issues and then be provided with the training and tools to resolve them. At BMS, our people strategy, which focuses on engagement and development, in concert with our operational excellence (Continuous Improvement-Lean Six Sigma) program are integral to this.
Three Dimensions of Supply Chain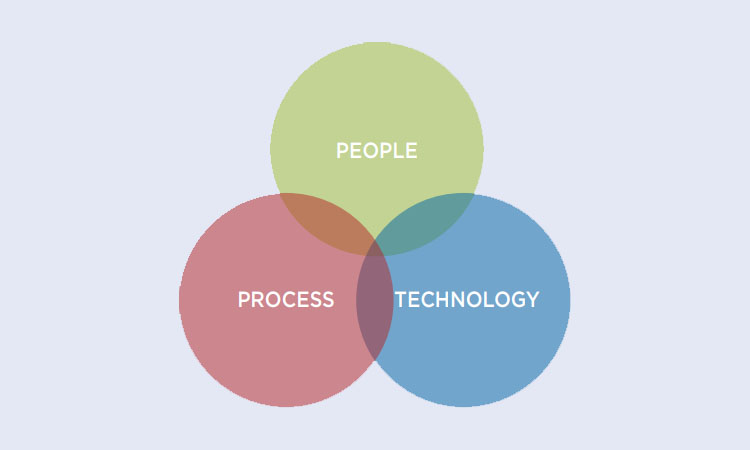 PE: Perhaps you could conclude by speaking about a few of the major trends and challenges you see the industry's supply chains facing as we look to the future?
LS: A very important question. The first one that comes to mind is the need for the supply chain to be able to support the increasing R&D productivity, shift from primary to specialty care portfolios, and the associated growth in biologics. Let's consider some of the implications. A related issue is the advent of accelerated regulatory review and approval. Supply chain organizations need to revisit their development and launch processes. The new time-constrained development environment makes ensuring robustness more challenging given limited process experience and data. In addition, legacy supply networks will need to be restructured for the new specialty care products. The trend toward personalized medicines could indicate an increase in smaller-batch production and complexity. Today, biologics sales are approximately 20% of total worldwide industry sales with a forecasted 15% annual growth rate. The continued growth in biologics is certainly a challenge for the industry's supply chain organizations. An estimated 40% of the industry's R&D pipeline is biologics. The introduction of biosimilars into the market will place added demands on already-constrained global capacity. In response, the industry has increased global capacity by over a third over the past six years and will be investing in excess of an additional $20 billion over the next six years. In addition to capital expansion, bioprocess optimization should continue to play a significant role in creating new capacity as it has over the past two decades. It is also worth noting that some companies now have a growing need for added pharmaceutical API and formulation capacity, which have not been seen for some time. There are several other areas that I think are noteworthy. I mentioned external manufacturing earlier, and I believe this is a trend that will continue. Business development activity has been fast and furious of late but is now slowing a bit. That said, supply chains will need to be prepared for the possible merger, acquisition, or the acquiring of new assets. I expect the further globalization of supply chains and the need for manufacturing in developing markets will also continue. In addition, with the ever-increasing cost pressures on governments and health care providers, cost containment will become more and more important. Supply chains will need to become more efficient. Of course, the new technologies coming out of R&D and those for commercial application, such as antibody drug conjugates or disposable single-use technology, will present both opportunities and challenges. Lastly, preparing for the workforce of the future will need to be a top priority. Major trends will sweep across and radically change the landscape of workplaces and the makeup of the workforce. The industry will need to address issues such as the significant diversification of the workforce, requisite new skills, and the pervasive impact of growing globalization.
Strategy is about choices and tradeoffs.
Closing
There was one recurring theme throughout our discussion: leadership.  Schmukler has a deep passion for the subject. At times he speaks about it as a seasoned senior executive and others a business school professor.  His primary view is that culture and performance are a direct reflection of leadership. So when it comes to improvement and change, leadership effectiveness is where you must start. He articulated four traits he thought vital for future leaders: the ability to see the big picture, having change agility, adeptness at talent development and authentic leadership. He then described the leadership dimensions he regarded as crucial for the successful 21st century supply chain leadership team: the need for alignment, external focus, fast high-quality decision making, risk taking and experimentation, and the ability to move horizontally and vertically across roles and levels. It was very clear that leadership development is a key focus for him and BMS. Schmukler talks easily about his personal lessons learned and that both successes and mistakes have been equally valuable. In describing those lessons, he references a Max DePree quote: "The first responsibility of a leader is to define reality. The last is to say thank you. In between, the leader is a servant." Exemplified in all his comments is a leader with a tremendous respect and admiration for his people.
1Thomas Ebel, Ulf Schrader, and Ketan Shah (2014). McKinsey & Company, Finding opportunity in uncertainty: A new paradigm for pharmaceutical supply chains.
2Eric Langer (editor), (2015). BioPlan Associates, Inc., 12th Annual Report and Survey of Biopharmaceutical Manufacturing Capacity and Production: A Study of Biotherapeutic Developers and Contract Manufacturing Organizations.
3Roselinde Torres, Martin Reeves, and Claire Love (2010; updated 2014). Adaptive Leadership. BCG Perspectives.
4Roselinde Torres, Nneka Rimmer (2011). The Five Traits of Highly Adaptive Leadership Teams. BCG Perspectives.
5Joseph Defeo, and J. M. Juran (2010). Juran's Quality Handbook: The Complete Guide to Performance Excellence.