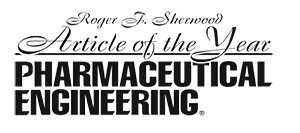 About the Roger F. Sherwood Article of the Year Award
ISPE's Roger F. Sherwood Article of the Year award was established in 1993 to increase article submissions and improve the quality of those received. In the early years, judges rated each issue's technical articles against a set of six criteria, then selected an annual winner.
Two decades later, while recognizing the merit of the original intent, the award has been refreshed to showcase the best content in Pharmaceutical Engineering® magazine, increase industry recognition, highlight ISPE's reputation as a global knowledge leader, and bolster magazine content quality.
For 2017, a panel of judges was assembled, comprising two Board members, the Knowledge Network Council Chair, Pharmaceutical Engineering Committee Chair, Guidance Documents Committee Chair, one PEC member, two Young Professionals, and two senior ISPE staff members.
To be considered, each article was required to meet the following criteria:
Cited in other articles or presentations 
Describe or provides industry-leading concept/position/development
Be well written and referenced
Demonstrate a progressive and productive approach for the industry
After reviewing all articles published in 2017, the judges chose a unanimous winner:
2017 Article of the Year 
May-June 2017
A Holistic Approach to Production Control: From Industry 4.0 to Pharma 4.0
By: Prof. Dr. Christoph Herwig, Christian Wölbeling, and Thomas Zimmer, PhD
The current submission-based control strategy plays a key role in ensuring that critical quality attributes are met, and the quality target product profile is realized. It does not, however, consider GMP, facilities, utilities, equipment and other production-specific controls to mitigate risk and ensure an effective, reliable, and stable production process. In addition, the effect of unknown process parameters, raw material attributes, and impurities usually are not sufficiently addressed in the control strategy lifecycle management—it is often impossible to predict such variations for a production lifecycle already in development
The ISPE Pharma 4.0 SIG team is proud to receive this award. This article is a great collaborative work, with contributions from SIG members; it reflects the start of a practical road map for applying digitalization and Industry 4.0 in the pharmaceutical industry. We look forward to developing the "holistic control strategy" concept, based on ICH standards, to bring digital maturity and data integrity by design into the pharmaceutical value network and enable flexible pharmaceutical manufacturing.

2017 Article of the Year Award Authors
---
Previous Article of the Year Award Winners and Finalists
2016:
2015:
"WINNER:" Risk Analysis and Annual Training Program Definition
By: Luca Falce
A Framework for Implementing Stage 3 Continued Process Verification for Legacy Products
By: Bikash Chatterjee and Wai Wong
A Review of the Regulations and International Developments on Quality and Supply Chain Integrity of Pharmaceutical Excipientsn
By: Sia Chong Hock, Sean Lee Ji Yang, Vimal Sachdeva, and Chan Lai Wah
The FDA Observation Response: Seven Common Mistakes
By: Carol Brandt
Scientific and Regulatory Considerations for Implementing Mathematical Models in the Quality by Design (QbD) Framework (Part 1 of 2)
By: Theodora Kourti, John Lepore, Lorenz Liesum, Moheb Nasr, Sharmista Chatterjee, Christine M.V. Moore and Evdokia Korakianiti
Content Uniformity Discussions: Current USP Developments Regarding and a Comparison of Two Relevant Statistical Approaches to Assess Content Uniformity
By: James Bergum, William Brown, Jon Clark, Thomas Parks, Thomas Garcia, James Prescott, Charles Hoiberg, Sami Patel, and Ravindra Tejwani
2014:
"WINNER:" Chemical and Media-Free Pretreatment for Biopharma RO – Electrolysis for Scale Precipitation and UV Dechlorination
By: Nissan Cohen and Shlomo Sackstein
A Review of Regulations and Developments in GMP and Supply Chain Integrity of Active Pharmaceutical Ingredients
By: Sia Chong Hock, Katherine Loh Kai Xin, Vimal Sachdeva, and Chan Lai Wah
A Steam Sterilization Principles
By: Marcel Dion and Wayne Parker
Evaluation of Controlled Manufacturing Environments following an Air Handling Unit Shutdown
By: Catherine E. Anderson and Brian J. Lloyd, PhD
Applying a Consistent, Compliant, and Practical Risk-Based Validation Process for Laboratory Systems
By: Anil K. Rattan, PhD and Michael Rubacha
A Changing Landscape: Perspectives on Temperature Management for the Distribution of Non-Refrigerated Clinical Supplies Description
By: Dr. Nicole Assfalg, Ted Bradley, Tim Brewer, Sébastien Delporte, Kristen DeVito, Bruce Guenter, and Patricia Thomas