Highlights
ISPE Student and Emerging Leader Hackathon
The ISPE International Hackathons are events for recent graduates and students. The main objective of a Hackathon is to divulge knowledge, in an innovative situation, on the trending topics of the pharmaceutical sector, and to provide and promote networking opportunities between students, recent graduates, and industry professionals.
Upcoming Hackathons:
2022 ISPE International Emerging Leader Hackathon
29 – 30 October 2022
The 2022 ISPE International Emerging Leader Hackathon will be held the weekend before the 2022 ISPE Annual Meeting & Expo in Orlando, FL, USA at the Gaylord Palms Resort & Convention Center. The theme of this year's Hackathon is Cell & Gene Therapy.
How does it work?
The students and recent graduates will be divided into multidisciplinary teams. Each team will be tasked with analyzing a problem statement, acting as a consultant group hired by Genentech to help the company solve an issue, with the goal of pitching it to a panel of expert judges at the culmination of the Hackathon.
At the end of the two days, each team will present to a group of judges and industry leaders on Sunday. The judges will evaluate the presentations, provide feedback to the teams, and identify the best solution. The winning team will be announced during the ISPE Membership Meeting and Awards Lunch.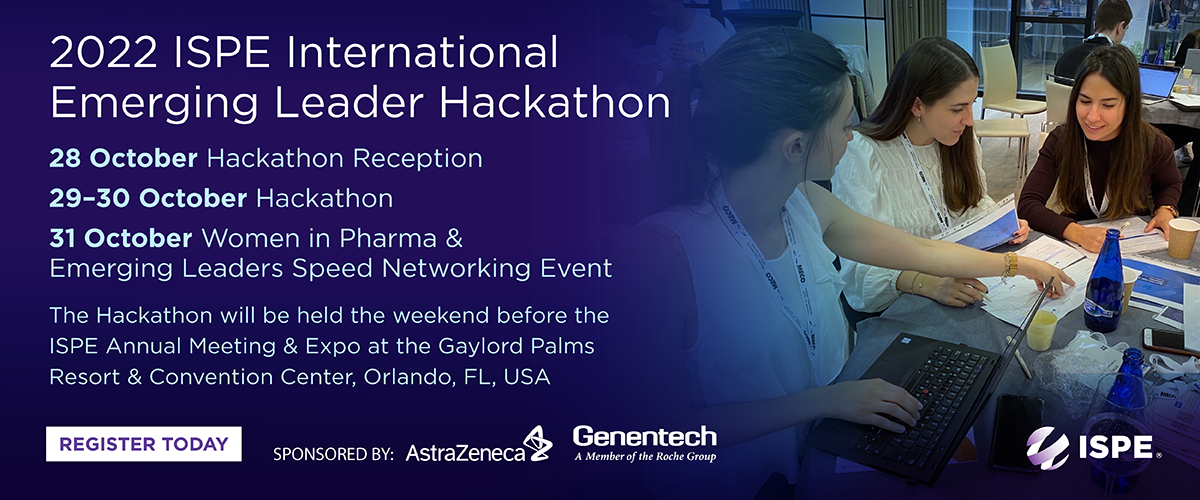 ---
2022 ISPE Pharma 4.0™ Emerging Leader Hackathon
5 - 6 December 2022
Will be held before the ISPE Pharma 4.0™ and Annex 1 Conference in Vienna, Austria, EU. The Hackathon will take place at Takeda Pharmaceuticals, Orth (bus transfer from conference hotel in Vienna included in the event schedule).
How does it work?
ISPE Pharma 4.0™ Hackathons typically span over the course of two days. Participants get together in groups and work on specific problem statements. During the intensive sessions they are supported by senior industry coaches. The innovative outcomes and potential technical solutions are presented on the second day. A jury evaluates the results, provides feedback, and awards the team with the best solution. 
The theme of the ISPE Pharma 4.0™ Hackathon will be A Hands-on Pharma 4.0 Blueprint Manufacturing Exercise Where Digital and Quality Matters.
The ISPE Pharma 4.0™ Hackathon setup ensures a hands-on and live experience by working with a real cell-line process. The different work streams are driven by priorities in the manufacturing and business environment. Each work steam is supported by several selected industry partners. The Hackathon aims to develop a manufacturing blueprint considering the needs and possibilities of Pharma 4.0.  
The planned workstream are:
System and Data Architecture
Operations and Workflows
Shop Floor Integration
Quality and Validation
Simulation und Data Analytics
---
Who Is Eligible for Student Membership?
Individuals enrolled full-time at a college, university, or other educational institutions are eligible for Student Membership with proof of status. We realize circumstances occur when an individual may not be enrolled full-time as a student, however, if the primary intention of the individual is education, student membership is allowed.
Benefit Highlights
---
How to Join
To join, complete an online membership application or fax/mail a Membership Application with payment. Immediately after payment is accepted, students must complete the process by providing proof of their student status; any of the methods listed below are acceptable:
Current semester schedule showing number of credits
Transcript (official or unofficial) with number of current credits
University letter stating "student" status
University Web site page indicating the date and "student" status
Valid and current Student ID card
The proof of student status can be faxed, emailed as an attachment, or mailed to ISPE's Member Services.
---
Emerging Economies
Students residing in an Emerging Economy country receive a discount on dues by paying US $10 or €10 through the local ISPE Affiliate or Chapter. Please contact the local ISPE Affiliate/Chapter in your area for complete details.
---
What Comes After Graduation?
Existing Student Members may extend their Student Membership for one year following graduation. Exceptional educational programs, unique networking opportunities, and the promise of developing professional relationships with ISPE Members prove to be invaluable tools when it comes to landing a job. Finding a job often is about "who you know" and ISPE offers students access to a vast network of potential employers.
Students are invited to join the ISPE Emerging Leaders Community of Practice (CoP). Join in discussions and review documents from the file library. You can also ask questions of ELs and Recent Graduates and obtain their perspective on a wide array of topics and issues. Find out how to join.
---
Student Chapters
Each Student Chapter is sponsored by its local ISPE Affiliate or Chapter, which provides valuable support in the form of Industry Advisors to mentor students. 
An ISPE Student Chapter brings the following benefits to your university:
Access to the latest technology and industry trends from professionals around the world
Opportunities to develop collaborative student projects between academia and industry professionals
Opportunities to partner with Student Chapters in other countries for global networking and information exchange
ISPE honorary membership for Faculty Advisors
Complimentary copies of ISPE technical publications for the university library
Association with ISPE and its collaborations with key regulatory bodies from around the world, such as the U.S. Food and Drug Administration (FDA), the Japanese Ministry of Health, Labor, and Welfare (MHLW), the Medicines and Healthcare Products Regulatory Agency (MHRA), World Health Organization (WHO), European Agency for the Evaluation of Medicinal Products (EMEA), and the International Conference on Harmonization (ICH)
Find more information for Student Chapters by browsing the Student Chapter Resources.

Check with your university or local Affiliate or Chapter for more information, or send a message to ISPE at https://ispe.org/contact-us.
---
Student Resources
University Biopharmaceutical Engineering and Related Curriculums
There are numerous colleges and universities that have undergraduate and graduate programs in Biopharmaceutical Engineering and Biomanufacturing, as well as other related curriculums. Some of these, many of which are home to ISPE Student Chapters, are here:
---
Questions? 
For assistance identifying your local Student Chapter and to get answers to your questions about ISPE Membership and its' many benefits, contact:
ACRelations@ispe.org
* Nations are grouped in tiers based on World Bank's system for classifying national economies by income per capita. Tier 1 corresponds to the World Bank's list of high income nations and Tier 2 the upper middle income nations. Tier 3 includes all nations whose economies do not yet reach the Tier 2 level. To learn more about this system see World Bank's country classifications. The number next to each country on the list below represents its Tier. Use the chart above to determine ISPE membership dues in your country.
*** The U.S. Department of the Treasury, Office of Foreign Assets Control prohibits ISPE from offering membership in Cuba and Sudan. ISPE does not have an OFAC license to do business in Iraq, Iran, or the Democratic People's Republic of Korea (North Korea.)
Tier 1
Andorra
Antigua & Barbuda
Aruba
Australia
Austria
Bahamas
Bahrain
Barbados
Belgium
Bermuda
Botswana
Brunei
Canada
Canary Islands
Cayman Islands
Chile
Cook Island
Croatia
Curacao
Cyprus
Czech Republic
Denmark
Estonia
Falkland Islands
Faroe Islands
Finland
France
French Guiana
French Polynesia
Germany
Gibralter
Greece
Greenland
Guadeloupe
Hong Kong
Hungary
Iceland
Ireland
Israel
Italy
Japan
Korea, Republic Of
Kuwait
Latvia
Liechtenstein
Lithuania
Luxembourg
Macau
Malta
Martinique
Monaco
Netherlands
New Zealand
Norway
Oman
Palau
Panama
Poland
Portugal
Qatar
Saudi Arabia
Seychelles
Singapore
Slovak Republic
Slovenia
Spain
Sweden
Switzerland
Taiwan
Tasmania
Trinidad and Tobago
United Arab Emirates
United Kingdom
Uruguay
USA
Vatican City
Virgin Islands
Tier 2
Albania
Algeria
Armenia
Argentina
Azerbaijan
Belarus
Belize
Bophuthatswana
Bosnia and Herzegovina
Brazil
Bulgaria
China
Colombia
Costa Rica
Cuba ***
Dominican Republic
Ecuador
Equatorial Guinea
Fiji
Gabon
Grenada
Guatemala
Guyana
Iran ***
Iraq ***
Jamaica
Jordan
Kazakhstan
Lebanon
Libya
Macedonia
Malaysia
Mauritius
Mexico
Montenegro
Namibia
Nauru
Paraguay
Peru
Romania
Russia
Saint Vincent
Samoa
Santa Lucia
Serbia
South Africa
Suriname
Thailand
Tonga
Turkey
Tuvalu
Venezuela
Tier 3
Afghanistan
Angola
Bangladesh
Benin
Bhutan
Bolivia
Burkina Faso
Burundi
Cambodia (Kampuchea)
Cameroon
Central African Republic
Chad
Congo
Egypt
El Salvador
Eritrea
Ethiopia
Gambia
Georgia
Ghana
Guinea
Haiti
Honduras
India
Indonesia
Ivory Coast
Kenya
Kosovo
Kyrgyzstan
Laos
Lesotho
Liberia
Madagascar
Malawi
Mali
Mauritania
Moldova
Mongolia
Morocco
Mozambique
Myanmar
Nepal
New Guinea
Nicaragua
Niger
Nigeria
Pakistan
Papua New Guinea
Philippines
Rwanda
Senegal
Sierra Leone
Solomon Islands
Somalia
Sri Lanka
Sudan ***
Swaziland
Syria
Tanzania
Togo
Tunisia
Uganda
Ukraine
Uzbekistan
Vanuatu
Vietnam
West Bank and Gaza
Western Samoa
Yemen
Zaire
Zambia
Zimbabwe