Connect with Experts, Leaders, and Your Peers in the Pharma Industry
---
Highlights
ISPE Virtual Student and Young Professional Hackathon
ISPE and the International Young Professionals Committee is pleased to share the presentations developed by ISPE Student and Young Professional Members who participated in the first ISPE Virtual Student and Young Professional Hackathon. Two teams, Team A and Team B, spent three weeks developing solutions to a challenging problem statement, provided by Avexis.  Ater reviewing the problem statement, watch the video presentations below to see the solution presented by each team. - and scroll down further to find out who was crowned the winner for the ISPE Virtual Student and Young Professional Hackathon.
CONGRATULATIONS TO TEAM A for winning the first ISPE Virtual Student and Young Professional Hackathon.
Task Team
Coaches
Judges
A special thanks to Avexis for the Problem Statement, the International Young Professionals Committee Task Team, Team Coaches, the Judges, and of course, our Student and Young Professional Hackers, each of whom did a fantastic job!
 
---
ISPE Eurasia Affiliate Young Professionals Holds Event for Moscow Students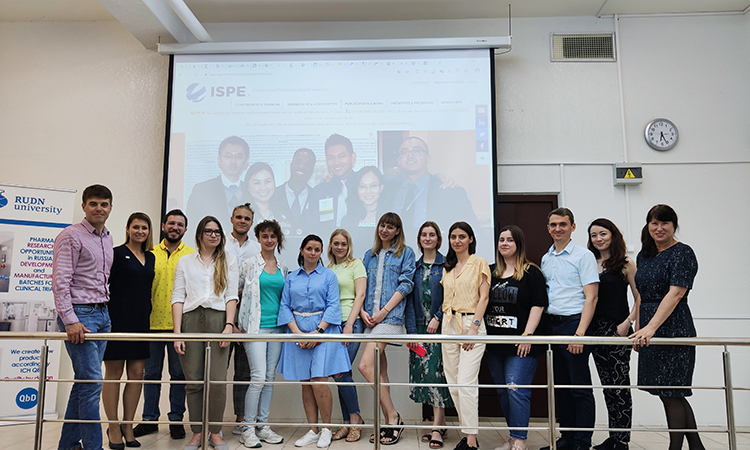 On 17 June, the ISPE Eurasia Economic Union (EAEU) Affiliate welcomed students from Moscow State University and RUDN to an ISPE YP networking event. Attendees were introduced to ISPE, events the Affiliate is planning, and the principles of ISPE Student Chapters. "ISPE appreciates the driving power of youth and we are happy to collaborate with active students to contribute to the brighter future of the Eurasian pharmaceutical society," said Oxana Pryanichnikova, Vice Chair of ISPE EAEU.
The EAEU Affiliate was established in March 2020, and YPs have been a main focus from the beginning. The upcoming EAEU conference in Moscow (24-26 November 2020) will include sessions for YPs and students.
ISPE EAEU thanks all participants for their curiosity and energy and looks forward to more universities and students becoming a part of ISPE Student Chapters, then YPs! View EAEU Website here Amy – I don't know how to shorten this any further and it's not enough for a blog post. Can we still keep it? They REALLY want it to be included. Or do you have another suggestion on how to make this work?
---
Young Professional Editorial: Career Development Goes On
Young Professionals Committee Chair LeAnna Pearson Marcum highlights key YP participants who are continuing career development virtually through the corona virus pandemic.
---
Why Join
Young Professionals enjoy a savings of more than 40% per year for the first five years after graduation. But it's not just the savings that are amazing; take advantage of the many other benefits available to you.
Young Professionals Community of Practice (CoP) – to make the connections you need to establish your professional network to participate in discussions on a wide array of topics, and to help provide information to Students with questions for YPs. Find out how to join.
Explore issues common to younger professionals and seek means of accentuating the positives and finding resolutions for the negatives
Search the ISPE Member Directory to connect with other Members around the world, or right around the corner
Enjoy free online access to 24 Good Practice Guides through the Guidance Document Portal, and exclusive discounts on Guidance Documents
Gain access to support and advice while encouraging one another in your professional advancement
Develop your expertise by attending professional development programs
Participate in discussion that promote, foster and direct programs for those new to the industry
Stay connected with ISPE through social media
Find info, from the basics to complex:

Discussion & Concept Papers - Read the latest discussion papers and give us your feedback.
Online Learning - ISPE's eLearning offerings include online courses and webinars to help you expand your skills and knowledge from the comfort of your desk.
White Papers - ISPE white papers are valuable documents designed to educate industry personnel on focused topics.

ISPE Career Solutions – offering the latest job openings, and free upload of your CV
I joined ISPE because I wanted to be part of an organization that involved local industry leaders and hopefully be mentored by them. When I graduated from university, my focus as a member shifted to gaining technical knowledge by participating in seminars with both local and international speakers. Through attending one of these seminars, I was able to secure my first job. Today, I serve as Chair of the YP Committee, and I urge students and young professionals to become members of ISPE to enjoy the benefits of being part of an international community.

Rachel Ann Fernandez, Philippines Affiliate
---
Resources
How to Run a Virtual Meeting like a Pro!

In the current climate I am sure that we have a packed calendar of virtual meetings. Since this all started, I have used the following platforms to meet: Zoom, GoToMeeting, WebEX, Google, Slack, SKYPE, Adobe and good ol' facetime! I have meetings that start at 6am and others that start at 6pm. Below are some tips and best practices to help you run your next virtual meeting like a Pro!

---

Choosing the correct tool/platform. This is tricky as there are so many out there but below are some great points to think about when selecting.

Do you need video conferencing?
Will you need the ability to share presentation control or multiple screens?
How many people need to be on the meeting?
Are you familiar with it? HINT: if you are new to using a platform, I suggest doing a dry run to avoid the technology learning hurdle during a meeting that can detail a productive meeting.

Be thoughtful of time zones. There are a lot of great tools to help you with this.

Every Time Zone – this tool has a slider function to allow you to see what time it is across time zones
World Clock meeting Planner: You need to know everyone's location to use this, but you can enter them into a table, and it will create suggested meeting times.
Worldtimebuddy: Works very similar to World Clock Meeting Planner.

Create an Agenda to stay on point. When you are working in person there is plenty of time to stop and chat but now that opportunity often is only presented during our meeting times. So, a well laid out agenda can help keep the meeting on time and topic.

Meeting Purpose and/or what problem statement you are tackling.
List key talking points
Meeting structure (for example: next to each talking point list the duration you plan to spend on it and who is leading it)
Team members who are invited
Pre-Reads or Attachments If you are expecting to discuss a paper or power point often it helps to send it out as a pre-read so that it is not the first-time people are seeing it.

Meeting Guidelines. This is a new topic I have been seeing with virtual meetings. This is a list of rules/expectations on how the team is expected to contribute during our virtual meetings.

Camera on. Many people want that Face to Face interaction that using a webcam offers.
Ensuring your phone is muted when you are not speaking. It is very distracting to hear the kids yelling or your dog howling at the doorbell.
Be present: This is a kind way of asking people to not multitask. I have seen people microwave their lunch, change a diaper & accidently share this screen while shopping. It is best to stay focused on the meeting you are in.

Meeting time. Tips 1-4 get you ready for a meeting but how do you keep engagement during the meeting?

Introduce everyone if it is the kickoff meeting.
Make time for a bit of casual conversation. This can help build rapport for a successful team collaboration.
Ensure you are including everyone in the meeting. For some you might need to ask them directly if they have any thoughts on a topic or anything they want to discuss.
Keep an eye on time! Give yourself about 5-7 minutes before the meeting ends to wrap up any loose actions or items.

Post Meeting. You want everyone to leave you meeting knowing what happened and what comes next.

Send out post meeting notes within 24/48 hours
Include action items with who is responsible
Check in with attendees to see how the meeting went, if something didn't work then you want to figure that out sooner than later.

Virtual Meeting Etiquette.

Now that work is home and home is work, here are some of the top tips for ensuring your virtual meeting etiquette is flawless.

---

Look the part! This means comb your hair, put on a presentable top and if you are going to be up moving around make sure your full outfit is presentable. We have all seen the jokes about people not having on pants and getting up or their shirt being pinned on and falling down to revel an old tee or no tee at all. While these are funny to see they are not funny when they happen to you. Remember this is still YOUR JOB. You should not show up on your video conference to anything less than what you would show up to work in.
Right Time/Right Place. Ensure that you are in a location in your home that is not the hub for activity as to not distract yourself or others with what is going on in the background. Your focus needs to be on the meeting. If you have repurposed your bedroom as your new home office then make the bed, pick up laundry and ensure the space is representative of who you are.
Mic Check 1-2, 1-2. Most meeting platforms give you an opportunity to check your video and audio prior to meeting. DO THIS, EVERYTIME! It is so frustrating when you are on a call and it is your time to speak up and you cannot, or your video won't work. You loose valuable time during the meeting and it can be disruptive. This also allows you to check and see if what you see in the camera is what you want your boss and coworkers to see!
FOCUS. Once the session starts keep your eyes on the screen and webcam. Do not multitask or be on your phone. People can not only see you, but a lack of attention is disrespectful for the meeting organizer and other participants.
Bio-breaks. Okay we have all been on that LONG meeting where you just need a bio break and maybe one has not been scheduled into the agenda. How do you handle it? If your meeting platform allows you to send a message to the meeting organizer or team it is best just to say, "please excuse me, I need to step away for a moment". Place your computer on mute and either end your video feed or if you have a web cam cover just slide it over. This allows you to get up without everyone seeing an empty seat or not knowing why you just got up and left.
Give everyone a little Grace. What does this mean? Well, we are all learning how to navigate this new landscape so do not be impatient or to harsh on someone when technology is not cooperating with them. I have had my webcam just decide it hates GoToMeeting and was not able to be seen during a meeting. Was it ideal? Nope, but I knew it early and sent the organizer and team a message that I was having some issues, but I was present. I have a team member who is in a small home with 7 other adults, there is no private space to have a meeting. So just remember everyone is doing their best during this time, yourself included.

Enhance Your Value in the Marketplace