New Guidance Document - ISPE Baseline® Guide: Risk-Based Manufacture of Pharma Products
Manufacturing multiple products in a facility increases the risk of cross-contamination, potentially threatening product quality and patient safety. Many regulatory bodies require that companies operating multiproduct facilities have risk management processes in place to minimize the risk of cross-contamination.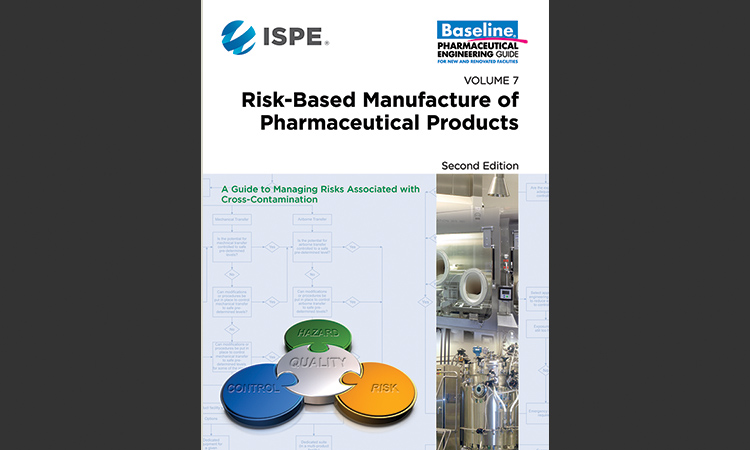 "There's a need to support companies with multiproduct facilities in how to manage these risks," said Stephanie Wilkins, president of PharmaConsult US, which provides cross-contamination and containment consulting to the pharmaceutical industry. Wilkins has been a member of ISPE since 1993, is a member of the Guidance Documents Committee, and co-led the team that produced the updated Baseline Guide. "Many generic manufacturers and CMOs (contract manufacturing organizations) have additional risks due to the nature of their business, and this Guide is an excellent resource to help them manage those risks. We often see the highest risk of cross-contamination from failures to follow basic GMPs (good manufacturing practices)."
The second edition ISPE Baseline® Guide: Risk-Based Manufacture of Pharmaceutical Products incorporates the latest updates to European Union GMPs. Risk assessments and risk-management principles are now required to ensure the safe manufacture of products in a shared facility and to determine whether a particular product should be manufactured in a dedicated facility.
Risk-based manufacture of pharmaceutical products (Risk-MaPP) can help pharmaceutical companies develop and maintain risk-management plans to minimize the risk of cross-contamination. It also provides a scientific risk-based approach, based in the ICH Q9 guideline "Quality Risk Management," 1 to manage the risk of cross-contamination to achieve and maintain an appropriate balance between product quality and operator safety.
"Risk-MaPP gives companies a process for risk management and what they should focus on in terms of cross-contamination," said Wilkins. "Sometimes, if the operators don't understand the importance of a particular SOP (standard operating procedure), they may think a step is not important and they can bypass it. Risk-MaPP provides an outline on how to assess risks so that the importance of some SOPs can be better understood."
Wilkins uses the gowning regime as an example. "When you enter a GMP space, gowning serves to protect both the person and the product. When you leave the manufacturing space of one product, you take off the gown to prevent the spread of residue elsewhere in the facility—and especially in other production areas producing different products. There are many places we consult where this protocol is not understood, and workers will wear the same gown everywhere, all day. Studies have even found that residue has made it into office areas of facilities because of this."

Risk-MaPP adheres to the primary principle of ICH Q9 quality risk management that the evaluation of risk should be based on good science and risk-based approaches to determine the controls that are needed to make safe, high-quality products. 
Individual chapters in the second edition of the Risk-MaPP Baseline Guide detail how to create a risk-management strategy that identifies, analyzes, evaluates, and controls the risk of cross-contamination. Risk-MaPP describes the health-based limit of exposure, referred to as the acceptable daily exposure (ADE)—a dose that is unlikely to cause an adverse effect if an individual is exposed, by any route, at or below this dose every day for a lifetime. The ADE is the starting point used in assessments to determine if there is a cross-contamination issue. The European Medicines Agency (EMA) considers the ADE synonymous with its health-based limit, called the permissible daily exposure.
The Risk-MaPP Baseline Guide outlines the four modes of cross-contamination—mix-up, retention, mechanical transfer, and airborne transfer—and has a logic diagram that can be used to assess whether the manufacture of a product requires the use of a dedicated facility.
"The EMA reviewed Risk-MaPP and agreed that it is in line with the agency's updated GMPs," said Wilkins. "I would expect the EMA to point companies struggling with managing the risk of cross-contamination to [the] Risk-MaPP [Guide].
"There were a lot of companies that implemented the principles outlined in the first edition and, for the most part, had good experiences. The process has the added benefit of helping companies better understand their products, their facilities, and their processes."
The ISPE Baseline Guide: Risk-Based Manufacture of Pharmaceutical Products (second edition) is available for purchase on the ISPE website.2