2017 ISPE Europe Annual Conference Reaches New Heights in Barcelona
The ISPE Europe Annual Conference drew more than 500 people to the Crown Plaza Hotel in downtown Barcelona from April 3–5. With 77 education sessions and 50 exhibitors, the gathering was described by at least one attendee as "the best and biggest conference ever." John Bournas, ISPE CEO and President, noted that the forum doubled previous ISPE Europe attendance records.
Executive Forum
The conference started with an executive forum, as usual. This year's theme of "Pharma 2025" explored the industry from different corporate perspectives: mid- and large-sized manufacturers, global engineering firms, and international consulting organizations.
Wolfram Carius, Executive Vice President, Bayer, said that new and promising technologies outside of a company's core focus often benefited from partnerships with other stakeholders to limit financial risk. Because managing complexity is an unavoidable challenge that will require special skills and capabilities for the workforce of the future, he also described human resources as a success factor for future pharma that goes beyond technology.
Good engineering practice, he added, should especially be considered key. Christian Bechon, CEO, LFB Group, said that good strategic planning should lead any investment decision. He highlighted the importance of location selection for new production sites, adding that technology, infrastructure, and sociopolitical choices are additional factors. It also became clear that traditional stainless steel equipment may have a future in certain product portfolios—not only in single use technology.
Juan Hernandez, President, Life Sciences and Advanced Manufacturing, Fluor Corp., gave an inspiring presentation on factories of the future from an engineer's perspective. Not only will aesthetics and art influence facility exteriors, he said, some technology will be movable—packed in containers and ready for plug and play. Imagine how this would affect knowledge and technology transfer in the future! Paul Rutten, Partner, McKinsey & Company, discussed the role of lagging/leading indicators and FDA's metrics initiative in future pharma operations. New KPIs describing company culture and individual behaviors will be needed, especially for managers.
Christian Wölbeling, Senior Director Global Accounts, Werum IT Solutions, discussed the road from Industry 4.0 to Pharma 4.0, beginning with the ICH Q10 "new quality system." He explained the elements and enablers that should be considered in the fully integrated digital world of data integrity by design. Years of step-wise process remain to align the supply chain and achieve a holistic production control strategy. [Editor's note: For more on HPCS, see Pharmaceutical Engineering 37, no. 3 (May-June 2017): 44–49.]
François Sallans, VP Quality and Compliance and Chief Quality Officer, Johnson & Johnson, closed the day with an update on the continuing problem of drug shortages. This uphill battle needs both management awareness and political willingness to act, exemplified by ISPE's partnership with the Pew Charitable Trusts in the United States. In Europe, ISPE will continue to perform trainings with interested parties. Ultimately, he noted, it is a social responsibility for public health and safety to implement the countermeasures identified by industry associations and other stakeholders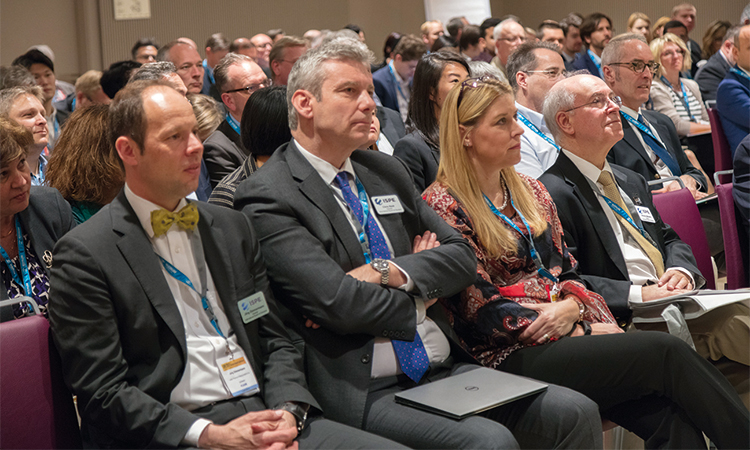 Keynotes
Juan Andres, Global Head Technical Operations, Novartis, discussed future trends in medicines. As we live longer we contract more diseases, and this creates a demand for affordable medicines and individualized treatments tailored to our needs. The only response to this is innovation. He cited as an example a completely new approach to cystic fibrosis that can treat babies in utero.
Some manufacturing technologies, however—such as tableting and coating—experience little pressure for innovation. The main paradigm in this part of the pharma industry was "playing not to lose."
He compared innovation in the pharma industry to the technical revolutions that had occurred in other industries over the past 10 years—from iPhones to digital music streaming and Tesla cars. These changes were spurred by the "ability to supply." Pharma cannot offer innovation with limited supply, therefore we must supply in ways never done before. Quality, safety, and efficacy must be innovated at the same time. The new paradigm must be "play to win!"
Other points:
Nowadays compliance and a robust supply chain are basic expectations. But these are not enough, as "legally driven" companies are not the most successful.
Consultancy concepts of the past like just-in-time, Six Sigma, and lean production were "monistic" and not "holistic." One size does not fit all.
Wise decisions are needed about where to invest: in core business. Don't get attached.
Be careful with external spending and outsourcing, it can become a very complex and fragmented landscape to manage.
The driver is the "individual optimum," which can lead to a "penny-wise and pound foolish" result.
In summary, he said "don't ignore new technology, invest and partner, reliability is not negotiable, and productivity serves affordability!"
Gert Moelgaard, Senior Consultant, Moelgaard Consulting, predicted a continuation of double-digit global pharma growth. The so-called 2011 "patent cliff" was an indication that pharma was no longer innovative. In the meantime, specialty drugs like Humira and Avastin will be part of our future, despite their high cost. Biosimilars and even orphan drugs have caught fire in big pharma.
The top 20 specialty drugs are injectables. Their challenges are smaller batches, shorter cycle times, operating efficiency, enhanced change-over times, and a higher pressure for time to market. The goal for manufacturing must be a completely automated filling process without any manual intervention; this also sets future expectations for regulators (Figure 1).
Pierre-Alain Ruffieux, Head of Global Quality and Compliance, Hoffman-La Roche, considered "culture first" when describing quality management in 2025. Robust compliance, reliable manufacturing, and a more harmonized regulatory environment would be the framework. For technology, he asked, "What hinders innovation? Are we able to attract the talent we need for the future? Will top engineers go to pharma?" Industry must find the answers to these questions.
Speed will be of the essence. There will be more players and more drug applications. Today the average time for a drug registration is nine years—it should be two! Unharmonized regulatory inspections lead to a very high inspection load with no added value. Because registration requirements for approval of new drugs differ from country to country, a multi-country launch of a new drug is extremely complex and costly. The same is valid for post-approval changes and the whole life cycle management of a drug.
Some good developments are the new United States–Europe Mutual Recognition Agreement, which finally will be activated 2019 after more than 20 years. ICH Q12 has the right concept of harmonized post-approval changes, but whether and when it will be implemented is uncertain. The definition of "established conditions" could be a major roadblock.
Robert Nass, Merck KgA, described major trends:
Biologics/monoclonal antibodies (mAbs)/ biosimilars
Advanced therapy medicinal products (ATMPs)/personalized medicines
Emerging markets
Digitalization
The demand for single-use technologies will increase, but the need for stainless steel factories will continue, triggered by the specific needs of products and product portfolios. The drive toward continuous processing will increase. There will also be a need for end-to-end solutions in the pharmaceutical value chain to bring affordable drugs to the market. Digital trends will spread in the pharmaceutical industry (Figure 2).
Among the industry's continuing management challenges, regulatory uncertainty remains
the top concern. Harmonization of regulation is more than open. Regulatory relief will not come, as regulators worldwide are driven by public expectations of zero risk, therefore they will continue to apply procedures for risk minimization and safety improvement. All in all, complexity will not disappear, so industry must manage it.
The only way is to reduce unrewarded complexity in operations and in all processes. There is much improvement potential.
Track 1 Facilities Of The Future
The Facilities of the Future Track was very well attended and provided some of the conference's most interesting concepts and discussion. There was a special focus on facilities, serialization, and innovation; many questions focused on practical experiences and problems for which companies were seeking solutions.
In pharmaceutical manufacturing there is much focus on the latest facility projects and new technology solutions. There are only very few continuous manufacturing facilities in commercial operations, for example, but more coming within the next year or so. There were several short presentations on technical proposals for continuous manufacturing as well as a link between continuous manufacturing and Industry 4.0, which was inspiring.
The new EU requirements on serialization are becoming a daily challenge in many companies that supply both European and the US markets. The EU is still organizing operations within production stakeholders MAO and CMO. Turkey provided very practical shop floor feedback on how to avoid mistakes, one of the very useful takeaways for many participants.
Finally, the innovation part of track 1 brought many interesting solutions on contract manufacturing sourcing, next-generation WFI systems, and the potential impact of the new EU Pharmacopoeia WFI monograph on future WFI installations. Regulators provided feedback on harmonization in regulatory requirements around the world. China gave feedback on CFDA findings regarding GMP for international and Chinese companies. These presentations sparked interesting discussions.
ISPE plans to repeat this track at the 2018 ISPE EU Annual Conference.
Track 2 Advanced Aseptic Processing
Roland Guinet, former GMP Senior Inspector in the Agence Nationale de Sécurité du Médicament et des Produits de Santé, opened the session with an overview of the expected new regulation for sterile products in Europe. Starting from "what we already know," he highlighted potential improvements from EMA's EudraLex Volume 4, Annex 1: "Manufacture of Sterile Medicinal Products" and Annex 17: "Real Time Release Testing."
PhD Student Monika Stieglbauer explained how we can close the gap between bench and bedside by manufacturing individual multipeptide vaccines for cancer immunotherapy.
Patrick Baleriaux, CEO, Aseptic Technologies SA, demonstrated how ready-to-fill vials can easily fill very small quantities of autologous and autogenic therapies. These products are very sensitive and usually require cryogenic storage.
Elaine Strong, Lead Pharma Solutions, Piramal Healthcare, described the challenge of the containment in high-potency antibody drug conjugate manufacturing. These mAbs are significantly more potent than traditional cytotoxic products and all processes must be considered with a combined risk and compliance approach.
Lothar Germeroth, Senior Vice President, Managing Director, Juno Therapeutics, closed the day with a presentation that showed the timeline of innovative cell and gene therapy from development to the patient. Individual treatments are becoming a reality!
Michael Dieterle, Director, Boehringer Ingelheim, and Jan Schäfer, Manager, Process Engineering, Sartorius, discussed the implementation of a 2,000-liter commercial manufacturing workshop fitted with single-use technology, highlighting benefits, challenges, and solutions.
Markus Keller, Senior Research Engineer and Biologist, Fraunhofer Institute, gave a glimpse of the future with GMP robots that can be used in a sterile environment. High technology combined with human-like movements opened new perspectives for human-less workshops.
Ruben Rizzo, International Sales Manager Projects, Skan, presented a new approach for the decontamination of isolators and restricted access barrier systems using vaporized hydrogen peroxide (H2O2) cycle technology.
Jean-Pascal Zambaux, General Manager, Disposable Lab, presented an innovative single-use isolator dedicated to small preparations of cytotoxic products with total GMP compliance.
Niels Guldager, Global Technology Partner, NNE, described the development of biotech facilities in China. Big laboratories installed huge high-tech production capacities in a giant "antibody technical park" while incorporating cGMP requirements for biotech products.
A workshop was organized to share perspectives about the development of robotics in the pharmaceutical industry. Participants divided in three groups to discuss pros and cons. Attendees then regrouped in the plenary session to present each group's findings and conduct a general discussion.
Track 3 Data Integrity
Data integrity management across global organizations, preparing for GMP inspections, and the new GAMP® guide for data integrity management were presented. Data integrity in clinical trials, the role of cloud solutions, and human factors in data integrity were also discussed.
Track 4 Clinical And Atmp Supply Chain
Following an overview of regulatory aspects, Roche and Sanofi presented risk-based distribution concepts. MHRA Regulator David Churchward discussed innovation. The session concluded with a discussion of technological solutions to support the supply chain of tomorrow.
---
Mou Supports Packaging Mass Serialization
ISPE and the Open-SCS Working Group of the OPC Foundation signed a memorandum of understanding at the 2017 Europe Annual Conference in Barcelona.
The OPC Foundation is a global not-for-profit organization that pursues interoperability in automation by creating and maintaining open specifications to standardize the communication of acquired process data, alarm and event records, historical data, and batch data to multivendor enterprise systems and between production devices.
The agreement formalizes a collaborative relationship to promote a technical standard for system integration for health care packaging, serialization regulation compliance reporting, and mass tracking of serialization numbers.
This GAMP®-based implementation will define:
The open packaging serialization global name space
The packaging serialization user requirement specification for business and operations processes
The packaging serialization system integration functional requirement specification (EPCIS framework), which will become a GS1 EPCIS standard application
The packaging serialization OPC-UA companion specification with OPCF compliance certification
Secondary goals include promotion of the Open-SCS serialization work by ISPE and promotion of the GAMP-based development and implementation by the foundation's Open-SCS Working Group.