2018 European Annual Meeting Comes to Rome
Rome's Esposizione Universale Roma, or EUR district, has seen more than its fair share of history. Originally planned as the site of the 1942 World's Fair under Italy's prewar fascist regime, the uncompleted EUR suffered extensive damage during the Second World War and was not fully developed until the 1950s and 1960s. Now a thriving business and residential district, the EUR will host the ISPE 2018 Europe Annual Conference from 19 to 21 April 2018 at the Sheraton Roma Hotel and Conference Center.
"With its proximity to central Rome, wide boulevards, tree-lined streets, and cafés and gelaterias (shops selling Italian ice cream), the EUR district is a great destination for this year's conference," said Thomas Zimmer, ISPE Vice President of European Operations.
Among the EUR's buildings, the Palazzo della Civiltà Italiana is perhaps the most recognizable example of the city's prewar fascist architecture. Nicknamed the Colosseo Quadratto (Square Colosseum), the building was completed in 1943 and was intended to be the district's focal point. Today it serves as the headquarters of the luxury fashion house Fendi. The building also houses an intriguing scale model of imperial Rome that will be of interest to history buffs.
The Palazzo della Civiltà Italiana is perhaps the most recognizable example of the city's prewar fascist architecture.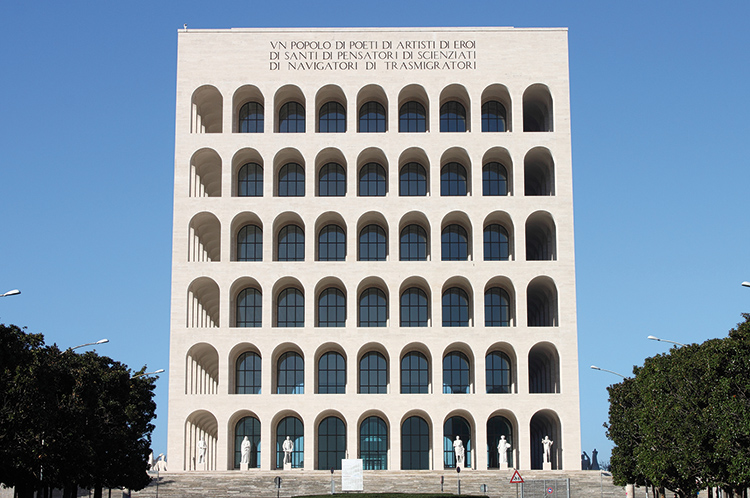 The Palazzo dei Congressi, designed originally as a modern version of the Pantheon, was the site of some events at the 1960 Olympics and is currently used to host conferences. It is but a short walk from this example of rationalist architecture to its modernist neighbor, the striking new convention center and hotel complex designed by the architectural firm Studio Fuksas.
The renowned Giolitti gelateria is also a short drive from the conference center, in a beautiful park surrounding a man-made lake.
A STRONG TRADITION OF MANUFACTURING AND R&D
"Italy's thriving domestic market is complemented by the country's production of medicines for other countries in the European Union (EU)," said Zimmer. "In addition to its strengths in pharmaceutical production, Italy has many excellent machine manufacturers and technical consultant companies."
Several multinational pharmaceutical companies have chosen to locate their European R&D and manufacturing in Italy because of this existing infrastructure and strong tradition. The sector is first among all manufacturing sectors in Italy in terms of investment and exports of foreign-owned companies. Exports have grown more than 50% since 2010, due largely to improved quality of medicines and vaccines that the country exports around the world.
"Many Italian pharmaceutical companies have struck production alliances in Europe with specialization of technologies in dedicated factories," said Zimmer.
Italy ranks second in the EU for pharmaceutical manufacturing, producing a quarter of medicines among the top five producers, and has experienced the fastest growth in pharmaceutical exports among the member states. Collaborations between companies, public-private partnerships, universities, and biotech startups round out a robust pharmaceutical manufacturing ecosystem that includes significant research and development.
"Italy has a great academic tradition, well-established universities feeding R&D sites with skilled people, and competitive labor costs," said Zimmer.
According to Farmindustria, an association of more than 200 pharmaceutical companies operating in Italy, investment in R&D has grown 20% in the past three years. The country's R&D efforts focus on biotechnology, which accounts for 71% of investment, vaccines, plasma products, advanced therapies, rare diseases, and rare diseases. The country has led the way in development of novel products, including the first stem-cell medicine, Holoclar.
Fully 40% of pharmaceutical firms are domestic, not unusual for the European pharmaceutical sector, according to Zimmer. "Many companies started from pharmacies or small chemical factories that are more than a century old. Italy's R&D strength comes out of this rich history as many companies are or were family owned and conducted their own research and development. When acquired, some international companies developed these R&D sites as a nucleus for their own efforts."
Farmindustria notes that women make up nearly half (44%) of the workforce in Italy's pharmaceutical sector.
"We at ISPE are pleased to see the role of women in our industry changing," Zimmer said. He points to such ISPE initiatives as Women in Pharma and notes that women already play a strong role in domains such as quality assurance, quality management, and drug regulatory affairs. "Even in production, which has been traditionally a male domain, we're seeing more and more women involved. Management is still predominantly male, but even here there is some progress for women.
"I'm looking forward to the Europe Annual Conference in March," said Zimmer. "It offers our members a chance to see a beautiful and historic part of Rome that is often overlooked by tourists."
For more information, see "ISPE Italy: Poised for Leadership," Pharmaceutical Engineering 37, no. 3 (May-June 2017).