Delaware Valley Chapter Annual Symposium & Exhibition
The Delaware Valley Chapter is proud to host the longest-running vendor exhibition event in the ISPE community. The chapter held its highly anticipated Annual Symposium and Exhibition on 26 February, in Philadelphia, Pennsylvania. The event gave vendors an opportunity to demonstrate new technology and equipment; the 764 attendees from around the world got a chance to research these innovations and sample everything the chapter has to offer, from education sessions to networking to outreach to the next generation of scientists and engineers.
For the second year in a row the symposium was held at Lincoln Financial Field, home of the Philadelphia Eagles football team. Attendees could take two different stadium tours: The first was a behind-the-scenes look at the venue's press box, interview room, locker room, and football field. The second, titled "Go Green," showed why the arena is one of the greenest stadia in the world. The tour included a peek at their clean energy solutions, water/gas/electricity savings, and recycling and composting programs.
For the first time, the symposium opened with a keynote speech. The chapter hosted John Bournas, ISPE CEO and President. Bournas has been instrumental in developing the society's global initiatives, leveraging technology to extend ISPE's reach and expanding educational and training programs. He updated attendees on exciting news about ISPE as an organization.
After the keynote, the exhibition floor opened, and the symposium went into full swing. Attendees browsed 148 exhibitor booths to see what new equipment and ideas are available and watched technical presentations on the demonstration stage.
The exhibitions also included presentations by Future Cities, an exciting program that engages students in the sixth, seventh, and eighth grades to research, design, and build cities of the future using SimCity software.
The symposium offered six education sessions on two tracks:
Operational Risk
Supply Chain Risk: Andrew Skibo, MedImmune
Quality Risk: Lou Angelucci, Johnson & Johnson
Regulatory Risk: Gayle Lawson, CDER
Facilities
Facilities: Michael Blackton, Adaptimmune
Insights into Passivation and Rouge: Patrick Banes, AstroPak
Design and Construction Management: Bill O'Brien, Jared Craig, and Anthony Detweiler, Integrated Project Services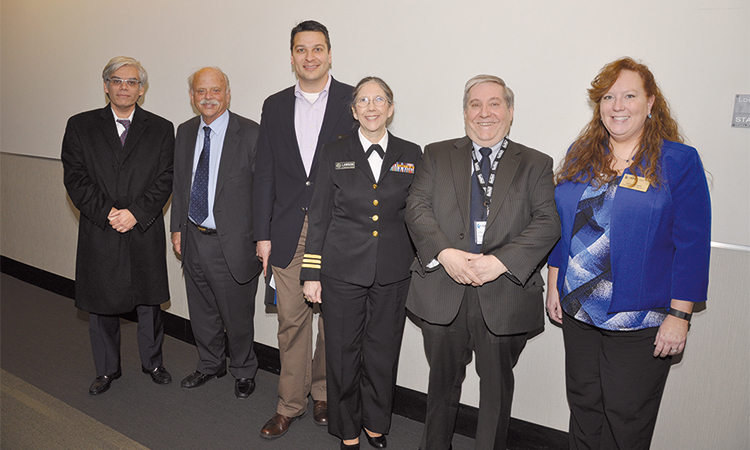 The career fair has become an increasingly popular symposium feature that allows pharmaceutical companies, equipment manufacturers, and service providers to connect with talented, qualified employment candidates. After a long and fulfilling day, attendees were invited to unwind with an evening of networking and fun. Local rockers Tommy Conwell and the Young Rumblers were on hand to entertain the crowd.
Be sure to join us next year as we aim for the biggest and best symposium ever!