ISPE Briefs: Volunteer Week 2022: A Success
Marcy Sanford
Beau Castro
ISPE has more than 19,000 members from more than 129 countries, and many of them spend countless hours sharing their knowledge and connecting with others, helping ISPE to advance the educational and technical efficiency of all members.
Carrie McManus
Member Engagement Manager
Earlier this year, some of those volunteers were honored during ISPE Volunteer Week. Carrie McManus, ISPE Manager of Member Engagement, said Committee, Chapter, and Affiliate leadership teams were asked to nominate volunteers. "We wanted to recognize and thank the volunteers who are behind the scenes, working very hard to help ISPE accomplish its mission, but who are not usually in the spotlight."
Honorees were celebrated throughout the week with profiles on the ISPE iSpeak blog and through social media. McManus is already planning next year's Volunteer Week and plans for the program to grow each year. "Every year, we want to be able to add something extra to celebrate our volunteers. For 2023, we're hoping to include programming that will be open to all volunteers and provide members who are interested in volunteering with more resources and information on how they can get involved."
McManus said members don't have to wait until 2023 to get involved. "ISPE members have numerous ways to get involved on a local level to global level. We have volunteer opportunities available year-round, from short-term and long-term projects to being part of a committee or special interest group. If members would like to volunteer, we can find the right fit for them."
View Profiles & Learn More about Volunteer Opportunities
PE Magazine Wants Your P+E!
Tell us about your Chapter and Affiliate events and conferences, trainings, Women in Pharma® meetings, Emerging Leaders activities, and Communities of Practice and Special Interest Group work, and we'll share it with all of ISPE in Pharmaceutical Engineering's People+Events (P+E) section.
ISPE Briefs can be up to 400 words; P+E articles can be up to 1,000 words. Photos are welcome: at least 300 dpi or >1 MB. Please submit to ssandler@ispe.org
---
Pharmaceutical Engineering® Article Receives 2022 APEX Award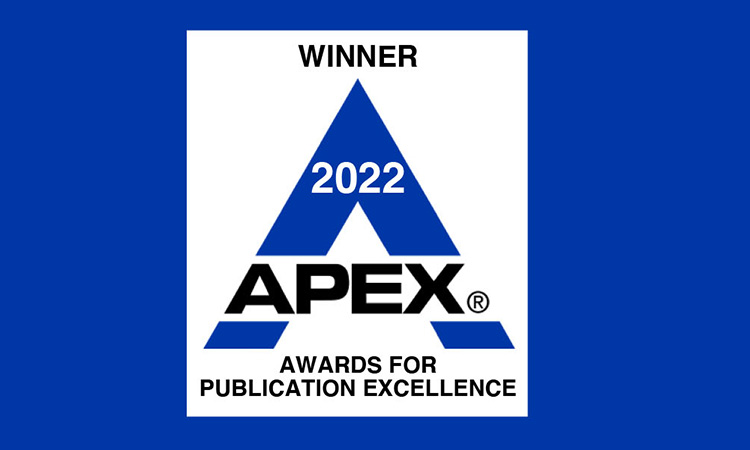 Pharmaceutical Engineering has won a 2022 APEX Award for Publication Excellence in the Technical & Technology Writing category for "AI's Promise for ATMPs," published in the November-December 2021 issue.
The winning article was written by two ISPE members, William Whitford and Toni Manzano. Whitford is Life Science Strategic Solutions Leader for DPS Group. He is a leader in research and development for biomedical and biomanufacturing applications, Industry 4.0, and digitalization with over 300 articles, book chapters, and patents published. Manzano is Co-Founder and CSO at Aizon, and has led software projects for pharmaceutical companies for over 25 years. His current company provides big data and artificial intelligence (AI) software as a service (SaaS) platforms for the biotechnology and pharmaceutical industries.
AI and Biopharma
"We have finally seen significant gains in pharmaceutical science and manufacturing operations through the application of AI," Whitford said. "That AI's power can apply to biopharmaceuticals is exemplified by AI's heralded success in providing biomolecule structure prediction through, for example, Al-phabet's/Google's DeepMind AlphaFold."
"AI's specific power in ATMPs include aiding in patient-distal autologous cell sample processing issues and supporting their continually evolving practices," Manzano said. "The complexity and variability associated with the cellular process for patients, where in extreme cases, each batch would be related to a single patient, can only be adequately managed by AI mechanisms. Cytoskeletal organization, cell morphology, and other biological characteristics can only be automated using AI to deliver the right drug at the right time to patients."
Pharmaceutical Engineering® Awards
This is the third year in a row that Pharmaceutical Engineering has been recognized with an APEX Award.
A 2021 APEX Award of Excellence was awarded to the four-article "Special Report: COVID-19 Impact" series, published in the July-August 2020 issue, in the category of COVID-19 Media–Government/Association content.
A 2020 APEX Award of Excellence was given to "Blockchain for Pharmaceutical Engineers," published in the January-February 2019 issue, in the category of Technical and Technology Writing.
Pharmaceutical Engineering is proud of our authors and the recognition of the magazine's content!
---
New GPG Promotes Continuous Manufacturing of OSD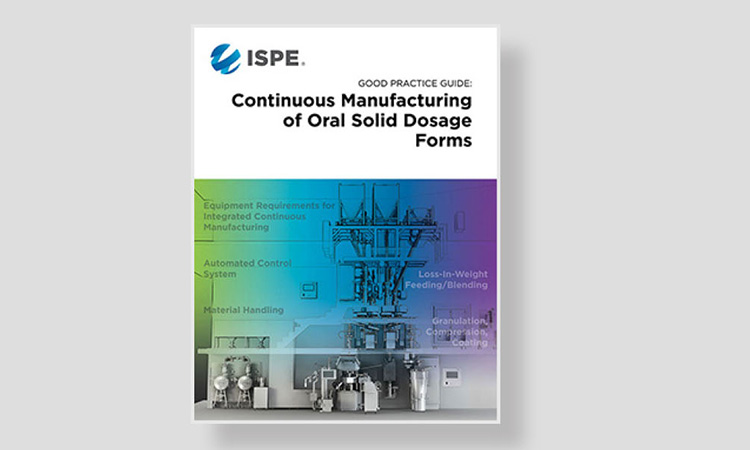 The pharmaceutical industry began applying the principles of continuous processing to the manufacture of oral solid dosage (OSD) forms in the mid-2000s. The consensus among experienced practitioners is that the continuous approach has numerous benefits.
Continuous manufacturing provides for a full range of product life cycle, from small-volume clinical production to large-volume commercial production, with minimization or elimination of scale-up activities, all leading to real-time release. It offers potential safety benefits and requires a smaller facility footprint.

Guide Co-lead
However, there are still many challenges to widespread adoption. The ISPE OSD Community of Practice formed a working team in 2017 to advance the use of continuous manufacturing in the pharmaceutical industry and to increase the long-term efficiency and affordability of the manufacture of OSD products.
The team, composed of end user pharmaceutical companies, equipment vendors, and academics, set out to establish equipment requirements, identify opportunities for harmonization and flexible integration, and suggest enhancements to current equipment. The collective output forms the basis for the ISPE Good Practice Guide: Continuous Manufacturing of Oral Solid Dosage Forms.
This guide is intended to serve as a comprehensive reference for continuous manufacturing of oral solid dosage forms, providing guidance for pharmaceutical companies, regulators, engineering firms, and vendors engaged in this emerging technology.

Guide Co-lead
---
Meet the ISPE Staff Doug Whittemore
In each issue of Pharmaceutical Engineering®, we introduce a member of the ISPE staff who provides ISPE members with key information and services. Meet Doug Whittemore, Account Manager, Sales Team.
Tell us about your role at ISPE: what do you do each day?
I build authentic business relationships with both current and new customers. It all starts with understanding their marketing and sales goals, working in partnership to develop solutions providing the best fit and value for each customer. My goal is to create and nurture lasting, mutually successful business relationships.
What do you love about your job?
I have the pleasure of working closely with not only ISPE customers but the ISPE staff team as well. I partner with staff throughout the organization in developing corporate offerings and in communicating these offerings to interested customers. I thoroughly enjoy the camaraderie and teamwork here at ISPE; I am very fortunate to work with such a wonderful team.
What do you like to do when you are not at work?
Well, since I am a self-proclaimed workaholic, this is an interesting question. Since I live in Tampa, Florida, not far from the water, I enjoy sitting at an outside beach restaurant with a cold beverage watching both a good ball game and the beautiful beach. I also enjoy a good John Wayne movie and listening to Frank Sinatra.