Growing Momentum: 2019 ISPE Europe Pharma 4.0™ Conference Report
Thomas Zimmer, PhD
Hans Heesakkers
Christian Woelbeling
Teresa Minero
The 2019 ISPE Europe Pharma 4.0™ Conference held in Manchester, UK, on 20–21 November 2019 was attended by 300 participants, all of whom contributed to the growing momentum for Pharma 4.0™ initiatives. The Pharma 4.0™ Special Interest Group (SIG) and the Program Committee collaborated with the ISPE UK Affiliate and ISPE staff in the US and Europe to create an extremely interesting program featuring high-quality speakers and presentations.
The conference gave all the attendees the opportunity to share strategies, discuss planned and realized projects, and hear the opinions of regulators, industry leaders, and technology providers.
During breaks in the programming, visitors headed to the booths of key Pharma 4.0™ suppliers to touch, see, and better understand how traditional and new enabling technologies can support the Pharma 4.0™ revolution.
Program Highlights
Mike Phillips from McLaren Applied Technologies, United Kingdom, opened the conference with an inspiring speech in which he pointed out parallels between Formula One racing and the pharmaceutical industry. In both racing and pharma, "safety is a given, and performance is expected," he stated. Also, both Formula One racing and pharma are technology-driven, regulated, competitive, cost-constrained, and under public scrutiny.
Recently, the Fédération Internationale de l'Automobile introduced new regulations for Formula One racing, triggering additional testing. McLaren explained how Formula One teams are using data-driven simulations in a "digital twin" of their vehicles to quickly and extensively conduct testing at reduced cost.
A car, like a production line, is a physical system, which can be modeled and validated. A Formula One car pushes the limits of performance, Phillips noted. The goal in modeling and validation of these cars is to explore the design space and help maximize performance outcome. It is of vital importance that the "human factor" is embedded in this process, he said.
On a Formula One team, a network of experts collaborates to maximize performance. The driver, the race engineer, the strategist, data analysts, and others work together to populate data in a decision support tool that provides recommendations and visualizes simulations. Although these tools can accomplish many things, the final decisions are made by humans.
Taking a comparable approach, stakeholders in the pharma industry can use the analytical maturity assessment scale to evaluate digital maturity lev-els within the industry. These levels start with the descriptive stage (what happened?) and progress through the diagnostic stage (why did that happen?), the predictive stage (what will happen?), the optimization stage (how can we optimize what happens?), and, ultimately, the adaptive stage (how do we learn?). The Pharma 4.0™ working group linked the stages with the specific digital maturity attributes to the pharmaceutical industry.
Phillips closed his speech by outlining the elements of the Formula One performance model impact assessment:
Performance—Key performance indicators
Interventions—Core decisions and processes for decision-making, risk, and governance
People—Roles, responsibilities, accountabilities, behaviors, motivations, and incentives
Tools—Technology landscape, visualization, decision-making tools, and hardware
Data—Data architecture, data quality, and communications
Sensors—Data capture/telemetry
Other—Organizational structure, headcount, operational footprint, and regulatory and fiscal structures
Collectively, this seems very similar to the holistic control strategy in Pharma 4.0™!
Mike Houghton from Siemens Digital Industries, United Kingdom, presented about the Industrial Strategy Challenge Fund (ISCF), a UK government initiative to improve competitiveness through digitalization. He stated that more than 50% of the world's data were created last year, but less than 0.5% were analyzed or used. Because access to data is critical to establishing new business models and transforming traditional markets, ISCF is supporting new business models in a range of industries. ISCF-supported projects must aim for short-term support and should fit in one of the following four topic areas:
The smart, connected factory, including use of real-time data to optimize efficiency and capture, analyze, and visualize manufacturing processes
The connected and versatile supply chain, including information integration, communication, traceability, and trust
"Design, make, test," including transforming product design through digital technologies, virtual product testing, verification and modeling, quality monitoring, and inspection
Adaptable flexible manufacturing operations and skills, including culture change and skills development, and human-centric automation and autonomy
The expected benefits of the projects are reduced time to market, enhanced flexibility, increased productivity, and greater efficiency.
Jean-Marie Bouvier from Merck KGaA in Darmstadt, Germany, shared insights from a case about how a digital transformation becomes a reality on the shop floor at Merck companies.
As a first step, an overview of the digital plant architecture is developed. All systems for supporting processes are mapped, as well as all systems dealing with manufacturing and laboratory execution and batch disposition. The completed map includes systems for end-to-end planning as well as systems with advanced analytics for plant performance monitoring, deviation analytics, and continued and advanced process monitoring.
Next, four visions are developed.
Manufacturing execution vision: 

The manufacturing execution system (MES) is fit for the future, fully deployed, sustainable, and scalable.
Batch record review is done by exception.
All in-process controls equipment is connected to the MES.
Exhaustive automated process verification is done for all processes.
Real-time multivariate analysis is used extensively.

Quality management vision: 

Quality control is completely paperless, with zero data integrity risk.
Machine learning technology is used to reduce recurring issues.
The company is capable of paper-free quality process management.
A disposition-readiness dashboard is validated.

Maintenance and engineering vision: 

Equipment and the system validation process are digitalized.
An automation system historian is centralized, which is a prerequisite toward predictive maintenance.

People and culture vision:

Efficient methods of onsite information sharing are employed via extensive use of classic tools.
Workers have access to effective and popular e-learning to facilitate self-learning and training qualification.
Site culture improvements are made via cognitive science, games, and artificial intelligence (AI).
Performance management is automated to enforce the data-driven mindset.
---
Figure 1: Decision committee for digital plant organization at Merck KGaA, as presented by Jean-Marie Bouvier, Merck KGaA.
Merck's digital plant organization is based on GAMP® 5 governance concepts supported by a decision committee:
Site Process Owner
Site Systems Owners
Manufacturing execution
Manufacturing execution system
Distribution control systems
Batch disposition
Manufacturing execution systems
Quality testing management
Laboratory information
Management system
Continued process verification
Scientific data management system
End-to-end planning
Enterprise resource planning
Real-time modeling system
Qualification and validation
Validation life-cycle management system
Documentation and training
Learning management system
Documentation management system
Quality compliance
Quality management system
---
The digital plant organization is based on GAMP® 5 governance concepts supported by a decision committee (Figure 1).
The key takeaway messages to make the digital transformation a reality are as follows:
A strong digital organization is able to understand user requirements and manage information technology and computer system validation constraints.
Top management must support and fund local leadership.
The organization must have a clear and stable roadmap with a strong project management execution focus.
The organization must develop its digital culture, leverage existing data, encourage a "source of truth" mindset for decision-making, and effectively train and communicate with its employees.
It is important to establish clear and simple roles, responsibilities, and decision workflows.
The digital transformation should be system- and governance-agnostic; involve best-in-class specialized external partners; and have well-managed local, corporate, and multisite projects.
---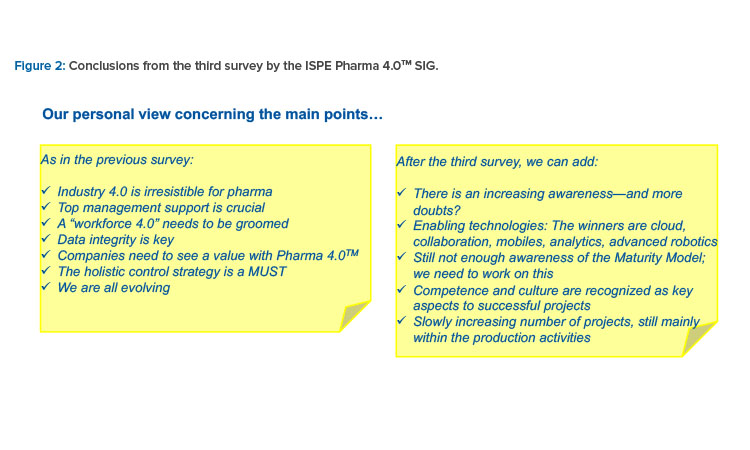 ---
Teresa Minero, Chair of the ISPE Italy Affiliate, Pharma 4.0™ SIG member, and Founder and CEO of LifeBee, a firm specializing in digitalizing life sciences, gave an update on the Pharma 4.0™ SIG's third annual survey of Pharma 4.0™ stakeholders, including manufacturers, technology developers, suppliers, regulators, and consultants. Specifically, she focused on responses from the survey conducted in October 2019 (316 participants) and how they compared to findings from the 2017 survey (about 300 participants) and 2018 survey (more than 400 participants).
The 2019 survey, which added questions about organizational aspects of Pharma 4.0™ and the skills and abilities required to deliver Pharma 4.0™ projects, included the following 10 questions:
Rate a set of statements, mainly regarding the meaning and approach to Pharma 4.0™.
Rate the impact on Pharma 4.0™ on a set of main issues currently at the center of debates within the pharma industry.
Pharma 4.0™ prospects: Trends, specific needs, regulatory enforcement and constraints, operating model.
What is the Pharma 4.0™ maturity level you see in your organization? Not started, just starting, pilots, or systematic ongoing actions?
What is your company's interpretation (technical, tactical, strategic) of the Pharma 4.0™ perspective?
Which Pharma 4.0™–enabling technologies are the subject of adoption in your company?
In the event of active projects, specify the area you are either working or planning to work on.
Please describe one to three Pharma 4.0™ projects your company has been working on.
Who is involved in Pharma 4.0™ projects within your company?
For of each the following competencies, please rate its relevance for carrying out a successful Pharma 4.0™ project.
Figure 2 summarizes findings of the most recent survey. Additionally, the following points about the survey deserve elaboration:
Pharma 4.0™ is increasingly seen as a strategic matter (by 49% of respondents in 2019 compared with 31% in 2018); the percentage of respondents who categorized it as a mere tactical option declined to 22% from 38% in 2018.
There was a slight but meaningful increase in project implementation; the percentage of companies with systematic ongoing actions and/or pilot pro-jects rose from 38% in 2018 to 44% in 2019.
Recognition of Pharma 4.0™ is widening, but perception of the maturity model can be improved—the ISPE Pharma 4.0™ SIG is continuing to work on it!
More than 90% of respondents said that culture and resources are always relevant or key relevant factors for the ISPE Pharma 4.0™ operating model.
All organizational roles from middle to top management are involved in Pharma 4.0™—and this is good news!
Respondents consider professional and personal skills to be central to a successful Pharma 4.0™ project, affecting factors such as data-driven decision-making, effective communication about results, management of project teams, scheduling, and stakeholder awareness of the relationship between business processes and the transformation project.
Christian Wölbeling, Senior Director, Global Accounts, at Werum IT Solutions, Germany, and Founder and Chair of the ISPE Pharma 4.0™ SIG, gave an overview about the accomplishments and ongoing efforts of all Pharma 4.0™ SIG subgroups.
He focused on issues related to quality, explaining that regulators in various countries are not fully satisfied with the manufacturing and quality performance of many drug substance and drug product manufacturers, QC laboratories, and contract laboratories, for a variety of reasons documented in publications and inspection statistics. Quality deviations can even result in drug shortages, he noted.
---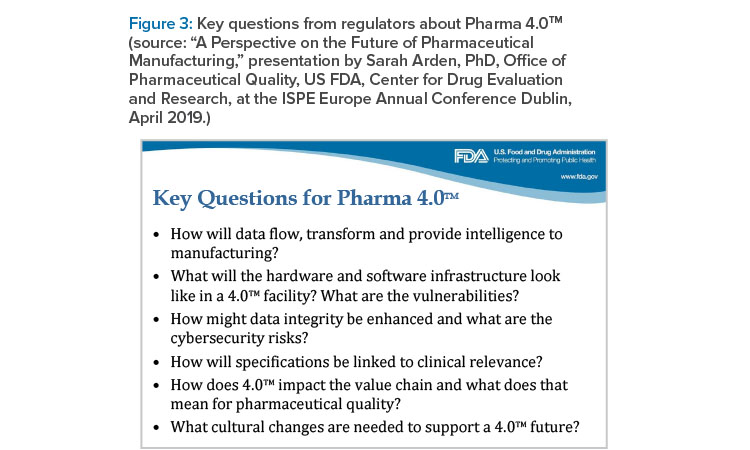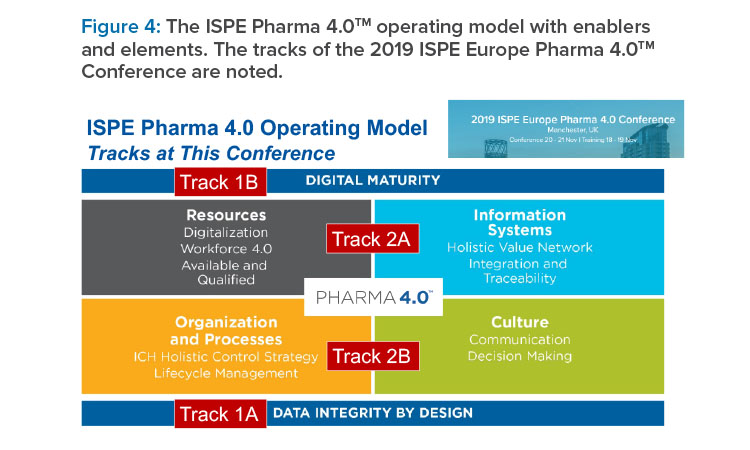 ---
According to Wölbeling, the SIG is actively pursuing answers to key questions that have been posed by regulators such as Sarah Arden of the US FDA (Figure 3). For example, the ISPE SIG has developed the Pharma 4.0™ operating model and created subgroups to define the roadmap to Pharma 4.0™ along the pharmaceutical life cycle and in accordance with the ICH Q10 pharmaceutical quality systems digitalized elements and enablers (Figure 4). Notably, the digital transformation to the Pharma 4.0™ operating model is not an IT project; rather, it is a reorganizational Lean/change management project.
Kevin Bailey, Good Manufacturing and Distribution Inspector from MHRA in the UK (Figure 5), delivered his perspective on the future of pharmaceutical manufacturing.
He explained that one of the drivers for the next generation will be the changing spectrum of medical product activity from large-scale stable batches to the single-person "batch," and from a small number of centralized manufacturing sites to a large number of point-of-care manufacturing sites. Production could combine partial central manufacturing with diversified local finishing at sites of product use. In such a model, quality oversight by a qualified person (QP) must be differently organized.
Pharma 4.0™ approaches can help design and manage this transition, Bailey said, as new modes of production affect many key parts of the industry, including electronic batch records, maintenance, training, factory investigations, security of the pharmaceutical supply chain, data integrity controls, and process monitoring.
AI will play a role in supporting QP certification decisions. However, to ensure the safe implementation of algorithms, workers will need new skills to help them understand the AI model, control outsourced technology, and guarantee cybersecurity.
---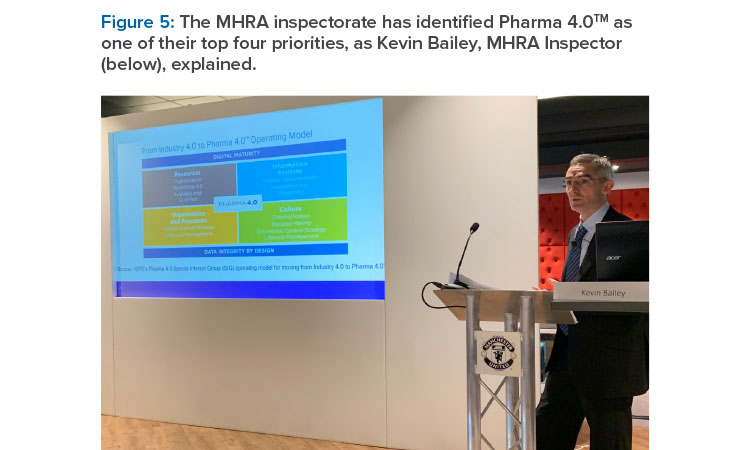 ---
After Bailey's presentation, the conference split into parallel tracks (see Figure 4). Some highlights from these tracks are described next.
Digital Maturity
Romain Bourgin, Manufacturing 4.0 Program Director at Sanofi Pasteur, explained the company's manufacturing strategy in motion program.
Before the program started, stakeholders identified five roadblocks to digital maturity: a lengthy decision-making process; insufficient IT delivery and support; funding constraints; challenges in securing resources; and organizational silos and resistance to change. The top five key enablers were identified as strong governance and sponsorship; commitment from employees on the shop floor and in middle management; a dedicated digitalization team and funding; an effective change management strategy; and proper staff training or recruitment to implement new competencies and technologies.
---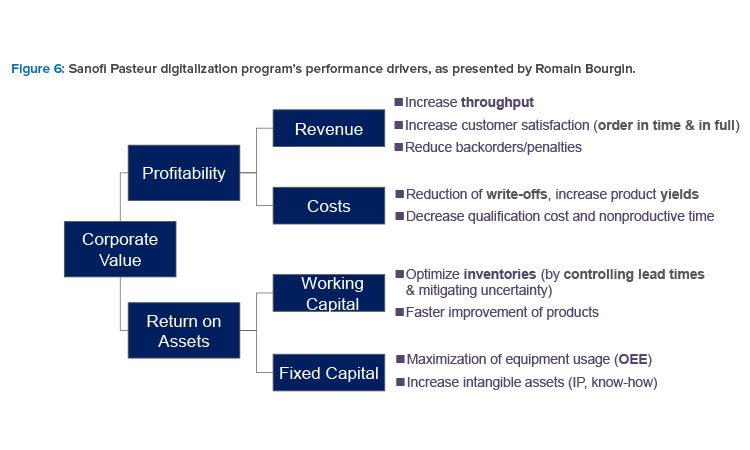 ---
The program has five missions:
Improve products and manufacturing processes to increase yield and reduce write-offs.
Facilitate decision-making and increase predictability, lowering inventory levels and optimizing costs of goods and services.
Improve building and equipment design and use.
Align and streamline documentation flow for product and quality management.
Enhance shop-floor personnel qualifications and improve workstation ergonomics.
Figure 6 identifies the digitalization program's performance drivers. This program focuses on seven digital capabilities: big data collection, machine learning/AI, release by exception, deviation intelligence, multilayer digital dashboard, augmented operator, and e-maintenance.
The strategic intentions are to unleash full potential of big data, implement paperless processing, streamline the value chain, democratize access to data, empower the workforce, and increase engagement. The program's roadmap has defined 10 projects: bulk manufacturing; formulation; filling; pack-aging; final release; training; quality control/quality assurance; maintenance; supply chain and logistics; and health, safety, and the environment.
The ISPE Operations Model—Resources and Information Systems
Simon Webb, IT senior director, EMEA and APAC, at AstraZeneca, USA, described how the company defines "digital" in operations. It focuses on process digitalization; connectivity and sensing; big data analytics; robotics and automatization; AI; and business model innovation. These priorities require new ways of working, a shift in culture and mindset, changes to the operating model, and new capabilities and underlying IT platforms.
Strategically, the company is shifting from technology-led efforts to vision-led innovation—in other words, from IT-driven strategies to a business and IT partnership.
AstraZeneca's factory of the future will be based on visualization of data analytics; capturing big data from shop-floor sources; reducing human intervention through advanced automatization; Internet of Things (IoT) methods to trace and control batch processing through real-world data; digital twins; and AI applications to analyze big data and predict ways to optimize manufacturing or proactively detect safety problems in operations.
AstraZeneca plans to start with digital lighthouse projects to demonstrate the business impact of digitalization, increase the company's understanding of technology, and determine the best ways to integrate the new way of working into business processes before scaling up the project. Simon showcased one of these lighthouse projects, batch release visualization. The proposed solution is the real-time visibility of all release processes, process performance measures, and process improvement strategies. Business benefits such as process efficiency, reduced workload for employees, and an earlier launch of a new product have been achieved in this project.
Mareile Fuss
Head of Business Process Excellence/ Strategic Projects
Boehringer Ingelheim Pharma GmbH & Co KG
Mareile Fuss, Head of Business Process Excellence/Strategic Projects at Boehringer Ingelheim, Germany, reported about usage of smart glasses by pack-aging-line workers. Eighty different packaging operations were created, and the employees' feedback about the technology was positive: they reported that the smart glasses technology was comfortable, useful, and well supported. This shop-floor pilot program achieved 30% savings in job training, and processes were faster and more flexible. The initiative took about two years to show a return on investment, and broader usage of smart glasses by packaging-line employees is anticipated.
Smart glasses were also tested in manufacturing for on-call services during night and weekend shifts. The glasses allowed the on-call employees to receive video transmission at their homes. In this pilot, too, the employees' feedback was positive, and faster processes and greater flexibility were noted. At a strategic level, smart glasses enable implementation of a network strategy.
Notable technology-related lessons learned in the projects included the following:
IT server connection to the devices is key.
Know-how sharing between IT service and user needs to be a common learning.
Good WLAN coverage is needed.
Lessons learned at a management level were as follows:
Before the project launch, stakeholders must clearly define the project of scope, achievable targets, roles and responsibilities, and realistic timelines.
Highly motivated local management is key to project success.
The expectations of all involved parties must be well managed.
Fuss noted the considerable challenges of running a pilot in a productive environment but said that she anticipates more smart glasses applications will be implemented.
Organization, Processes, and Culture
Heike Roeder, Head of Process and Knowledge Management for Bayer AG, Germany, and Zam Tahir, an ISPE Young Professional working for Thermo Fisher Scientific, UK, used Alexa, the digital assistant by Amazon, to help them act out a scenario about standard operating procedure (SOP) management of the future. In this show, they illustrated the transition from documents in binders or files, more or less isolated from each other, to data integrated and cross-referenced within a connected, always up-to-date system optimized for training processes.
In the demonstration, standard operating procedures were centralized in a standard operating procedure chatbot, a technology that allows open learning because the entire community of users can correct and comment on answers and add new variations to problems. The learning could be made available to other chatbot users as soon as it was saved, meaning that all members of the user community can be teachers as well as students.
The presenters acknowledged that it is a challenge to harmonize this new way of working with current principles of quality management, which need authorization and release processes. They also noted that chatbot and smart glasses technology might be combined to facilitate learning.
Conclusion
It is fitting that the site of the 2019 ISPE Europe Pharma 4.0™ Conference was Manchester United Stadium, where many historic football games have been played, because Pharma 4.0™ undoubtedly represents a championship-level contest for the pharma industry's future.
The stakes in this Pharma 4.0™ "match" are high. Together with all our stakeholders, from shareholders to patients, we need to make our industry faster, more competitive, and more sustainable in delivering high-quality, safe, and effective drugs and medical devices to the public.
Voices from the Conference
The 2020 ISPE Europe Pharma 4.0™ Conference will be held in Cork, Ireland, in November 2020. We hope these comments about the 2019 conference inspire you to join us there!
"The manufacturing and control of biopharmaceutical products is at the dawn of a profound transformation, where we will move from document-centric to data-centric processes. This will require a joint effort from manufacturers, regulators, and suppliers. The ISPE conference in Manchester was a great forum to address the challenges and opportunities with the right mix of industry presentations, supplier viewpoints, and interactive workshops."
—Romain Bourgin, Program Director, Manufacturing 4.0, Sanofi Pasteur, France
"For us as exhibitor and sponsor of the Pharma 4.0™ conference, the event in Manchester was very valuable. We were stunned by the quality of the visitors. As solution providers, we saw a good mix of possible clients and partners alike. The booth was never overcrowded but always busy. Pretty much every conversation we had was worth a follow-up. We already booked our booth for the European ISPE conference in Madrid next spring."
—Robert Hoffmeister, CEO, Goodly Innovations, Germany
"Though I live in the US, I attended the 2019 ISPE Europe Pharma 4.0™ Conference in Manchester, UK, to network with others involved with Pharma 4.0™, to find out how I can contribute more, and generally to get more involved in Pharma 4.0™. The conference was well worth the trip. The sessions and speakers provided great insight into where the industry is, where it is going, and what challenges it faces in implementing Pharma 4.0™. The exhibition space, coffee breaks, and networking dinner provided a great opportunity to get to know others involved in the movement, and to meet some of my fellow Validation 4.0 SIG members in person."
—Chip Bennett, Assistant Director, CAI–USA
"As a Young Professional participating for the first time in an ISPE conference, I had a very rich and inspiring experience. The two-day conference was full of knowledgeable people sharing their experiences and showing how it is possible to successfully adopt Pharma 4.0™ and what the challenges and next steps are. A highlight of the conference is all the people I met. At an early stage of my career, it's fundamental and very interesting to meet people from all around the world who share a passion and interest for Pharma 4.0™, and are always willing to share their advice and experiences. I look forward to keeping contact with many of the people I met, and to meet all again at the next ISPE conference!"
—Jessica Luzio, Young Professional, Tenthpin Management Consultants, Portugal