Focus on Balance: Profile of ISPE Delaware Valley Chapter
Delaware Valley Chapter's success was recognized at the 2019 ISPE Annual Meeting & Expo in Las Vegas, where it was awarded the Affiliate and Chapter Excellence Award. In addition, Delaware Valley Chapter member Emilie Pelletier was one of the authors who received the Pharmaceutical Engineering®  2018 Roger F. Sherwood Article of the Year Award, and Delaware Valley Chapter Board Secretary Dennis Gross received the Joseph X. Phillips Professional Achievement Award for his significant contributions to the pharmaceutical industry.
"Our members are our heartbeat," said Delaware Valley Chapter President Eleanor Small as she spoke about receiving the Chapter award. "This award is recognition of everything we do together, including our contributions to guidance policies and international CoPs. It's about speakers, how our members participate at the Chapter level, and how we do our volunteer work. It really is an all-around award, and it would not have been possible without the collective contributions of all our members."
Succession Planning
Founded in 1982, Delaware Valley Chapter was the second Chapter created at ISPE. It covers eastern Pennsylvania, southern New Jersey, Delaware, and part of Maryland, a region that is home to a vibrant pharmaceutical and biotechnology sector and several top-tier universities. "I've heard people call this 'Cellicon' Valley. It's a funny play on words, but there really is something to it. The number of start-up companies and the incubator space we have in this area is pretty phenomenal," said Small.
The location within this pharma belt provides Delaware Valley Chapter access to one of the world's highest-density areas for pharmaceutical professionals. The Chapter currently has close to 900 members, with a high retention rate of 78%. When membership declined slightly in recent years, the Chapter successfully reversed the trend through a program focused on new membership and a simple yet effective effort to email former members whose memberships had expired.
Maintaining continuity while bringing in new people and ideas can be a challenge for leadership of any organization; however, Delaware Valley Chapter's structure seems to encourage smooth transitions. To become Delaware Valley Chapter President, a member must first serve on one of the Chapter's seven committees (Programs, Education, Marketing & Communications, Membership, Young Professionals, Students, and Symposium), rise to the position of and serve at least a one-year term as Vice President of a committee, and then serve a one-year term as Executive Vice President. The Executive Vice President succeeds the current President for a one-year term. The President stays on the Delaware Valley Chapter Board for one year in the Past President role.
Value for Members
The Delaware Valley Chapter annual event calendar is an active one, with three types of activities: education, programs, and member events. The four education events held per year offer in-depth training on various topics for pharmaceutical engineers. "Anyone with a professional engineering license is required to maintain professional development hours, and our education sessions meet all of the professional development hour requirements for PE licenses in New Jersey, Delaware, and Pennsylvania," explained Small. "If members attend all four events, they can earn their 12 professional development hours and stay on the cutting edge while having great networking opportunities."
Programs provide attendees a higher-level learning experience, mostly focusing on hot topics. "These events cover what's new in the market, and sometimes we use them as teasers, where if we see a lot of interest in a topic, we can build an education event from it," said Small.
Although education and program events provide networking/social opportunities for members, member events are the most focused on that Delaware Valley Chapter benefit. "We want our members to be able to connect on a deeper level," said Small. "We have a holiday party, and we always do an end-of-year event like going to a Phillies [baseball] game, which we often use for recruitment. We also do service events, such as Habitat for Humanity or the Future City Competition, which provide members an opportunity to give back to the community."
On 14 May 2020, Delaware Valley Chapter will host its Annual Symposium and Exhibition at Lincoln Financial Field, home of the Philadelphia Eagles football team. The event features education opportunities, a career fair, an academic pathway to ISPE, and networking. "We have a speaker stage, and this year we did a call for abstracts and received a lot of submissions, and we are going to select some good quality talks for our members," said Small.
Finding Balance
When Small became Delaware Valley Chapter President, she decided on a mantra to follow: balance for better membership value. "We need to balance what we are asking of our members," she said. "I don't want to flood members with emails or have so many events that they can't attend them all. I do want to provide value for the money they are paying for their membership. So, we established a pattern of alternating between education, programs, and member events."
---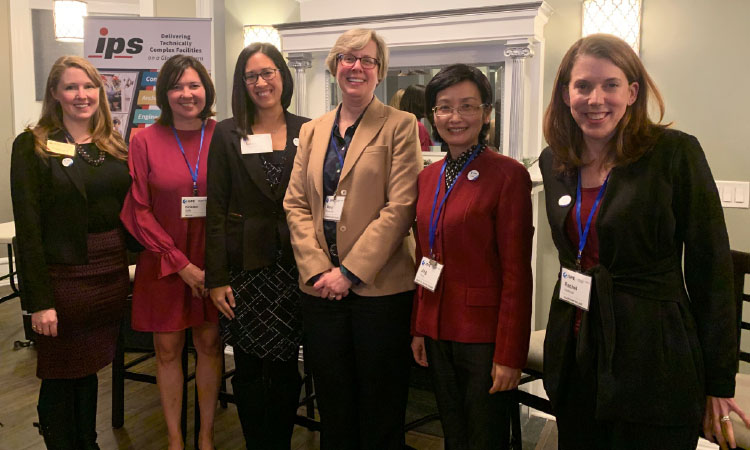 ISPE Delaware Valley Chapter's ISPE Women in Pharma Learning to Lean-In in Today's Business Environment conference on 4 December 2019 in Conshohocken, Pa. Left to right: Moderator Eleanor Small, ISPE-DVC President, Johnson & Johnson Inc.; speakers Kristen Duffy, Chief of Staff, Global Biologics and Sterile Operations, Merck; Laura Flessner, Director, New Venture Insights Lead, GSK; Meryl Towarnicki, President, Genesis Architects; Jing Yang, People and Business Resource Group Lead, Pan Asian Network, Bristol-Myers Squibb; and Rachel Haddock, Vice President Technical, Biopharms and Steriles, GSK.
---
"We also have to find balance for our volunteers. The last thing you want is to have someone who is enthusiastic and wants to be part of the Board, and then you burn them out in two years. Volunteers are a precious resource and need to be protected. So, by alternating when we do education, programs, and member events, we are also spreading out the monthly responsibilities between our committee members."
Small's other focus has been to improve the Chapter's performance with Young Professionals (YPs) and students. "I brought in two people who have the right skill set and asked them to think outside the box and build things from the ground up," she said. Some Young Professionals events have included social get-togethers involving activities such as axe throwing or meet-ups at local breweries. This year, the Chapter will be introducing lunch-and-learn events because Delaware Valley Chapter's Young Professionals survey showed that many members don't want to go to events after work.
On the student side, Delaware Valley Chapter is taking a different approach by focusing on students at the graduate level and those in the sixth, seventh, and eighth grades; the strategy recognizes that middle school students are at a critical age for deciding whether they will follow a STEM path. "We feel like this is an opportunity to really engage the students and help them make the decision to stay in STEM," Small said.
The Chapter also encourages its members to stay connected with the professional student societies at their alma maters, especially the ones not associated with pharmaceutical engineering. Small's reasoning is that many future pharma professionals are studying other disciplines, such as chemical or mechanical engineering. "We are trying to create adjacent benefits where we participate in career events hosted by professional societies like the American Institute of Chemical Engineers and try to engage the students by giving them the pharma perspective."
---
Quick facts about the Delaware Valley Chapter
Founded: 1982
Region: Delaware Valley
Membership: 900
Officers
President: Eleanor Small, PhD, Johnson & Johnson
Executive Vice President: Marvin Royal, STEQ America
Secretary: Dennis Gross, MS, PhD, PA Drug Discovery Institute
Treasurer: Amy Markey, Carisma Therapeutics
Vice President Programs: Michael DeBellis, Jacobs
Co-Chair Programs: Sawyer Romich, Hargrove Life Sciences
Vice President Education: Brendan Bradley, Vanrx Pharmasystems
Co-Chair Education: Daniel D'Aquila, GlaxoSmithKline
Vice President Marketing and Communications: Michelle Santoro, CPSM, Skanska USA
Co-Chair Marketing and Communications: Tieg Murray Rustam, Skanska USA
Vice President Membership: Laura-Ann Chin, MSc, Genesis Engineers, Inc.
Vice President Young Professionals: Jenna Eicherly, Laporte Consultants
Vice President Students: Jon Becker, RPA Engineering
Vice President Symposium: Jill Clark, CRB
Co-Chair Symposium: Sandra Bones, CPSM, IPS
Directors: Michael Faia, Jazz Pharmaceuticals; Greg Sabatino, MBA, Eisai Inc.; Peggy Del Fabbro, M. Davis & Sons; Bill Dugary, Applied Control Engi-neering, Inc.; Glenn Lawrence, Merck & Co.
Past President: Kristina Pumphrey, Precis Engineering