Why Is Process Validation an Essential Part of the Pharma Industry?
In today's pharmaceutical industry, process validation relies on information and knowledge from product development activities to ensure patient requirements are translated into product attributes. A key to success is establishing a comprehensive science-based process design that focuses on understanding sources of variability.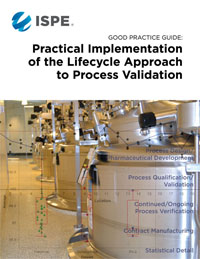 Robert Beall, one of the lead contributors for the ISPE Good Practice Guide: Practical Implementation of the Lifecycle Approach to Process Validation, shares his insights for how to utilize expert guidance and the impact the guide will have on educating the industry. ISPE's guide focuses on the lifecycle approach to process validation which determines the product's quality at every stage and overall reproducibility. "Process validation is an essential part of the pharma industry because back in the early 2000s there was a drug shortage that was caused by companies not understanding what it took to get a good, safe, and compliant product to patients," said Robert Beall.
Challenges in pharmaceutical process validation methods have emerged due to the ever-developing product market and new treatments for patients. Pharmaceutical professionals encounter breakthrough therapy products that require reliable processes and manufacturing, for substantial production. "Back in 2010, half of the products on the pink sheet came from a facility that I was at and those products were life-saving drugs that people needed, their kids needed them and the reason we had the problem was people haven't validated the process," said Beall. "When I say validated the process, I mean that they didn't go through the steps to make sure that the product was robust, repeatable, and that people were trained effectively and efficiently to be able to do the job right the first time."
In validating production processes and data, pharmaceutical leaders can remain competitive with training of manufacturing and delivering life-saving treatments. Industry professionals will greatly benefit from the thoroughly reviewed guidance and exceptional insights from leaders in regulation and academics, included in the good practice guide. Process Validation approaches require detailed review and influence the reliability of facilities and their operational equipment.
"Process validation guidelines were an attempt to try to answer questions and put steps in place to stop a loss of product but unfortunately it created more questions than it gave answers to. There's a lot of things in this guide that are important because not every company has a statistician and you're expecting them to understand confidence intervals and what risk is, how that relates to actual batch production, that's a problem," said Beall. The opportunity for training is increasingly important for the industry in addition to manufacturing innovations for new processing to undergo validation.
Industry professionals can implement structured process methods and monitor development at each stage by utilizing the lifecycle approach outlined in the ISPE Good Practice Guide. "The guide that we created actually has a lot of those answers and we have appendices and case studies that show how to make a product that is compliant and repeatable and will be able to delay the loss of product for patients who need it," said Beall.
The practical implementation advice and selected case studies facilitate the conversation and promote understanding between all areas of the industry facing issues with process validation training. "This guide was developed by the experts for the experts and so if you're entering into process validation, if you're thinking about doing process validation, you need this guide because it takes you step by step through the process so that people on your team and regulatory experts can see a common language the common way of doing things and you're able to get through the approval process faster and more effectively," said Beall.
The ISPE Good Practice Guide: Practical Implementation of the Lifecycle Approach to Process Validation is a resource that all pharmaceutical leaders should purchase especially those who face process validation challenges with their facilities and products. The industry will greatly benefit from organized instruction on how to translate scientifically sound developments into robust reliable processes.