The Surge of CAR-T Products Drives Medicare to Evaluate Coverage
"The FDA is witnessing a surge of cell and gene therapy products entering early development, evidenced by a large upswing in the number of investigational new drug applications. Based on this activity, we anticipate that the number of product approvals for cell and gene therapies will grow in the coming years, reflecting significant scientific advancement and the clinical promise of these new innovations." stated Scott Gottlieb M.D. 23rd Commissioner of Food and Drug Administration in a January 2019 press release.
One such new therapy is Chimeric Antigen Receptor T-Cell (CAR-T) Therapy. "The new immunotherapy treatment CAR-T represents a paradigm change in cancer therapy. For the first time, cancer treatment can be directed specifically to the cancer cells, sparing most of the normal cells, and resulting in very high remission rates in patients who have otherwise failed all other available treatment. Many patients who would have otherwise succumbed to their disease, are alive and well today, as a result of the CAR-T treatment" commented Mounzer Agha, MD, UPMC, Hillman Cancer Center.
The Centers for Medicare & Medicaid Services (CMS) recently proposed to cover this new form of cancer therapy as there is no national Medicare policy. This lapse allows Medicare Administrative Contractors (MAC) to determine whether and how much to pay. The proposed determination would require Medicare to cover the therapy nationwide which would improve access and promote better patient outcomes.
Of the 345 National Coverage Determinations (NCD) in the database, only 6 are for Drugs and Biologics. "Coverage with Evidence Development" (CED) agreements are for situations where a treatment of technology demonstrates promise for significant benefits, but there are uncertainties regarding its future clinical or economic impact at the time of approval. CMS is currently seeking to remove CAR-T treatments from the requirement for clinical study participation as a condition of coverage to allow the agency to determine the types of cases in which Medicare would deal with.
Currently there are only 2 CAR-T drugs approved by the FDA that have (CED) designations but there are more in clinical trials and the potential market is considerable. Estimates for cell and gene therapy range from GE's estimate of $10 Billion in 2021 to a PR news wire analysis of $25 Billion by 2024. These figures are based on the number of clinical trials currently in the pipeline.
The 2 CAR-T therapies approved by the FDA are Kymriah and Yescarta. The set cost for Novartis' Kymriah is $475,000.00; the total cost of treatment is estimated at $510,963.00. The cost for Kite Pharma's Yescarta is $373,000.00 with the total cost of treatment estimated at $402,647.00i . Others have placed the total cost of treatment in excess of $750,000.00.
The difficulty in determining a true cost lies in the nature of the review process prior to FDA acceptance. "In contrast to traditional drug review, where 80 percent of the review is focused on the clinical portion of that process, and maybe 20 percent is focused on the product issues, I'd say that this general principal is almost completely inverted when it comes to cell and gene therapy." noted Dr. Scott Gottlieb.
Major companies and collaborations that are actively pursuing new immunotherapy treatments include:
Bellicum Pharmaceuticals
Bluebird bio/Celgene/ Baylor College of Medicine – Center for Cell & Gene Therapy
Janssen Global / Legend Biotech
Juno Therapeutics
Memorial Sloan Kettering Cancer Center
Novartis /UPenn/ Oxford BioMedica / GE Life Sciences / Intellia Therapeutics
Pfizer (via Cellectis collaboration)
Poseida /Janssen
Unum Therapeutics / Seattle Genetics
ZIOPHARM / Intrexon/ UT Texas MD Anderson Cancer Center
Cell therapy clinical trials are happening worldwide – in excess of 30,000 based on Axendia's analysis of NIH U.S. National Library of Medicine Data (reflecting all 4 phases.) Yet typically only a quarter of all clinical trials enter Phase 3.
---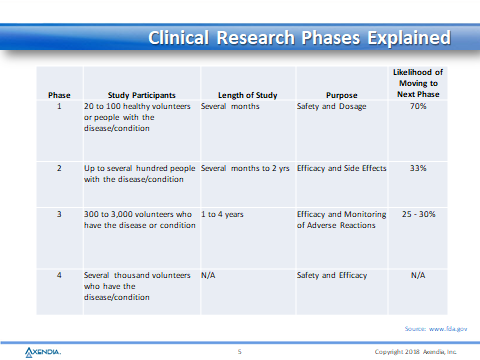 ---
Based on a review of NIH U.S. National Library of Medicine Data last year, Axendia estimated that there were a total of 20,000 clinical trials for cell therapy in process in North America, of which 320 were in Phase 3 or 4. These trials cover potential break-through treatments where more traditional approaches have failed in breast, leukemia, lung, melanoma, ovarian, vascular and other cancers as well as diabetes, multiple sclerosis and other life-threatening diseases.
Cell Therapy markets represent a significant growth market for Bio-Pharma with the large number of clinical trials pointing to a strong pipeline. The addressable market for cell therapy is expected to reach $10's of Billions by the early 2020's. FDA regulatory framework is favorable and supports the development of these therapies. Pricing for initial products supports high profit margins however market and reimbursement price pressures will have an impact on margins and point towards a new pricing model.
The FDA has recognized the unique and transformative nature of the immunotherapy sector. The 21st Century Cures Act (Cures Act) was designed to reduce regulatory obstacles for FDA approval of innovative medical therapies and accelerate the process of bringing innovative products to patients with unmet medical needs. Included in the Cures Act was a process to facilitate and expedite development of regenerative medical therapies, such as cell therapies or human tissue products, known as the Regenerative Medicine Advanced Therapies ("RMAT") designation. The FDA has issued a final guidance document Expedited Programs for Regenerative Medicine Therapies for Serious Conditions to assist pharmaceutical companies in identifying potential treatments as RMATs prior to clinical trial.
The Alliance of Regenerative Medicine undertook a study in 2017 to address key issues relevant to payers, providers and manufacturers. The medical directors at commercial managed care organizations and health system and provider organizations, noted that existing U.S. systems are not geared to absorb the financial impact of single administration model therapies. Study respondents anticipated that without innovative payment and financing models, some regenerative and advanced therapies could face challenges in obtaining coverage.
One of the major challenges with this new treatment regimen is determining a reimbursement scheme that allows organizations both large and small to recoup their investment costs while charging the patient (or rather the insurance companies) a reasonable fee. Novel reimbursement and payment models will be needed to ensure patients have access to those therapies that will have a transformative impact on their lives.
---
iTotal Costs of Chimeric Antigen Receptor T-Cell Immunotherapy
Inmaculada Hernandez, PharmD, PhD; Vinay Prasad, MD, MPH; Walid F. Gellad, MD, MPH
JAMA Oncol. Published online April 26, 2018