Biopharma 'Revolution' in Boston: Day 3
What is coming next in biopharmaceutical manufacturing? That question was addressed in plenary sessions at the 2019 ISPE Biopharmaceutical Manufacturing Conference 18-20 June in Boston on the second and third days of the conference. View more about the opening day plenaries and the conference:
Viral Vectors and More
Thursday 20 June kicked off with a morning plenary session. Richard O. Snyder PhD, VP, Science and Technology, Pharma Services, Thermo Fisher Scientific presented on "Viral Vectors for Cell and Gene Therapies: From Research to Commercial Production." He described the viral vector's role in vivo gene therapy, and gave some background about progress with this technology as well as the work that Thermo Fisher is doing.
The gene therapy landscape is maturing rapidly, with many participants joining, and regulatory expectations are also maturing rapidly as are industry practices to meet those expectations, he said.
The sector is unique, he said, for several reasons:
Speed: (first-in-human to BLA in less than four years) early process lock (driving high volume demand); regulators' engagement; potential one-and-done treatment; increased importance of manufacturing due to cost and complexity.
Bespoke facilities (can't use vast biologics capacity): dedicated suites with platform processes (change transgene); complex facilities (vector type, manufacturing platform); drives desire to secure pre-approval commercial capacity.
Market dynamics: existing biologics innovators switching to gene therapy; large biopharma outsourcing multiple technologies; high pricing (reimbursement/ramp-up uncertainty); new supply chain paradigm (high product demand in early years, incidence rate in outer years).
Snyder discussed the recombinant viral gene transfer vectors and their progress, including the retroviral/lentiviral vectors that debuted in 2016-2017 (Strimvelis, Kymriah, Yescarta, and Zynteglo) and recombinant adeno-associated viral vectors developed between 2012 and 2019 (Glybera, Luxterna, and Zolgensma).
He talked about manufacturing strategy considerations including large-scale versus small-scale (lot size), including manufacturing platform choice and frequency of production; rapid proof-of-concept in humans using quick (small-scale- approach, followed by new process establishment and product comparability at later phases; upfront commercial-destined process development and establishment for uninterrupted path to commercial launch; own/license the manufacturing reagents (for portability versus reliance on another provider needs to be considered including choice of cell lines and starting materials.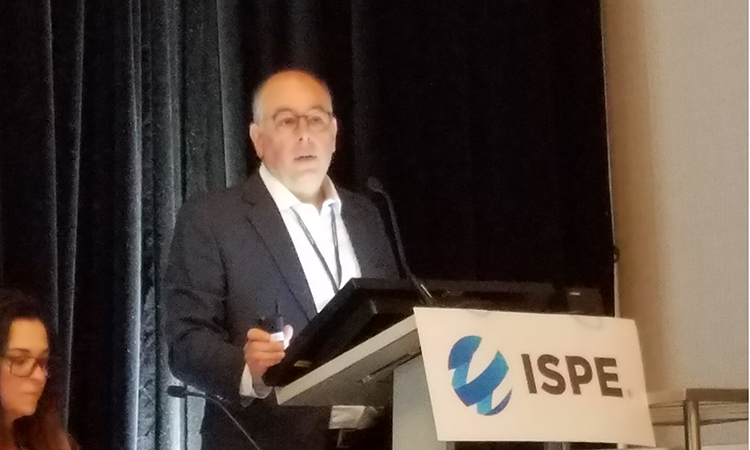 ---
New Challenges Ahead
The second Thursday 20 June morning plenary speaker, John G. Cox, Executive Chairman, Torque Therapeutics, spoke about "The Transformation of Bioprocessing—Past, Present, and Future.
Cell and gene therapy present a whole new set of challenges for bioprocessing engineers, Cox said. "We've got to figure it out to make those modalities have the impact on mankind that monoclonals [and others] have had," he said. The biotechnology industry's creation involved a first revolution (molecular and cellular biology) and second revolution (genomics). The next revolution has begun with new biologic therapeutic modalities, including recombinant proteins, monoclonal antibodies, and fusion proteins.
The third revolution is what he termed the "explosion" of therapeutic modalities, including gene therapy; gene editing; cellular therapy; RNAi, mRNA, and oligonucleotides; nanobodies; and novel delivery models such as nanoparticles.
Engineering's role in the first two revolutions has been in biotechnical engineering to transform yields; process engineering to transform throughput; and "dominant design" for robust scale-up.
Manufacturing is changing with the changes in the third revolution. "There used to be a dominant design: stainless steel, great engineering, pretty much the same plant layout." Since 2015, the industry has started to see shared capacity; in 2015 Biogen had multiple plants with bioreactor capacity of about 200,000 liters.
In the third revolution, bioprocessing is being transformed. While yield is a factor in the first/second and third revolutions, the supply shortages of the first two revolutions are giving way to supply integration with treatment centers. Where scale-up robustness was a feature of the first/second revolutions, scale down is in the third revolution. The first/second revolutions had large centralized capital investments, while the third revolution features miniaturization/point of care distribution. Throughput was key in the first/second revolutions; processing speed is in the third revolution. Quality is still a constant, but the cost of goods in the first/second revolutions is giving way to cost of treatment in the third revolution.
"The industry is being changed by these new therapeutic modalities, and the diversity of these is challenging" but provides exciting opportunities. "Instead of slowing disease progression, now we are talking about curing diseases!" The challenge remains to make these therapies cost effective and affordable.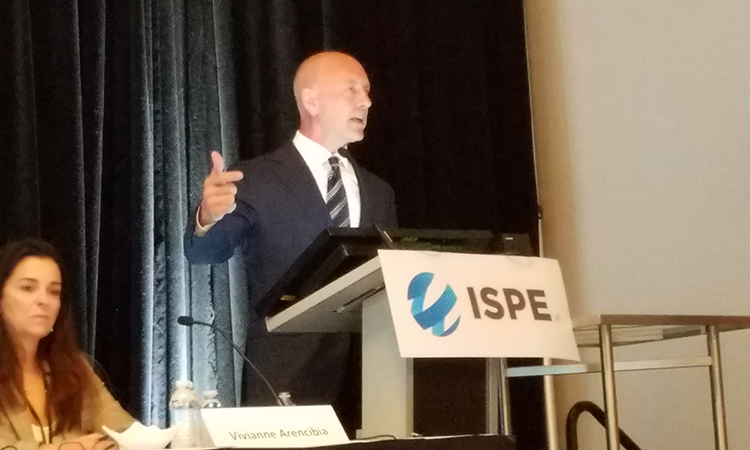 ---
Regulatory and Industry Issues
The closing plenary of the conference addressed "Practical Regulatory and Industry Issues: Manufacturing Processes."
The first speaker, Peter Marks, MD, PhD, Director, CBER, FDA, spoke on "The Critical Role of Manufacturing for Advanced Therapy Medicinal Products." ATMPs include gene therapies; human cells, tissues, and cellular and tissue-based products (HCT/Ps) requiring licensure; and xenotransplantation products." A controlled manufacturing process and understanding critical quality attributes for these provides clinical benefit, he noted.
The market is growing as indicated by the rise in IND (investigational new drug) applications to the FDA, Marks said. These new drugs present regulatory challenges because the scientific basis underlying the efficacy of the drugs is not always clear; it is challenging to ensure adequate control of the manufacturing process without being excessive; and lack of extensive regulatory precedent in some areas such as 3-D cell printing.
ATMPs present clinical market development challenges as well, he said. These include products that may be intended for use in very small populations; target populations may be dispersed geographically from the manufacturing site of personalized therapies; long-term safety and efficacy data may be required.
Manufacturing challenges for ATMPs include that these products are often made from living organisms and may not be easily characterized; they are frequently temperature sensitive and susceptible to microbial contamination; and they have relatively high complexity of manufacturing facilities and processes.
Helping to advance the development of cell and gene therapy are guidance documents, reducing administrative burden, clinical development initiatives, standards, and manufacturing initiatives. View Draft guidance on cell and gene therapy from July 2018.
Expedited programs for FDA consideration are also helpful: he described the Regenerative Medicine Advanced Therapy Designation (RMAT) to expedite product development and review. It applies to certain cell therapies, therapeutic tissue engineering products, human cell and tissue products, and combination products, including genetically modified cell therapies and gene therapies producing durable effects. To obtain RMAT, products must be intended for serious or life-threatening diseases or conditions; preliminary clinical evidence must indicate potential to address unmet medical needs; FDA replies to designation requests with 60 days; and designated products are eligible as appropriate for priority review and accelerated approval.
Post-approval requirements can be fulfilled as appropriate through submission of clinical evidence, clinical studies, patient registries or other sources of real-world evidence such as electronic health records; collection of larger confirmatory datasets as agreed upon; or post-approval monitoring of all patients treated with such therapy prior to approval of the therapy.
As of May 1, 2019, 34 products have been granted RMAT status, Marks said, out of 100 requests. Most are cellular therapy or cell-based gene therapy products.
The INTERACT program (Initial Targeted Engagement for Regulatory Advice on CBER ProduCTs) To further encourages early interaction with sponsors and replace the pre-pre-IND meeting process regarding preclinical, manufacturing and, clinical development plans.
Closed manufacturing systems are a possible solution on the horizon, he said. This could facilitate more efficient technology transfer, which could streamline preclinical evaluation required for first in human trials; make technology more accessible to academic innovators; and increase value of asset to investigators and industry. Potential challenges include agreement on vectors; prework needed to develop vector and protocols; and vector and protocol distribution.
Changes to Blas
Keith Webber, PhD, VP, Biotechnology, Lachman Consultant Services, Inc. was the final plenary presenter. He spoke on "Navigating Your Way from Route 361 to Route 351." The title refers to the Public Health Service Act (PHSA) Section 361, which was established to prevent the introduction, transmission, or spread of communicable diseases from foreign countries into the US or among its states.
The introduction of new modalities raised questions about whether Section 361 only applies or if additional licensing is needed. HCT/Ps (human cells, tissues, and cellular and tissue-based products) that don't meet all of the criteria for Section 361 are not regulated solely under that law. To market a drug that is also a biological product, a valid biologics license is needed.
Guidance issued by the FDA on 17 November 2017 provides regulatory discretion for three years until 17 November 2020. After that an IND or an approved BLA (biologics license application) will be needed to distribute products designated as drugs. Section 351 of the PHSA addresses regulation of biologic drugs.
Compliance touches on a host of activities, which Webber outlined, including site registration; listing products; evaluating facility design; establishing test methods and acceptance criteria for incoming components, inprocess controls; and lot release; and potency assays. CBER's INTERACT program can provide advice through the process.
---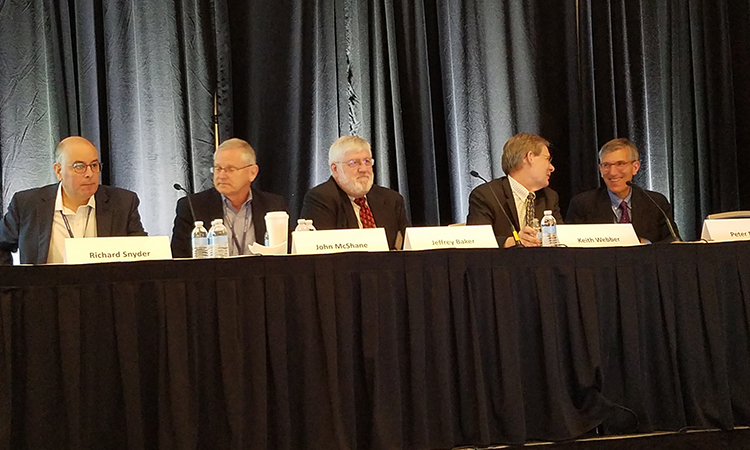 Panel Discussion
The Industry and Regulatory Panel Discussion closed out the conference. Participants were Baker, Marks, Snyder, and Webber, and they were joined by John McShane, Managing Partner, Validant. David Doleski, Compliance Head for Biologics Quality Operations, Sanofi, was the moderator.
Q. [to Marks] A number of products are coming. What plans does the FDA have to handle the dramatic increase in the number of applications?
Marks replied "We are staffing up. It is a little bit of challenge since everyone is looking to staff up at the same time! To have somebody truly able to give feedback, they need to be at the agency for several years, and trained. Even independently reviewing takes a year or two. As new meeting types come like INTERACT, Tech Team meeting (also new, similar to CDER critical path meetings), they are useful but if we don't have enough staff, it takes a long time to schedule. We will do our best and hope the industry will be sympathetic."
Q. [to Marks] One slide [RMAT applications] showed a relatively significant number of applicants were declined—56%? Comment to general reasons.
Marks replied that the declined applications fall into two major categories. "We sometimes get people who are very excited and want the designation based on very little evidence. If you have very little evidence, but it is consistent and clear, we've given the designation based on handful of patients." However, without consistency, the designation will not be given. Some of those that come early and get denied come back with more data and get approved. The less common second reason is "people submit clinical data about a product they intend to make in the future, like a product made in Europe. If you are not making the product, we don't know that you will get same results as they got in Europe. Data must be from the product you intend to use. Importing that Europe product is not a problem. It is not too different from breakthrough therapy designations."
Q. Application of data analytics on AI [artificial intelligence]–what is the FDA stance, especially on control strategies, testing, tech transfer, scale up, and validation? Are guidelines coming from the FDA on AI?
Baker said that AI "is real and it's here, it is not science fiction. One challenge is with a sort of bleeding edge technology, frequently there is proprietary material, so it is difficult to have a lot of shared learning." However, the good news is that global regulatory agencies are becoming more comfortable using model systems he said. "Very effective models make really good predictions. A lot of AI and machine learning stuff that is going on – they are nested models that make predictions in an information space. Conceptually, we're comfy with that. The challenge: demonstrate that the model does in fact make informed decisions."
There are challenges with quality management systems that are often set up as pass fail, he added; this is not an FDA issue. "What are you going to use the system for: process control? Reproducible and anticipated outcomes? If you use it for continuous improvement and platform development, how do you sequester through the QM system? It's a tool to make decisions. What kinds of decisions are we making? High quality decisions come from high quality information. It's emerging tech."
Marks added that the FDA met recently with Friends of Cancer Research on CAR-T immune therapies discussing critical quality attributes and what if AI was used to identify those attributes? They are working to try to get an agreement in place to get manufacturers to provide some data. Information about critical quality attributes tends to be closely guarded in manufacturing. "Within our own groups, two opposed groups: AI may be such a big mess no one will figure it out, others say AI is pretty powerful so something can be figured out."
Q. How to make the leap from a very small patient population, developing clinical materials, then going to commercial manufacturing?
McShane works with a lot of small firms on this. "When they get breakthrough designation or RMAT, then the pace picks up incredibly. A lot of firms may not even have head of quality at that point! Yet they know they need a quality system that will be commercial in less than 18 months. For a lot of my clients, quality is behind and it's really tough to catch up. You do not want to be that company that can't come to market because you have data integrity problems, or are not following ICH guidelines, or can't get investigations or change control done. I suggest that everyone has developmental plan. I urge you to have a quality plan to think about your quality system and when's the right time to put in certain segments. You'll be way ahead going forward."
Snyder added, "That's where working with CDMO with a track record can be a benefit. A challenge we often see is clients who have gone in and licensed a technology out of a university, have proof of concept, then immediately want to get to market space but really struggle because of legacy platforms and analytics; the cost to switch is extreme.
Webber agreed. "Moving from earlier R&D culture to earlier manufacturing of drugs culture—it is a huge challenge to have a QM system. It is a long-term challenge, scaling out to manage number of patients in the future. Development of standards was talked about at this conference and that may be the area in the long range that will be a huge help to continue development.
Q. Magnitude of conversion to BLA: How many products are eligible/need to be converted? What progress has been made?
Baker did not have numbers to share, but noted that "the number is not so large as the scope of the challenge: transition products have been on market for a long time by companies committed to continuous improvement, stabilization with modern analytics–an administration exercise is what it will be.
"The scope is broader than you might think–products and technical stewardship, and the commitment to technical stewardship shown over the last 20-25 years. We're not in the business of whopping people over the head with a BLA stick, but stay current, appreciate that 21st century technologies are an expectation. The team is working very very hard on this. I have been a little surprised, I expected a lot of industry engagement; I have not seen as much of that as I thought. Maybe because the requirement was part of the Affordable Care Act so maybe people were waiting to see what would happen.
[in response to a follow-up question asking for an explanation of the transition process], Baker explained, "when biotech was smaller, many products we call biotech today were approved as NDAs, and many approved as BLA. The field was being invented. Easier to tell now what is CDER and what is CBER. There are differences in the two approaches: in one case, approval of a molecule; other one is licensing a manufacturing capability. An ACA provision amended the definition of a biologic, said proteins are biologics. FDA has come up with statutory interpretation of the definition of a protein. Many products registered as NDAs are now under Public Health Services Act (as BLAs). 10 years were given to sort it out. These products will be deemed BLAs. Eight months to go now on the 10 years! A lot of discussions are occurring now. Protein products approved as NDAs will be deemed BLAs and that's the definition of transition products. All the insulins are a classic example but many others are affected.
Doleski said CDER regulates some biologics; many are in CBER; presumably these will change organizational responsibility within FDA.
Baker explained, "We're migrating all those transition products from the small molecule side of CDER for review, supplements, inspections, continuous improvement opportunities–those have already been moved into the Office of Biotech Products. We've identified all reviewers. Many companies were given opportunities for informal meetings with new reviewers and in fact to visit some sites; there have been many positive, informative meetings and discussions outside the context of specific decisions. There have been very different types of discussions around things like biopotency and facility issues. It's been positive. I do not anticipate an enormous flash."
Q. To Baker, a question was raised about going into PPQ batches with only one engineering run.
A. Baker said, "A BLA submission and process validation program are exercises in advocacy, not forensics. Any groups that approach it as forensics are well intentioned but not working within the current paradigm. You're advocating for a large molecule biotech product and claiming you are capable of maintaining a reliable, consistent drug supply for the patient. Engineering runs mean different things at different companies and may have occurred outside Quality Management or off protocol. They can be supportive evidence, assuming a QM system is live and does what it is supposed to do. The number of engineering runs, PV runs, scope of continuing validation are all part of you coming in and making that case, that argument. The answer is it is on the professional scientists and engineers to make the case that site is going to be very very likely ready to run. Great development, tech transfer, PPQ, maintenance of validated state – all make the case."
A. McShane added that process validation per2011 Validation Guidance from the FDA begins with development, which can include engineering runs, completion of the PPQ batches, and continues through a continuous process verification (CPV) program.
A. Baker noted, "And then you are in protocol, not experiment. Protocol says this is what success looks like. If you're going to run experiments to see how process works, that's development. If you have validated process, you are providing high-level assurance it will meet predetermined expectations in a way that impacts the patient."
A. McShane continued, "FDA guidance says uses statistics. After PPQ batches, start continued process verification and run it forever. Many have struggled getting CPV up and running. It's what your reliability over the manufacturing life of that product that counts," and CPV supports it.
Disclaimer: This is an abridged, unofficial summary of FDA regulators' presentations and discussion during a panel dialogue. It has not been vetted by the agency. The article above is an informal and brief synopsis of the FDA regulators' views, and do not represent official guidance or policy of the FDA.