Aseptic Processing Next Steps Addressed at 2019 ISPE Aseptic Conference
Tremendous advances in aseptic processing technology have been made and many operations have been modernized, said Richard Friedman, Deputy Director, Science and Regulatory Policy, Office of Manufacturing Quality, FDA/Center for Drug Evaluation and Research (CDER). However, non-sterile conditions still occur with "surprising frequency," and these instances "overwhelmingly" occur at facilities with lower capability technology.
Friedman's remarks were part of the Opening Plenary Session at the ISPE 2019 Aseptic Conference, where over 350 attendees gathered for the two-day conference from 18–19 March in North Bethesda, Maryland. Also in attendance were remote attendees participating through a new live-streaming option introduced by ISPE at the conference. The Aseptic Conference featured session tracks on barrier, aseptic, and containment topics.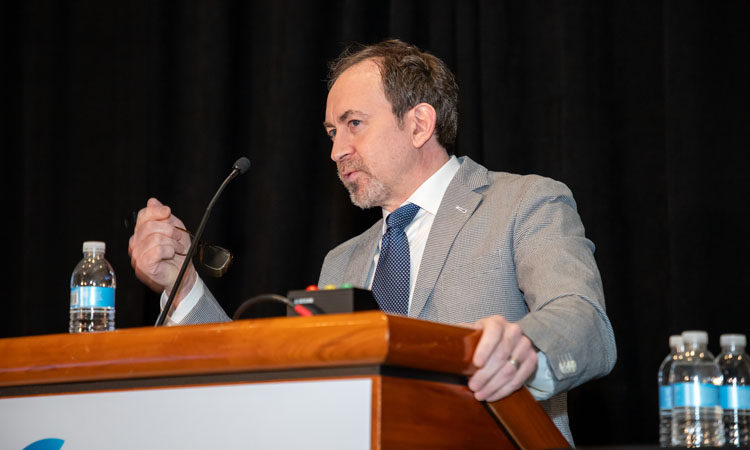 Disclaimer: This is an abridged, unofficial summary of a presentation by an FDA regulator at an ISPE conference that has not been vetted by the agency. This article does not represent official guidance or policy of the FDA.
ASEPTIC EVOLUTION
Friedman's opening plenary presentation, "The State of Aseptic Processing: Current Findings and Learnings," 1 , 2 , 3 , 4 , 5 looked at aseptic processing today and where further strides can be made. Modern facilities and technologies are needed, as are more highly skilled staff to support these, he noted. Improvement is needed in aseptic processing, especially in older facilities that may have poorly designed or maintained equipment because these lead to increased manual interventions that in turn raise the risk for microbial contamination.
These problems have led to both drug defects and critical drug supply shortages. Friedman noted that Janet Woodcock, Director of CDER/FDA, has testified before Congress about the impact of old or obsolete facilities or process elements and operations with high defect rates in violation of cGMP.
Regulatory concerns include aging facilities—Friedman noted that some facilities at the heart of current drug shortages have been operating continually since the 1960s—and inspection reports suggest some manufacturing lines have had just limited upgrades.
Robust quality systems equal a state of control for aseptic facilities, and Friedman outlined the benefits: Sound lifecycle decision making; use of scientific and risk-based approaches; establishing and maintaining a state of process control, which designs reliable processes and products; monitoring process performance and product quality; and managing risk effectively to create real "fixes" to problems.
Manufacturing reliability especially for aseptic starts with selecting the right design concept, he noted. Early emphasis on this is especially important for biotech and sterile manufacturing. Anticipate potential problems ahead of time, Friedman said, and establish the manufacturing infrastructure and quality governance to support these goals. Quality and supply are two keys, he said. Consistency is critical as is business dependability. They lead to satisfied customers (patients).
To prevent errors, identify "holes" in management, technology, processes, systems, and people, because deficits can lead to problems. Know the risks, as well as the routes and sources of contamination, since it is hard to contain them if you don't know about them, Friedman said.
"This is not a one-time only exercise," he emphasized, since new risks may be identified in the lifecycle, and further improvements can be made to reduce risks.
Friedman listed a range of variables that interact and can impact sterility assurance: aseptic processing line; process (including personnel flow, material flow, and layout); HVAC/utilities; response to deviations and environmental control trends; disinfection procedures and practices; QA and QC; media fills; people; and facility and room.
People
This is the greatest source of contamination and even a successfully qualified system can be compromised by poor operational, maintenance, or personnel services, he said. Aseptic technique at all times is recommended to ensure maintenance of product sterility. Also important is gown quality and appropriate aseptic techniques, and written procedures should address when personnel should be retrained, requalified or assigned to other areas.
Air
The air surrounding the aseptic processing line matters because airborne microorganisms in the filling environment can have a profound effect on the level of product contamination.
Design
The goal is aseptic processing line design for robust unidirectional air flow, and he noted that FDA inspections have increased emphasis on smoke studies to illuminate design weaknesses that pose contamination hazards. Friedman noted that smoke studies should be planned ahead to have sufficient time to address any issues.
Robotics
Friedman applauded the 2019 ISPE Aseptic Conference for including a robotics panel again this year, and predicted there will be more robotics in aseptic production.
Separation means
To reduce contamination hazards introduced by people working in the environment, the various means of separation need to be considered; today's typical minimum level of separation is with either closed or open RABS.
RISK REDUCTION OPPORTUNITIES
These include addressing old manufacturing platforms and antiquated facilities that have challenges including inadequate room design and material and personnel flow, and inefficient or unstable processes with frequent starts and stops to correct problems and make adjustments. Also to be considered are open versus closed processes; unit operates versus integrated; and manually intensive operations versus automation.
Restricted Access Barrier Systems (RABS)
He briefly defined open RABS (where doors can be opened for rare, predefined, and documented interventions) and closed RABS (where doors are kept closed during the entire production of a batch). Open RABS is better than a traditional aseptic processing operation if designed well and access restrictions are strictly followed. Closed RABS is better than a traditional line but must be designed and run properly. He noted that ISPE has a more detailed definition that includes an interior thoroughly disinfected with sporicidal; sterile gloves/gauntlets; and perimeter HEPA protection over doors (see Resources list at the end of this article). He observed that a precise definition of RABS is best.
Isolators
These have a strong and sustained record of robust aseptic processing and he noted FDA guidance provides two specific incentives for isolators:
When the possibility of contamination is higher (manually intensive lines), a larger number of media fill units generally at or approaching full batch size is recommended. For isolators, a lower number of media fills as a proportion of the overall operation may be used.
If an aseptic processing line is isolated from microbiological contamination risks such as operators and surrounding room environment, a rigorous media fill design can justify using a lower number of semi-annual media fill runs by simulating more than one shift. He noted this applies to isolators, not to RABS.
Sterile inspection
The revised sterile inspection program focuses on less automated and less protected lines, covering areas with the greatest risk of contamination, he said.
Contamination risk depends largely on the overall manufacturing operation design, so inspections focus on the robustness of production process design, and on manually intensive lines, especially cover systems and areas within the system presenting the greatest risk of contamination and/or requiring strict control of processing parameters (such as aseptic lines that require the most manual manipulations in the Class 100 (ISO 5) area).
Glove/barrier management
Glove holes in barrier gloves used on isolators present a risk of contamination transfer into Grade A process zones, either airborne or surface contamination. Glove management for both RABS and isolators is required; consider different risk levels and different control strategies around awareness of risks, risk mitigation including monitoring and leak integrity, and response to leak/glove hold detection and investigation into impact.
MODERNIZATION
Assess whether your facility's design concept is moving in the right direction to prevent contamination, including separation (isolators, RABS); automation (eliminates manual manipulation); and integration (minimizes risk of transfers between unit operations). Advanced testing and analytics provide better tests and informatics to detect adverse trends early and diagnose root causes.
Friedman concluded by urging attendees to keep looking for new ideas and solutions in aseptic processing.