On The Road Again -Japan Affiliate's Annual Pharma Plant Tour
Akihiro Matsuki
Michael J. Lucey
The ISPE Japan Affiliate conducted its annual pharmaceutical plant tour last October, visiting four US plants prior to attending the ISPE 2017 Annual Meeting & Expo in San Diego, California. Twenty-one professionals participated from all over Japan, including Affiliate Chairman Hirofumi Suzuki, nine members from pharmaceutical companies, 10 from engineering/construction companies, and two from equipment manufacturers. Head of Secretariat Akihiro Matsuki and Adjunct Director Michael J. Lucey led the Organizing Committee, which was made up of Affiliate Board members. The following is a summary of each visit.
Eli Lilly
The tour's first stop was Eli Lilly's continuous manufacturing facility in Indianapolis, Indiana— ISPE's 2017 Facility of the Year Awards Overall Winner. Participants observed the continuous direct compression process and small-molecule production line. Direct compression process is the simplest form of processing for tablet manufacturing; continuous production is relatively straightforward when this process is adopted. Eli Lilly uses simulation techniques and experimental approaches, and process analytical technology (PAT) ensures quality management.
Novartis
Novartis's Technical Research and Development (TRD) facility in San Carlos, California, has a production line for aminoglycoside antibiotics, with isolators for manufacturing high-potency pharmaceutical products. TRD and the commercial manufacturing facility are on the same site, facilitating good communication. Novartis was involved in all design processes, from product characteristics to production equipment. 
Boehringer Ingelheim
Boehringer Ingelheim's passion for biomedicine manufacturing is clearly felt at the company's biomedicine manufacturing facility in Fremont, California. It has a production line comprising six processes: cell culture, harvesting, initial purification, final purification/formulation, filling, and warehousing. The first four processes have two lines each, with the facility designed to allow an uninterrupted view of the glassed-in production line. Single-use equipment makes for a highly flexible plant. Currently under construction is a 12-kiloliter single-use system culture tank.
Itinerary

| | |
| --- | --- |
| Monday, Oct. 23 | Departed Tokyo for Indianapolis |
| Tuesday, Oct. 24 | Eli Lilly, Indianapolis |
| Wednesday, Oct. 25 | Novartis, San Carlos |
| Thursday, Oct.26 | Boehringer Ingelheim, Fremont |
| Friday, Oct. 27 | Genentech, Vacaville |
| Saturday, Oct. 28 | ISPE Annual Meeting registration, San Diego |
| Oct. 29–Nov. 1 | ISPE 2017 Annual Meeting & Expo |
| Thursday, Nov. 2 | Departed San Diego for Tokyo |
Genentech
Genentech's Vacaville, California, biomedicine manufacturing facility Cell Culture Product 2 (CCP2) was the 2016 Facility of the Year Award winner in the Process Innovation category. A large-scale facility located 50 miles northwest of San Francisco, its unique design not only allows employees easy access to each building through the center spine, but also ensures a more flexible response to future plant reform requirements through the use of common utilities. Vacaville is impressive for its stable manufacturing, and features flexible maintenance work. 
 
Thank You
The team extends special thanks to the generous hosts in the United States who opened their doors to the Japan mission, to Corey and Tanya Veverka of Total Validation Services, Inc., as well as the San Francisco/Bay Area Chapter, with which the Japan Affiliate has a long-standing relationship.
The Japan Affiliate holds an annual reunion in Tokyo for participants in past US pharmaceutical plant tours. It is an opportunity for sharing memories and networking. The most recent reunion was
held in February 2018.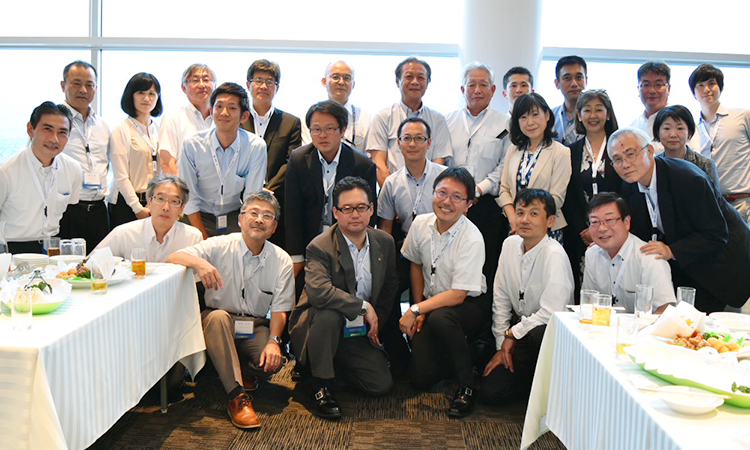 A First in Fukushima
Japan Affliate API Seminar
Akira Kunima, Fumio Kishimoto, Tsutomu Kojima
ISPE Japan Affiliate's Scientific Approach to Manufacturing and Good Manufacturing Practice Community of Practice (SAM and GMP CoP) cohosted a seminar on active pharmaceutical ingredients (API) manufacturing in Fukushima on 22 July 2017.The seminar, "Implementation of Lifecycle Approaches in API Manufacturing," was the first to be organized by a CoP in the Tohoku District. Total number of attendees was over 100, including members of the Fukushima prefecture competent agency and the area's industrial organization. 
Tohoku is located in the northern part of the main island of Japan, and consists of six districts, including Fukushima. Fukushima is home to many drug, API, and medical device manufacturers. Following the 2011 nuclear power plant disaster and subsequent earthquake, industry and agriculture were hit hard. It is only recently that exporters of rice and fish have resumed trade with Europe.
This series of seminars on API lifecycle management began in Tokyo in July 2014 and continued in the Yamaguchi district in January 2015. The first wave of seminars focused on the ICH* guidelines and quality culture. The second wave, focusing on the lifecycle approach of process and cleaning validation, was held in the Shizuoka district in January 2016, and in Osaka in July 2016.
* International Council for Harmonisation of Technical Requirements for Pharmaceuticals for Human Use