Technical
May / June 2018
Lapses in Global GMP Compliance & Enforcement Impact on Finished Pharma Products
Sia Chong Hock
Lai Wah Chan
Shang Jun Loo
Due to space constraints in the print copy of Pharmaceutical Engineering, the authors are unable to discuss all topics or regulatory bodies. This review highlights areas of increasing concern.
The quality of finished pharmaceutical products (FPPs) plays a critical role in their safety profiles and therapeutic efficacy. Globalized trade and pharmaceutical company mergers are internationalizing production, and national regulations are disrupted by these developments. For this reason, major pharmaceutical exporters have adopted similar good manufacturing practice (GMP) standards. Quality defects may arise, however, due to lapses in GMP compliance by manufacturers and less-than-effective inspections by regulatory authorities.
These issues could be alleviated within the industry by implementing quality by design (QbD), improving data integrity management, and reducing pharmaceutical manufacturing errors by adding mistake-proofing controls. Where necessary, regulatory authorities should conduct unannounced inspections and increase the robustness of their processes.
This article reviews and analyzes the current national/international GMP regulatory framework, including standards from international organizations such as the Pharmaceutical Inspection Cooperation Scheme (PIC/S), World Health Organization (WHO), and Association of Southeast Asian Nations (ASEAN).
Gmp Regulatory Framework
Manufacturing and quality control (QC) operations in the pharmaceutical industry are controlled via a GMP framework determined by regulatory authorities (RAs) and international organizations (IOs). (See Global GMP Regulatory Framework for FPP section below.) Most RAs and IOs have a basic GMP standard for FPPs. This standard is complemented by annexes, appendices, and/or supplementary guidelines for specific categories of products and dosage forms such as active pharmaceutical ingredients (APIs), biologicals and blood products, and related manufacturing activities that include sampling, process validation, and computerized systems validation. The GMP regulatory framework adopted by most IOs and RAs, including their main GMP protocols and supplementary guidelines, are essentially similar.
PIC/S is a major player in the international harmonization of GMP standards. As of 1 August 2016, it comprises 49 RAs, called "participating authorities," including the US Food and Drug Administration (FDA), UK Medicines and Healthcare Products Regulatory Agency (MHRA), Australia's Therapeutic Goods Administration, and Health Canada.∗ Participating authority GMP standards are harmonized to the PIC/S framework, including the PIC/S GMP guide for medicinal products. Most countries in the world's top 10 pharmaceutical exporters and importers have RAs that are PIC/S members (Table A and Figure 1). In January 2018, the RAs of Mexico, Turkey, and Iran were added to the PIC/S roster, bringing the total to 52.
---
Global GMP Regulatory Framework for FPPs
International organizations

Regulatory Authorities

CDSCO
CFDA
SID & GP
US FDA
International organizations
ASEAN

Some member states conduct overseas inspections.
A sectoral mutual recognition arrangement (MRA) on GMP Inspection for Manufacturers of Medicinal Products, signed in 2009, contains 19 articles on FPPs. Its scope currently excludes APIs, biologicals, radiopharmaceuticals, investigational medicinal products and traditional/herbal medicinal products.
All member states must operate a PIC/S-equivalent GMP inspection framework; they must also recognize and accept the inspection reports and GMP certificates issued by ASEAN's four listed inspection services (LIS):

Singapore: Health Sciences Authority
Malaysia: National Pharmaceutical Regulatory Agency
Indonesia: National Agency of Drug and Food Control
Thailand: Food and Drug Administration

To qualify for listing, the ASEAN GMP inspectorate must demonstrate equivalency to the PIC/S framework. Any ASEAN inspectorate that is a PIC/S member will be automatically accepted for listing without any further technical assessment.
A joint sectoral committee (JSC) was established in 2012 to oversee MRA implementation and functioning. An ASEAN GMP inspectorate that intends to be an ASEAN LIS can submit an official application to the JSC.
Future developments: Scope may be extended to include APIs and biologicals. ASEAN is collaborating with PIC/S, ISPE, and other stakeholders to improve its inspectorates and inspectors' competency.

PIC/s

Not all participating authorities conduct overseas inspections.
An informal cooperative arrangement; not legally binding.
Strives to facilitate mutual recognition of GMP inspection results among PAs through voluntary exchange of nonbinding information.
Adopts a science-based quality risk management tool for planning frequency and scope of GMP inspection.
Each participating authority undergoes periodic reassessment to ensure that its systems, procedures, and inspection system remain equivalent to the PIC/S framework.
Current (13th) version of GMP guide was published in 2017. Part I covers GMP requirements for the manufacture of medicinal products in finished dosage forms, and has 20 annexes, which provide details on specific categories of products and areas of manufacturing activity. Part II covers GMP for APIs.

WHO

World Health Organization9
Conducts overseas inspections.
GMP guide has a set of basic principles on main requirements for pharmaceutical products; other supplementary guidelines cover specific dosage forms and related aspects of manufacturing.
Revised in 2014, the GMP guide functions as a standard to justify GMP status for the WHO Certification Scheme on the Quality of Pharmaceutical Products Moving in International Trade. It also serves as training material for inspectors in RAs, and for production, QA, and QC personnel in the industry. This general guide may be adapted to meet needs of various jurisdictions.
Used primarily in developing countries, it is also embedded in GMP standards of developed countries with more detailed QA systems. It does not, however, cover safety aspects for personnel engaged in manufacturing or in environmental protection.
Regulatory Authorities
CDSCO

Conducts overseas inspections.
Current GMP standard was published in 2005 by the Ministry of Health and Family Welfare of India. Part I covers GMP standards for premises and materials. It consists of a main document on general standards and six subsections on standards for APIs and specific FPPs. Part II covers GMP standards for plant and equipment.
The Indian regulatory system is divided into central and state levels. At the national level, CDSCO is responsible for implementing standards for drugs, coordinating activities for state authorities, and providing expert advice to bring about uniformity in GMP enforcement. The state authorities issue licenses and GMP regulations.
State authorities and CDSCO conduct joint inspections.
All manufacturers must have a license and comply with quality control requirements.

CFDA

China Food and Drug Administration: national regulatory authority of the People's Republic of China14 ,15 ,16
Conducts overseas inspections.
Current edition of GMP standards was published in 2010 by the China Ministry of Health.14 Main document on basic GMP standards and eight annexes, covering GMP standards for sterile products, biologicals, blood products, APIs, traditional Chinese medicines, traditional Chinese herbs for decoction, medicinal oxygen, and radiopharmaceuticals.
Annex for Validation and Verification and the Annex for Computerized System were published in 2015.
Regulatory system is divided into three levels: national, provincial, and city. At the national level, the CFDA formulates regulations and inspects manufacturers of higher-risk pharmaceutical products. At the provincial and city levels, authorities enforce CFDA regulations and inspect manufacturers of lower-risk pharmaceutical products.
All FPP manufacturers must undergo GMP inspection and certification before manufacturer authorization certificate and product license can be issued.
Publicly available database of GMP-certified manufacturers includes the scope of CFDA inspections and manufacturers' history of GMP compliance.

SID & GP

Conducts overseas inspections.
Current GMP standard was published in 2013 by Russia's Ministry of Industry and Trade (MinPromTorg). It is divided into two parts with 18 appendices. Part I covers key requirements for production and quality control. Part II covers basic requirements for APIs. Appendices provide details on specific areas of manufacturing activity.
Commissioned by MinPromTorg as the expert organization engaged in the license control of pharmaceutical manufacturers in Russia.
Authorized to inspect foreign manufacturers of drug products outside of Russia beginning in 2016.
Inspectors check for compliance with Russian GMP standard and issue certificates of manufacturers' compliance with GMP, enabling foreign manufacturers to supply their drug products to the Russian market.

US FDA

US Food and Drug Administration: national regulatory authority of the United States13
Conducts overseas inspections.
Current GMP regulations:

Are promulgated by the US Code of Federal Regulations.
Emphasize that manufacturers are required to comply with the US FDA framework and regulations
Cover drugs, biological products, and medical devices.
Focus on operations monitoring and regulation of manufacturing processes and technologies. This enables quick corrective actions against faulty manufacturing processes to avoid production of defective FPPs.
Encourage manufacturers to adopt a scientific approach to GMP by emphasizing risk-control point analysis and decision-making.
---
Differences in GMP standards
Table B (PDF) compares GMP standards for sterile and nonsterile FPPs among major RAs and IOs. While many key GMP components (left-hand column) are similar, the most significant difference is the pharmacopoeial reference standard used. Specifications and test limits established during production and QC may also vary. In addition, all jurisdictions except India's Central Drugs Standard Control Organization (CDSCO) recommend integrating quality risk management (QRM) into the existing GMP framework. Harmonization of these standards helps reduce inspection duplication and improve cost savings. It also facilitates access to the international market.
GMP Implementation
GMP standards represent the minimum compliance necessary for a manufacturer to obtain marketing authorization from the RA. Although most GMP regulatory framework and standards are adequate, issues with manufacturing processes, product quality, and safety continue to occur worldwide.22 ,23 These incidents are due primarily to lapses in GMP compliance by manufacturers and inadequate GMP enforcement by RAs; they have produced nonconforming FPPs, recall operations, hospitalizations, and patient deaths.
While different manufacturers can employ different control mechanisms, experience shows that some manufacturing and QC processes are not sufficient to ensure production of good quality medicines.
Data integrity
Data integrity is a global problem. It refers to the completeness, consistency, and accuracy of data throughout the data life cycle. Data must not be improperly modified; it should be attributable, legible, contemporaneous (i.e., contemporaneously recorded), original, and accurate, as well as complete, consistent, enduring, and available (ALCOA+).24 Data documentation is a fundamental GMP requirement.
* The European Medicines Agency (EMA) is an associated partner organization of PIC/S, not a participating authority. EMA works closely with the RAs of EU member states and the European Economic Area (EEA).21 RAs of EU member states and the EEA are PIC/S participating authorities.
10Association of Southeast Asian Nations. "ASEAN Sectoral Mutual Recognition Arrangement for Good Manufacturing Practice (GMP) Inspection of Manufacturers of Medicinal Products." 10 April 2009. http://asean.org/storage/images/archive/documents/Agreement%20on%20 MRA%20for%20GMP%20Pharmaceutical.pdf
11Association of Southeast Asian Nations. Building the ASEAN Community. "Medicinal Products: Ensuring Safety of Medicinal Products across ASEAN". September 2015. http://www.asean.org/storage/images/2015/september/outreach-document/batch-7/Edited%20Medicinal%20Products.pdf
12Sia, C. H., R. Tribe, L. W. Chan. "ASEAN Harmonisation on GMP Inspection and Training of Inspectors." Pharmaceutical Engineering 33, no. 1 (January-February 2013): 56-62.
1Pharmaceutical Inspection Convention/Cooperation Scheme. Guide to Good Manufacturing Practice for Medicinal Products Annexes. PE-009-13 (Annexes). 1 January 2017. https://www.picscheme.org/layout/document.php?id=975
6Pharmaceutical Inspection Convention/Cooperation Scheme, PIC/S. "Guide to Good Manufacturing Practice for Medicinal Products: Part I." PE 009-13 (Part I). https://www.picscheme.org/layout/document.php?id=976
7Tribe, R. "ILF Engage with Asian Regulators in Japan and China." Pharmaceutical Engineering 32, no. 4 (July-August 2012): 94–96.
8Pharmaceutical Inspection Convention/Cooperation Scheme, PIC/S. "A Recommended Model for Risk-Based Inspection Planning in the GMP Environment (PI 037-1)." 1 January 2012. https://www.picscheme.org/layout/document.php?id=160
9World Health Organization. Annex 2. "WHO Good Manufacturing Practices for Pharmaceutical Products: Main Principles." WHO Technical Report Series 986. 2014 http://apps.who.int/medicinedocs/documents/s21467en/s21467en
17Government of India. Ministry of Health and Family Welfare. The Drugs and Cosmetics Rules. "Schedule M: Good Manufacturing Practices and Requirements of Premises, Plant and Equipment for Pharmaceutical Products." June 2005. http://www.cdsco.nic.in/writereaddata/drugs&cosmeticact.pdf
18Regulatory Affairs Professionals Society. "CDSCO Offers Risk-Based Checklist for Indian Pharma Manufacturing Inspections." 26 May 2016. http://www.raps.org/Regulatory-Focus/News/2016/05/26/25024/CDSCO-O ers-Risk-Based-Checklist-for-Indian-Pharma-Manufacturing-Inspections
14 a b China Food and Drug Administration. Laws and Regulations. Normative Documents. "Good Manufacturing Practice for Drugs (2010 Revision)." MOH Decree no. 79. 17 January 2011. http://eng.sfda.gov.cn/WS03/CL0768/65113.html
15China Food and Drug Newsletter 5 (2015). http://www.ccpie.org/news/download/2015pharm-5.pdf
16Yin, A. "Regulatory Challenges in China." 1 November 2014. https://regulatory.usc.edu/fi les/2014/11/014AY_Regulatory-Challenges-in-China_Final-revised.pdf
19Ministry of Industry and Trade of the Russian Federation. "Regulations on Production and Quality Control of Drugs." No. 916. http://www.roszdravnadzor.ru/drugs/qualitycontrol/documents/b332
20———. State Institute of Drugs and Good Practices. "History." http://gilsinp.ru/?page_id=677&lang=en
13US Food and Drug Administration. "Facts about the Current Good Manufacturing Practices (CG-MPs). http://www.fda.gov/Drugs/DevelopmentApprovalProcess/Manufacturing/ucm169105.htm
22Fierce Biotech. "FDA Fines American Red Cross $16 Million for Prior Failures to Meet Blood Safety Laws." 24 June 2010. https://www.fi ercebiotech.com/biotech/fda-fines-american-red-cross-16-million-for-prior-failures-to-meet-blood-safety-laws
23US Food and Drug Administration. Company Announcement: "'Reliable Drug' Recalls All Compounded Medications Due to a Potential for Mislabeling and Lack of Quality Assurance." 25 March 2016. http://www.fda.gov/Safety/Recalls/ucm492629.htm
24Medicines and Healthcare Products Regulatory Agency. "MHRA GMP Data Integrity Definitions and Guidance for Industry March 2015." https://www.gov.uk/government/uploads/system/uploads/attachment_data/file/412735/Data_integrity_definitions_and_guidance_v2.pdf
21European Medicines Agency. Partners & Networks. "National Competent Authorities (Human)." http://www.ema.europa.eu/ema/index.jsp?curl=pages/medicines/general/general_content_000155.jsp&mid=WC0b01ac0580036d63
Figure 1 - Lapses in Global GMP Compliance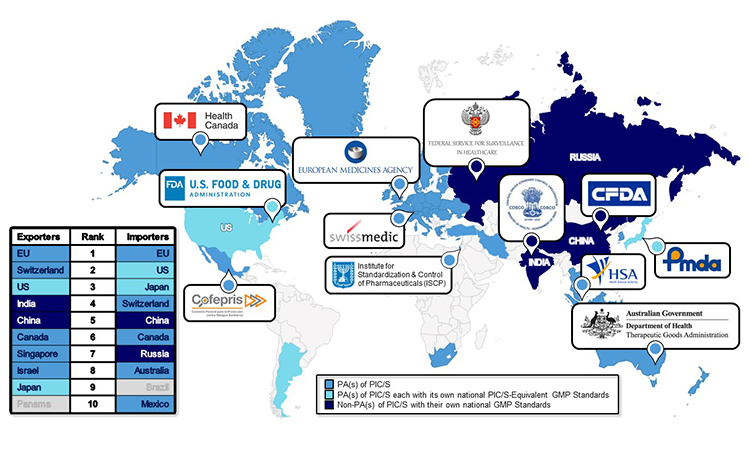 In 2013, a subsidiary of Indian generic pharmaceutical manufacturer Ranbaxy Laboratories Limited was fined $500 million for falsified stability testing data and incomplete QC test records at its manufacturing facilities—the largest financial penalty paid by a generic pharmaceutical company.25
In that same year, Front Range Laboratories, a third-party testing laboratory for more than 100 pharmacies, was cited by the US FDA for improper use of analytical methods, sending inaccurate results to five pharmacies. Two other unnamed third-party laboratories in the United States were also
found to have reported inaccurate test results in the same year.28 Massive recall operations for parenteral products were conducted due to the lack of sterility assurance.
More recently, in 2015, US FDA inspectors cited Hebei Yuxing Bio-Engineering in China for incomplete laboratory test records, undocumented experimental results, and unexplained deletion of raw chromatographic data.26 An FDA review indicated that in the first 10 months of 2015, the agency issued 16 warning letters, 12 of which involved data integrity, up from 10 in 2014 and six in 2013.27
The MHRA has also identified data integrity issues as a key reason for the rise of major and critical deficiencies. In "GMP Inspection Deficiencies 2013," MHRA noted that "of 630 GMP inspections carried out in 2013, 216 resulted in major or critical deficiencies."29 In 2015, these deficiencies rose further, to 339.51 The WHO has also taken a leading role in promoting data integrity.
Contract manufacturing
Driven by cost savings, technical expertise, and increased efficiency, FPP contract manufacturing for developed markets has grown significantly. Beneath the promising outlook, however, lie considerable GMP concerns.
Since 2013, Wockhardt, a contract manufacturing organization (CMO) in India, has been under regulatory pressure for data integrity violations and GMP deficiencies.30 In 2013, the MHRA withdrew GMP certificates from two of its manufacturing sites in India and recalled 45 types of oral preparations.
More recently, the FDA warned Emcure, another large CMO in India, about its significant violations of GMP regulations. This affected many of the large multinational pharmaceutical manufacturers that utilize the services of these CMOs; many FPPs were recalled as a result.31
Deviations
Deviations such as out-of-specification can occur during manufacturing. Thorough and timely investigations are critically important in formulating corrective and preventive actions. A review by the MHRA from 2009 to 2013, however, revealed that the failure to investigate deviations remained the most common deficiency.29
Political And Legal Landscape
Manpower, resources, and infrastructure
Insufficient manpower is a root cause for GMP compliance lapses. It often forces workers to compromise on product quality to meet production targets and can lead to inaccurate or incomplete documentation and other data integrity issues.32 Well-trained and -qualified employees, conversely, are an essential component of GMP, ensuring apt performance of assigned tasks. In the China Food and Drug Administration (CFDA) Annual Report of Drug Inspection 2015, staff training was cited as the most frequent deficiency.33
Table A: Top 10 Exporters/Importers of Pharmaceuticals
and Their Share of World Exports/Imports 5

|   | $ Value, billions | Exports, % |   |   | $ Value, billions | Exports, % |
| --- | --- | --- | --- | --- | --- | --- |
| European Union | 340 | 63.9 |   | European Union | 260 | 47.5 |
| Switzerland | 65 | 12.2 |   | United States | 90 | 16.4 |
| United States | 52 | 9.8 |   | Japan | 24 | 4.4 |
| India | 14 | 2.6 |   | Switzerland | 23 | 4.2 |
| China | 14 | 2.6 |   | China | 20 | 3.7 |
| Canada | 8 | 1.4 |   | Canada | 13 | 2.3 |
| Singapore | 8 | 1.4 |   | Russia | 9 | 1.7 |
| Israel | 7 | 1.2 |   | Australia | 8 | 1.4 |
| Japan | 4 | 0.7 |   | Brazil | 7 | 1.3 |
| Panama | 4 | 0.7 |   | Mexico | 5 | 1 |
| Total | 516 | 96.5 |   | Total | 456 | 83.9 |
25US Department of Justice. "Generic Drug Manufacturer Ranbaxy Pleads Guilty and Agrees to Pay $500 Million to Resolve False Claims Allegations, cGMP Violations, and False Statements to the FDA." Justice News, 13 May 2013. https://www.justice.gov/opa/pr/generic-drug-manufacturer-ranbaxy-pleads-guilty-and-agrees-pay-500-million-resolve-false
28Ganey, A. "Fallout from Deficient Contract Testing Facility Continues, Prompting Fourth Company to Issue Recall." Regulatory Affairs Professionals Society. 6 September 2013. http:// prod1.raps.org/focus-online/news/news-article-view/article/4037
26US Food and Drug Administration. "Hebei Yuxing Bio-Engineering Co Ltd 9/6/16." Warning Letter 320-16-312016. 6 September 2016. http://www.fda.gov/ICECI/EnforcementActions/WarningLetters/2016/ucm521098.htm
27Davidson J. G. "The Real Cost of Poor Data Integrity in Pharmaceutical Manufacturing." Pharmaceutical Engineering 36, no. 4 (July-August 2016): 48–50.
29 a b Medicines and Healthcare Products Regulatory Agency. 2013. "GMP Inspection Deficiencies 2013: Review of Deficiencies Observed in 2013." https://www.gov.uk/government/uploads/system/uploads/attachment_data/file/448609/Good_manufacturing_practice_inspection_deficiencies_2013.pdf
51Fotheringham, S. "Beyond Compliance: How Regulators Encourage a Culture of Data Integrity." Pharmaceutical Engineering 36, no. 4 (July-August 2016): 73–76.
30Keenan, J. "Wockhardt Says UK Regulatory Agency Issued GMP Certificate to Troubled Chikalthana Plant." FiercePharma, 3 December 2015. http://www.fi ercepharma.com/supply-chain/wockhardt-says-u-k-regulatory-agency-issued-gmp-certificate-to-troubled-chikalthana
31"Teva Recalls 39,000 Bottles of Drug Products due to Manufacturing Standards Violations." Processing Magazine, 27 May 2014. http://www.processingmagazine.com/teva-recalls-39000-bottles-of-drug-products-due-to-manufacturing-standards-violations
32PwC. "Health Research Institute Regulatory Spotlight: Data Integrity Problems, A Growing Risk to Global Pharma Companies." March 2016. http://pwchealth.com/cgi-local/hregister.cgi/reg/pwc-data-integrity-spotlight.pdf
33Brennan, Z. "CFDA's Domestic Pharma Manufacturing Site Inspections Decline Significantly." Regulatory Affairs Professionals Society, 8 June 2016. http://raps.org/Regulatory-Focus/News/2016/06/08/25095/CFDA%E2%80%99s-Domestic-Pharma-Manufacturing-Site-Inspections-Decline-Significantly/#sthash.mCDagS0v.dpuf
5———. International Trade Statistical Review 2016. https://www.wto.org/english/res_e/statis_e/wts2016_e/wts2016_e.pdf
In India, a report revealed that the Indian pharmaceutical industry will face a shortage of workers until 2022, due to inadequate education and training for specific job roles. This also deters graduates from choosing careers in this sector.34 Collectively, these factors propagate a chain reaction.
Large countries like India have regulators for individual states and a central regulator in the capital. This can create bureaucratic issues, especially since the central regulator CDSCO and the state RAs have different functions.
In the United States, both the FDA and state authorities face constraints in enforcing GMP compliance. Because compounded medicines do not have to be approved by the FDA, for example, the agency faced significant challenges in stopping three compounding pharmacies (ApothéCure, NuVision Pharmacy, and Downing Labs) that repeatedly refused inspections and recall operations.35 Despite multiple warnings, they continued to violate GMP regulations and sell potentially unsafe medicines until 2015.
In many jurisdictions, RAs have insufficient capacity to inspect and monitor the ever-increasing number of manufacturers. China has about 2,700 GMP inspectors, and a majority of them are overloaded with work.36
A 2009–2010 study by the Mashelkar Committee revealed similar findings in India. In 2014, the country's Drug Controller General revealed that its 1,500 drug inspectors represented only 7.5% of the total number required.37 Indian state authorities must also contend with inadequate infrastructure, resources, and assistance from CDSCO, impeding coordination between state authorities and implementation of legislation.38
QMS
A comprehensively designed and effectively implemented quality management system (QMS) is key to regulatory capacity. QMS encompasses everything necessary to implement an organization's quality policy and meet quality objectives.1
An ineffective QMS, in contrast, can compromise the organization's inspection capacity.36 In addition to a manpower crunch, lax management has hindered the establishment of a high-caliber inspection team in the CFDA. The "China Regulatory and Market Access Pharmaceutical Report," published in 2014, noted that only 1,800 of the country's inspectors were under 50 years old, and only about 800 (28.5%) had participated in more than one GMP inspection in the past 10 years. The 2015 CFDA Annual Report of Drug Inspection revealed that fewer than half the number of pharmaceutical manufacturers were inspected for GMP certification in 2015 (221) than in 2014 (584).33
The US FDA has also faced challenges in implementing QMS. One case in 2012 involved a multistate outbreak of fungal meningitis, which killed 64 people. Although there were clear signs indicating that the New England Compounding Center had violated GMP regulations, the US FDA and the Massachusetts Board of Pharmacy failed to take definitive action against the pharmacy. The US FDA later attempted to address the problem by allowing pharmacies to make a limited 30-day supply of medicines in advance of a prescription.39 This new arrangement, however, presented stability issues due to chemical degradation and microbial proliferation.
Harmonization And Collaboration
Expansion in international trade presents a growing need to develop appropriate, consistent, and globally applicable quality standards for medicines within the existing regulatory framework. International efforts have been devoted to harmonizing regulatory requirements, GMP inspection procedures, and pharmacopoeial standards.
PIC/S
PIC/S aims to harmonize inspection procedures worldwide by developing common GMP standards and providing inspector training. It also works to facilitate cooperation and networking between RAs through joint visit programs, guided inspections, and expert circles.†40 PIC/S also facilitates legally binding arrangements, such as the mutual recognition agreement (MRA) between Singapore and Australia on medicinal product GMP inspection, and the ASEAN sectoral MRA on GMP inspection for manufacturers of medicinal products. In addition, PIC/S collaborates with professional associations in joint training events and has signed cooperation agreements with European and international organizations.21
Driven by cost savings, technical expertise, and increased efficiency, FPP contract manufacturing for developed markets has grown significantly. 
The influence of PIC/S is also growing in the Asia-Pacific region. Out of the nine RAs that became PIC/S participating authorities over the past four years, seven of them were from this region. At least six other Asia-Pacific RAs, including China and India, have also expressed an interest in joining PIC/S.41
† PIC/S expert circles facilitate discussions and information exchange among inspectors specialized in specifi c GMP subject areas. Expert circles meet regularly to develop draft guidance and recommendations, and offer training in their respective fields.
ICMRA
According to the International Coalition of Medicines Regulatory Authorities (ICMRA) website, ICMRA is "a voluntary, executive level, strategic coordinating, advocacy, and leadership entity of regulatory authorities." The coalition was established in May 2012 "to address current and emerging human medicine regulatory and safety challenges globally, strategically, and in an ongoing transparent, authoritative and institutional manner." The ECA Foundation notes that the ICMRA "aims to provide direction for areas and activities common to many authorities' missions, identify areas for potential synergies, and wherever possible, leverage on existing initiatives (e.g., PIC/S, ICH, APEC) and resources." Unlike PIC/S, ICMRA covers a broader scope that includes GMP.42
PDG
Manufacturers that supply products worldwide must confirm their FPPs meet pharmacopoeial specifications in different countries. Harmonizing these standards will simplify quality assurance (QA) processes and eliminate redundant testing. The Pharmacopeial Discussion Group (PDG) comprises
representatives from the European, Japanese, and US Pharmacopeias.43 It aims to harmonize pharmacopoeial standards, including pharmaceutical preparation monographs and selected general chapters. Currently, the PDG meets twice a year and holds monthly status and technical teleconferences to advance its work.43
The WHO has been an invited observer of the PDG since 2001.43 Various general test methods harmonized by the PDG have since been adapted to the WHO's International Pharmacopoeia, and are included in the sixth edition, published in 2016.
PQM
Established in 2009, the Promoting Quality of Medicines (PQM) program helps manufacturers meet economic and technical challenges in producing FPPs that meet WHO's Prequalification of Medicines Program GMP standards. The PQM is funded by the United States Agency for International Development (USAID) and implemented by the US Pharmacopeia. To date, USP-USAID collaborative efforts have benefited communities in more than 35 countries.44
The PQM also works with RAs to establish accredited QC-monitoring programs and enhance the capacity of various national quality control laboratories to meet international standards.52 PQM also co-organizes trainings on GMP and QC test procedures with the WHO and RAs.45
Table B: GMP Standards for Fpps, Excluding Biologicals, Blood Products, and Radiopharmaceuticals
 
PIC/S
WHO
US FDA
CFDA
CDSCO
SID and GP
Personnel
Qualifications
Similar
Experience
Similar
Training
Similar
Premises
Pest control
Similar
Clean air/room classification*
Grades A–D
Grades A–D
Classes 100–100,000 and ISO Grades 5–8
Grades A–D
Grades A–D
Grades A–D
Microbial monitoring limits*
Grades A–D
Grades A–D
Classes 100–100 000 and ISO Grades 5–8
Grades A–D
Grades A–D
Grades A–D
Air pressure differential*
10–15 Pascal
10–15 Pascal
10–15 Pascal
Not specified
≥ 15 Pascal
10–15 Pascal
Monitoring frequency
Particulate count*
Routinely
Routinely
Every production shift
Daily
Every 6 months
Routinely
Air change rate*
Not specified
Not specified
Every production shift
Not specified
Every 6 months
Not specified
Air pressure differential*
Not specified
Not specified
Every production shift
Not specified
Daily
Routinely
Temperature and humidity*
Based on product and nature of operations
Based on product and nature of operations
Every production shift
Based on product and nature of operations
Daily
Based on product and nature of operations
HEPA filter integrity testing*
Not specified
Every 6–12
months
Twice a year
Routinely; frequency not specified
Every year
Routinely; frequency not specified
Production
Qualification and validation
Similar
Quality control
Reference/retention samples
Similar
Stability testing
Similar
Pharmacopeia standards
European or other pharmacopoeias
International Pharmacopoeia
United States Pharmacopeia
Chinese Pharmacopoeia
Indian Pharmacopoeia
Russian Federation State Pharmacopoeia
Other
Self-inspection
 
 
Similar
 
 
Quality risk management
 
 
Similar
QRM concepts not mentioned
Similar
Documentation and data integrity
Similar
*GMP components or subcomponents applicable only to sterile products manufacture.
Proposed Solutions
QbD
QbD builds quality into the product and manufacturing process.46 It is a science- and risk-based approach to pharmaceutical development that begins with predefined objectives. This is unlike the traditional GMP framework, in which product quality is achieved predominantly by end product testing.
QbD enhances the manufacturer's ability to identify the root causes of manufacturing failures, reducing GMP deficiencies that arise out of failure to investigate anomalies. It also eases RAs' GMP enforcement efforts by refining regulatory-review criteria. This is crucial, especially when RAs have limited regulatory capacity, as fewer inspections are required.46 Other techniques such as near-infrared and Raman spectroscopy can also be adopted for online measurement of critical quality attributes.
Resource and cost constraints, however, often present challenges to manufacturers and RAs. Emerging economies are challenged by lack of training and equipment cost. Western companies are automating production as the cost of labor rises, while emerging economies still rely on manual processing, which carries a greater risk of human failure.
Data integrity and mistake-proofing
ALCOA+ principles alone cannot eliminate data integrity issues. A holistic approach, involving both technical and human controls, is required to address these issues. Manufacturing personnel, manual processes, and the technologies involved must be improved.
People by nature are prone to variability in techniques and judgment. The great majority of reported defective medicinal products have resulted from human error, not technology failures. Lack of awareness among employees and ineffective training often result in employees who fail to understand the relevance of data integrity. As systems and processes are not inherently compliant, people must create compliance using tools, systems, and technology. "Human factors engineering" is the science of designing systems to fit human capabilities and limitations in perception, cognition, and physical performance.48
34Singh, E. M. "Lack of Adequate Skilled Workforce Plagues Indian Pharma." PharmaBiz.com, 7 January 2016. http://www.pharmabiz.com/ArticleDetails.aspx?aid=92634&sid=21
35Krause, K. "Farmers Branch Pharmacies Highlight Lack of Government Oversight of Custom-Made Drugs." Dallas News, September 2015. http://www.dallasnews.com/news/news/2015/09/04/farmers-branch-pharmacies-highlight-lack-of-government-oversight-of-custom-made-drugs
36 a b Pacific Bridge Medical. China Regulatory and Market Access Pharmaceutical Report. 2014. http://www.pacifi cbridgemedical.com/wp-content/uploads/2015/04/China-Regulatory-and-Market-Access-Pharmaceutical-Report-2014.pdf
37Dey, S. "If I Follow US Standards, I Will Have to Shut Almost All Drug Facilities: G N Singh." Business Standard, 31 January 2014. http://www.business-standard.com/article/economy-policy/if-i-follow-us-standards-i-will-have-to-shut-almost-all-drug-facilities-g-n-singh-114013000034_1.html
38"Strengthening of State Drug Regulatory System Memorandum of Understanding (MoU) between Ministry of Health and Family Welfare, Government of India and Government of ——— [Name of State/UT]." http://www.cdsco.nic.in/writereaddata/MOU%20FINAL%20ENGLISH%20Version.pdf
1Pharmaceutical Inspection Convention/Cooperation Scheme. Guide to Good Manufacturing Practice for Medicinal Products Annexes. PE-009-13 (Annexes). 1 January 2017. https://www.picscheme.org/layout/document.php?id=975
39Miller, H. I. "Lax FDA Oversight of 'Compounded Drugs' is a Matter of Life and Death." http://www.iacprx.org/page/CCForbes72116/Forbes-Lax-FDA-Oversight-Of-Compounded-Drugs-Is-A-Matter-Of-Life-And-D.htm
40Pharmaceutical Inspection Convention/Cooperation Scheme, PIC/S. "Governance." https://www.picscheme.org/en/governance
41Tribe, R. "The Growing Influence of PIC/S in Asia Pacific." Pharmaceutical Engineering 37, no.2 (March-April 2017): 32–33.
42International Coalition of Medicines Regulatory Authorities. http://www.icmra.info/drupal
43 a b c United States Pharmacopeia and National Formulary. Harmonization. Pharmacopeial Discussion Group. http://www.usp.org/harmonized-standards/pdg
44US Pharmacopeial Convention. "Promoting the Quality of Medicines in Developing Countries." https://archive.li/E7F6p
52US Pharmacopeia. Quality Matters. "USP Programs Help Tighten Africa's Public Health Safety Net." 3 February 2015. http://qualitymatters.usp.org/usp-programs-help-tighten-africa-s-public-health-safety-net
45US Pharmacopeial Convention, USP. Glossary of PQM Activities.
46 a b McCurdy, V., et al. "A Pharma Manufacturer's View of Quality by Design." Pharm Tech, 2011 Supplement, Issue 4. http://www.pharmtech.com/pharma-manufacturers-view-quality-design?id=&pageID=1&sk=&date=
48SeerPharma Pty Ltd. "Behavioral GMP and Human Error Reduction." https://www.pda.org/docs/default-source/website-document-library/chapters/presentations/australia/behavioural-gmp-and-human-error-reduction.pdf?sfvrsn=6
Technical controls, such as tamper-proof equipment and validated computerized information technology (IT) systems, strengthen data integrity. Because they are repeatable, they can be designed, tested, operated, and maintained so that data integrity is ensured and well-documented. Without qualified data stewards, however, IT systems alone cannot ensure data integrity either.47
"Poka yoke,"‡ or mistake-proofing, refers to techniques that make it impossible to make mistakes, helping people and processes work right the first time. It substantially improves quality by either preventing defects at the start or eliminating defects in the process as early as possible.49 Although poka yoke is seldom employed in pharmaceutical manufacturing, it could possibly eliminate both human and mechanical errors, thereby reducing GMP deficiencies. Poka yoke techniques should merit more attention.
Leadership and organizational cultures also have a positive effect on data integrity. Administrative safeguards like policies, procedures, and management processes should also be focused on preserving data integrity.47 Manufacturers should participate in data integrity training and review processes to stay abreast of ever-modernizing technologies.
Inspections
PIC/S leads the world in the harmonization and maintenance of GMP inspection and quality system standards. Each of its participating authorities is also reassessed periodically to ensure that its procedures and inspection systems conform to the PIC/S framework. Membership is growing, especially in ASEAN member nations and other Asian countries. This positive development may help increase the overall competence of inspectors and improve the robustness of regulatory inspection systems globally.
During routine announced inspections, however, it is always possible that manufacturers may exhibit the Hawthorne effect: i.e., alter their behavior due to their awareness of being observed.50 Unannounced inspections have the advantage of catching manufacturers o guard, allowing inspectors to witness operations as they are on a daily basis.
In some countries, GMP standards may not be legally binding. Despite stipulated policy guidelines, for example, many RAs are unable to conduct unannounced inspections at foreign sites as they must verify the availability of appropriate personnel in the plant beforehand. Inspectors may even be denied access for inspection, and especially so at foreign sites.
Conclusion
Even with generally equivalent and adequate GMP standards for FPPs across major jurisdictions, issues with manufacturing processes, product quality, and safety are still prevalent worldwide due to lapses in GMP compliance by manufacturers and lapses in GMP enforcement by RAs. These lapses, such as
failure to investigate deviations and data integrity deficiencies, are further aggravated by the growth of global FPP contract manufacturing.
Although various measures have been adopted to cope with these lapses, stricter measures must be implemented. It is pertinent to note, however, that more stringent regulations may add cost and other burdens to manufacturers and regulators who already face resource constraints.
As the FPP market continues to expand, RA enforcement of GMP compliance by manufacturers will become more challenging. Despite the abundance of cross-cutting supranational and national regulatory structures and legal systems, regulators have been making conscientious efforts to harmonize
regulatory requirements. As pharmaceutical manufacturing evolves from an art to a science- and engineering-based activity, manufacturers and Ras should harness their knowledge to improve GMP compliance and regulatory frameworks.
Although the manufacturer-regulator relationship may sometimes be contentious, it is crucial for both parties to work together to ensure quality FPPs worldwide for the ultimate benefit of consumers. ISPE provides a forum in which manufacturers and regulators can work together to develop new technologies and ways of working to benefit consumers.
‡From the Japanese yokeru, "to avoid," and poka, "inadvertent errors"