Biosimilars: Changing the Pharmaceutical Industry
Biologics are large-molecule drugs, derived from a biological source, that treat chronic diseases such as cancer and autoimmune disorders. While small-molecule compounds continue to account for the bulk of pharmaceutical profits, biologics' presence is growing.

As the original biologics patents expire, biosimilars are entering the market. This is not only an opening for manufacturers, it also provides cost savings and increased choice for payers, physicians, and patients.
Firsts
2006: Omnitrope, human growth hormone (somatropin) used to treat growth deficiency in children and adults, is the first approved biosimilar in Europe.
2013: Infliximab is the first monoclonal antibody biosimilar approved in Europe.
2015: Zarxio (filgrastim-sndz), a treatment for neutropenia associated with chemotherapy, is the first biosimilar approved by the FDA.
2017: Mvasi (bevacizumabawwb), the first biosimilar for the treatment of multiple cancer types, is approved by the FDA.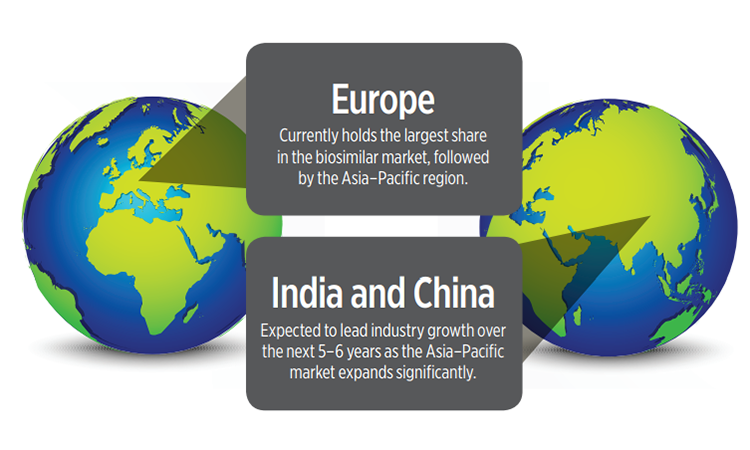 Market Share
72% Average European market share for first-to-market biosimilars
$60M Potential health care savings for biosimilars in the US and five major EU markets by 2020
50 Biosimilars in development and likely to enter the market within five years
$50B Current sales of biologics for which biosimilars are expected to enter European market by 2020
57% Annual rate of biosimilars growth expected in the United States over the next five years.
---
Sources
European Medicines Agency. European Public Assessment Reports. Browse by Type. "Biosimilars."
Grand View Research. "Biosimilars Market Projected to Reach $41.7 Billion by 2024." Press release, June 2016.
IMS Institute for Healthcare Informatics. "Delivering on the Potential of Biosimilar Medicines." IMS Institute for Healthcare Informatics. March 2016.
Mavroudis-Chocholis, Orestis. "The US Biosimilar Market: Where Is It Today, and Where Is It Going?" Biosimilar Development, July 13, 2017.
Mordor Intelligence. "Biosimilar Market—Growth, Trends, and Forecast (2017–2022).
Quintiles IMS. "The Impact of Biosimilar Competition in Europe." May 2017.
Rovira, Joan, at al. "The Impact of Biosimilars' Entry in the EU Market." Andalusian School of Public Health, EMINet, January 2011
Simoens, S., et al. "Assessing the Value of Biosimilars: A Review of the Role of Budget Impact Analysis." Pharmacoeconomics 35, no. 10 (2017): 1047–1062.
US Food and Drug Administration. "Biosimilar Product Information." https://www. fda.gov/Drugs
Walker, N. "Biologics: Driving Force in Pharma." Pharma's Almanac. 5 June 2017