ISPE Ireland Affiliate: 30 Years & Growing
It is an exciting time for the pharmaceutical and life sciences industries in Ireland. The country has firmly established itself as one of the world's centers of excellence and the number one European location for pharmaceutical and life science investment. It is equally exciting for ISPE's Ireland Affiliate, which enters its 30th anniversary year as the host of the 2019 ISPE Europe Annual Conference with strong membership levels and a new organizational structure to support its growth plans.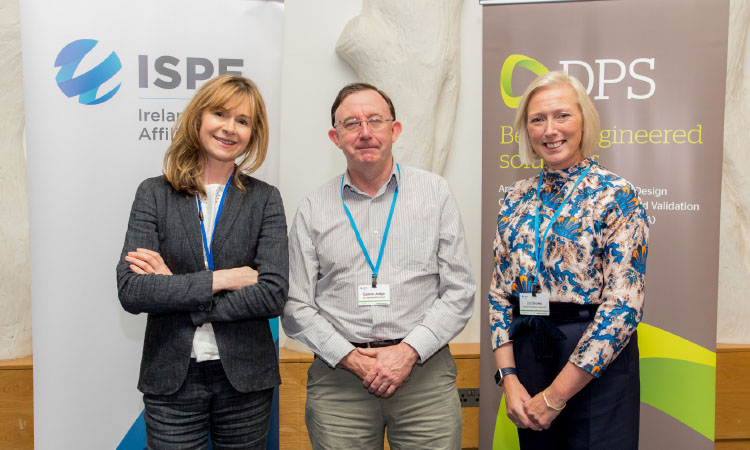 ---
A Robust Industry
Ireland is an island in the North Atlantic with a population of 4.8 million, located just west of the United Kingdom. The island is divided between the Republic of Ireland (officially named Ireland), which covers five-sixths of the island, and Northern Ireland, which is part of the United Kingdom.
With direct employment surpassing 30,000 people, a strong level of ongoing capital investments, and a large and well-educated workforce, the pharmaceutical industry in Ireland is robust. The country is home to over 120 pharmaceutical companies active in the areas of drug discovery, development, manufacture, and sales. While there are two main clusters of companies in Dublin and Cork, pharmaceutical companies are spread throughout the country. All the industry's top multinational corporations have a presence in Ireland, which in 2014 was the world's seventh largest exporter of pharmaceutical products, accounting for €39 billion in annual exports (approximately $44.6 billion USD).1
Over the last 10 years, the country has seen approximately $10 billion USD of capital expenditures in new facilities, representing one of the largest investment waves in the world. "If I look across the country at the moment, there are three $500 million-plus projects," said Eamon Judge, EMEA Major Project Planning Leader at Eli Lilly and Co., and the Chair of the ISPE Ireland Affiliate. "There are also five $300 million projects, almost all of which are focused on large molecule APIs."
Ireland actively encourages investment in the country through its Industrial Development Agency (IDA) and offers advantageous tax rates for foreign companies. It also benefits from its membership in the European Union and its proximity to the United Kingdom.
Streamlined Committee Structure
As the pharmaceuticals and life sciences industries flourish in Ireland, the ISPE Ireland Affiliate looks ahead to its 30th anniversary year with a new organizational structure designed to best serve its members.
Founded in 1989, the Ireland Affiliate covers the Republic of Ireland in its entirety. It currently serves approximately 750 members, of which 400 are actively involved in Affiliate activities. Through this membership, approximately 100 companies are represented. "Membership numbers have been fluid over the past two years," said Liz Dooley, Director of Operations at Janssen Sciences Ireland and the Vice Chair of the Ireland Affiliate. "We have two key focus areas around membership: to increase membership by 25% and to reduce churn by 50% by December 2019. And we have several initiatives to ensure we achieve these objectives."
Part of those initiatives is to convince Young Professional, who often let their student memberships lapse, to become full members. For this, the Affiliate has a very strong Young Professional group. "Our Young Professional group is a liaison with the educational sector, and they try to engage with people earlier to explain to them what life in the pharmaceutical and life sciences sectors is like in Ireland," said Sue Cooke, Director, Strategic Consulting Group at DPS Group and the Affiliate's Secretary. "They are a very well-respected group and we see the value of their energy and ambition and helping to grow our group as well."
Indeed, education is a key growth factor for the Affiliate and for the Irish pharmaceutical industry. Ireland has one of the youngest and most highly educated populations in Europe. This provides a deep pool of talent for the sector, which continues to benefit from high levels of investment in third-level (university or technical college) education.
"About 80% of Irish high school students go to third level, and many of them are doing STEM-based subjects supporting our industry," said Judge.
A focus in the last year has been to revamp the Affiliate's committee structure. Under Judge's leadership, the Affiliate has taken a critical look at how the Affiliate is structured in comparison with other Affiliates in Europe and the United States.
"We had conversations with people on the committee of the D/A/CH (German, Austria, Switzerland) organization and the Nordic (Sweden, Norway, Denmark) Affiliate as well as a number of Affiliates in the United States," said Cooke. "We did some benchmarking of how those committees were structured, how they operate, and some of their lessons learned. We took that information to our Board and streamlined our structure."
Previously, the Affiliate had one large committee with 30 to 40 members, where it was thought the large number of members would be able to share the Affiliate's workload. However, many committee members did not have a specific role and consequently, much of the work was handled by a handful of people.
The Affiliate's new structure features an Executive Committee with a Chair, Vice Chair, Treasurer, and Secretary. Under the Executive Committee are several subcommittees, each with its own Chair, Vice Chair, and supporting members. The Chair of each committee is responsible for establishing a committee charter. There are currently four subcommittees: Events, Marketing, Membership, and Young Professionals.
A Full Slate of Events
Late in each year, the Ireland Affiliate establishes its event calendar for the next year. There is a mix of daylong seminars, evening seminars, and breakfast meetings. To help attendance and share budgets, several seminars are a collaboration with other industry groups, such as the International Society of Automation or Engineers Ireland.
The seminars have a specific theme, with national and international subject matter experts invited to speak. Most seminars are held at an industry hub so that site visits or tours can be included in the agenda, which often drives interest in the event.
The evening seminars are regionally based, with key hubs in Limerick, Dublin, Cork, and Waterford. These events are typically supported by local subject matter experts.
"We have primarily focused our activities around education and networking events in recent years," said Judge. "And we have been successful in extending those out to include running the European Biotech Conference in Dublin in September 2017. And in April 2019, we'll be the host Affiliate for the 2019 ISPE Europe Annual Conference in Dublin 1–4 April."
"We are delighted to have been chosen for the Europe Annual Conference," said Cooke. "It is a great vote of confidence for us and provides us the ability to attract new people and to bring more Irish speakers to the podium."
The ISPE Europe Annual Conference will focus on core areas that continue to drive, challenge, and shape pharma manufacturing: Facilities of the Future; Pharma 4.0 & Implementation in Pharmaceutical Operations; Quality Risk Management, Process Validation, Continuous Process Verification and GAMP®; and Project Management and Engineering.
Founded: 1989
Region: Republic of Ireland
Membership: 750
Contacts
Chair
Eamon Judge, Eli Lilly and Co.
Vice Chair
Liz Dooley, Janssen Sciences Ireland
Treasurer
Kieran Coughlan, Life Science Consultants (LSC)
Secretary
Sue Cooke, DPS Group
Past President
Gerard Coey, Pfizer Ireland
Young Professionals Chair
Emer Somers, Pfizer Ireland