Regulatory Update: New Regulatory Steering Committee
New RSC provides strategic direction and support
ISPE's regulatory groups play a key role in bringing industry and regulators together to advance pharmaceutical quality for the benefit of patients. This new column, penned by Carol Winfield, ISPE's Director of Regulatory Operations, is being introduced to keep ISPE members informed of the important work being done by these members.
ISPE's regulatory-focused groups are tasked with ensuring that all members have access to the latest regulatory developments. These groups include the Regulatory Quality Harmonization Committee (RQHC) global and regional groups, the Product Quality Lifecycle Implementation (PQLI®) Committee and its technical subteams, and ISPE initiatives such as Quality Metrics and Drug Shortages.
The volunteers in these groups establish relationships with key global regulators and agencies, and serve as technical resources to align ISPE's activities and products with evolving regulatory expectations.
In 2017, volunteers from these groups:
Developed and produced three successful ISPE conferences: Cultural Excellence, Process Validation, and Statistics in Process Validation
Chaired and developed regulatory tracks in the  ISPE European Annual Conference and the ISPE/ FDA/PQRI Quality Manufacturing Conference
Led development of the Regulatory/Quality track, the Regulatory Town Hall, and five sessions at the 2017 ISPE Annual Meeting
Harnessed members' expertise to provide technical feedback on five regulatory draft documents in Europe and the United States.
Published "Drug Shortages," a joint eff ort with the Pew Charitable Trusts; the ISPE Quality Excellence report; two technical papers on process validation; and an online training course on quality metrics
Enhanced written feedback on proposed quality metrics guidance with industry/regulator face-to-face conversations and workshops aimed at advancing pharmaceutical quality.
In late 2017, the Regulatory Steering Committee (RSC) was created to establish ISPE's international regulatory strategy and intelligence interface, and to ensure ISPE's regulatory activities are integrated throughout the society, consistent with our members' needs and business imperatives. The RSC is charged with assessing new regulatory-focused opportunities and advising on ISPE's engagement in new and ongoing activities. The RSC will also provide strategic direction and support to ISPE's regulatory volunteer groups and, where appropriate, recommend collaborations with regulatory agencies or other organizations to the ISPE International Board of Directors.
"The RSC is charged with assessing new regulatory-focused opportunities and advising on ISPE's engagement in new and ongoing activities."
The RSC brings together the expertise of ISPE's key regulatory volunteer leaders and staff : Roger Nosal, Vice President and Head of Global Chemistry, Manufacturing and Controls, Pfizer Worldwide Research and Development, will chair the committee in its inaugural year. Committee members will comprise the Global RQHC and PQLI Committee Chairs, leaders of ISPE's major regulatory initiatives, plus representatives from the ISPE Board of Directors. Staff members include the ISPE President and CEO and Director of Regulatory Operations. The RSC will seek additional input from ISPE's Regulatory Advisor/Consultants, communities of practice, affiliates and chapters, the Global Pharmaceutical Manufacturers Leadership Forum (GPMLF), and other industry leaders.
This new structure supports enhanced collaboration and communication among the volunteer groups with functional links to other key areas within ISPE. In the coming weeks and months, the RSC will be reaching out to ISPE committees and communities of practice to initiate information flow and communication as they support ISPE's regulatory and quality mission, as outlined in the current ISPE Strategic Plan:
Regulatory resources: Leadership in regulation and quality affairs associated with ISPE core concerns and priorities.
ISPE strives to facilitate industry wide clarity of new applicable regulations on regulatory matters relevant to ISPE's attention and expertise, advising on impacts and resolving towards solutions, seeking harmonization of regulatory expectations where desired and possible.
RSC ROLE
Build effective partnerships with regulators and agencies globally and assist in the translation of regulatory expectations into practical solutions for ISPE members
Ensure ISPE provides transparent, progressive, coherent and consistent regulatory perspective in alignment with the ISPE Strategic Plan
Communicate ISPE regulatory vision, strategy, and priorities to global membership
Ensure a consistent "one ISPE" voice to global regulators
ISPE COMMENTS ON REGULATORY DRAFT DOCUMENTS
Following are brief summaries of ISPE's official response to US FDA on three recent draft guidances. Comments are developed by subject matter experts within the ISPE membership and reviewed by ISPE's regulatory volunteer leaders. All quotations are from the comment documents.
Docket No. FDA-2017-D-1105. "Use of Electronic Records and Electronic Signatures in Clinical Investigations Under 21 CFR Part 11—Questions and Answers." 21 August 2017. https://www.regulations.gov/document?D=FDA-2017-D-1105-0027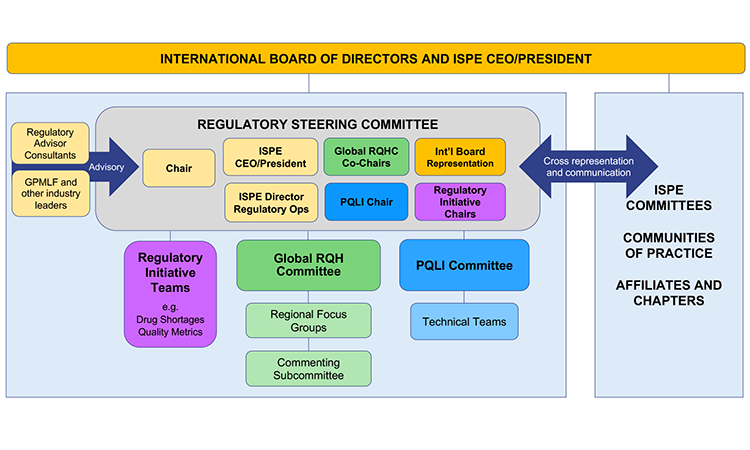 The ISPE response highlighted two general concerns for consideration:
First, the document describes "the sponsor's EDC system [as] a sort of platform where all clinical data are finally generated and/or transferred. This is a simplified logical construct of many collaborative processes, which eliminate the sponsor's sole control on the clinical data and shifts the responsibilities to the clinical investigators." ISPE believes this does not represent the current industry environment and changing it to match the FDA's concept of the sponsor's EDC system "would require a significant re-engineering of most existing computerized systems."
Second, the guidance does not address the possibility of "having a technology service provider database as part of the data flow,"∗ which could lead to conflicting interpretation of full control by the sponsor:
The guidance should provide directions on how to meet the fundamental expectations that 1) the sponsor does not have exclusive control until the data is in their EDC, and 2) the clinical investigator must appropriately control the data prior to that transfer since they typically have continuous access to the data. The current language seems to allow the direct transfer of mobile data to the sponsor's EDC system without mentioning how clinical investigators should be ensuring proper controls over that data.
Other detailed comments covered topics such as clarifying the difference between data audit trails and other system logs, and retaining the distinction between actual signature events and other events such as logging on to a system, in order to remain consistent with the current FDA Guidance on Part 11 Scope and Application.
Docket No. FDA-2017-D-2232. "Product Identifier Requirements Under the Drug Supply Chain Security Act—Compliance Policy; Draft Guidance for Industry; Availability." 1 September 2017. https://www.regulations.gov/document?D=FDA-2017-D-2232-0012
ISPE made five key recommendations:
ISPE supports the proposed the delay of enforcement from the current proposed date of November 27, 2017, to November 27, 2018, for manufacturers to affix or imprint a product identifier on product placed into commerce.
ISPE suggests the agency consider a delay of two years beyond November 27, 2018, for repackagers to engage only in transactions involving products that bear a product identifier (i.e., a compliance enforcement date of November 27, 2020, for repackagers) to allow for a greater attrition of unserialized product in commerce.
ISPE suggests a commensurate delay in the parallel requirements for wholesale distributors compliance (i.e., a compliance enforcement date of November 27, 2020), and the proposed incremental compliance enforcement time for dispensers (i.e., a compliance enforcement date of November 21, 2021).
ISPE suggests that a waiver/exception reporting system be implemented for those products introduced into commerce before November 27, 2018, which have not been serialized, which have not been consumed, and have a shelf life in excess of November 27, 2020.
ISPE recommends that the agency address gaps in its own serialization implementation plan. Specifically, the FDA should deliver the needed guidance for proper design, implementation and on-going management of product identifier data. Technical guidance should be issued regarding how product identifier data is requested, communicated and controlled and the Agency should address who will have access to ePedigrees, and to what level will that access be granted.
Docket No. FDA-2017-N-2697. "Submission of Proposed Recommendations for Industry on Developing Continuous Manufacturing of Solid Dosage Drug Products in Pharmaceutical Manufacturing." 21 September 2017. https://www.regulations.gov/document?D=FDA-2017-N-2697-0014
The comments provide ISPE's view of the desired content of a future FDA or international guidance on continuous manufacturing for solid oral dosage forms. They contain detailed recommendations for general definitions and principles; control strategy definition and design; clinical supplies/IND phase; commercial implementation, validation and verification; and life cycle maintenance and change management.

*See US FDA. Guidance for Industry: "Electronic Source Data in Clinical Investigations," September 2013. https://www.fda.gov/downloads/drugs/guidances/ucm328691.pdf