Sound Bites from 2016 Quality Manufacturing Conference
General: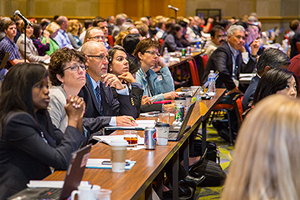 In reference to groups addressing quality manufacturing: "You guys (ISPE) are way in the forefront on quality manufacturing". Dr. Doug Throckmorton, MD, Deputy Center Director for Regulatory Programs, FDA/CDER
Noted similarities between the ISPE Drug Shortages Assessment and Prevention Tool and material that FDA is developing for the New Inspection Protocol. He encouraged those in the room to download and use the tool, saying that anyone using the tool "will be in a better place when FDA goes to the New Inspection Protocol". Dave Doleski, Deputy Director (Acting), OPF, FDA/CDER/OPQ/OPF
Office of Pharmaceutical Quality (OPQ) priority: A more rigorous and comprehensive approach to drug quality surveillance and inspection
Communication is important and sharing is key for a good inspection Karen Hirshfield, RPh, Senior Compliance Specialist, Genentech-Member of Roche Group
---
Keynote Sessions:
Michael Kopcha, PhD, RPh, Director, Office of Pharmaceutical Quality, FDA/CDER/OPQ:

We always put patients first, but we want to balance potential quality risks with the risk of a patient not getting a drug.
Our common goal is drug product quality. There needs to be a conversation, and it needs to go both ways. It has to be a dialogue, a discussion.
To drive quality we must drive new technology and manufacturing science.
We want develop a unified risk evaluation for brand and generic products, and make sure your generics have the same standards and are in developed in a similar - not identical - way.

Dr. Dara Corrigan, FDA's Associate Commissioner for Global Regulatory Policy in the Office of Global Regulatory Operations and Policy

The FDA does do things well – nobody does it better. But that doesn't mean we can't do things with others. We have a lot to learn from them, and they have a lot to learn from us.
Globalization has informed the work we do. It's changed the way we operate and the way we look at challenges.
FDA can't be the inspectorate for the world. It's important to rely on others, and use limited resources to target the greatest risk.
It's not just the bus community that should be innovative - regulators should be, too.

Lynne Krummen, Vice President and Head, Pharma Technical Development, Genentech Inc.

To move toward the future with innovation we need partnership between industry and regulators.
Cancer immunotherapy has started to come to fruition.
To move toward the future with innovation we need partnership between industry and regulators.

Lawrence Yu, Deputy Director, Deputy Director, Office of Pharmaceutical Quality, CDER, FDA The true leading indicator of compliance is your quality culture.
---
Breakfast with the Investigators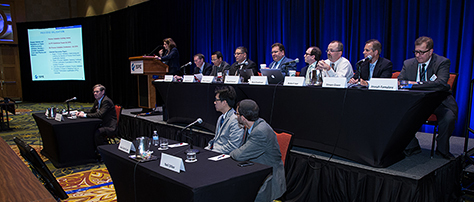 Breakthrough therapy poses challenges to the inspectors and industry. What challenges are you seeing?

Compressed time line - once all the submission info is in we need to organize the inspections.
Audit - would like to answer question ahead of the inspection instead of during the inspection.

What makes a good inspection?

Characteristics that are indicative of a quality facility are the units within the facility are not siloed, cross functionality is apparent and everyone has the same perspective.
Consistent messages.

 The reorganization must have some effect on the inspection process, what are you seeing?

Office of Pharmaceutical Quality's (OPQ's) mission is to strengthen the review teams.
Investigators are becoming more immersed in the operations during the inspections and increased interaction.
Field side is seeing more information in one document.

Who do you look at for culture when you come into a facility?

Like to ask the people that are actually doing the work. Do they have an understanding of the process and do they know who they need to talk to address an issues that need to be addressed?
Statistical evaluation and look for improvements before they become problems.
Empowered individuals and those that are focused on what needs to be done and making improvements not just trying to meet a deadline.

Does the company put themselves at risk if they ask questions during the inspection?

No - but they are not going to be advisors.

How can you rebuild the trust after have a data integrity issue?

The company will need to show how they are improving the systems and it will take a lot of work to improve the trust.

What gaps are being seen in the Process Validation lifecycle approach?

A variety of approaches are still being used. Would like a more robust statistical analysis.
---
Session Quotes:
Frontiers in Manufacturing Science and Quality Track
An Innovation Ecosystem: A Roadmap for Technology Implementation Session

Bret Huff, PhD, Vice President, Eli Lilly & Co, USA

Continuous processing requires multi-discipline approach
Stick to the vision and have confidence in the process
Planning Lifecycle Management Approaches for Adopting Emerging Technology Session

Geoffrey Wu, PhD, Acting Associate Director, FDA/CDER/OPQ/OLDP, USA

Top emerging technologies of 2015:  Next generation robotics, adaptive, flexible & cloud-computing
Two challenges in emerging technologies:

Potential larger initial upfront investments
Uncertainty of affecting the regulatory review and approval process
Quality Metrics Track
Quality Metrics Session

Which metric most troubling? Lot pending disposition hard to define
How do metrics align with inspection operations? Not measured strongly. The results were not conclusive. No strong correlations
Can quality be differentiated between sites? It does provide value. Metrics cannot be an end all be all. Indicates where we are going - not good or bad. The metrics are a source of easy learning. How can we improve and increase performance. You must have context so things are not misconstrued.  Can show differences and drive change.
Transformation of Quality Oversight Track
Knowledge Management Session

Ingrid Markovic, Special Advisor to the Associate Director for Review Management, Office of the Center Director, CBER, FDA

Look at the big picture: Collected information should not be viewed in isolation.
Knowledge management should be linked to a change management process

Data Integrity Session

Thomas Cosgrove, Acting Director, Office of Compliance, CDER, FDA

Everything we do in data integrity is in pursuit of Dr. Woodcock's twenty-first-century manufacturing vision, which is as applicable today as it has always been.
I ask people in industry to put themselves in the regulator's position.
If you find a data integrity problem, disclose it to regulators. Determine the scope, commit to voluntary remediation. FDA is much more willing to work with firms that voluntarily disclose and commit to fixing problems.
Manufacturing and Operational Excellence Track
Driving a Culture of Continuous Improvement Session

Conrad Mutschler, Vice President, Global Supply Chain Strategy, Perrigo

Driving the culture means engraining it in the workforce. It can't just be top management. It has to be throughout the organization via training and facilitation.

Richard Friedman, Deputy Director, Science and Regulatory Policy, Office of Manufacturing Quality, CDER, FDA

What is a state of control? It starts with process robustness.
Drug manufacturers are responsible for implementing dependable daily operations that assure consistent drug quality. Management of daily decisions ultimately determine the quality.
How do you know if your pharmaceutical quality system is a healthy one? Prevention, correction, and mediation.