Quality Risk Management Controls Cross-Contamination
Preventing cross-contamination is a significant challenge that must be addressed for pharmaceutical manufacturers during manufacturing, packaging and inventory management operations to ensure the quality of supply to patients. The changing industry landscape, combined with the variability of international regulations, complicates the pharmaceutical market and calls for effective risk management as a means of control and oversight. Quality risk management (QRM) can provide solutions for pharmaceutical manufacturers that deal with varying regulatory challenges on an international scale. Through the implementation of an effective QRM program, pharmaceutical manufacturers can anticipate regulatory challenges in multiple regions rather than react to changing regulations from one region to another. 
Overcoming Regulatory Complexities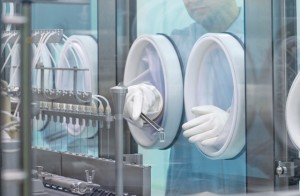 Most regions and markets have strict, and unique, regulatory guidelines that underpin the importance of manufacturers having a robust cross-contamination control strategy. They also create challenges for pharmaceutical manufacturers as well as quality and inventory managers. Penicillins, for example, are commonly restricted to a segregated manufacturing building or area because of the sensitivity and allergenic risks to patients and operators in the facilities. Restrictions like these, however, vary by region for other classes of compounds. A QRM program can help manufacturers establish a quality system with uniform compliance measures in all of their plants throughout different regions.
QRM's ultimate goal is to maintain the safety of the product, patient and operator. This process aids day-to-day operations by reducing possible production stoppage due to safety concerns and issues of regulatory compliance. The first step to achieving these results is to understand regulations as they apply to specific classes of compounds and then harness this knowledge to create a customized QRM program that works to benefit the facility or plant.
QRM Reduces Environmental Impacts 
Understanding the regional regulations may have an impact on the physical landscape of a facility as well. When combined with manufacturing procedures and engineering controls, QRM may positively impact the physical footprint of a plant or warehouse. As environmental preservation issues garner more and more concern from the packaging industry at large, companies that understand and adhere to regulatory changes surrounding conservation experience less disruption in manufacturing and receive more positive feedback from consumers. Health authorities participating in the International Conference on Harmonization (ICH) have provided guidance on QRM since 2005.
A lack of a QRM program has the potential to introduce unquantified risks to manufacturing and packaging operations. All individuals involved in manufacturing, quality and inventory management—including technicians and engineers—should understand the advantages that a QRM program provides. Through the use of QRM methods, manufacturers can enhance the integrity and performance of facilities, with significant reductions in instances of cross-contamination across different regional operations as well as the possibility of improvements in overall facility efficiency. All of these benefits propel companies to improve from within, but more importantly, they amount to collective strides by industry leaders in controlling cross-contamination risks, one of the foremost issues in pharmaceutical packaging. 
Learn More at the Pharma EXPO Conference Program 
At Pharma EXPO 2015 (Las Vegas Convention Center; Sept. 28-30), Paul Ahlijanian will provide pharmaceutical manufacturers with the tools to implement QRM principles into real life operations. Through his use of case study examples, Ahlijanian will present attendees with basic information on what's needed for QRM as it relates to cross-contamination control in the spotlight session, "Using Quality Risk Management to Evaluate Compliance for Multiproduct Manufacturing and Inventory Facilities in the Pharmaceutical Industry." His approach aims at using risk management methods to help pharmaceutical manufacturers as well as members of quality and inventory management better understand cross-contamination control. The session falls on Tuesday, Sept. 29, as part of the day-long Compliance Trends track of the Pharma EXPO Conference Program, curated by the International Society for Pharmaceutical Engineering (ISPE). Pharma EXPO, co-located with PACK EXPO Las Vegas, is co-produced by PMMI, The Association for Packaging and Packaging Technologies and ISPE.  Learn more and register at Pharmaexpo.com.