More Highlights from 2018 ISPE Biopharma Manufacturing Conference
The 2018 ISPE Biopharmaceutical Manufacturing Conference on 10-11 December 2018 in Huntington Beach, California, featured a broad emphasis on both new scientific developments and the perspective of regulators in assessing those developments. The interaction of the pharma industry and regulators is necessary for the new technologies discussed during the conference to move forward into patient care.
What to Be Ready for During Regulatory Review
During the plenary session on 11 December, Steven S. Oh, PhD, Deputy Director, Division of Cellular and Gene Therapies, Office of Tissues & Advanced Therapies (OTAT), CBER/FDA presented on "GMP Considerations for Cell and Gene Therapy and Viral Vectors."
Oh outlined some unique CMC challenges presented by cell and gene therapy products. With autologous therapies (one lot treats one patient) , specific concerns include product tracking and segregation; high product variability; limited material or time for testing; short shelf life; manufacturing logistics; and scale out. On allogeneic cell bank-based products, specific concerns include donor eligibility; qualification of cell banks; reproducibility of replacement bank; stability of cell banks and intermediates; and scale up. Common concerns to both products include mechanism of action, material qualification, challenges establishing specifications, appropriate manufacturing facility, product shipping/handling, and major manufacturing changes.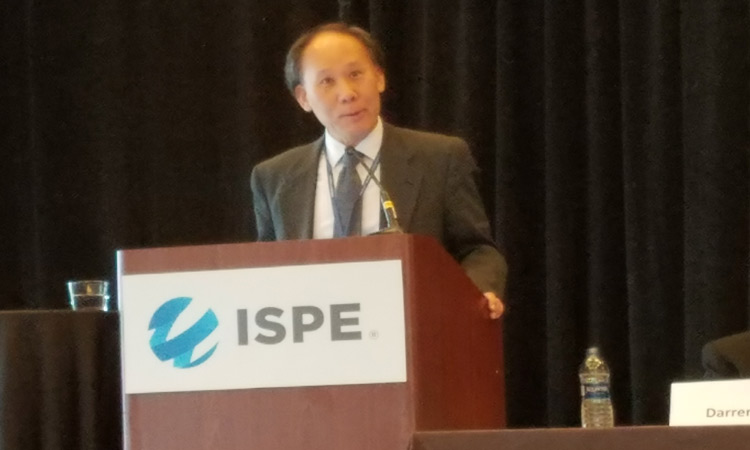 ---
Phase 1
Phase 1 for cell and gene therapy projects emphasizes safety considerations, Oh said. Expectations are: preclinical animal studies conducted using the product manufactured as it will be used for clinical studies; safety of source material, reagents, and processing; safety testing (sterility, endotoxin, mycoplasma, identity, purity, viability, etc.). Some in vitro proof of concept data should exist as well as demonstrated ability to manufacture the product. Specification should be established to ensure minimum quality, and product sponsors should have preliminary shipping and stability data.
Donor testing and screening for infectious diseases is required for human cells, tissues, or cellular or tissue-based "351" products when source material is collected from allogeneic human donors. CBER guidance documents provide additional detail on what infectious disease must be tested; when donors must be tested; how they are tested; the types of test kits; and where testing must take place. In addition to donor blood testing, donor screening via medical questionnaire must be performed. Donor eligibility screening and testing requirements often differ by country. For example, non-US countries may not use FDA licensed test kits, CLIA certified labs, or may not perform all the nucleic acid and antibody-based testing required. Consult with FDA early in product development if using source material from non-US donors.
Ancillary materials to be aware of include:
Research grade reagents. Were ackaging says "not for clinical use, for research purposes only," Oh said it can be used in CGT manufacturingonly if properly qualified, and use the highest grade available.
Human derived materials. Human serum albumin requires the use of licensed products, and for autologous or pooled human serum, there are donor eligibility issues.
Animal-derived materials. Adventitious agents, BSE/TSE issues for bovine materials require attention to the country of origin and age of the herd.
"Serum-free" media does not always solve the problem.
GMP considerations outlined by Oh include:
For Phase 1, there is more flexibility in how CGMPs compliance is achieved. The suitability of a facility depends on the nature of the product – not all "state of the art facilities" are ideal for every product.
GMP may "improve" the product, but mostly it allows the product sponsor to control product quality and safety, and to help ensure manufacturing consistency.
GMP cannot prevent manufacturing errors from happening but can help ensure that controls are in place to catch them and take appropriate corrective actions.
Phase 2
In Phase 2, Oh said that sponsors often focus on clinical and statistical design, but manufacturing is also important. Phase 2 manufacturing is often "on autopilot" but it may be a good time to implement a major manufacturing change prior to Phase 3 studies. CMC expectations are higher for Phase 3 studies (identity, stability, manufacturing consistency/product comparability). Consider further product characterization and revision of release specifications during Phase 2 and consider manufacturing changes that might be needed to accommodate larger trials. Understand critical quality attributed (CQA), critical process parameters (CPP), and key process parameters (KPP).
For product development, work backwards:
Step 1: MOA: how is the product supposed to work in the patient?
Step 2: TPP: what would you have to study clinically to assess safety and efficacy based on MOA, and what properties does the product need (product labeling)?
Step 3: CQA: what critical properties do you need to control to achieve the desired safety and potential efficacy?
Step 4: CPP: what processes need to be controlled to achieve CQA?
Step 5: KPP – what controls do you need to achieve a consistent process?
Next, Oh outlined establishing specifications. Specifications are defined in ICH Q6B and Q11 as "critical quality standards (CQAs) that are proposed and justified by the product sponsor and approved by regulatory authorities …. Specifications are chosen to confirm the quality of the DS and DP rather than to establish full characterization and should focus on those characteristics found to be useful in ensuring the safety and efficacy of the DS and DP." The full product characterization includes testing not performed on every lot. CQA includes product properties where specifications have not yet been established (e.g., potency) or the product sponsor is not sure if it is truly critical (e.g., additional cellular marker).
Phase 3
Oh likened Phase 3 to commercial manufacturing being on training wheels. At Phase 3, the product sponsor should be using as close to the commercial process as is feasible for registration studies. Potency assays should be in place, CQAs should be identified and appropriate specifications should be in place. CPPs should be well defined—Phase 3 is critical for demonstrating manufacturing consistency. Additional stability data should be collected, but some details are still being worked out to prepare for commercial production.
He noted CQA and CPP are not meant to be static—these should be continually evaluated and revised as needed. This is important, Oh stated, but revise cautiously since tremendous impact is possible on the product. Additional product characterization data may indicate a better way of ensuring quality. Clinical outcome data may provide clues as to what product properties are most important, and additional manufacturing experience may guide CPP and CQA.
Expedited pathways
Expedited pathways present challenges: fast advancing clinical programs with a timeline that is truncated can mean planning for CMC for commercial scale, for example, or comparability studies needed for scale up may not be ready yet. Start to think early about planning/conducting CMC changes, "even during Phase 1 if that is what it comes down to."
Challenges affecting CGTPs (current good tissue practice) on expedited pathways include limited manufacturing experience (comparability studies are not statistically powered, and not enough retention or test samples are available ); limited in-process testing (process variables and CPPs are not known; limited assay development (potency, purity) (assays are not qualified, and reference standards not established or adequately characterized); limited product characterization (CQAs not known); limited knowledge of product- and process-related impurities; and limited product stability data collected.
Oh outlined a product lifecycle approach to potency measurement. Stepwise assay development includes investigation of biological activity and development of a relevant potency assay. He noted that expedited development does not change the regulatory requirements for a validated measure of biological activity before clinical studies to support safety and efficacy for licensure. Considerations for potency assays at the final cell product level include biological potency assay – mode of action (e.g., cell killing); cytokine production; transduction efficiency; vector copy number. At the vector substance level, biological potency assay – mode of action; infectious titer (critical for MOI determination at the transduction steps) in target cell and/or surrogate cell line.
Process changes
Process changes during the product lifecycle are to be expected, and not all of the changes that come will be planned. The product sponsor is responsible to plan for change, report and implement change, and demonstrate product comparability using risk- and science-based approaches. "This is risk-based, so risk assessment is key," Oh said.
Some examples of process changes include changes in manufacturing step, starting materials, reagents, vendors, cell culturing conditions, purification scheme, master cell bank, scale up or scale out, automation of the process, and manufacturing site.
Comparability study design insights shared include: do side-by-side studies of "old" versus "new" product if feasible; comparison to historical data may be acceptable if justified; use relevant, well qualified assays with predefined acceptance criteria; define acceptable levels of variability using proper statistical methods established prior to the study; discuss comparability protocol and analysis methods with FDA prior to study; if comparability cannot be demonstrated by analytical methods, FDA may require additional pre-clinical studies or clinical trials.
Regulatory Panel Discussion
The closing session of the conference on 12 December was an Industry and Regulatory Panel Discussion led by Joseph Famulare, Vice President, Global Compliance and External Collaboration, Pharma Technical Quality, at Genentech/Roche.
Panel participants were Patricia Hughes, PhD, Branch Chief, Division of Microbiology Assessment, FDA/CDER; Ingrid Markovic, PhD, Senior Director, US Pharma Technical Regulatory, Genentech; Steven S. Oh, PhD, Deputy Director, Division of Cellular and Gene Therapies, Office of Tissues & Advanced Therapies (OTAT), CBER/FDA; and Juan Torres, PhD, Senior Vice President, Global Quality, Biogen.
Torres addressed how to move from a process model being informational to being part of the control strategy. Once a functioning model is developed the specifics of how it will be utilized in the control strategy and how it will be maintained over time must be conveyed to the regulators for their approval. There is a continuum of thinking on this depending upon the models criticality within the overall control strategy. Hughes agreed that the model is a "tool in or toolbox" for creating a complete overall control strategy.
Torres continued by considering whether there is a need for a backup to the model. Batch approval is from multiple inputs, and details of this scenario need to be considered in the control strategy. "This will be an even a bigger question if you automate a model to take action based on a process deviation," he noted. Hughes said "yes, that would be a problem." Oh noted that he is a proponent of advanced control methods, especially for cell and gene therapy. "Bring multiple tools to bear to achieve process control" was his view.
Hughes said that sponsors should not be afraid of new methods such as Raman spectroscopy or rapid (instantaneous) micro even though these might be more sensitive and will give more information that you have had historically. Integrating these new tools into systems provides opportunity for expansion of knowledge and continuous improvement.
Torres agreed, noting that industry must take risks. The only way to learn if anything works is to try to make it a reality. You have to invest in technologies such as virus gene sequencing for viral contamination detection. Markovic agreed and thanked the FDA for actively promoting these new technologies. "The ultimate goal is speed, flexibility, cost."
"There are some efforts in the cell and tissue engineering space to advance new technologies, which could include continuous manufacturing, plus QC methods," Oh said. NIIMBL (National Institute for Innovation in Manufacturing Biopharmaceuticals) and BioFab are two organizations that coordinate efforts to develop new technologies.
Famulare asked Oh about structures in CBER for promoting new technologies. Oh said that
many cell and gene products start out with advanced technology. CDER has an emerging tech team (ETT), but CBER does not. It does have a group who are coming up with even newer advanced testing methods. At the time of the conference, the group had been in existence for six months. Oh suggested using the INTERACT (INitial Targeted Engagement for Regulatory Advice on CBER ProducTs) program or have direct conversation with the relevant office based on technology.
Hughes said that at CDER, a lot of reviewers are not up to speed on the new technologies. They have a center of excellence for this, are trying to understand these new technologies, and they want information from industry to help them understand.
Torres asked whether there are methods for cross-agency alignment on new technologies. Hughes said through FDA's Program Alignment there is connection between CDER and the inspectors.
In response to an audience question about where FDA recommends companies should go to get a read on regulators' stance on best practices for new technologies, Hughes responded that meetings, conferences, and publications are good sources. "Worst case is to see it first in an IND application," she said. "Connect with agencies early for direct information." Markovic suggested ICH as being helpful, noting Q12 is under review and Q13 jut initiated for continuous manufacturing. Hughes added that including information explaining new technology in the application can be very helpful.
Torres noted that there is room to expand intercorporate collaborations such as BPOG. Hughes lauded BPOG and noted some FDA "have been invited." Oh added that although FDA is excited about interacting, it is mostly for education and FDA does not endorse any technology.
In response to an audience query about rapid microbial detection technology in cell and gene therapy, Hughes said the criticality of sterility is key, and likely of huge value for autologous therapy due to production to patient dosing timelines. Oh said standards are being developed to help with implementation and NIST is doing so as well.
Famulare asked if rapid micro could be used on existing processes. Hughes was enthusiastic about this and said "bring them on!" FDA has already approved many, she said.
Famulare asked if parametric release which has been accepted for terminally sterilized product was possible with regards to aseptic processes given some of the newer technologies coming providing stringent controls. Hughes responded that "Ten years ago no, never, but today, why not, but it's our (industry's) job to provide proof." She said many companies are using CMOs, and there are concerns about shortcuts being taken using the same technology for a variety of different products.
Several issues were discussed related to post-approval. Oh said that CBER has prelicense inspection as part of BLA review, and product specialists would accompany inspectors for a PAI. Post license, the inspection goes to ORA, team biologics, and usually a product specialist comes as well. Markovic said she appreciates the close relationship between inspector and product reviewer.
Famulare noted that Q12 says robust quality system and robust inspection history would enable a more streamlined change for a manufacturer. Torres asked what constitutes a robust quality system and said agreement is needed on that, perhaps metrics? Famulare said ISPE has an active initiative Advancing Pharma Quality. Torres said that his peers had a willingness to share more metrics if it would enable quick innovation approval. Markovic added, "you need a robust quality system, but also robust product knowledge, and a platform of prior knowledge." She advocates a combined holistic approach that the three must be taken together to ensure quality.
Manufacturing Challenges
The "Challenges of Bringing a Facility Up to Production Scale—The Human Element" was part of the second plenary session on 10 December. Antonio Moreira, PhD, Vice Provost for Academic Affairs, University of Maryland Baltimore County, spoke to the challenges presented:
Biopharma manufacturing requires a diverse set of skills and academic training experiences.
The manufacturing of advanced therapeutic medicines is dependent on a highly skilled and multidisciplinary manufacturing workforce with expertise in engineering, robotics and automation, data science, computational modeling, biological sciences, physics, chemistry, mathematics and statistics, project management and risk management.
Academia and industry must work together to meet the goal of preparing this skilled workforce.
Moreira cited numerous challenges that need to be met for the success of cell and gene technologies including production of cells for larger patient populations; fully closed sterile manufacturing process is required; cell characteristics are strongly influenced by the environment; cells are fragile, relatively unstable, and easily damaged; cryopreservation is required for storage and back up; cold chain is required for cell delivery from and to the patient; and defining and testing the quality of cell therapy manufacturing is a challenge.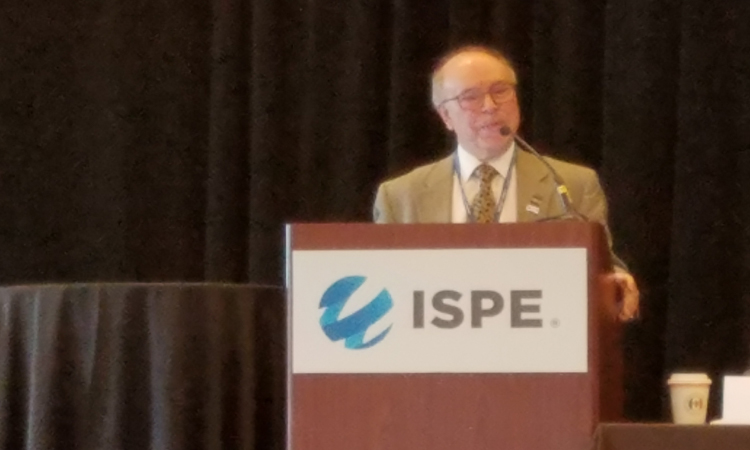 ---
Additional challenges include many factors influence CQAs, such as cell source (autologous cell therapies are specific for each patient), growth media variability, random events inside cells, etc.; monitoring is needed to ensure CQAs are maintained throughout the cold chain; final cells product can be neurotoxic/immunogenic, cause graft-versus-host disease, or lead to cytokine release syndrome (dangerously high fevers, precipitous drop in blood pressure, and potentially resulting in organ failure); deaths have occurred in some clinical trials.
Still more challenges are presented by wide variations in development path and timelines for cell and gene therapies; identification of optimal drug delivery mechanism on the critical path; for gene therapies based on nucleic acids, it is difficult to stabilize the molecules long enough for them to take effect; viral vectors present a risk of immune response or other unwanted side effects; environmental health and safety issues; need strategy for adventitious agents control; technology for viral vector production lacking; limited CMO options for viral vectors can lead to delay sin development programs and unpredictable manufacturing costs.
Workforce of the Future
Meeting these many challenges requires a strong workforce, Moreira noted, and he observed that the pharma industry has made the Workforce of the Future a major initiative. At the 2017 ISPE Europe Pharma 4.0 Conference, trends identified included the great appeal of Industry 4.0 to the pharmaceutical industry; that top management support and leadership are crucial to develop the necessary resources; a "workforce 4.0" needs to be groomed; a holistic manufacturing control strategy is becoming a must; data analytics and predictive control are the means and the goals; and regulations, the pharma industry, and their organizations are evolving.
Generation Z, the future of the workforce, are what Moreira called "digital natives" and they are the next workforce for pharma. Born between 1995 and 2012, they are individualistic and creative, communicate via images, and are focused on "the now." They are career-driven realists. The challenge with attracting members of Generation Z into the pharmaceutical manufacturing industry, Moreira said, is that this generation wants to achieve immediately—they do not want to wait for 10 to 12 years for a drug to be developed and delivered to the patient.
GPMLF is working on Workforce of the Future initiatives with the participation of senior global leaders from manufacturing and quality in the pharma industry; ISPE provides support and framework to these activities. Sub-teams are at work by academia and industry, Young Professionals, and public engagement is being developed on the ISPE web site to provide information to university students about opportunities in the pharma industry and working to expand the read to younger students including the younger Generation Z members so that they can understand what can be done in the pharma industry. Profiles of about 30 or so different job types in the pharma industry are being developed, including job descriptions and profiles of what the industry needs and what students should study to close the knowledge gap. Three universities so far are in discussions with GPMLF companies to identify resources within those companies to work with the universities. Moreira noted these are with U.S. universities so far though conversations will begin shortly with European universities as the program develops.
New Location. New Date. Same Great Conference.
Join ISPE in Boston, a top bio hub, to learn about the latest innovations in product methods and technologies. During the 2019 ISPE Biopharmaceutical Manufacturing Conference, you'll have three days to:
Address the challenges of manufacturing new modalities—innovations in process technology, equipment design, infrastructure, and operations being implemented by established and start-up firms to safely produce these novel therapies

Examine case studies demonstrating substantial increases in output, quality, and dramatic reductions in cost and risk helping large and small manufacturers remain competitive

Explore innovations that are changing the biomanufacturing landscape, such as rapid bioburden measurement, PAT and soft sensors, process intensification, and continuous processing

And more!
Learn more and register today to take advantage of the early registration discounts.
Disclaimer: This is brief and informal synopsis of information from US FDA during presentations at the ISPE Biopharmaceutical Manufacturing Conference on 10-12 December 2018. It has not been vetted by any agency and does not represent official guidance or policy of the FDA.