The Key Components of a Master Plan
Eric Bohne
Magdalena Krapf
In our previous blog post, we concluded that although legacy pharmaceutical manufacturing facilities present many challenges, they are worth rehabilitating. In this discussion, we explain the components of a master plan. In our next blog post, we talk about how a master plan can help alleviate the issues associated with legacy facilities such as compromised flows, dangers of cross contamination, aging critical utilities, and implementation of new product lines, among others.
What are the key components of a Master Plan?
There are a number of different ways to develop a master plan. However, the major components remain the same regardless of the jurisdiction who's cGMPs are being accommodated. This is a breakdown of the major components. Existing Building Analysis: The initial step is to understand the existing facility and its operations in terms of current good manufacturing practices. To capture and evaluate the critical issues, it is necessary to gather and develop a database that will help visualize existing conditions. These include:
Flow diagrams for materials, personnel and waste.
Hygiene zoning diagram(s) identifying areas of open product, air classifications, and risk of cross contamination.
Diagrams documenting existing locations and procedures for the gowning.
GMP Principles:  Early in the process of developing a master plan it is important to work with the appropriate stakeholders at the facility to identify the good manufacturing practices that will have authority over facility operations. These concepts will provide basic criteria by which to evaluate options and to inform the final master plan. Issues to be addressed include:
Defining the different zones of work using concepts of protection levels 1, 2 and 3(11), ISO air classification, white/grey/black/green or other agreed standards.
Establishing concept for transitioning between different hygiene zones (i.e. airlocks).
Establishing principles for gowning and entry to different hygiene zones.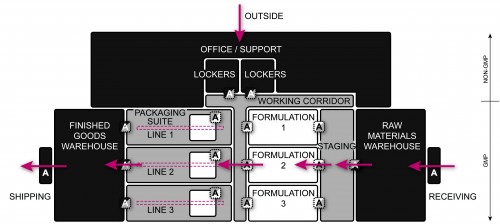 Clearly defined circulation pattern that is sequential and reinforces an efficient operation
Programming: A programming effort is necessary to establish the overall facility goals and vision, the space and functional requirements, and the overall equipment, utility and operational requirements. These criteria need to be aligned with corporate business and marketing strategies and should aim to position the facility to accommodate future changes and/or growth. Once gathered and quantified, this information can be used to develop a space program for the overall facility. The space program should, at a minimum, identify the following information:
Physical space requirements including room/suite sizes
Projected growth over time
Major equipment needs
Required utilities and services for the space/suites and equipment
Room finish criteria
Room HVAC criteria
Room Lighting criteria
Room plumbing requirements
Pure water needs
Any other specialty needs
Plan Development: Using all the information previously gathered a final facility master plan is developed. The resulting plan will explore layout options, constructability, implementation logistics, and relative project costs (including construction costs, design fees, approvals and permitting costs) for the several options generated. Potential layouts are tested by overlaying the various material, personnel, and waste flows. Discussion of the merits and deficiencies of the plan options will lead to a recommendation for a preferred master plan for the facility, which should also include the following diagrammatic information:
Material Flow Diagram
Personnel Flow Diagram
Waste Flow Diagram
Hygiene Zoning Diagram
The master plan can be detailed down to the level of individual rooms or can be more general and visionary in nature by addressing larger blocks of space or functional areas. In addition, the overall master plan can be further broken down to illustrate the anticipated phasing that sets a framework that can be used to achieve the master plan. Next week, we continue our discussion with "The Mater Plan as a Solution".