ISPE Is an Enabling Platform for "Vision to Reality"

Over 2,000 attendees from more than 28 countries gathered in Philadelphia for the 2018 ISPE Annual Meeting & Expo. The opening plenary on Sunday, 4 November provided a strong kickoff to the four-day conference, whose theme of "Vision to Reality" focused on the promise of new developments that ISPE members are helping the pharmaceutical industry tackle.
Tim Howard, Immediate Past Chair of the ISPE International Board of Directors, opened the session on by noting some of the challenges facing the pharmaceutical industry since the organization's last Annual Meeting, including: about 18 million people received a cancer diagnosis; 9.5 million people died from cancer; and 5,600 people were diagnosed with ALS—a disease that is always fatal, he noted.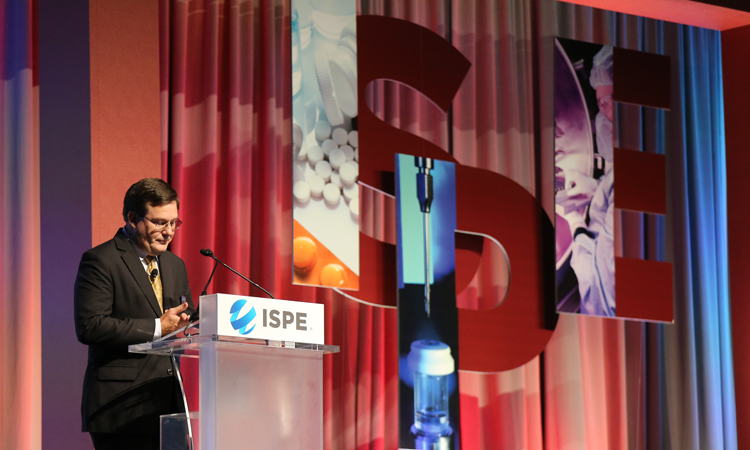 While these numbers present challenges, Howard noted that "technology is progressing at a rate that is unprecedented," with developments such as CAR T-cell therapy, supply chain advancements, and other groundbreaking developments that members would hear more about during presentations and sessions over the next four days. "ISPE will play a critical role in developing these," Howard said. 
Building New Realities
John Bournas, ISPE's CEO and President, welcomed attendees by noting that Philadelphia "was home to one of the earliest data-driven and rational minds in the Americas——a brilliant scientist by the name of Benjamin Franklin." Today, Philadelphia is a metropolitan region that now hosts over 800 life sciences companies. 
Bournas thanked those who contributed to the planning of the 2018 ISPE Annual Meeting & Expo and to another successful year for ISPE programs, including Howard; the ISPE Board; Britt Petty, who served as 2018 ISPE Annual Meeting & Expo Chair; Mike Rutherford, Co-Chair; program committee members; sponsors; exhibitors; the ISPE Delaware Valley Chapter, and speakers.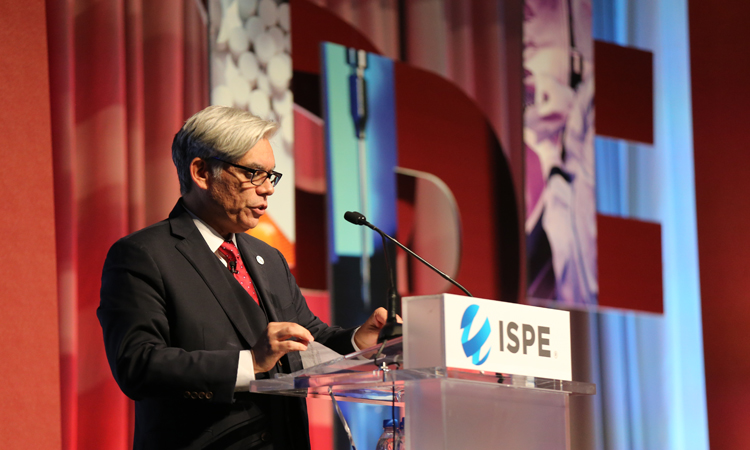 He explained the theme for the conference, "Vision to Reality," holds great meaning for ISPE. "Although we are a nonprofit association and not necessarily involved in the delivery of advanced therapies, we do provide an enabling platform for visions to one day become a reality.   
The contributions of ISPE's 18,500 members around the world, including its 38 Affiliates and Chapters, are part of that platform. And as Bournas noted, "it really all starts at the Student level, where we have over 70 ISPE student chapters at universities around the globe, from newly established ones this year such as in Thailand, the University of the Philippines, Virginia Tech, Georgia Institute of Technology, to 11 others being formed such as Stanford University, University of South Australia, University of Maryland College Park, University of Pennsylvania, and Villanova, among others, where we have had strong collaborations with leading ISPE member academics, who have paved the way, such as Dr. Antonio Moreira. 
"The inspiration to form the leaders of the sector takes tangible shape at this stage and as an organization we're playing our part, but we've only touched the tip of the iceberg with regard to potential." The commitment to education connects with the workforce of the future in both pharma engineering and wider industry, and Bournas noted the growth of Young Professionals, including more than 27 Young Professional groups around the world and over 60 events in just the last year. 
"We hope to fully harness the energy that exists within this segment of the membership to help us drive towards some of the strategic goals that we are envisioning for the next four years. 
Education for all is supported by ISPE's recent relocation of its Washington, DC-area office to a greater space that now accommodates the ISPE Training Institute. "So far, the response has been very encouraging, with healthy attendance. We still have work ahead in the expansion of Training, in the improvement of our digital offerings, but we have a clear path, a collaborative mindset."
Diversity of the workforce is a vision that "requires a will and continued global collaboration to facilitate this reality. And to this end, we've created a platform to address this imbalance." The ISPE Foundation, announced at last year's Annual Meeting & Expo in San Diego, California, "will provide sustenance to opening more spaces and opportunity for women and students in the pharmaceutical manufacturing industry, among other themes." A number of grants have been made in the first year of the Foundation to students and women from around the world. "That's a firm demonstration of our long-term commitment, and it's also the right thing to do." 
Bournas noted that ISPE continues on the path to more diversity by now having more female executives on the ISPE Board, and almost an equal ratio compared to male board members. "That's the result of a common vision and leadership between the Chairs, the Board, and your CEO to make this reality happen."   
  
"Vision to Reality also requires collaboration, as many of you know," Bournas said. "And in the recent past, we've had a very robust set of concerted activities, discussions and representations with our sister associations, as well as with global regulatory agencies. At ISPE we've embraced this mode of teamwork and look forward to doing more, particularly where we can add value, thought leadership and a geographic presence as an organization, such as what we recently did successfully with conferences on Biotech in Lyon, France and the Pharmaceutical Manufacturing Conference in Mumbai, India." 
Knowledge exchange will continue to be a focus of ISPE, he added, with actions including rolling out the online version of Pharmaceutical Engineering magazine, making guidance documents available on mobile phones, and innovative symposia. All of these are ways ISPE will be engaged in facilitating a vision into reality.
A Leap Forward in Drug Development
Lars Fruegaard Jørgensen, President and CEO of Novo Nordisk A/S and Honorary Conference Chair, gave a presentation exemplifying the spirit of Vision to Reality by describing the company's path to a groundbreaking new treatment for patients with diabetes. 
In "From Vision to Reality: Delivering Next-Generation Diabetes Treatment" he provided some history about the company's commitment to patients and defeating diabetes. Novo Nordisk began in 1921, when August and Marie Krogh were granted permission to produce insulin in Scandinavia. Today Novo Nordisk provides nearly half the world's insulin and is using its skills in diabetes treatment to develop therapies for growth hormone deficiencies and hemophilia.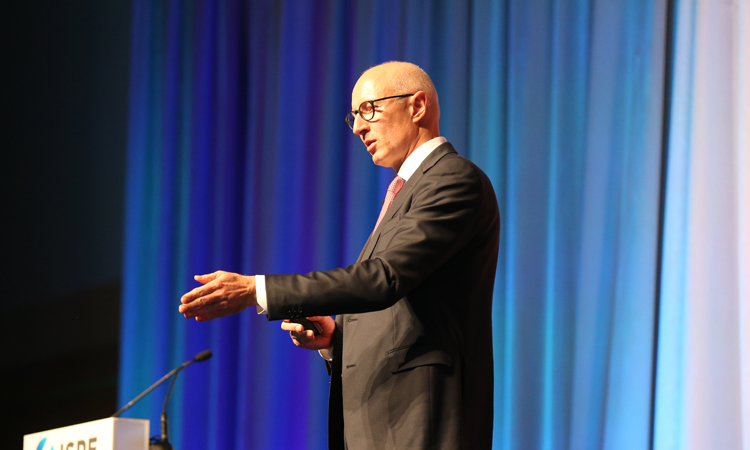 "We have stayed true to our purpose to discover and develop innovative biologics and make them available to patients around the world," he said. 
Jørgensen noted that pricing and affordability "is part of our social responsibility. The triple bottom line is a lens we use for decision-making." He illustrated this by noting that a 10 ml vial of insulin can be purchased in the United States for $25. 
"Aiming high," he noted, is necessary to get fast market access. Innovation is central to aiming high, and Jørgensen discussed an innovative drug in development that does just that. There is great need for other ways beyond injectable insulin to address the tremendous global health challenge of diabetes, which affects 425 million people globally and is projected to affect over 700 million in the next 30 years. 
Despite numerous treatment options, patients are not meeting desired outcomes. Only half of the 425 million are diagnosed; of those, half receive care. Among those, only about half achieve treatment targets, and just half of those (6% of the original total) achieve desired outcomes.
Fear of injections and a lifetime of insulin treatment create barriers for many patients. To help address this, Novo Nordisk decided that an oral insulin drug was needed. This is where the company's approach of aiming high came into play because it was said that this could not be done. 
Novo Nordisk now has an oral semaglutide in phase 3 trials, with eight of 10 planned trials completed, and 9,356 patients enrolled through all phases. The new product is being tested against Victoza, injectable GLP-1 analog, Novo Nordisk's own product. The company's goal is to complete the trials and submit the drug to the FDA next year, with the hope of launching by 2020. The technology combines insulin and glucagon, to treat type 2 diabetes. This appears to be a promising therapy to reduce glucose levels and to help with weight loss, he noted. As the oral semaglutide tablet dissolves, other ingredients in the tablet protect the semaglutide molecule and transport it into the bloodstream. 
Manufacturing Innovation
How to manufacture the new drug will be the next challenge. Jørgensen noted that a million square feet are needed for the tablet's manufacture. While pills are usually produced in small facilities, more room is needed to produce the amount of semaglutide needed. Novo Nordisk will use its $2 billion site in Clayton, North Carolina, to manufacture the API. 
"We are quite serious in terms of doing innovation. We are investing $2 billion in manufacturing, but we are investing another $2 billion in the program. We believe we know how to do this. I believe this will become a defining new treatment for type 2 diabetes."
Patient Viewpoint
Becky Furuta, Ambassador, Team Novo Nordisk and Health Care Policy Consultant, gave the final plenary presentation on "How Diabetes Drives My Success." She shared her story about how bike racing was a way to cope with and escape a youth challenged by family illness and poverty to build strength and self-reliance. 
Furuta had been a competitive bicycle racer until a diagnosis of type 1 diabetes during her second pregnancy challenged her progress. She ultimately chose to live her life committed to the sport as a member of the Team Novo Nordisk racing team, which is fielded completely by athletes who have Type 1 diabetes. Today, Furuta is a part of Team Novo Nordisk, ranked twenty-first out of 463 professional female racers in the United States.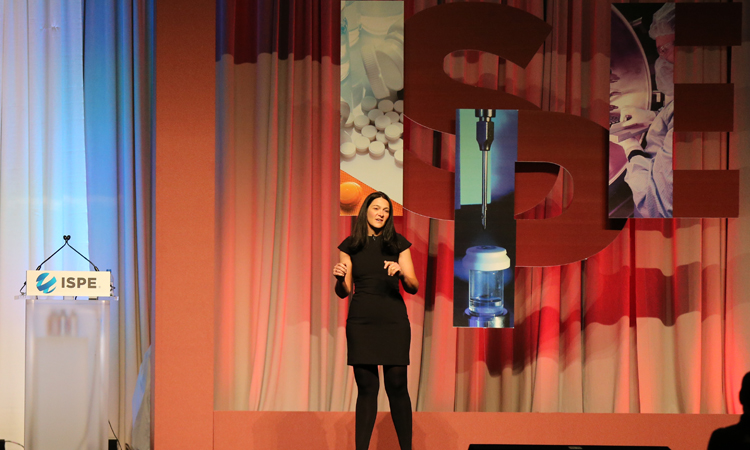 Cycling was an accidental discovery when illness sent her family into poverty and Furuta sought a way to cope with the devastating changes. The bike took her all over Colorado roadways including the dangerous Million Dollar Highway, but Furuta took comfort in how cycling calmed the turbulence in her life and showed her how to find adventure from life's circumstances.
 
"Diabetes can be stigmatizing, but nothing is more marginalizing in your life than poverty," she observed. "It changes expectations by others and of yourself. What separates so many people from their potential is the story they tell themselves." So she changed the story: instead of being a homeless kid, she was a talented athlete. "The bike was someplace I could be empowered and strong and capable."
This stood her in good stead after her diagnosis. At first, a doctor told her that her racing days were over, but Furuta refused to give up the sport she loved. She found a new doctor who worked with her so that she could continue to cycle, although she did stop racing for a while. When she decided that she was ready to return, she read an article about a team that had six diabetic riders. Her letter to them to learn about how they were able to perform as racers with diabetes led to an invitation to join the group. "It was the most amazing experience of my life! I realized I was racing at a much higher level, and realized it was truly the opportunity of a lifetime. Seven years later, every time I get on the plane to go to a racing competition, I can't believe I have this life and this opportunity."
A year after she joined the team, Novo Nordisk came on as a sponsor. "It is still amazing to me that people had so much faith in us, and in what's possible with diabetes. I can race a bike to tell people it is possible to dream as big as you want to. And do really amazing things!"
She urged attendees to "Delight in how you impact patients every day! I have the opportunity to live, and live bigger and better than I ever could have dreamed, thanks to the pharmaceutical industry."