Drug Shortages: What to Know during the COVID-19 Outbreak
ISPE places the health and safety of its members, staff, and the broader ISPE global community as its top priority. As the COVID-19 outbreak continues, the ISPE Drug Shortages Initiatives Team encourages everyone to follow the available safety and health guidance applicable to your communities. Additionally, ISPE has a long-standing commitment to preventing and mitigating drug shortages. While the COVID-19 outbreak is challenging to all industries, any impact to the pharmaceutical drug supply may have significant near- or long-term consequences to patients globally. Therefore, it is vital to pursue all available measures to prevent or mitigate supply disruptions. To this end, there is developing information and important reminders for all pharmaceutical companies.
Health Agencies Guidance
Health agencies are actively working on assessing the impact of COVID-19 and the landscape is changing daily. To keep pace with the health agency guidance related to the outbreak, it will be important to periodically check in with the applicable regulatory authorities for emerging guidance and any new announcements.
We would like to bring to your attention some important communications and resources from the European Medicines Agency (EMA) and the US Food and Drug Administration (FDA).
EMA
The EMA recently shared their perspectives and the proactive measures they are taking to minimize the impact of COVID-19 to the drug supply in the EU. In this overview, they confirmed an EU Executive Steering Group on shortages of medicines caused by major events has been formed, and it is chaired by the European Commission. The steering group will provide strategic leadership and coordinated action within the EU for COVID-19 response, as well as work with all stakeholders in Europe and around the world.
It is important to note that with this communication, the EMA has:
Asked pharmaceutical companies to be on alert to the potential impact of quarantine measures in China and elsewhere on the supply of medicines, and
Reminded all market authorization holders of their obligation to report any possible shortages to EU authorities.
FDA
The FDA has a collection of COVID-19-related information available on their website. In late February, the FDA provided an overview of the status of the US drug supply chain and highlighted their early and ongoing engagement with companies to ensure the FDA is positioned to identify potential issues and assist as fast as possible.
It should be noted that the FDA announced the postponement of most foreign inspections through April, and the potential for delay of inspections should be evaluated for potential impact to drug supply.
ISPE encourages companies to seek additional information that may be available from any other relevant local authorities.
Engagement with Authorities
Considering the potential impact of COVID-19, and the significant outreach from health agencies regarding this outbreak, notably in the European Union and the US, we cannot emphasize enough the importance of early and transparent engagement with the relevant authorities should your company identify a potential or actual supply disruption related to COVID-19.
Key elements of effective communication with a health agency typically include, but may not be limited to:
A summary of the reason for the actual or potential shortage
A full description of the product(s) involved including the name, dose, strength, packaging configuration, and any tracking or tracing information (e.g., SKU number, NDC number)
The level of inventory that may be impacted
A timeline of when the shortage is expected to occur and how long it will last
A high-level description of what your drug manufacturer is currently doing to mitigate the shortage and resupply the market
A communication plan for informing health care providers, pharmacies, distributors, patients, or other health authorities
Ideas on how the health authority may assist in addressing a drug shortage where and when appropriate
If some of the drug shortage information described above is not yet available early in an event, it is still recommended that you notify the relevant health authorities with the information that is available and provide subsequent updates as the details emerge. The key steps for effective communication with Health Agencies are shown in the figure below.
Equally important is communication with customers and patients as soon as possible. To ensure the best opportunity for a health authority to engage with the drug manufacturer to prevent or mitigate a drug shortage and to ensure a consistent set of information is available for the customers, any necessary public communications should be released after the relevant health authorities have been notified.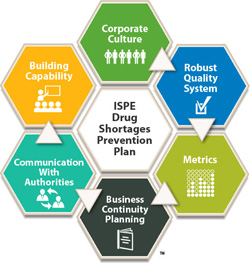 ISPE Resources
Last, as mentioned earlier, ISPE has had a longstanding commitment to preventing and mitigating drug shortages. For more information on successful interactions with health agencies, as well as in-depth information regarding other significant dimensions for preventing drug shortages, we refer you to the ISPE Drug Shortages Prevention Plan and Drug Shortage Assessment and Prevention Tool as key resources.
---
ISPE Drug Shortage Initiative Team
The Drug Shortage Initiative Team contributed to this article. Team members are:
Brand Companies
Diane Hustead (Merck) - Leader
Nasir Egal (Sanofi)
Karen Hirshfield (J&J)
Nick Melone (BMS)
Deborah Tolomeo (Genentech)
Generic Companies
Dawn Culp (Mylan)
Donna Gulbinski (Civica Rx)
Emma Harrington (Novartis/Sandoz)
Industry Associates
Melissa Figgins (CC Consulting)
Erin Fox (University of Utah/ASHP)
Terry Ocheltree (PharmTree)
Sam Venugopal (PWC)
ISPE
Jean Francois Duliere, ISPE France Affiliate
Joe Famulare (Genentech), ISPE International Board of Directors Liaison
Carol Winfield, ISPE Senior Director, Regulatory Operations
Thomas Zimmer, ISPE Vice President, European Operations