Developing a Guide for Patient Centric Logistics - Get Involved
Clinical trials becoming more complex and protocols are more demanding than ever. Long-term participation/commitment and frequent travel to investigator sites is a critical element for patient to decide if they want/can participate in a clinical trial.
Patient recruitment and retention is a challenge sponsors are facing. A fact that is significantly impacting:
Clinical trial budgets,
Clinical trial duration and
As a result, future revenue streams
As a result patient retention together with patient non-adherence have been identified as the major cost drivers in clinical trials. Researching information in the field of patient recruitment and retention has shown that:
50% of trials are delayed because of patient recruitment are not reaching expected numbers
30% drop out rate before meaningful data can be collected
Recruitment is making 30% of the entire clinical trial duration
Average cost per patient is exceeding USD 36.000 which represents a 70% increase over the past 3 years.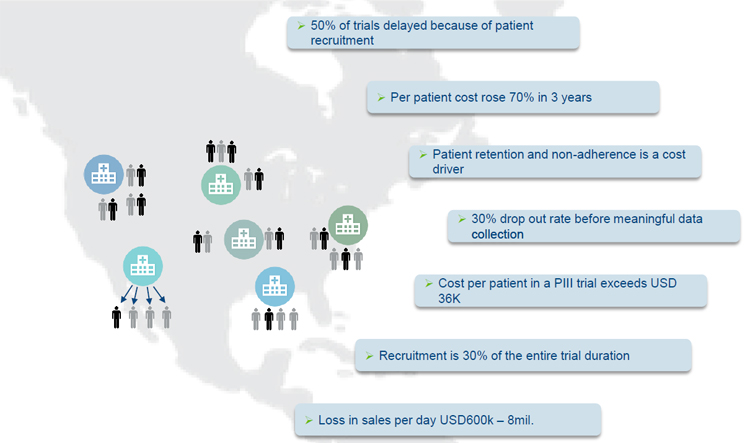 ---
In recent years, patient have benefited from the introduction of Patient Centric Logistics services, commonly known as Direct-to-Patient (DtP) services, – a response to a need for a patient-centric focus to enable patients to participate in clinical trials. DtP is a model that enables patients to think differently about participating in clinical trial, allowing them to normalize their life with less disruption to their daily life/routine. In particular, patients benefit from the flexibility that DtP/DfP services provide to their lifestyles, through fewer travel commitment to/from investigator sites and/or the need to alter their daily routine (i.e., taking time off work or other commitments) in order to participate in clinical trials.
In many studies, as many as 50% of the visits could be relocated to a patient's home. The added convenience is a critical factor in retaining patients, who otherwise might have to regularly travel to a clinical trial site for procedures, such as IMP administration, that can take hours to complete.
An increasing number of sponsors is offering this service to their investigators and patient and some have even made it become a standard element of their protocols. Seeing the development over the last 5 years it is evident that Patient Centric Logistics services have pasted the stage of being a trend and evolved to be a vital element in setting up a clinical trial.
Commonly Patient Centric Logistic services are used in chronic or orphan disease trials and/or where an elderly, pediatric, adolescent patient population with limited or no ability to travel is participating, but the motivation to add Patient Centric Logistics services to your protocol has not just one dimension. Besides making it more convenient for the patient to participate and to stay engaged in the trial other reasons can be
That sponsors targeting the same therapeutic area are already offering the service and you are "forced" by common market demands to offer the same
That you are developing a virtual/telemedicine strategy that requires Patient Centric Logistics Services as the "physical" interface with your patient population
Virtual trials or telemedicine are using modern technology to obtain information from the patient, guide the patient by sending reminders, or by providing additional information about the study and therapy, etc. Many of those trials are using Home Health Care or Nursing Services to bring the trials to the patient's home and to avoid traveling for the patient. In addition this concept is opening a cost saving opportunity by eliminating the number of investigator sites used in each country participating in the trial. Patient Centric Logistics services are often a vital element of Trials using Virtual or Telemedicine elements.
So what does Patient Centric Logistics services include?
Delivery of clinical trial materials from an investigator site, pharmacy or depot directly to a patient's location. This can be the patients home as well as a hotel or even a camp ground in case they are on a business trip or vacation
Home pick-up and delivery of collected biological specimens at specified temperature range(s) to the designated labs
Home pick-up of unused/partially used 7 expired clinical trial materials for return to investigator site or a depot for reconciliation and destruction
Global Home Health Care / Nursing Services
Beside the fast increase and success we see in the development of Patient Centric Logistics Services we also face a lot of questions and lack regulatory guidance. Those questions might include topics such as
Patient Privacy and Data Confidentiality, i.e. HiPPA and GDPR
How to setup the process and to make sure the sponsor is compliant?
Which regulations need to be considered and what do I need to think about from a Quality perspective?
Are the numbers proving that Patient Centric Logistics services is supporting patient recruitment and retention?
How does setting up Patient Centric Logistics services is affecting my Clinical Trial budget?
The ISPE Investigational Product Steering Committee for US and Europe has setup a global Task Team to develop a Good Practice Guide with the objective to support Sponsors in adding Patient Centric Logistics services to their protocols and to provide information and data to answer questions around this topic.
This blog is the first of a series of blogs that will be published as we continue to develop a Good Practice Guide. Future blogs will cover topics such as Quality and Regulatory aspects of Patient Centric Logistics services and Financial Aspects.
If you are interested to join the ISPE Patient Centric Task Team please contact Sascha Sonnenberg.