Biopharma 'Revolution' Comes to Boston
What is coming next in biopharmaceutical manufacturing? That question was addressed in plenary sessions at the 2019 ISPE Biopharmaceutical Manufacturing Conference 18-20 June in Boston on the second and third days of the conference. View more about the opening day plenaries and the conference:
Recap of the 2019 ISPE Biopharmaceutical Manufacturing Conference
The latest in the fast-moving journey—some call it a revolution—of biopharma development were well represented at the 2019 ISPE Biopharmaceutical Manufacturing Conference in Boston, MA on 18-20 June. The fourth annual conference drew more than 300 attendees, with 168 companies represented from 15 countries. They came together to learn about innovation in production methods and technologies that enable a competitive and sustainable biopharmaceutical product supply for the future—and the rapid changes that are bringing life-saving pharmaceuticals to patients in need.
The observation that this is "not your parents' biopharma" was a theme of the three-day conference that addressed the latest developments in biopharma in plenary and concurrent breakout sessions. The next stage of the journey—into supply chain expansion and commercialization—highlighted the conference. Recent developments are being translated into therapies available to more patients, and keeping the patient in mind is most important for the industry, noted conference chair Andre Walker, CPIP, Principal, Walker BioPharm Consulting.
The conference launched with welcomes from Walker, John Bournas, President and CEO of ISPE, and Kevin Chronley, Vice President, A/Z Corp. and chair of the ISPE Boston Area Chapter. Chronley noted the tie between Boston (once a revolutionary town) as the host city for the conference and the biopharma industry, since biopharma itself is in a state of revolution. "Our biopharmaceutical industry is relatively new, only a few decades old," with innovation now and more innovation to come. "Everyone here should contribute to this revolution!" He pointed out that the Boston area is a major participant in the biopharma revolution, heavily populated with manufacturers of transformative medicines in the next wave of biologic therapies and cell and gene therapies.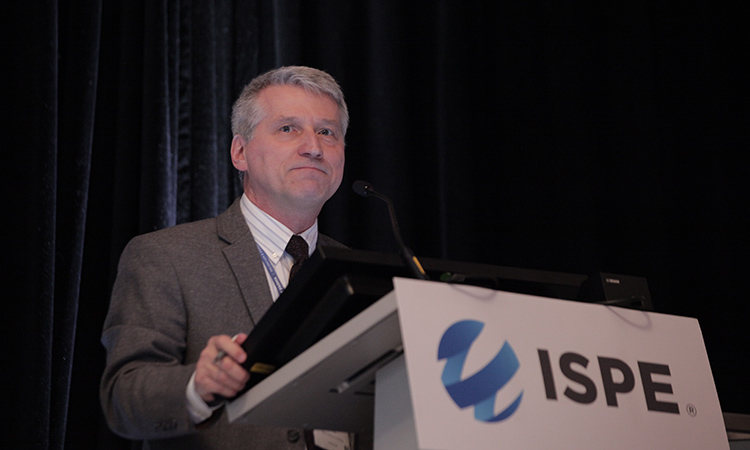 ---
Addressing Challenges
The first presentation of the opening plenary by Steve Bagshaw, CEng, FlChemE, COO of Fujifilm Diosynth Biotechnologies looked at "Advancing Tomorrow's Medicines—Overcoming the Manufacturing Challenges Today."
The projected growth is impressive but Bagshaw noted the importance of spreading the word about what biopharma manufacturing is and its promise. "Talk about what you do in words that people understand," he said. "This industry needs kids, neighbors, communities to be excited about this work because patients need this."
As an example of the great strides being made, Bagshaw cited the recent FDA approval to AveXis for Zolgensma, gene therapy for pediatric patients with spinal muscular atrophy (SMA). Four hundred to 500 babies are born with SMA in the US each year and Zolgensma is a cure. AveXis has about 1 million sq. ft. of manufacturing space in four sites, the most potential capacity of any gene therapy company, and plans to have 1,000 employees in highly-skilled manufacturing roles by the end of 2019.
Dose cost for Zolgensma is $2.125m so the challenge of affordability remains. However, there is good news about the market growth for gene therapy, with steep increases projected for revenues as the number of drugs increases. Today, biotech drugs represent 25% of global pharmaceutical sales. Revenues are projected to climb from $10 billion for gene therapies in 2025 to over $20 billion by 2030. In 2019, there are 734 gene therapies; by 2021, that number is projected to grow to 1,202; by 2023, to 2,415, and by 2025, to 5,476.
Faster growth is needed to both develop and move these products forward to reach patients, Bagshaw said. Clinical trial design is changing, including flexibility in areas such as mobile clean rooms, small bioreactors, and enclosed fill-finish units.
Production "is very hand made at the moment," he said. "Our challenge is how to turn this into an industry that you can scale up." The challenge of what he termed Biotechnology 4.0 is in scale up—for instance, we don't know how to get to 2,000 liters yet in many cases, he said. For patient groups that work with the industry, it is "devastating" to know that a cure has been developed but that they cannot obtain it yet.
"Our challenge: keep up with the science and work out how to make these products in a way that we can get them to the patient."
Viral vector manufacturing using viruses to deliver gene therapy presents its own challenges, he said, including highly manual manufacturing process; scale-up issues; upstream processes including tools, equipment and technologies; downstream processes; product characterization and analytics; and IT and data management. Analytics needs more attention, he said, and resources and energy are being devoted to the contract world to better understand processes. Flexibility in CDMOs (contract development and manufacturing organizations) will be key.
Needs include product platform establishment. "We're looking for that elusive product platform that works for multiple companies," Bagshaw said. "Getting 10 times improvement requires us to understand what we are doing," not just what is being manufactured.
Companies are already collaborating on driving up yield, both process and stage yield. Shorter timelines are necessary, perhaps just three or four years. The challenge is how to shorten the timeline. The answer may lie with simplifying and automating, with less hands on the process. "100 times is where we need to be—not 10 times," he said.
Recent merger and acquisition activities among major manufacturers, increased focus on training the highly skilled workforce that is needed to support the growth surge that is anticipated (Fujifilm is partnering with Blinn College for training), and collaborative initiatives with government such as the United Kingdom's Catapult initiative are needed. Advanced therapies manufacturing action plans such as the one set up in the UK (he also referenced CCRM in Canada as another example) are "a really important part of the ecosystem that is part of advanced therapies." Regulatory activity includes the US FDA bringing in gene therapy expertise and expanding hires of clinical reviewers to meet the anticipated needs for at least 200 IND applications each year that are predicted to bring 10-20 cell and gene therapy approvals each year by 2025.
All this activity is taking place against the backdrop of the expectation of sustainability of the industry and its businesses—which is a new challenge, Bagshaw said.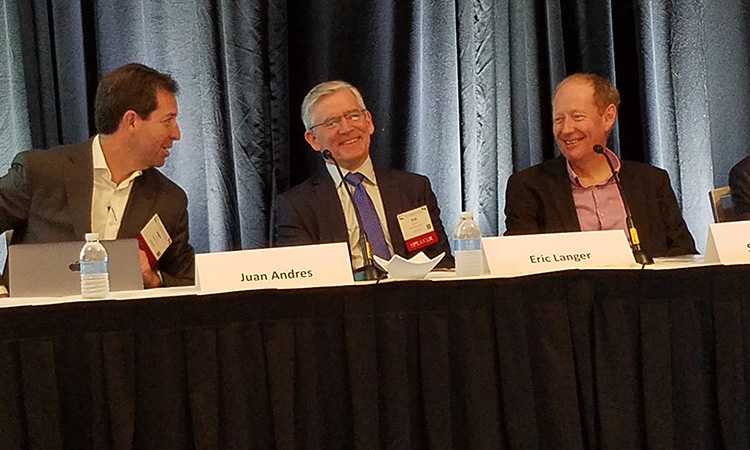 ---
Innovation Changes
The second plenary speaker, Eric S. Langer, President and Managing Partner, BioPlan Associates, Inc., addressed "Innovation in Transformative Medicine: What's Changing the Bioprocessing Landscape." He shared some results of research conducted by his company on biomanufacturing growth trends.
Manufacturing productivity/efficiency is chosen each year by respondents between 2014 and 2019 as the single most important trend, and is a more popular trend each year.
Continued increases in outsourcing should be expected, Langer said, with CMOs' growth anticipated at more than 12%. Today, cellular and gene therapies developers are using legacy research market supplies but that is likely to change to a $2 billion to $3 billion market, depending how the industry builds out capacity. In eight to ten years, supplies could be a new industry sector, he said, that could rival recombinant proteins/mAb in more than 10 years.
Many new technologies and product classes are being developed, including cell and gene therapies and ADCs. Industry respondents expect increased activity from China and other Asian countries: 86% of China biopharma manufactures expect to produce for export to the US and EU, compared to just 25% today, and China is a likely outsourcing market for US manufacturers. Langer noted that cell therapy manufacturing may need dozens of facilities worldwide to fulfill patient needs.
Better cell or virus/vector analytic tests and more CMO options for R&D and clinical production were the top cited "most needed cell and gene therapy manufacturing improvements, systems, platforms, and infrastructure."
Other trends noted from the research:
Average titers 3.03 g/L up 50x over time
Downstream process remains a problem, although there are many approaches to address the challenge
Facility constraints reported by half of the research respondents: it is the top-cited constraint in the past 10 years
Continuous DSP (downstream) is expected and 42% of respondents hope it will address constraints.
He shared data on efforts to reduce manufacturing costs, including:
$307 per gram is the average cost for recombinant proteins now
$100 per gram is a target
53% of respondents have implemented programs to reduce operating costs
Reduced bioprocessing costs has become the norm
Some companies pay bonuses for options to reduce costs
Hiring for biomanufacturing remains a challenge. Langer shared these findings from his company's research: Process development staff (downstream) is the biggest pain point, followed by process development staff (upstream). This is a non-stop challenge and it is increasing. Cell and gene therapy staff are also in short supply. These challenges inhibit the ability for life-saving therapies to get to the patient. "It is a strategic issue: How to get right people to right place with right skills?"
It is no surprise that hiring new operations staff has grown in budget investments to hire, but "those people just plain don't exist." More money is being budgeted for training, often in house. "There is not a short-term fix—there is ongoing need."
Capacity also affects CMO growth. His company has assessed biopharma companies and developed a ranking for each country to identify regional concentration. "Where the staff is, that's where the need is going to be, not just where the capacity is," Langer said. The research identified 1,500 global facilities; of these, two-third are in late-stage clinical/commercial capacity, and over a third are commercial capacity. One third of marketed products are made by 540 CMOs.
CMOs will play an increasingly important role, Langer said. "Their expertise and knowledge and staff will take on a whole new dimension." CMOs are adding single-use bioreactors that are now becoming the norm. He noted that single use is becoming very reliable, and that the percentage of stainless capacity should decrease as new single-use products "graduate" to commercial scale. There are still challenges to single-use, however: his company's research cites bag breakage and loss of production material; leachables and extractables; high cost of disposables; and material incompatibility with process fluids as problem areas.
There is a lot of testing of continuous manufacturing, but no move forward, he said, since there are no vendor solutions yet. The industry still sees perfusion as a problem versus batch-fed.
Langer concluded by observing that vendor responses to questions in his company's research indicate optimism for improvements each year. "Why is optimism important among suppliers? Optimism is forward thinking, and profit will be put back into innovation. This is remarkably important from an engineering perspective."
New Approaches
Juan Andres, Chief Technical Operations and Quality Officer, Moderna, Inc., was the final speaker at the opening plenary session. In his presentation, "mRNA Medicines—Industrializing a New Platform," he shared information about some of the groundbreaking work underway at Moderna.
Andres likened scaling up processes, development, and commercializing production to preparing a meal for a large group. "Preparing dinner for four is not like preparing dinner for 200," he said. The challenges in producing biopharma drugs—especially with new technology—on a larger scale are "super challenging."
He advises the industry to "look to the past in anticipating the future" for ideas on how to face these challenges. Andres traced key developments in the industry, starting with antibiotics in the 1930s, moving to what he called a second medical revolution in the 1980s, then moving on to biologics. "These cycles can predict what we are living now." In the moments of revolution, or new cycles, CMC (chemistry, manufacturing, and controls) becomes a source of variability; between cycles, this is not the case: manufacturing is a source of variability as the platform becomes established.
Since 2010, the industry is in another manufacturing revolution, with multiple different platforms starting to come up and bringing variability with them. "There are many unknowns with cell and gene therapy and some of the other technologies that are coming."
He provided some background about Moderna's platform, messenger RNA (mRNA), which instruct a patient's cells to produce proteins that could prevent, treat, or cure disease. Or, as Andres said, "we make mRNA and use the body as a natural 'bioreactor.'"
Moderna has over 20 products in development, 12 in clinical trial. The company started with prophylactic vaccines, moved into other areas little by little—with modalities including cancer vaccines, intratumerol immunooncology, localized regenerative therapeutics, systemic secreted therapeutics, systemic intracellular therapeutics. Rare diseases are the newest area for Moderna. Taking a platform approach enables fast learning.
The ability to build learning in CMC is key to industrializing mRNA technology. The ability to scale the platform while learning continues is a central issue, and Andres shared Moderna's approach:
Keep control of what you are learning
Moderna has a year-old facility in Norwood, MA and a GMP manufacturing strategy. Prior to constructing the facility, it used outsourcers, but the company saw a centralized approach as the way to avoid having to integrate from multiple outsourcers. Moderna also decided to have its own manufacturing site to enable increased speed in learning and implementation: the Norwood facility is the primary facility, with a CMO network as contingency. This enabled Moderna to optimize process and increase mRNA output by 4x.
"We knew if we were going to be scaling to the type of products [we were going to create] that we are going to be needing a lot of supplies and a common platform where things are done the same, product by product," Andres explained. "We knew we would have to scale," which was tough but Norwood allowed the scale needed: by 2020 to 2022, Moderna is aiming for 100g. Cost is improving, he noted, falling 45 to 55 percent between 2015-2016 and 2017-2019.
The Norwood facility was built and operationalized in just 22 months; it includes pre-clinical, clinical, and personalized cancer vaccine production, and plasmid and buffers (including mRNA).
(Moderna's Norwood facility is the Facility of the Future category winner in ISPE's Facilities of the Year (FOYA) competition.)
Learn and implement fast
Moderna built in digital and quality from the start; integrating digitally was seen as a "must," so there is digital integration from engineering runs, to toxicology runs, tech transfer, manufacturing, testing and receiving raw materials, product testing, release, shipment and administration.
Anticipating timelines from the beginning is necessary for this integration; for instance, all equipment is integrated in the cloud, almost no paper is used, and Moderna uses electronic batch records. Moving from paper to electronic batch records cut documentation errors by over 85%, reduced overall cycle time and variability, and review time fell to three hours from three days. Logbooks are integrated digitally, and the facility uses the internet of things on the shop floor for functions such as push-button consumable replenishment, which eliminates manual entry of material orders and lets operators focus on execution. Material requests are batched to optimize delivery.
Learning is captured with advanced analytics and artificial intelligence. Analytics driving operations include suite view (operators see and respond to alarm conditions); Kanban flows (visual boards drive materials, sample, production flows); daily huddles (teams review schedules and real-time plant status to plan work); train segregation (digital fences monitor and segregate trains within a ballroom); and operational excellence (ability to analyze personnel and materials flows to drive continuous improvement).
Simple things can make you trip
Filling product, paying vendors, making orders—the so-called "mundane" activities are hard to do. It is not just science that is needed, Andres noted.
Know the basics and do them well, he said. Having a people strategy is important to this. Having people with experience in the industry to help the company build going forward is important, even with operations that would not be considered novel.
Inspire collaboration
Collaboration includes research and development, platform technology and development, and CMC, Andres said. Interface among clinical development and manufacturing, quality, and supply chain. "We are learning as we go," he said. "We wanted a very open environment that inspires collaboration." So the Norwood facility has an open design to foster that environment.
Collaboration goes beyond the walls of the facility, he noted, and is a strategic issue. "It is what you do inside and outside: involve health authorities early, this is essential! We have great collaborations with the FDA, Europe authorities, and big pharma companies we are partnering with. Bring them in! We are not gene therapy, not large molecules, not small molecules—so what are we? We need to partner and involve them early. These could be a new class of medicines. Let's not wait until we know everything."
The iSpeak blog and Pharmaceutical Engineering will feature more coverage of the 2019 ISPE Biopharmaceutical Manufacturing Conference.