Achievements & Honors Start Day 3 of 2018 ISPE Annual Meeting & Expo
Each year during the ISPE Annual Meeting & Expo, the ISPE International Honor Awards Committee acknowledges exceptional efforts, recognizing individual volunteers, affiliates and chapters, students, the company of the year, and the Facility of the Year Awards (FOYA) Overall Winner.
The breakfast also provides the ISPE International Board of Directors with an opportunity to share information about strategy and achievements and plans for the year ahead. 
ISPE Update
Outgoing Board Chair Tim Howard, Vice President, Commissioning Agents International, opened this year's breakfast by introducing the new board and thanking past members for their service.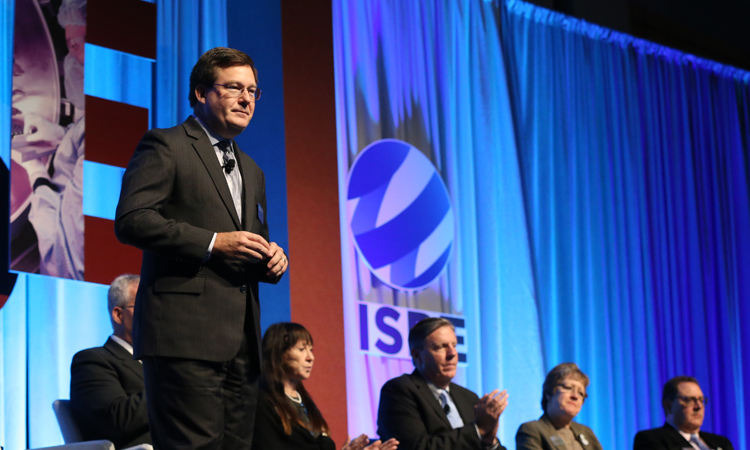 Past Board Chair Mike Arnold, Senior Director Strategic Relationships, Pfizer Inc., followed with a review of one of the year's most significant events: establishment of the ISPE Foundation. Thanks to generous donations, the foundation was able to award 14 grants for travel to the 2018 ISPE Annual Meeting & Expo, its first year. 
Target funding for 2018 had been set at $45,000, Arnold said, but donations have already far exceeded that initial amount. To date the foundation has received over $162,000, and several donations made this week have added another $10,000. 
Fran Zipp, incoming Board Vice Chair and President and CEO, Lachman Consultant Services, presented the treasurer's report. The financial decline following the 2008 recession is now on the upswing, she said, so much so that ISPE was able to invest this year in the ISPE Foundation, a new strategic plan, and new technologies. "Our net income is slightly lower as a result, but it'll help us in the future," she explained. View 2017 ISPE Annual Report.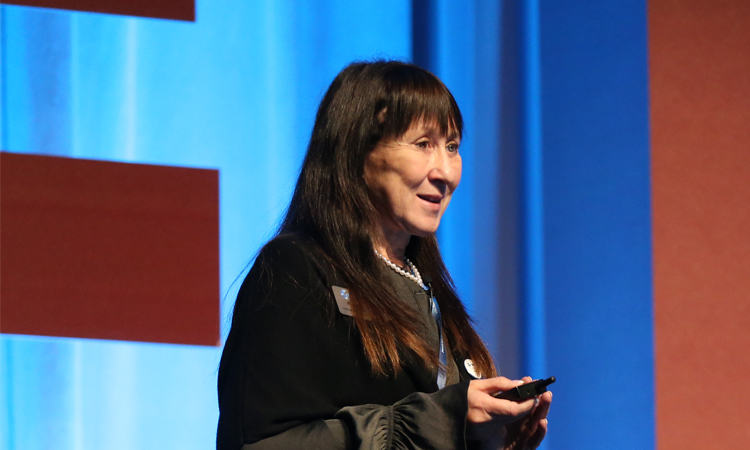 Howard returned to review other important events of 2018. He extended special thanks to ISPE's past presidents, many of whom were in attendance. ISPE's new continuity initiative calls the Board to engage with past presidents as they work to develop ISPE's new strategic plan. Another new enterprise came from the North American task team: a community of practice for chapters and affiliates. Membership in the group will be available to all chapter and affiliate officers and board members. 
Howard noted that last year the Board modified its bylaws to allow direct Board appointments to address critical needs. The Board appointed Chris Chen, CEO, WuXi Biologics (Shanghai), Co., Ltd., to the Board. "With his knowledge, we expect to improve to our reach the Asian market greatly," Howard said.
After acknowledging the support received from his family, Howard concluded his talk by passing the ceremonial gavel to Jim Breen, incoming Board Chair, and VP Project Lead Biologics Expansion, Janssen Pharmaceuticals. 
"This is an exciting time to be in the pharmaceutical industry," Breen said. "Technology is changing, and the future looks bright. Your work improves patients' lives, and we do a great service to the industry and the world.
"ISPE is the intersection of engineering and technology, but it's more than that. ISPE allows you to network. You can meet people from around the world. And get a lot of good friends. I want you to get involved more than you have.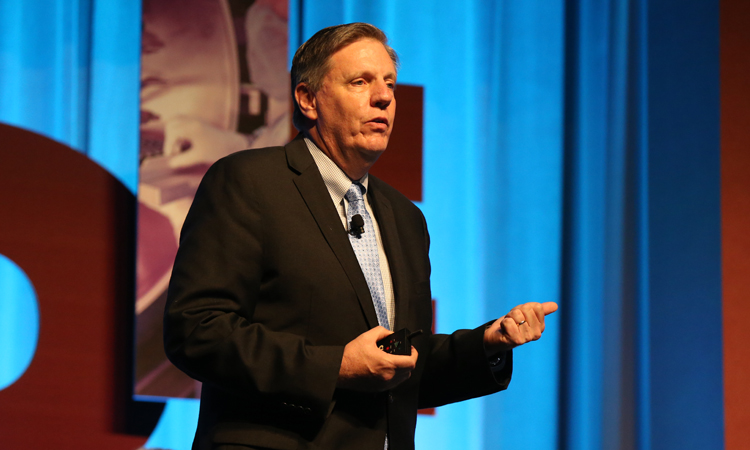 "What does ISPE stand for?" he asked. "International. We need to focus globally. The I also stands for innovation and insight that allows us to figure out what the industry needs.
"The S stands for society. Get involved. Join a Communities of Practice (CoP) and help us propel the organization forward. Bring your friends and colleagues from work. 
"P is for pharmaceuticals, which is an exciting place to be right now. Technology is changing, and hopefully we can help eradicate some diseases.
"E is for engineering—operations, quality, and planning. As we move toward Pharma 4.0 these become more integrated. With machine learning, robotics, and AI it will become more and more advanced.
Fran Zipp reported on the Women in Pharma® committee and its many activities—mentoring, education sessions, and perhaps most important, social and networking opportunities. For 2019 Zipp will be the group's Board liaison, and Christa Myers will assume the chair. 
Joanne Barrick, incoming Board Secretary and Advisor, Global Validation Support, Eli Lilly and Company, reported on the restructuring of regulatory committees that will better define their members' roles and responsibilities and give the Regulatory Steering Council increased strategic focus. The Guidance Document development process is also being restructured to produce predictable and timely document delivery. In addition, she noted that in the past year access to select ISPE Good Practice Guides became free for all members. Training is undergoing a three-year transformation plan that will permit better integration with Guidance Documents and Communities of Practice.
Tom Hartman, incoming Board Treasurer and VP, GMP Operations, GlaxoSmithKline, discussed ISPE's refreshed strategic plan, necessitated by the organization's diverse population, growing membership, and geographic diversity, as well as the industry's transition to new technologies. During the past year, ISPE partnered with McKinsey and Accenture to conduct a survey that will inform the new strategic plan.
ISPE International Honor Awards
John Bournas, CEO and President, took the podium to announce this year's award honorees. Among  the most significant awards of the morning were: 
The Max Seales Yonker Member of the Year Award, which recognizes extraordinary commitment to ISPE service, was presented to Máiréad Goetz, Global Head Analytical Science & Technology, QC, OpEx, Novartis Pharmaceuticals, and leader of the ISPE Advancing Pharmaceutical Quality Team for the past two years. Her other contributions include coordinating ISPE's efforts with the University of St. Gallen, cross-industry meetings in response to FDA Guidance, and requests from ISPE affiliates and chapters for presentations on the proposed program. She also played an important role in building a collaborative relationship with the quality culture team at PDA. 
In accepting the award, Goetz joked, "It's very rare for an Irish person to be speechless … but I'm speechless!" Thanking the judges and committee, she commented on the great privilege of being part of a team in relentless pursuit of pharmaceutical excellence. "They're an incredible group of consummate professionals."
The Richard B. Purdy Distinguished Achievement Award, presented to members who have made significant, long-term contributions to the society, was presented to Charlotte Enghave Fruergaard, PhD, Partner, Compliance Consulting, NNE, for her sustained commitment to ISPE, wide breadth of contributions, and leadership positions that included International Board of Directors Board Chair (2012–2013), Nordic Affiliate Board Chair (2005–2007), and Annual Meeting Program Committee Chair (2017 Annual Meeting). 
"This was really not expected!" she said. "Thank you to the committee and everybody. ISPE is a big family, and every Annual Meeting is like a family reunion. I'm proud to stand here today. You believed in me, and you helped me, and you made a dream come true. Thank you." 
The Joseph X. Phillips Distinguished Achievement Award, which is not given every year, honors an ISPE member who has made a significant contribution to the industry. This year's award was presented to Joseph Famulare, Vice President, Global Quality Compliance and External Relations, Genentech, Inc., for his significant contributions to ISPE, the Global Pharmaceutical Manufacturing Leadership Forum, and the entire pharmaceutical industry. A former ISPE board member, he contributed or led several international regulatory initiatives, and is a respected conduit between the society and worldwide regulatory bodies. 
"Much like the Irish, I find myself speechless right now, and that's unusual," Famulare said as he accepted the award. He expressed heartfelt thanks to his colleagues, staff, management, and the regulators themselves.
Tony Crincoli, Chair of the Facility of the Year Awards Judges' Committee; ISPE board member at large; and Vice President of Global Engineering, Glenmark Pharmaceuticals, presented the final award: the Facility of the Year Awards Overall Winner. "The category winners and honorable mentions were selected from a variety of submissions from around the world," he said. "Each one was a standout in its category, and all exhibit the highest caliber of innovation and technological ingenuity." The award was presented to Shire for its Los Angeles Building 8 project. 
This year's Facility Integration category winner, the Shire Building 8 project involved the construction of a new 120,000 square foot purification facility, which was integrated into an 11.6-acre campus with eight other buildings, space constraints on all sides, multiple underground utilities, and ongoing manufacturing operations in adjacent buildings. 
Sam Kitchell, Group Vice President of Engineering at Shire, accepted the award. "ISPE recognized seven incredibly strong projects, and to stand out among them is truly an honor. A forum like this to do benchmarking is an important way to drive our industry forward." After thanking Los Angeles, their industry partners, and employees, Kitchell thanked their patients: "They inspire us to do our best work. We are a champion for people with rare diseases."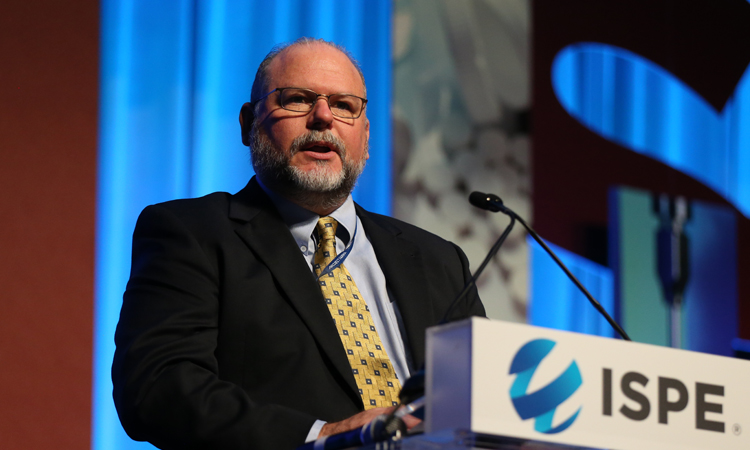 Jim Breen closed with ceremony with a dazzling video invitation to Las Vegas, site of the 2019 ISPE Annual Meeting & Expo. "See you next year," he said. 
2018 ISPE International Honor Award Recipients
Student Poster, Undergraduate: Cy Rodriguez, University of the Philippines, Philippines Affiliate
Student Poster, Graduate: Martin K. Burns, PhD Candidate, Stevens Institute, New Jersey Chapter 
Affiliate and Chapter Excellence Award: DACH Affiliate
Committee of the Year: International Young Professionals Committee 
Company of the Year: AstraZeneca 
Max Seales Yonker Member of the Year Award: Máiréad Goetz 
Richard B. Purdy Distinguished Achievement Award: Charlotte Enghave Fruergaard, PhD 
Joseph X. Phillips Distinguished Achievement Award: Joseph Famulare 
Facility of the Year Awards Overall Winner: Shire, Los Angeles Building 8 Project