ISPE Global Hackathon 2019: Report from the Winning Team
Sarah-Catherine Dannelly
Elice Kitchen-McKinley, AS
Phuong Le
The first ISPE Global Hackathon was held at the 2019 ISPE Annual Meeting & Expo with six teams and 36 participants, including 19 undergraduate students, 11 graduate students, and 6 Young Professionals (YPs). Three members of the winning team, Team 4, named Team Mini Xoom, shared insights about their Hackathon experience with Pharmaceutical Engineering®.
Overall Challenge
It's 2030 and you have just been employed with Xoom Pharma, a new, innovative biopharmaceutical manufacturer. You are placed in a multidisciplinary technical team to develop a strategy for a new multiproduct manufacturing facility. This facility is going to be state-of-the-art and will produce the next generation of medicines for patients around the world. You and your team will create a presentation to give to the company Board on your topic to request funding to accomplish your team's objective for the new facility.
Team 4 Challenge
Future Flexibility: To be sustainable in the long-term, an effective facility must be able to weather changing trends in drug technology, manufacturing technology, workforce dynamics, and global markets. Design a plant that is well-equipped to adapt to future challenges in any or all these areas.
Defining Flexibility
Team Mini Xoom's challenge, Future Flexibility, provided a wonderful opportunity to learn more about the innovations happening upstream of the pharmaceutical supply chain, where medications are manufactured.
As we read through our challenge, we discussed what flexibility currently means in the pharma industry. We see companies using contract manufacturers and manufacturers using ballroom-style and single-use technology to allow for changes in their process or product. Stephen Hall, PE, Chief Process Engineer at Genesis Engineers, provided a great deal of insight from his experience in process engineering. We spent most of the morning discussing the restrictions and pain points of the current processes.
---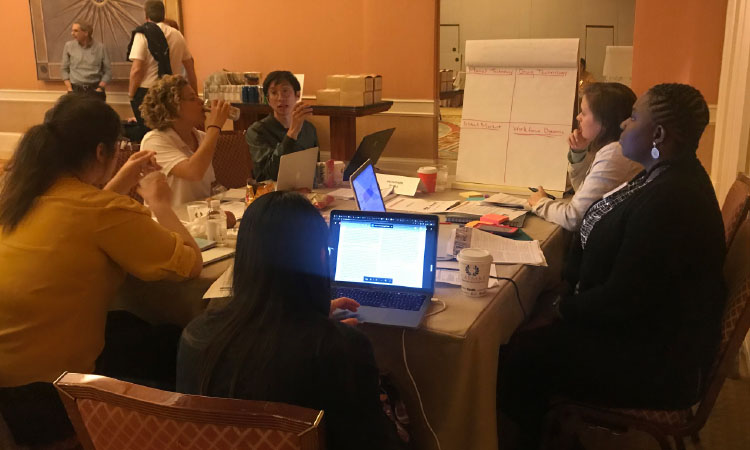 ---
We kept the threat from natural disasters and climate change in mind as we drafted our presentation. One of the first things we agreed on was to create a group of mini-facilities that could be dispersed geographically so a single natural disaster would not significantly disrupt supplies. We spent most of our first day brainstorming and researching a wide variety of options that are currently available or in development to help us find a way to quickly scale up or scale down manufacturing capabilities. We also debated incorporating cutting-edge technologies—such as 3D-printed medications, robotics, and automation—into the manufacturing process and to what extent we might use these approaches. However, all of them came with the significant costs of capital acquisition, installation, and maintenance. Many concepts that we initially considered also depended too much on external electricity and water infrastructure, which would not be available in areas of the world where those infrastructures are limited or nonexistent.
Our idea of future flexibility meant the ability to adapt to the ever-changing market of human disease in order to treat diseases that will crop up in the future, and do so with a short lead time to approve both product process and quality. This meant being able to adapt to different regulations around the world, reach populations in countries that are usually difficult to treat, and adapt an already existing facility to a new process without the usual years of planning, constructing, commissioning, validating, and running conformance lots. This facility would need to be transportable as well.
In the end, we determined that future flexibility meant that the both the facility and the process had to be dynamic. We didn't want to build a single static facility because then it would be restricted to the resources and demand within a specific area. Building a dynamic facility meant we could react to the unforeseen demands and adapt to available resources.
Developing the Solution
We spent most of the day discussing current methods and challenges in drug technology, manufacturing technology, workforce dynamics, and global markets.
We developed a solution as a group, brainstorming all possible paths. We first looked at our objectives—including marketplace, workforce, scale, and facility needs—and decided what each of these meant to us and which should be our areas of focus. We defined "marketplace" to be about serving the needs of genetic disease treatment that would arise in the future, as well as outbreaks that happen in rural areas. We then asked, "How could we transfer a facility quickly and easily?"
We came across the concept of the modular/podular pharmaceutical manufacturing process, which uses multiple mini-clones of the same self-contained cGMP facility deployed to remote areas where the medication products are needed, such as rural areas or areas ravaged by a natural disaster or a disease outbreak. With each Mini Xoom pod, we can quickly bring our products close to patients while reducing unnecessary costs, satisfying multiple regulatory standards, and minimizing our footprint. A "landing pad" would provide each pod with critical utilities such as HVAC, gas, water, and electrical supplies, so each pod can initially make a small supply of medications right away. Then the pod could ramp up or wind down production based on current local needs. When the manufacturing technology or product becomes obsolete, this independent facility can be repurposed to adapt to new technology and demands.
We further refined the presentation based on the available information and research articles on podular and portable continuous processing systems, as well as feedback from coaches and additional group discussions. To adapt to the workforce of the future, we discussed developing mission-based rotations to provide on-the-job training as well as increasing capabilities and responsibilities at work to attract and retain talented and motivated employees from diverse backgrounds.
We made a huge pivot in our solution in the midafternoon. Coach Wendy Haines, PhD, DABT, ASQ CQA, Associate Director of Technical and Scientific Services at PharmENG Technology, encouraged us to be creative and push the boundaries, so we went back to an earlier idea. We originally didn't use it because we were unsure how feasible the execution would be, based on where pharmaceutical technology is now and where we think it could be in 10 years. We were inspired by G-CON and Germfree's work in pod technology. Our solution was to use pod technology to create mobile, portable, self-contained facilities that are essentially miniature versions of the parent facility. Our versions of pods and miniature technology would allow us to be faster to market while lowering the cost and reducing the footprint. We spread the project across multiple phases, starting with a pilot pod that was followed years later by globalization.
Each coach gave us insightful comments and suggestions based on their expertise in facility architecture, bioprocessing, manufacturing, and quality assurance. Their feedback helped us further evaluate and articulate our ideas, and we were able to continuously improve and refine them until we finalized our presentation.
One of the judges questioned our timeline, because our "completion" date was almost 2040, noting that the pharmaceutical industry is known for being slow to adopt new technology and our timeline suggested that we did not see that changing. He made an interesting point because our solution required Xoom to quickly embrace new manufacturing technology, but we didn't expect the industry to adopt our model quickly.
We struggled with the conflict between the ethical and business purposes of the company. We ultimately embraced the mindset that Xoom Pharma would not be restricted by the tension between profitability and patient well-being. Our primary objectives were to reach more patients, adapt to novel therapies and technologies, and reduce unnecessary expenditures. To support Mini Xoom, we worked under the assumption that Xoom Pharma was a well-established and profitable company.
Takeaways
The ISPE Hackathon was a fantastic event that brought together students and Young Professionals from around the world. The Hackathon sparked thoughtful conversations among professionals, Young Professionals, and students. We're grateful for the incredible coaches who took the time to work with us and provide their unique perspectives.
The best part was getting to know other students and Young Professionals on our team. Each of us contributed different perspectives and skills to the team. And we still keep in touch after this Hackathon! Overall, the Hackathon was a great experience. It was well designed, fun, and engaging for all participants. Thank you to ISPE for making it happen!
---
Special Report: 2019 ISPE Annual Meeting & Expo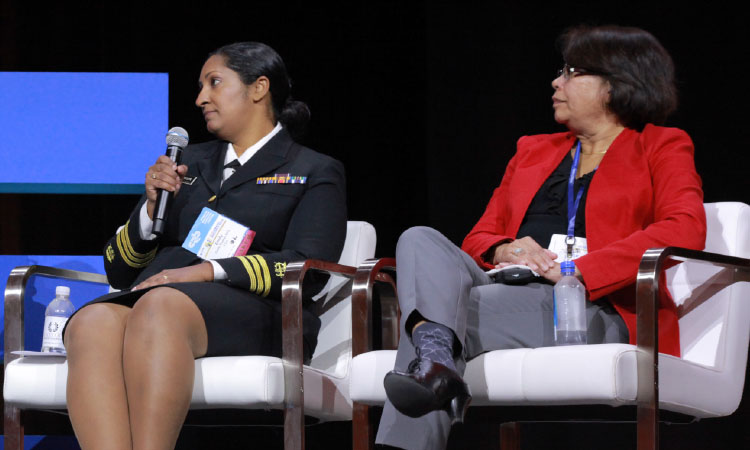 The 2019 ISPE Annual Meeting & Expo plenary featured a global regulatory town hall addressing a wide range of information about trends in regulations and other developments in the pharmaceutical industry. The town hall format offered attendees the chance to ask a panel of regulators about issues such as harmonization initiatives and information sharing among industry members and regulators. As Sara Pope Miksinski, PhD, Senior Director of Global Regulatory Affairs at AstraZeneca and session leader noted, "Big-picture thinking is the idea of this town hall."