ISPE Advances Its Focus on Cultural Excellence
Nuala F. Calnan, PhD
Tami J. Frederick
ISPE Quality Culture Team members share key concepts represented in the Six Dimensions of Cultural Excellence framework. 
Since the publication of ISPE's groundbreaking Cultural Excellence Report in April 2017 the team behind its development remain committed to driving their message forward: Focus on culture and behaviors to deliver sustainable quality excellence. It has been a busy year. In addition to new publications and pioneering collaborations underway, ISPE Quality Culture Team members have been invited to participate in a range of international conferences to share the key concepts represented in the Six Dimensions of Cultural Excellence framework. The reception from industry and regulators alike has been a resounding endorsement of the work. 
CULTURAL EXCELLENCE FRAMEWORK
The six-dimensions framework, which lies at the core of the Cultural Excellence Report, provides powerful, practical approaches and improvement tools for the elements required to foster, develop, monitor, measure, learn, and ultimately improve an organization's quality culture. Maurice Parlane, a member of the ISPE Australasian Affiliate and Co-Chair of the Regulatory Quality Harmonisation Committee's Asia-Pacific Regional Focus Group, defined its essence at the May 2018 ISPE Indonesia Annual Conference, noting that cultural excellence offers an opportunity to "redefine the 'c' in cGMP by realizing a culture which focuses on organization-wide ownership of quality for medicines and patients."1
1Parlane, Maurice. "Redefi ning the 'c' in cGMP: Creating, Implementing, and Sustaining Culture of Compliance." Presented at the ISPE Indonesia: 2018 Annual Conference, Jakarta, 8–9 May 2018.
Figure 1: The Six Dimensions of Cultural Excellence Framework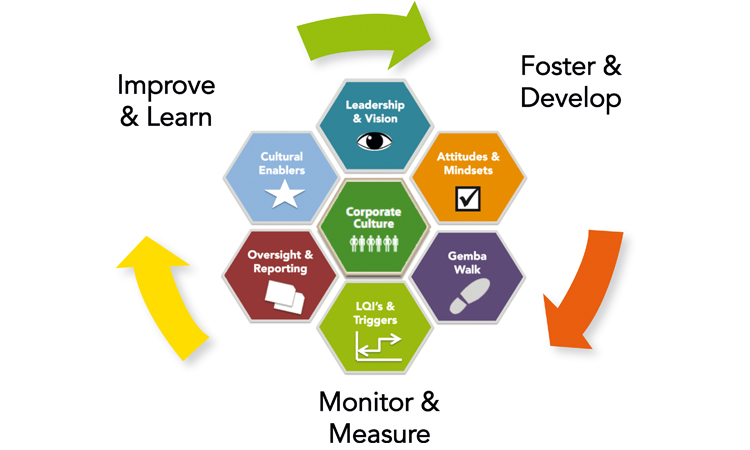 Source
Cultural Excellence Report
One point highlighted by the team is that high-performing companies think and act differently about culture; they treat quality not as a hindrance for success, but as a necessity that allows them to make decisions that best benefit patients.2 For many, however, culture remains a nebulous concept. The key insight from the team is to emphasize and demonstrate desired behaviors and results.
The Cultural Excellence Report, therefore, provides 24 practical tools and case studies, many of which focus on techniques to address behavior gaps that may exist. The report also includes the easy-to-score Cultural Excellence Assessment Tool, which helps evaluate the maturity level of 21 key behaviors. 
IMPACT OF BEHAVIORS ON DATA INTEGRITY
Speaking at the June 2018 ISPE Quality Manufacturing Conference in Arlington, Virginia, Dr. Aidan Harrington, Principal Consultant, CQV & Regulatory Science, DPS Engineering, stated that it is hard to recall any industry issue other than data integrity that has generated as much international guidance. The guidance, which has stemmed from all quarters, outlines a broad range of technical, governance, and human factor expectations and recommendations. In an exciting development, the ISPE Quality Culture Team have been delighted to join forces with their colleagues on the GAMP® Data Integrity Team to collaborate on the GAMP Good Practice Guide: Practical Approaches to Data Integrity, Part 1: Key Concepts, currently scheduled for publication in Q3 of 2018.
Our cultural excellence work aligns and complements the concepts introduced in the earlier GAMP Guide: Records and Data Integrity (March 2017), particularly those presented in the Management Appendix M3. This partnership confirms the critical importance of culture on overall business performance and the data integrity program specifically. The new GPG will include contributions from the ISPE Quality Culture Team on: 
How leader behaviors can set the tone and direction for an organization's data integrity practices and expectations 
Strategies for shaping data integrity mindsets and attitudes 
Influencing the key behavioral criteria of accountability, ownership, action orientation, and speak-up 
How to design leading quality indicators to drive desired behaviors related to data integrity
Assuring appropriate mentorship and training by building an improvement road map 
A practical guide on performing a data integrity Gemba walk, including an insightful laboratory-based case study 
COLLABORATION WITH PDA
This year has also seen another collaboration between the industry's two largest associations. In May, ISPE and PDA announced that they have signed a memorandum of understanding to exchange information regarding their respective efforts on quality metrics and quality culture.3 This has opened communication between the two associations' quality culture teams to explore potential collaboration in this area. The core quality culture work of the two teams is complementary. PDA's very thorough Quality Culture Assessment Model and associated training can be used to identify gaps in quality systems maturity and behaviors, while the Cultural Excellence Report provides an improvement framework with practical tools to help organizations on their journey toward excellence.
After meeting  at the recent Quality Manufacturing Conference, the two teams agreed to explore collaboration on improvement practices and tools. This joint effort is intended to help guide industry in evolving and identifying best practices, tools, and appropriate references for effective root cause analysis. Stay tuned for updates and outputs from this exciting engagement. 
THINK BEHAVIORS
It is important to remember that cultural excellence is not a project, but an ongoing commitment by leaders and individuals to model desired behaviors and hold others accountable to standards. The ISPE Quality Culture Team are committed to improving value for both patients and the business by unleashing the potential energy of the human capital involved in the development, manufacture, and supply of life-changing treatments.
Every batch, every day.