Industry Leaders: Focused on the Mission
Joydeep Ganguly, who is currently Senior Vice President, Corporate Operations, at Gilead Sciences, Inc., places a premium on working for a mission-oriented company. "If you choose the right company with the right ethos and a deep, tangible commitment to the patients, the mission is not just rhetoric," he said. "You see it in the way they do things. If you work for a company that makes that central to its value proposition, you have that moral compass. That's one of the ways I've been able to find meaning and inspiration in what I do on a daily basis at work."
Prior to joining Gilead in 2016, Ganguly spent 10 years at Biogen. He holds an MBA from North Carolina State University and an MS in electrical engineering from Notre Dame University. He is proud of his industry achievements but also humbly acknowledges that many other people contributed to them.
A Family Commitment to Care
Ganguly comes from a family deeply committed to the medical profession. His father, grandfather, uncle, and father-in-law were all physicians and graduates of the same medical school in India, and Ganguly firmly believes that his work in the pharmaceutical industry honors these family roots in the medical world. "I pursued engineering because of the encouragement from my father—he was insistent that someone in our family not be a doctor. I wanted to find a way to contribute to the healthcare industry, and biotech was an obvious choice. It allowed me to work in a meaningful space that leveraged my love of engineering and mathematics."
The unexpected loss of his father two years ago, at the relatively young age of 66, served to further galvanize Ganguly's commitment to his profession. "While I continue to grieve his loss, working close to the science at a patient-centric company assures me that disease states that have taken the lives of loved ones will continue to be studied and prevented," he said.
Industry Contributions
Ganguly's contributions to the biotech industry have been notable. "My passion early on was applying automation and controls systems concepts, grounded in advanced mathematical principles, to meet productivity and efficiency risk imperatives within operations," he recalled. "And I feel some of my major industry contributions have been redefining the role of advanced analytics in areas such as biological process monitoring, design and engineering of new facilities, and risk management within operations."
Citing his tenure at Biogen, he explained how the application of multivariate algebraic algorithms to data gathered in process facilitated "a paradigm shift in how we monitored batches of product, how we course-corrected and controlled process." These innovations supported the move from reactive to adaptive control, improved methods for process transfer and scale-up, and democratized data access and availability. This work led to multiple patents and is featured in book chapters and other publications.
Ganguly's accomplishments at Biogen in the early 2000s were arguably ahead of their time. Well before the Fourth Industrial Revolution and digital transformation were trending concepts, he was able to apply multivariate algebra to build mathematical modeling directly into production processes. This work "took something super esoteric, really just in the province of mathematicians, and brought it to the factory floor," he said.
"It collapsed a lot of data into something useful. It allowed you to look at how things are going in the moment—this provided intelligence on the production floor, which allowed you to take immediate action instead of doing so retroactively or based on investigation."
To illustrate the magnitude of this change using an everyday example, Ganguly compared it to going from weighing oneself once a month to using a smart watch to monitor fitness. As it turned out, the story of these developments, "Process Analytical Technology (PAT) and Scalable Automation for Bioprocess Control and Monitoring–A Case Study" (Pharmaceutical Engineering, January-February 2006) authored by Ganguly and his colleagues, received the Roger F. Sherwood Article of the Year Award for 2006.
---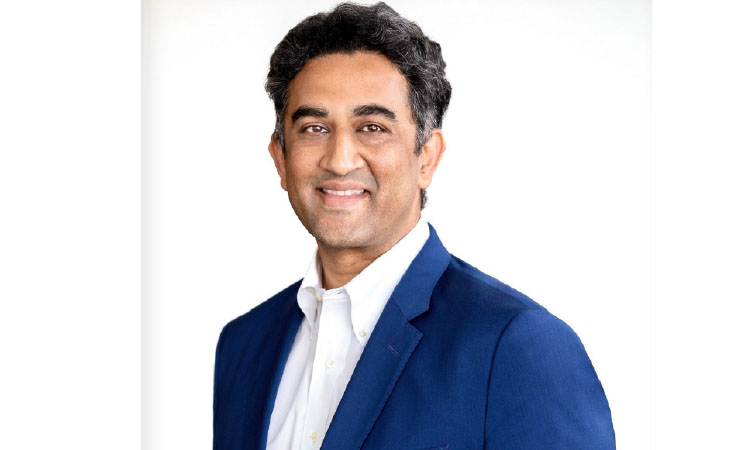 ---
Leadership in Sustainability
Sustainability is a major priority for Ganguly, and his role at Gilead is deeply integrated with the company's sustainability strategy. "I see sustainability as more than a program or a project. I see it works best when it is embedded within the fabric of an organization's way of operating. Organizations serious about sustainability often take a holistic view, incorporate it within their goals, and incentivize eco-friendly behaviors," he said. The more integrated and focused a sustainability plan is within the operating plan, the more effective it is, he explained.
He identified three interwoven objectives for successful sustainability plans: growing operations sustainably, reducing a company's environmental footprint, and increasing business resiliency. Plans need to have "an integrated framework. Sustainability is not a thing unto itself," he said.
As part of its master plan, Gilead's ambition is to reduce greenhouse emissions by 25% by 2025. This goal will not be achieved by "any one big, shiny thing," he said.
"It will be achieved by making some big commitments, sure, but also through many small initiatives. For one thing, we've incentivized people. We've augmented that with a very analytical approach to efforts, relying on technology, sensors, and data to reduce the impact of energy-intensive operations. Sustainability requires a good scientific temperament."
According to Ganguly, influential companies must lead by example for the industry as a whole to embrace sustainability. "The way to do this is to make it a team sport," he said. "Companies in a position to incentivize sustainability have to reward those who do so."
Moreover, "we have to redefine 'sustainability' and get away from everything that has constrained the term." Though sustainability includes environmental consciousness and activism, Ganguly believes the concept has to be more holistically applied and broadly incentivized. "We have to make it a 'business value stream,'" he explained.
How can this be done? "You don't want to focus on transient things. You have to look beyond the myopic view of short-term achievements that will be heralded in one moment," Ganguly said, referring both to high-profile eco-friendly initiatives and cost-saving measures made in the name of sustainability. "I've seen that big initiatives often don't last beyond the half-life of the leader who had them in mind. We have to ingrain and incorporate sustainability into the framework or 'DNA' of how we do things."
As an example, he outlined how Gilead has taken a long-term view with regard to contracting relationships. "When we look at RFPs for engineering firms that want to work with us, we look at things beyond just cost. We put an equal emphasis on the company's sustainability efforts. We want to reward those firms who have prioritized this." In this way, Gilead makes building relationships a key part of its holistic approach to sustainability.
"It's a position of privilege to be able to direct business to the companies that are taking the risk and making the investment to do this," he said. "Yes, we are financially disciplined, but we'd rather go for the right company that shares our values because, in the long term, that's more cost-effective. People who share our values typically work better for us because they share the long-term priorities.
"In my world in operations, when there is a choice between two firms and one outpaced the other in terms of values—even if at a higher bid cost—I'd always go with the first. And we've never been disappointed. Integrity matters."
Digital Transformation and Enabling Workers
Like other senior executives in biotech, Ganguly is keenly aware of the digital transformation currently underway. He explained that the digitalization efforts at Gilead—especially within operations—are centered around enabling workers and driving digital dexterity. The technology leadership team focuses on building skills in a culture of values-based leadership emphasizing empathy, caring, and listening. Additionally, he noted the company's embrace of social responsibility, collaboration across the ecosystem, and a commitment to seeking and responding to employee feedback.
Ganguly believes in a "goodness chain," across which individuals and companies can support the common good.
"The Fourth Industrial Revolution is meant to inspire us, not to turn us into robots. And people get inspired when we have an egalitarian way of working," he said. "It's values-based leadership to focus on the workforce and then design the workspace—not the other way around. There's a lot to consider from an empathetic perspective."
Ganguly stressed that firms have a responsibility to put people first as they work toward technological transformation. "Lead with empathy, appreciate the diversity within the workforce, and find ways to create value through the different skills and perspectives that exist within the team," he suggested. "Invest heavily in learning and development—not just in technology areas, but in areas of core fundamental leadership. Finally, don't let the technology become the only driving force behind decisions in your overall strategy."
ISPE and Advice to Young Professionals
ISPE has been an invaluable resource for Ganguly, and he emphasized its importance for everyone in the industry. In the earlier years of his career, the Society served as an education portal, providing access to thought leaders and a network of colleagues who shaped his way of thinking. Eventually, as he began contributing more to conferences and forums, ISPE afforded him a platform to vet, discuss, and stress-test ideas that needed critical peer review.
"As we now enter a new era—technologically and socially—I continue to be impressed by the efforts of ISPE to drive discussions and plans to inspire the next generation. ISPE and its Foundation are doing important work to further inclusion and diversity efforts within our profession. It has informed the way I look at hiring, retaining, and developing talent within my own team and has created a greater sense of resolve to ensure our profession continues to find ways to lead in this space."
Asked what advice he'd offer to Young Professionals, Ganguly said, "It's a great time to be in this industry. The pace of change has never been higher, and the opportunities have never been as exciting. Be curious, continue to learn about new areas, and don't be afraid to take risks. Focus equally on soft skills, leadership values, how you get things done, and what you can achieve. Look outside your job description to find ways to contribute to society and embrace a bigger mission for yourself. Give back to the community and your profession. Get a mentor, and when you've reached a position where you can mentor, pay it forward and support other professionals. And have fun! There has never been a better time to be an engineer in the biotech world than today."
Strengthening the "Goodness Chain"
Ganguly believes in a "goodness chain," across which individuals and companies can support the common good. "We should not measure ourselves on capital budget or how many buildings we have. We should be looking at ourselves in social purpose, and accelerate innovation that would not otherwise see the light of day. We have to drive a 'different phenotype.'"
For Ganguly, a long-range, forward-looking perspective is crucial to sustain the industry. "We have to focus our strategy on recruiting the next generation. If we don't, they will want to go work in a different industry," he said.
"If we don't inspire kids to come and learn cool things, we're lost. At Gilead, our employees help teach students about careers in science, technology, engineering, and math (STEM) at a variety of events each year. We also invite them to come to our Foster City campus for STEM career days. Additionally, we have to focus on the workforce and keep it future focused."
Nurturing the next generation of industry leaders involves inclusion efforts, Ganguly said. "We have to drive a more inclusive and diverse culture within our discipline. We need to attract, develop, and retain talent within our profession, and create the requisite framework and ecosystem to address the disparities that do exist today. This is where ISPE is doing a great job through the Foundation and the educational programs, but there is more work to be done."
That kind of future-oriented focus, in Ganguly's view, all comes back to values-based operations and the importance of good leadership by those in positions of high influence. "Not everyone has the license to make values-oriented decisions. But if you pick the right company, it puts the mission into action and this connects to the bigger picture of care—and the greater good. When you look for a company that not only gives you the license to be a good community citizen but also encourages and eventually expects you to be one, you'll never have a question about being part of the goodness chain."
For Ganguly—a husband and father—the opportunity to serve as a strong, resilient link in that goodness chain is as much a personal vocation as it is a professional achievement. Moreover, living this vocation has connected him with a family legacy of patient care that now spans the globe from India to California.
---
Industry Leaders: A Year of Excellence
This profile is the latest in the Industry Leaders series started in January-February Pharmaceutical Engineering®. Other profiles:
---
---
---
---
Read more about the Industry Leaders articles in the series overview: