ISPE Briefs: ISPE Foundation Participation at the 2021 ISPE Annual Meeting
Bill Mojica
Yuya Nomoto
Marcy Sanford
The ISPE Annual Meeting & Expo is our signature event, uniting the pharmaceutical industry's best and brightest to share their expertise, showcase their brands, and network. The 2021 ISPE Annual Meeting  & Expo was no different but added a hybrid component. For the first time, the ISPE Foundation had a strong presence at the meeting in Boston. The Foundation utilized a Virtual Golf Experience Lounge to share its mission and initiatives with attendees.
The Foundation continues to support education, training, and research as it builds its impact on the industry. As part of its mission, the Foundation provides travel grants annually to current students, Emerging Leaders, and Women in Pharma® to attend the ISPE Annual Meeting. In 2021, the Foundation awarded 11 grants totaling $14,000 to attendees from Bangladesh, Denmark, the Philippines, and the United Kingdom. In the US, individuals from California, Massachusetts, Pennsylvania, and Texas received funding as well. Of those who received grants, four attended virtually and the other seven traveled to Boston to attend in person. Attendees went to sessions including regulatory affairs, Pharma 4.0™, cell and gene therapy, and new approaches to process agility and reliability.
Z.A.M. Shabeer Thahir, Process Validation Engineer with Thermo Fisher Scientific, and Chair of ISPE Emerging Leaders UK, attended the conference. He said, "I had an absolutely fantastic time at the ISPE Annual Meeting. I learned about polyvinylidene fluoride as a viable alternative to stainless-steel piping and new software solutions for paperless validation." Thahir had a chance to connect with several of the ISPE Foundation travel grant recipients and said, "I really enjoyed the networking aspect."
Carolina Serrano Martinez, Incoming Process Engineer at Eli Lilly and Co., and Founder of the Student Chapter at Texas A&M University, was one grant recipient. "The 2021 ISPE Annual Meeting was an incredible experience that opened my eyes even more to what ISPE has to offer," she said. "As my first time attending, I connected with a variety of professionals eager to support young professionals and students like me."
Amanda Schumacher, Market Sector Leader at Borton Lawson, another grant recipient, commented, "This was my first time attending the ISPE annual conference and it was a great experience. The technical sessions were so relevant and informative, and the networking resulted in many new productive relationships. I especially enjoyed the Women in Pharma session and the opportunity to connect with leaders and partners in the industry."
The Foundation continues to strive to help shape the future of the pharmaceutical industry. Thabir observed, "this was all made possible by the grants provided by the ISPE Foundation and ISPE UK. I'm grateful for their support." Martinez added, "My attendance was only possible thanks to the support from the ISPE Foundation, and I am so grateful for that opportunity."Schumaker said, "I'd recommend this conference to anyone, from industry leaders to those just beginning in pharma. It is a well-rounded and thoughtfully inclusive conference that will leave you with new perspective and relationships."
---
ISPE Japan Affiliate's Emerging Leaders Make a Strong Start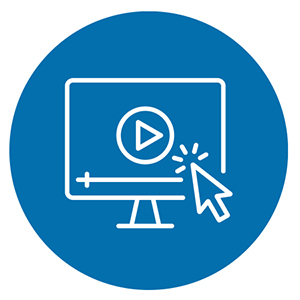 In 2021, the ISPE Japan Affiliate established the Emerging Leaders (EL) Team to provide a variety of technical training sessions in addition to networking opportunities. The training sessions will include seminars, workshops, and plant tours for Emerging Leaders in Japan, as a part of activities contributing to development of the pharmaceutical industry. ISPE members under the age of 40 are eligible to join the Emerging Leader Team; currently the Team has nine members.
On 27 October 2021, the Emerging Leader Team hosted a webinar format on continuous manufacturing (CM). Since the ICH Q13 draft Guideline "Continuous Manufacturing of Drug Substances and Drug Products" was released in July 2021, continuous manufacturing has become a prominent topic of discussion but knowledge and experience in Japan remain limited, so the webinar offered Emerging Leaders an opportunity to further their knowledge of the subject.
Experts from F. Hoffmann-La Roche, Ltd. presented an introduction to continuous manufacturing and showed examples of the company's projects in small molecule drug substances and drug products. The presentations were provided in English with a moderated question and answer session on a chat platform.
This was the first English-only webinar provided by the ISPE Japan Affiliate. Approximately 40 Emerging Leaders from various business sectors attended and asked questions. Follow-up questionnaires revealed that approximately 90% of the participants reacted positively to the webinar.
The Emerging Leader Team will make its utmost efforts to continue to offer opportunities for the Emerging Leaders to participate in wide-ranging activities. The Japan Affiliate would highly appreciate your support for their activities.
---
New ISPE GAMP® GPG Supports Innovation in Life Sciences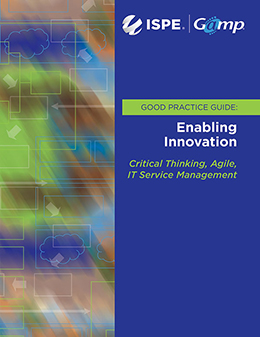 The drive within life sciences to improve patient safety and product quality, and provide value to society, while reducing costs, requires constant and effective innovation. However, because the pharmaceutical industry operates in a highly regulated sector, some practitioners may apply unthinking, prescriptive, and rigid approaches that are not commensurate with the needs of the process, the nature of the system, and the real risk to the product and the patient.
The new ISPE GAMP® Good Practice Guide: Enabling Innovation–Critical Thinking, Agile, IT Service Management discusses three key topic areas where regulated companies can apply innovation to meet rapidly changing industry needs. "The application of critical thinking, adoption of incremental and iterative (Agile) software development models and methods, and utilization of modern IT service delivery options enables the life sciences industry to provide innovative solutions to support the development and advancement of patient health," explained Guide Co-Lead Chris Clark, Director, Ten-TenTen Consulting.
Guide Co-Lead Heather Watson, Director, TenTenTen Consulting Limited, added, "This new GAMP Good Practice Guide shows how these concepts are interwoven: applying critical thinking when leveraging iterative software development practices and using both to underpin the delivery of IT service through appropriate management of IT Service providers."
"This GAMP Good Practice Guide provides information to support the adoption of current best practices in software engineering, data management, and 'as a Service' offerings (XaaS)," said Guide Co-Lead Siôn Wyn, Director, Conformity Ltd., "including encouraging the use of supporting tools and automation, thus facilitating the best use of resources and the application of appropriate, up-to-date, and proportionate approaches
---
Meet the ISPE Staff: Susan Obarski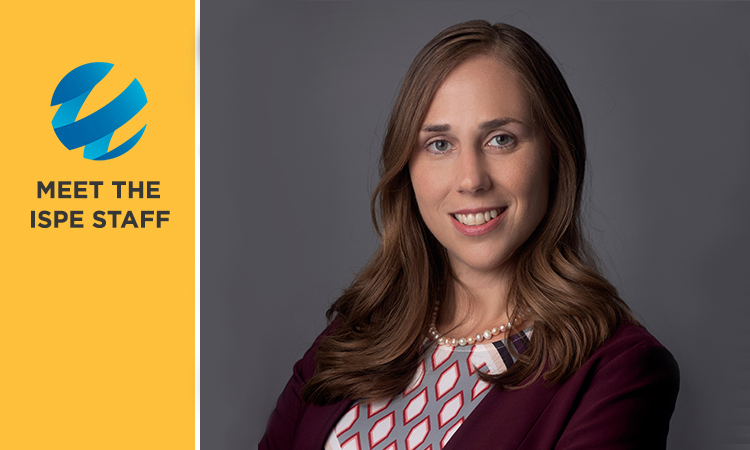 In each issue of Pharmaceutical Engineering®, we introduce a member of the ISPE staff who provides ISPE members with key information and services. Meet Susan Obarski, Senior Director, Project Management Office.
Tell us about your role at ISPE: What do you do each day?
My role has a dual nature of leading ISPE projects as well as helping the organization look at its body of work holistically. For example, this year, I am serving as the project lead on the One ISPE Initiative. This initiative is modernizing and improving the ISPE Affiliate and Chapter structure to help ISPE achieve its mission and vision. Projects like these are transformative for the organization as they will improve the member experience around the globe. I also work with the ISPE Leadership Team to collect and evaluate metrics to assess overall organizational health.
What do you love about your job?
I love that I am a part of the work that ISPE delivers through its staff and volunteers worldwide. This work directly impacts patients—all of us—and that is something I am grateful for daily. I also love how dedicated ISPE staff and volunteers are to ISPE's mission.
What do you like to do when you are not at work?
I love to enjoy the outdoors and living in Florida makes this easier to do year-round. I am also a huge Star Trek fan and always enjoy watching any Star Trek episodes and movies to relax!
PE Magazine Wants Your P+E!
Tell us about your Chapter and Affiliate events and conferences, trainings and Women in Pharma® meetings, Emerging Leaders activities, and Communities of Practice and Special Interest Group work, and we'll share it with all of ISPE in Pharmaceutical Engineering's People+Events (P+E) section. Be the reporter, and we'll be the editor, helping you share your information.
Have you recently attended an ISPE conference session or webinar and would like to share highlights from the conference? We are always interested in subject matter expertise in sharing highlights of sessions and webinars with PE readers who may not have been able to attend the events. Please contact ssandler@ispe.org for more information.
Please submit articles and short items for ISPE Briefs to ssandler@ispe.org—ISPE Briefs can be up to 400 words, articles can be up to 1,000 words. Photos are welcome: at least 300 dpi or >1 MB.