Insights
January / February 2019
Vision to Reality: 2018 ISPE Annual Meeting & Expo Highlights
Over 2,000 attendees from more than 28 countries gathered in Philadelphia for the 2018 ISPE Annual Meeting & Expo on 4–7 November. Highlights below show the many ways that presenters captured the conference theme of "Vision to Reality": in strides against disease, ISPE's advancements over the last year, ISPE's plans for the future, and the impact of ISPE members' work on patients' lives.
Day One
At the opening plenary on Sunday, 4 November, Tim Howard, Immediate Past Chair, ISPE International Board of Directors, noted some of the industry challenges that have emerged since the 2017 Annual Meeting concluded: globally, 18 million people received a cancer diagnosis, 9.5 million people died from cancer, and 5,600 people were diagnosed with ALS—a disease that is always fatal, he noted.
While these numbers present challenges for the industry, Howard noted that "technology is progressing at a rate that is unprecedented," with developments such as chimeric antigen receptor (CAR) T-cell therapy, supply chain advancements, and other groundbreaking developments that members would hear more about during conference presentations and sessions. "ISPE will play a critical role in developing these," Howard said.
Word from the President
John Bournas, ISPE's CEO and President, explained that the conference theme "Vision to Reality" holds great meaning for ISPE. "Although we are a nonprofit association and not necessarily involved in the delivery of advanced therapies, we do provide an enabling platform for visions to one day become a reality."
The contributions of ISPE's 18,500 members around the world, including its 38 affiliates and chapters, are part of that platform, he said. And as Bournas noted, "it really all starts at the student level. We have over 70 ISPE student chapters at universities around the globe, from newly established ones such as Thailand, the University of the Philippines, Virginia Tech, Georgia Institute of Technology, to 11 others now being formed, such as Stanford University, University of South Australia, University of Maryland College Park, University of Pennsylvania, and Villanova, among others. We also have strong collaborations with leading ISPE member academics, who have paved the way, such as Dr. Antonio Moreira.
The commitment to education connects with the workforce of the future in both pharma engineering and the wider industry, and Bournas noted the growth of Young Professionals, with more than 27 Young Professional groups around the world and over 60 events in just the last year.
"We hope to fully harness the energy that exists within this segment of the membership to help us drive toward some of the strategic goals that we envision for the next four years."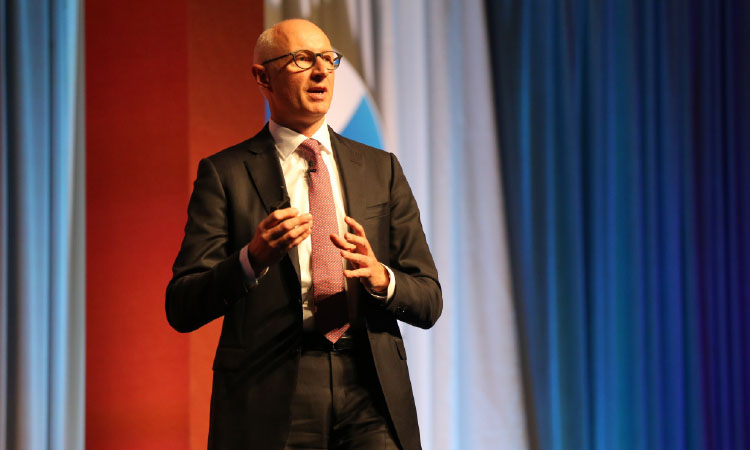 A Leap Forward in Drug Development
Lars Fruergaard Jørgensen, President and CEO of Novo Nordisk A/S and Honorary Conference Chair, gave a presentation exemplifying the spirit of Vision to Reality by describing the company's path to a groundbreaking new treatment for patients with diabetes.
In "From Vision to Reality: Delivering Next-Generation Diabetes Treatment," he recalled the company's commitment to patients and defeating diabetes. Novo Nordisk began in 1921, when August and Marie Krogh were granted permission to produce insulin in Scandinavia. Today Novo Nordisk provides nearly half the world's insulin and is using its skills in diabetes treatment to develop therapies for growth hormone deficiencies and hemophilia.
"We have stayed true to our purpose to discover and develop innovative biologics and make them available to patients around the world," he said.
Jørgensen noted that pricing and affordability "is part of our social responsibility. The triple bottom line is a lens we use for decision-making." He illustrated this by noting that a 10-ml vial of insulin can be purchased in the United States for $25.
"Aiming high," he noted, is necessary to get fast market access. Innovation is central to aiming high, and Jørgensen discussed an innovative drug in development that does just that. There is great need for other ways beyond injectable insulin to address the tremendous global health challenge of diabetes, which affects 425 million people globally and is projected to affect over 700 million in the next 30 years.
Despite numerous treatment options, patients are not meeting desired outcomes. Only half of the world's 425 million diabetics are diagnosed; of those, half receive care. Among those, only about half achieve treatment targets, and just half of those (6% of the original total) achieve desired outcomes.
Fear of injections and a lifetime of insulin treatment create barriers for many patients. To help address this, Novo Nordisk decided that an oral insulin drug was needed. This is where the company's approach of aiming high came into play because it was said that this could not be done.
Novo Nordisk now has an oral semaglutide in phase 3 trials, with 8 of 10 planned trials completed, and 9,356 patients enrolled through all phases. The technology combines insulin and glucagon to treat type 2 diabetes. This appears to be a promising therapy to reduce glucose levels and to help with weight loss, he noted. As the oral semaglutide tablet dissolves, other ingredients in the tablet protect the semaglutide molecule and transport it into the bloodstream. The new product is being tested against Victoza, Novo Nordisk's injectable GLP-1 analog. The company's goal is to complete the trials and submit the drug to the Food and Drug Administration (FDA) in 2019, with the hope of launching by 2020.
How to manufacture the new drug will be the next challenge. Jørgensen noted that a million square feet are needed for the tablet's manufacture. While pills are usually produced in small facilities, more room is needed to produce the amount of semaglutide needed.
Novo Nordisk will use its $2 billion site in Clayton, North Carolina, to manufacture the active pharmaceutical ingredient (API).
"We are quite serious in terms of doing innovation. We are investing $2 billion in manufacturing, but we are investing another $2 billion in the program. We believe we know how to do this. I believe this will become a defining new treatment for type 2 diabetes."
New Technologies Bringing Change
In today's market, new modalities require new manufacturing technologies, as therapies are developing in parallel with technology, said Kevin Nepveux, Vice President, Launch Excellence, Pfizer Global Supply, in his plenary presentation, "Manufacturing and Supply: Vision becomes Reality," on the first day of the Annual Meeting.
Nepveux cited some of the major drivers behind the need for new technologies, including continued pressure on costs, personalized medicine leading to products with smaller volumes, and new modalities being explored, including gene and cell therapy and mRNA vaccines. Large molecules have "grown up," with more than half the R&D and a lot of revenue devoted to them. Other drivers of change include lean, agile manufacturing and biosimilars with more complex molecules. Changes in regulatory expectations also mean that end-stage testing is no longer enough to ensure quality. Social responsibility is important, too: "green," "sustainable," and "carbon footprint" are terms you see in many annual reports, he said.
In response to these drivers, Pfizer—a research-based pharma company with a mix of large and small-molecule plants—is moving to continuous manufacturing and real-time process control, and increasing its dependence on process analytical technology and online measuring systems. The company is building a gene therapy plant in Sanford, North Carolina, and plans to produce a promising investigational therapy, developed in partnership with Spark Therapeutics. A continuous solid oral dose platform is about to launch; Nepveux noted that Pfizer hopes to produce 60%–80% of its solid oral product on that platform.
Regulators are providing opportunities for accelerated review for products with compelling clinical data: "The product development process used to take 10 years," Nepveux said. Now programs are on seven- and even ve-year cycles. "The increased R&D productivity coupled with tighter timelines puts signi cant pressure on new product development assets, but it is a great problem to have, as it means patients are getting new medicines faster."
Nepveux emphasized that Pfizer's people are central to its success. "Our people make it possible," he said, also noting the contributions of suppliers who provide the raw materials—as many as 400 raw materials are required to manufacture a single dose of some vaccines.
The move from batch to continuous production requires more and different skills, he noted, requiring colleagues with deeper science and technical backgrounds. The skills necessary for a successful pharmaceutical manufacturing operation are changing, too, he said. "We need geologists, statisticians, microbiologists, control engineers—some positions that didn't exist 30 years ago."
Pfizer's ownership culture, reinforcing that individual achievements impact results, supports this new reality. The company's employee engagement score of 85% is among the highest in the industry, he said, and exemplifies its "Head, Heart and Guts" leadership: "head" behaviors include being decisive and focused, "heart" is connected and inspiring, and "guts" is courageous and resilient.
"In line with ISPE's goal to transform the industry to better ensure availability of quality medicines to patients, we see opportunities for continued collaboration with regulators; academia, students, and new hires; and other companies, in the pharmaceutical industry and beyond," he said. "This is a great time to be working in the pharmaceutical manufacturing community."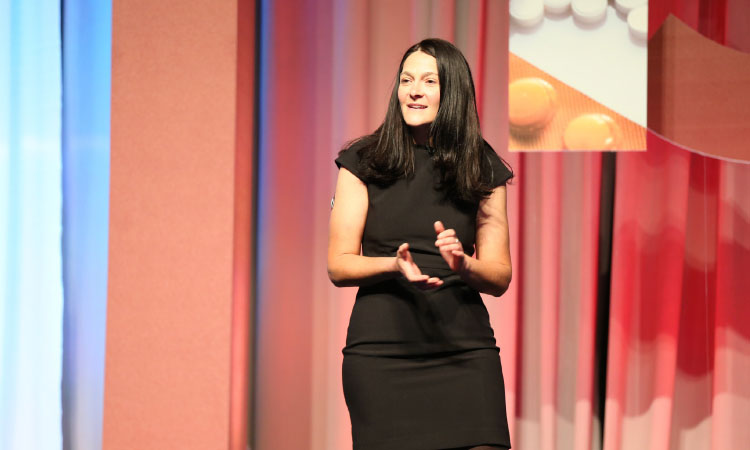 Patient Viewpoint
Becky Furuta, Ambassador, Team Novo Nordisk and Health Care Policy Consultant, gave the final plenary presentation on the opening day. In "How Diabetes Drives My Success," she explained that she chose to live her life as an athlete, a member of the Team Novo Nordisk bicycle racing team, which is fielded completely by athletes who have type 1 diabetes. Today Furuta is ranked 21st out of 463 professional female racers in the United States.
Cycling was an accidental discovery when illness sent her family into poverty and Furuta sought a way to cope with the devastating changes. Her bike took her all over Colorado roadways—including the dangerous Million Dollar Highway—but Furuta took comfort in the way cycling calmed the turbulence in her life and showed her how to find adventure in her life's circumstances.
"Diabetes can be stigmatizing, but nothing is more marginalizing in your life than poverty," she observed. "It changes expectations by others and of yourself. What separates so many people from their potential is the story they tell themselves." So she changed the story: instead of being a homeless kid, she was a talented athlete. "The bike was someplace I could be empowered and strong and capable."
Furuta was a competitive bicycle racer until a diagnosis of type 1 diabetes during her second pregnancy challenged her progress. At first, a doctor told her that her racing days were over, but Furuta refused to give up the sport she loved. She found a new doctor who worked with her so that she could continue to cycle, although she did stop racing for a while. When she decided that she was ready to return, she read an article about a team that had six diabetic riders. Her letter to them to learn about how they were able to perform as racers with diabetes led to an invitation to join the group. "It was the most amazing experience of my life! I realized I was racing at a much higher level, and realized it was truly the opportunity of a lifetime."
A year after she joined the team, Novo Nordisk came on as a sponsor. "It is still amazing to me that people had so much faith in us, and in what's possible with diabetes. I can race a bike to tell people it is possible to dream as big as you want to. And do really amazing things!"
She urged attendees to "Delight in how you impact patients every day! I have the opportunity to live, and live bigger and better than I ever could have dreamed, thanks to the pharmaceutical industry."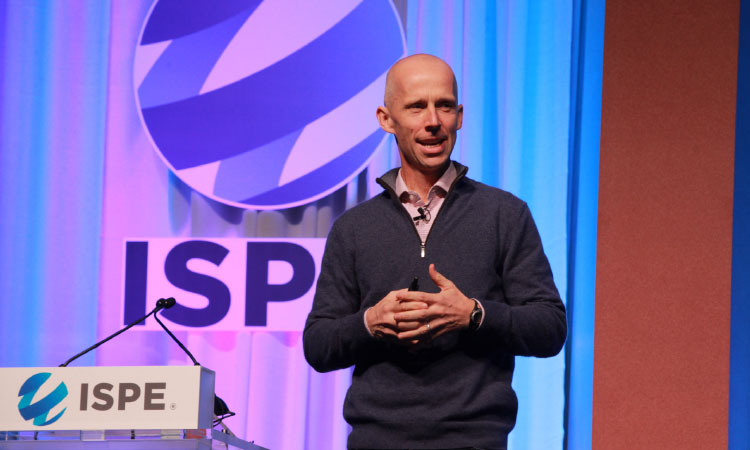 Day Two
Innovation and Energy
The second day of the conference, on Monday, 5 November, opened on a dynamic note. "There's a tremendous amount of energy here,"James Breen, Jr., Incoming Chair of the ISPE International Board of Directors, told attendees as he opened the morning plenary. "I want to keep the momentum going."
The first plenary session speaker, Nick Leschly, CEO of Massachusetts-based bluebird bio, shared the story of the company's birth and progress as he spoke with humor and passion about gene therapy.
To demonstrate what drives him, Leschly presented a touching video about a young boy who died at age 10 from cerebral adreno-leukodystrophy (CALD), a rare and deadly genetic disease. One of bluebird bio's first four products, all of which Leschly hopes will be approved by 2020, includes a lentiviral vector-based therapy for CALD that has halted disease progression in 15 of the 17 children tested with the therapy.
Bluebird is using the same vector to develop treatments for thalassemia and sickle cell anemia. Another therapy, based on the CAR T-cell therapy bb2121, shows great promise for multiple myeloma, extending survival from 3–5 months to nearly 18 months. "If you can harness the immune system, if you can galvanize it, you can get a tremendous response," Leschly explained.
Bluebird's quest is for one-time transformative, or curative, treatment. The faces behind the diseases drive the company's work. "Now we have a genome-editing platform. We want to galvanize technology to go after diseases," Leschly said. In the future, combination therapy platforms will be used to cripple tumors, he predicted.
The company recently opened a new manufacturing facility in Research Triangle, North Carolina. The key factor in choosing this location was the workforce talent available there. "We have to have the best people. They can't just apply their trade. They can't be standard Lego® pieces here," he explained.
The drive for bluebird bio is more than innovation: It is about disruption, Leschly said. He defined innovation as doing the same things a little better; disruption is making things that make old things obsolete.
Staying the course through the ups and downs of gene therapy development is not easy but for Leschly and the bluebird bio team, there is no other option. "Walk, fall down, get up, and walk again," was how Leschly characterized the process. "Many people would have shut this program down, but we didn't have a choice—and it's what we love."
Leschly concluded with a discussion about the pharmaceutical industry's social responsibilities in drug development. "Gene therapy began with 40 years of agony and failure," he said. "Now it works, but there are no rules. It's expensive and inefficient, and the business case is unknown.
"Drug pricing used to be, 'What will the market bear? What can you get away with?' And you do have to charge something that rewards your risk," he conceded. "But value-based payment over time is the solution. Don't be shortsighted. Ground to something meaningful," he urged the audience.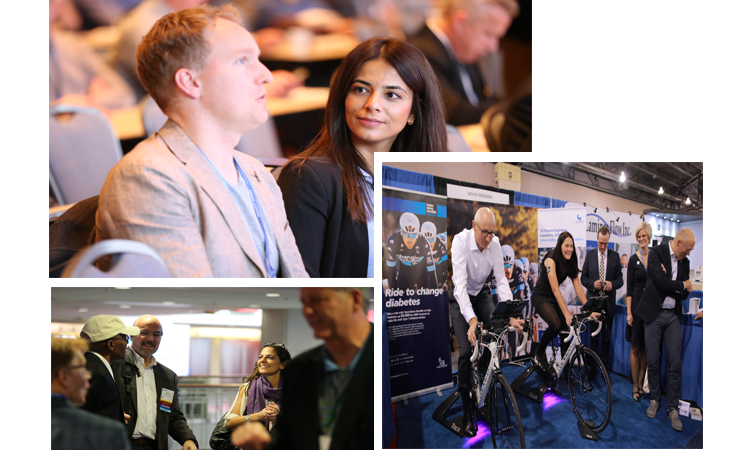 Biologics Boom
Chris Chen, CEO of WuXi Biologics (Shanghai) Co., Ltd., shared his thoughts on making biologics in the second plenary presentation. He acknowledged that like Leschly, his story is somewhat disruptive as well. WuXi is making biologics more a¬ ordable and available to patients more quickly. Like Leschly, Chen sees great opportunity ahead.
"I want to accelerate and transform how biologics are discovered, developed, and produced," he said. WuXi, which Chen noted operates the world's largest bioreactor, is a contract development and manufacturing organization.
The company's WuXi City facility, the 2014 ISPE Facility of the Year Awards (FOYA) Overall Winner, consists of two parallel upstream cell culture bioreactor lines with flexible working volumes of 50- to 2,000-liter bioreactors and one downstream purification production line. It is the most advanced such facility built in China, and the first in the world to be capable of utilizing 100% disposable equipment for drug substance manufacturing.
"In 2011, when I started WuXi, I said this is the way to go," Chen said. "It's entirely disposable and we don't need an autoclave." The facility took 18 months to build and was completed in 24 months.
2018 ISPE International Honor Award Recipients 
Student Poster, Undergraduate: Cy Rodriguez, University of the Philippines, Philippines Affiliate
Student Poster, Graduate: Martin K. Burns, PhD Candidate, Stevens Institute, New Jersey Chapter
Affiliate and Chapter Excellence Award: DACH Affiliate
Committee of the Year: International Young Professionals Committee
Company of the Year: AstraZeneca
Max Seales Yonker Member of the Year Award: Máiréad Goetz
Richard B. Purdy Distinguished Achievement Award: Charlotte Enghave Freurgaard, PhD
Joseph X. Phillips Distinguished Achievement Award: Joseph Famulare
Facility of the Year Awards Overall Winner: Shire, Los Angeles Building 8 Project
Disposable bioreactors and new investment in continuous purification platforms enable integrated bioprocessing for a proof-of-concept commercial facility.
Continuous manufacturing can use smaller, modular facilities with smaller and/or single-use bioreactors to allow for a simplified process flow and logistics, enable high operational flexibility, and fast technology transfer. Parallel production lines ("scale-out") can meet increased production demands. "You can grow as demand increases. It also gives clients flexibility," Chen said.
WuXi is now building a second facility with double the capacity in [Ireland]. "Mfr 1 [China] was really a test," said Chen. "Mfr 2 [Ireland] is our vision of scale-out and continuous processing. Now we're ready to do something big."
The facility, which should be operational in 2021, will help WuXi make biologics even more affordable and available, especially for patients in China. "We can make 8 tonnes of antibodies, and we can make them as low as $15 per gram. This will allow us to change the industry and make biologics much more cost competitive," Chen said.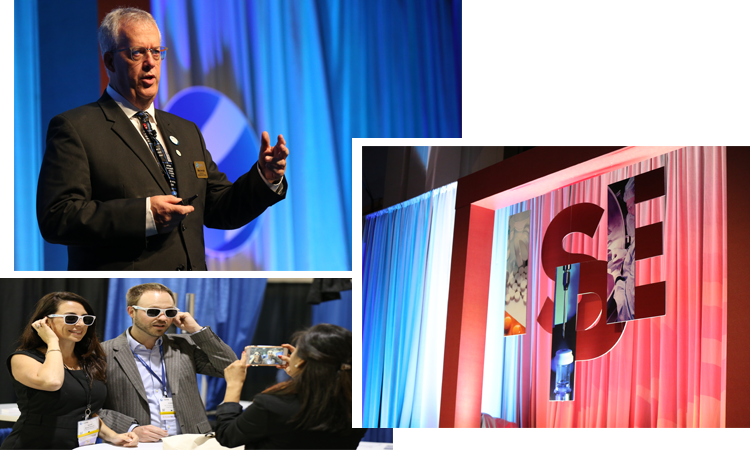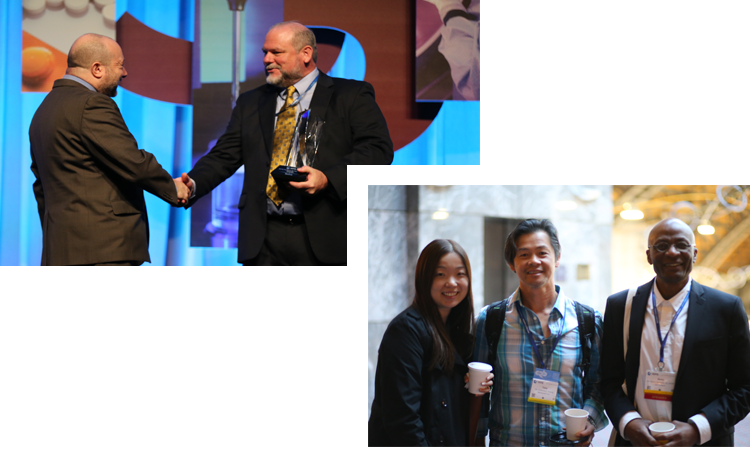 Day 3
Achievements and Honors
The ISPE International Honor Awards Committee acknowledged exceptional efforts, recognizing individual volunteers, affiliates and chapters, students, the company of the year, and the Facility of the Year Awards (FOYA) Overall Winner during the Membership and Awards Breakfast on Tuesday, 6 November.
The annual event is also an opportunity for the ISPE International Board of Directors to share information about strategy, achievements, and plans for the year ahead.
Outgoing Chair Tim Howard, Vice President, Commissioning Agents International, opened this year's breakfast by introducing the new board and thanking past members for their service.
Past Chair Mike Arnold, Senior Director Strategic Relationships, Pfizer Inc., followed with a review of one of the year's most significant events: establishment of the ISPE Foundation. Thanks to generous donations, the foundation was able to award 14 grants for travel to the 2018 ISPE Annual Meeting & Expo its first year.
Target funding for 2018 had been set at $45,000, Arnold said, but donations have already far exceeded that initial amount. To date the foundation has received over $162,000, and several donations made that week added another $10,000.
Fran Zipp, incoming Board Vice Chair and President and CEO, Lachman Consultant Services, presented the treasurer's report. The financial decline following the 2008 recession is now on the upswing, she said, so much so that ISPE was able to invest this year in the ISPE Foundation, a new strategic plan, and new technologies.
"Our net income is slightly lower as a result, but it'll help us in the future," she explained. Howard returned to review other important events of 2018. He extended special thanks to ISPE's past presidents, many of whom were in attendance. ISPE's new continuity initiative calls on the current board to engage with past presidents as they work to develop ISPE's new strategic plan. Another new enterprise came from the North American task team: a community of practice for chapters and affiliates. Membership in the group will be available to all chapter and affiliate officers and board members.
Howard noted that last year the board modified its bylaws to allow direct board appointments to address critical needs. The board appointed Chris Chen, CEO, WuXi Biologics (Shanghai), Co., Ltd., to the board. "With his knowledge, we expect to improve our reach to the Asian market greatly," Howard said.
Howard concluded his talk by passing the ceremonial gavel to Jim Breen, incoming Chair, and VP Project Lead Biologics Expansion, Janssen Pharmaceuticals.
A New Year Begins
"This is an exciting time to be in the pharmaceutical industry," Breen said. "Technology is changing, and the future looks bright. Your work improves patients' lives, and we do a great service to the industry and the world.
"ISPE is the intersection of engineering and technology, but it's more than that. ISPE allows you to network. You can meet people from around the world. And get a lot of good friends. I want you to get involved more than you have."
Fran Zipp reported on the Women in Pharma® committee and its many activities—mentoring, education sessions, and perhaps most important, social and networking opportunities. For 2019 Zipp will be the group's board liaison, and Christa Myers will assume the chair.
Joanne Barrick, incoming Board Secretary and Advisor, Global Validation Support, Eli Lilly and Company, reported on the restructuring of regulatory committees that will better define their members' roles and responsibilities and give the Regulatory Steering Council increased strategic focus. The Guidance Document development process is also being restructured to produce predictable and timely document delivery. In addition, she noted that in the past year access to ISPE Good Practice Guides had become free for all members. Training is undergoing a three-year transformation plan that will permit better integration with Guidance Documents and Communities of Practice.
Tom Hartman, incoming Board Treasurer and VP, GMP Operations, GlaxoSmithKline, discussed ISPE's refreshed strategic plan, necessitated by the organization's diverse population, growing membership, and geographic diversity, as well as the industry's transition to new technologies. During the past year, ISPE partnered with McKinsey and Accenture to conduct a survey that will inform the new strategic plan.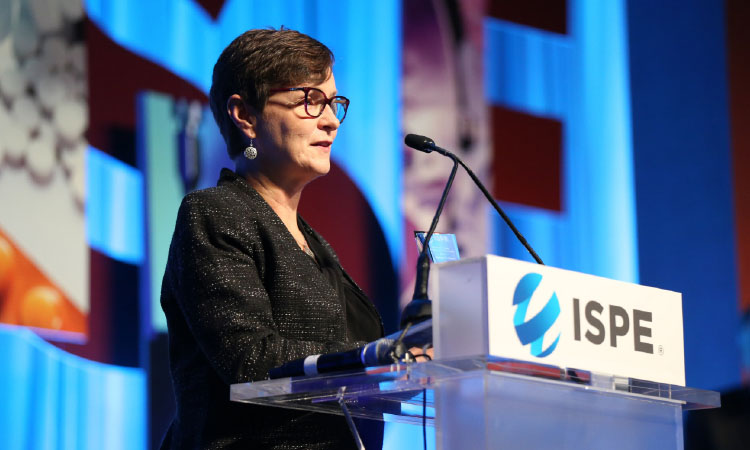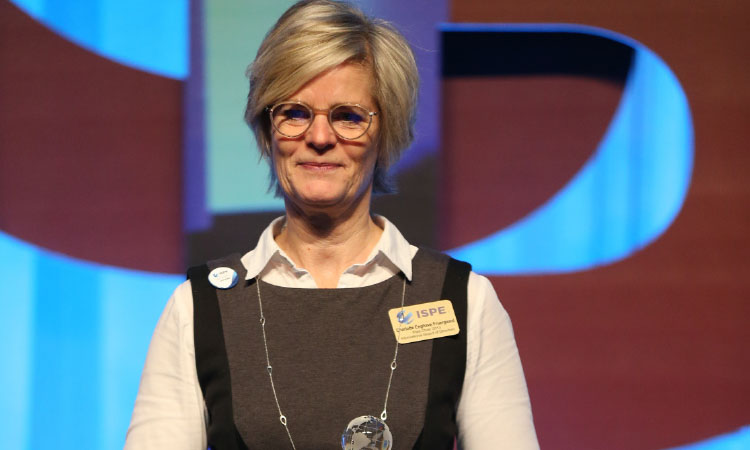 International Honor Awards
John Bournas announced the 2018 award honorees. Among the most significant awards of the morning were:
The Max Seales Yonker Member of the Year Award, which recognizes extraordinary commitment to ISPE service, was presented to Máiréad Goetz, Global Head Analytical Science & Technology, QC, OpEx, Novartis Pharmaceuticals, and leader of the ISPE Advancing Pharmaceutical Quality Team for the past two years. Her other contributions include coordinating ISPE's efforts with the University of St. Gallen, cross-industry meetings in response to Food and Drug Administration (FDA) Guidance, and requests from ISPE affiliates and chapters for presentations on the proposed program. She also played an important role in building a collaborative relationship with the quality culture team at the Parenteral Drug Association (PDA).
Thanking the judges and committee, Goetz commented on the great privilege of being part of a team in relentless pursuit of pharmaceutical excellence. "They're an incredible group of consummate professionals."
The Richard B. Purdy Distinguished Achievement Award, presented to members who have made significant, long-term contributions to the society, was presented to Charlotte Enghave Fruergaard, PhD, Partner, Compliance Consulting, NNE, for her sustained commitment to ISPE, wide breadth of contributions, and leadership positions that included International Board of Directors Board Chair (2012–2013), Nordic Affiliate Board Chair (2005–2007), and Annual Meeting Program Committee Chair (2017 Annual Meeting).
"Thank you to the committee and everybody," she said. "ISPE is a big family, and every Annual Meeting is like a family reunion. I'm proud to stand here today. You believed in me, and you helped me, and you made a dream come true. Thank you."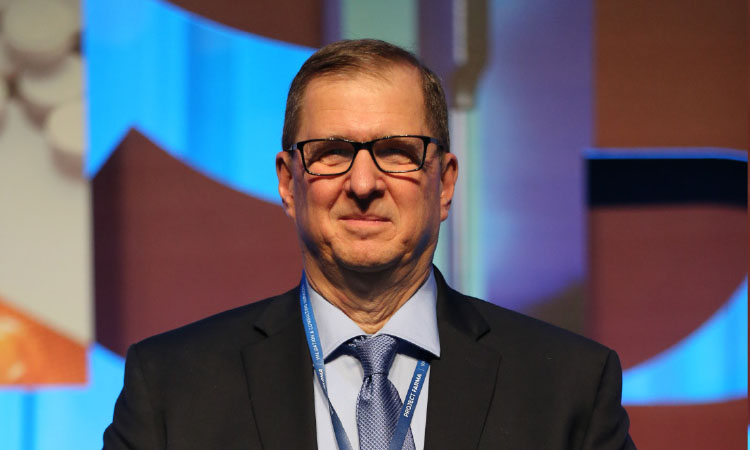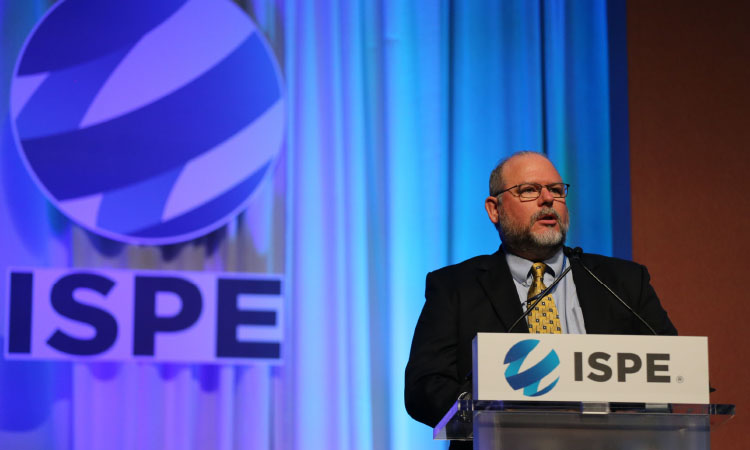 The Joseph X. Phillips Distinguished Achievement Award, which is not given every year, honors an ISPE member who has made a significant contribution to the industry. This year's award was presented to Joseph Famulare, Vice President, Global Quality Compliance and External Relations, Genentech, Inc., for his significant contributions to ISPE, the Global Pharmaceutical Manufacturing Leadership Forum, and the entire pharmaceutical industry.
A former ISPE board member, he contributed to or led several international regulatory initiatives, and is a respected conduit between the society and worldwide regulatory bodies. Famulare expressed heartfelt thanks to his colleagues, staff, management, and the regulators themselves as he accepted the award.
Tony Crincoli, Chair of the Facility of the Year Awards Judges' Committee, ISPE board member at large, and Vice President of Global Engineering, Glenmark Pharmaceuticals, presented the final award: the Facility of the Year Awards Overall Winner. "The category winners and honorable mentions were selected from a variety of submissions from around the world," Crincoli said. "Each one was a standout in its category, and all exhibit the highest caliber of innovation and technological ingenuity." The award was presented to Shire for its Los Angeles Building 8 project.
This year's Facility Integration category winner, the Shire Building 8 project, involved the construction of a new 120,000-square-foot purification facility, which was integrated into an 11.6-acre campus with eight other buildings, space constraints on all sides, multiple underground utilities, and ongoing manufacturing operations in adjacent buildings.
Sam Kitchell, Group Vice President of Engineering at Shire, accepted the award. "ISPE recognized seven incredibly strong projects, and to stand out among them is truly an honor. A forum like this to do benchmarking is an important way to drive our industry forward." After thanking Los Angeles, their industry partners, and employees, Kitchell thanked their patients: "They inspire us to do our best work. We are a champion for people with rare diseases."
Jim Breen closed the ceremony with a dazzling video invitation to Las Vegas, site of the 2019 ISPE Annual Meeting & Expo. "See you next year," he said.