Transportable Manufacturing
ISPE PQLI® Transportable/Point Of Care Mtg Tech Team
Imagine a time where medicines are made at your doorstep, where an illness can be treated in moments, storage conditions are a non-issue, quality is built in, and supply chains don't matter. Your COVID-19 vaccine is manufactured, tested, and available for dosing, all within blocks of your home. Welcome to the age of transportable manufacturing.
This picture may at first appear to be blue sky thinking, but recent technology advances and a paradigm-altering global pandemic have industry, governments, and regulatory agencies in an unprecedented state of openness to transformational change. Now is the time to act. Pharma's recent response to the COVID-19 pandemic has demonstrated what is possible in terms of innovation, speed, and regulatory pathways for drug development, clinical trials, and approvals, establishing and expanding manufacturing capability and coordination between industry and regulators.
We work in an ever-changing business, driving a need for flexibility, reduced footprint, and supply proximity to patients. New targets and modalities are constantly arising - the growing regenerative medicine industry comes with different manufacturing and distribution challenges that require new strategies to ensure patient accessibility to treatment. Gene therapies, cell therapies and tissue engineered products can require 'just in time' manufacturing, while newly compounded pharmaceuticals may have very short shelf life. The growth of personalized medicine brings a whole different set of challenges that create opportunities for innovative manufacturing and supply paradigms.
Drug product production plants must become more efficient, greener, and capable of multi-product production. Continuous Manufacturing is starting to take hold for solid orals, drug substances, and biologics. Additionally, higher potency drugs and optimized manufacturing processes have enabled smaller manufacturing footprints and there is an increasing demand for local (in country) manufacturing around the globe. This is paving the way for new manufacturing and supply paradigms that incorporate continuous processing, modularity, online verification, and location transportability.
All of this calls out for a need to allow 'transportable' or 'point of care' manufacturing and supply.
What is Transportable and Point of Care Manufacturing?
And why is it better than shipping a pallet of drug to a country for distribution? Is this all a ploy to have fun new toys? Or does it fit real and emerging needs?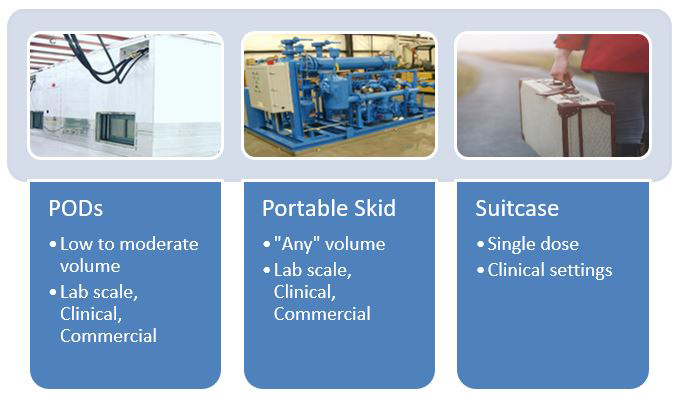 ---
Transportable or Point of Care manufacturing is a capability that can be readily deployed temporarily in closer proximity to the patient base. This type of manufacturing can take various forms depending on the type of therapy and modality, and different solutions can be implemented depending on the scale and manufacturing requirements. Autonomous cleanroom PODs can be used for the larger footprint processes for clinical and commercial manufacturing. Customized trailers can be utilized for low volume manufacturing or labs as well as for some specific commercial applications. Portable, self-contained process skids can be placed either in a building or potentially on a truck, boat, or airplane. And the ultimate in future portability, suitcase manufacturing, can produce individual doses on demand in the field.
Where are we now?
The global patient population has historically suffered from an inability to gain access to much needed medicines for a variety of reasons, many of which are financially rooted due to the capital, research, and operational costs associated with drug manufacturing and supply. Examples:
Capital investments

Conventional large, centralized facilities for commercial manufacturing costs range between $100M and $2B
Financial investments are often made at risk prior to regulatory drug approval due to lengthy construction timelines
Facilities are designed for a limited range of products and volumes with minimal inherent flexibility

Extensive timeframes

4+ years for the design, build, validation, regulatory approval for a conventional new facility
CMOs often required to support product launch, necessitating a downstream technology transfer

Conservative regulations

Regulatory licenses tied directly to physical addresses and the definition of a 'site'
Regulatory change controls/submissions for addition or change of site
Longer review timelines for new technology
Manufacturers resistant to change and rapid technological innovation/investment without high probability of approvals
Regulatory Challenges
Regulatory challenges related to transportable manufacturing come from Board of Health specific regulations and the link of manufacturing to a physical site address. Any address change results in significant regulatory change controls, inspections, and subsequent approvals. A static street address is assumed and a change in manufacturing location is considered a high risk, leading to these questions:
What is the manufacturing "site" when the manufacturing unit is transportable?
What is GMP status after a move?
How can regulators/inspectors know where a transportable site is located?
Review Timelines
Can reviewers and inspectors be consistently familiarized with these new technologies to avoid excessive questions (and approval delays)?
Can there be flexibility in reporting categories and requirements?
Decision-making timelines create challenges. The industry must commit to funding new technology years in advance of regulatory approval, creating high risk for industry balanced with regulators who require data to make informed decisions; data is very limited for new technologies/early stages
Global Divergence
The lack of alignment globally further complicates the site issue. Not sure that this is really an issue? Just look:
Examples of Regulatory Challenges - What is a "Site"?
US: Definition of a Manufacturing Site - A place of business under one management at one general physical location (21 CFR § 207.1 / § 607.3 / § 807.3)
EU: Manufacturers and importers located in the European Economic Area (EEA) must hold an authorization issued by the national competent authority of the Member State where they carry out these activities
China: Change in manufacturing site (change in address is considered change in site) for both small molecule and biologics is considered a major change, and requires commercial-scale revalidation, stability, comparability studies, and non-clinical/clinical studies as needed.
Canada: Applications for new Drug Establishment Licenses (DEL, required for drug manufacture) are required to include every building for which a license is requested.
All these regulatory challenges make it difficult for industry to fully invest and commit to transportable manufacturing without a known path to approvals, or ability to implement more quickly than a standard manufacturing site change.
What is the Opportunity?
Opportunity exists in many areas related to transportable manufacturing, not just in the ability to increase drug availability and access, but also the mitigation of supply chain risks, and the decentralization of manufacturing and distribution to be closer to the patient. Transportable manufacturing could mitigate many of the issues seen during COVID due to a relatively inflexible global supply model. In addition to patient access improvement, opportunity also exists in:
Technology - There has been a surge of innovation in manufacturing processes technology, automation, cleanroom systems, data connectivity, and facility infrastructure which when combined can provide drug manufacturers with the ability to effectively implement a decentralized manufacturing strategy.
Regulatory – We have the ability to change regulatory pathway. Regulatory flexibility can be achieved with strong collaboration, as seen during the pandemic. We need to bring forward elements from this experience to become part of the normal business process. In the near-term, let's focus on what is critical, leverage ICH Q12 comparability protocols and established conditions as helpful pathways. Maybe we could create a pathway specific for transportable manufacturing. MHRA recently released a proposal for a new regulatory framework for point of care manufacture (public consultation is open until 23 Sep 2021). Opportunities exist to help shape that framework, to extend it to other flexible manufacturing platforms, if needed, and to align other regulatory agencies around the concepts to aid global implementation.
Speed – If the pandemic is showing us anything, it is that a need exists for agile, flexible, rapid manufacturing deployment and different distribution models. Increased connectivity including transparency and visibility to real time data could further increase speed and quality of products.
Certainly, technical challenges exist. Integration with host facility and utilities, adherence to local code requirements, variability of site requirements, environment, and culture all provide a host of potential issues. But these can be overcome with the focus on patients, quality, and a collective effort to push boundaries.
Conclusions
Flexible manufacturing that increases reliability and improved delivery to patients has become a focus in the industry. The pandemic brought this to the forefront.
The use of transportable manufacturing is a key enabler to address patient needs.
New manufacturing paradigms that reduce footprint provide an opportunity for different facility strategies.
Quality and Regulatory opportunities and challenges exist when implementing a transportable facility environment.
What If??
Let's seize the harmonization opportunity! The time is right for pharma to partner with regulators to break down the barriers and work together on how to make transportable manufacturing a reality to serve patients of the world.