ISPE Responds to PIC/S: Additional GMP for ATMPs & Biologics Recommendations
Christopher John Potter, Ph.D.
ISPE was selected as one of a limited number of focused stakeholders to provide comments on nine questions posed by PIC/S on the draft GMP Guide Annexes 2A for Advanced Therapy Medicinal Products (ATMPs) and 2B for Biological Medicinal Substances. ISPE provided comments and recommendations in January 2020.
In response to an ISPE recommendation that a table of examples of how the guide could apply to manufacturing steps of Advanced Therapy Medicinal Products (Annex 2A) be extended to include viral-vector-, plasmid- and messenger RNA (mRNA)-based products, the PIC/S rapporteur who coordinated the collection of comments, indirect follow-up, requested recommendations from stakeholders. In a series of engagements, ISPE sub-teams of subject matter experts (SMEs) provided recommendations with rationales, which the rapporteur indicated were helpful. ISPE considers this direct follow up interaction as particularly valuable to industry, and ultimately patients, during the development of GMP requirements applicable to newer types of products and associated manufacturing processes.
Presentations to rapporteur by ISPE Subject Matter Expert Teams
From the larger team of Subject Matter Experts commenting on the original PIC/S request, two sub-teams of international Subject Matter Experts, one each for mRNA and plasmid DNA based products, were assembled and provided recommendations with rationales in presentations given by teleconference to the rapporteur. This blog article summarizes the mRNA recommendations and rationales.
mRNA Products
The ISPE SME team gave a presentation summarizing:
mRNA as a medicinal product platform
Current mRNA-based products in development, including products for immuno-oncology, expression of functional proteins, and prophylactic vaccines against infectious disease
Classification of mRNA-based medicinal products, which are generally gene therapy medicinal products
Production of mRNA-based therapeutics by in vitro transcription
mRNA formulations with liposomes
Linear DNA template as Starting Material for mRNA production
Preparation of linear DNA template
An example of manufacture of mRNA from a linear DNA template is given in Figure 1.
Production of mRNA-based therapeutics: in vitro transcription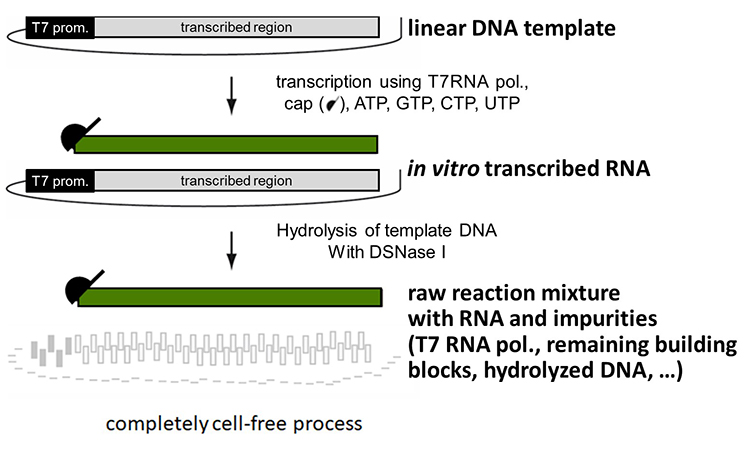 Figure 1: In vitro transcription is a cell-free biosynthetic process which is catalyzed by a specific enzyme, RNA Polymerase
---
The linear DNA template encoding the gene of interest is used to synthesize the corresponding messenger RNA by in vitro transcription (IVT). Upon completion of IVT, the DNA is digested using DNAase I, and the mRNA is purified using chromatographic and filtration steps.
IVT is a cell-free biosynthetic process with purified incoming components and specifications on all materials, of which the most crucial is the sequence of linear DNA to ensure the correct RNA is produced.
The mRNA drug substance can then be formulated with liposomes to protect the mRNA from degradation and enable parenteral administration to patients.
The proposal from the team for the Table in Annex 2A is given in Figure 2. It was recommended that formal application of Annex 2A should apply to the transcription and mRNA purification steps as well as formulation and filling of the drug product, and that manufacture of the linear DNA should be performed under the control of the manufacturer/sponsor.
The start of GMP in the manufacture of mRNA therapeutics
Figure 2: DNA Template is a precursor or starting material for production of mRNA drug substance and is actually digested away after in vitro transcription is complete.
---
The rationales for the ISPE team's recommendation are:
The mRNA production process is enzymatic and cell-free, and the incoming components are defined and purified. Each component is individually controlled.
There is low residual risk of infectious materials or microbial contamination

All incoming components are purified
Recombinant enzymes are purified, and microbial controls include testing for bioburden and/or endotoxin
Even for individualized mRNA-based products that are targeted to one patient, there is no direct use of patient-derived cells or tissues in production, since only data from the patient samples are used in the design of each batch
The process is rapid.

The medicinal product itself is mRNA formulated with e.g. liposomes, and is obviously not cellular
Linear DNA should be produced under the control of the manufacturer with:
an appropriate specification, which includes DNA sequence confirmation
use of manufacturing procedures and records
procedures and specifications agreed with the manufacturer/sponsor
Conclusion
After a direct follow up request from the PIC/S rapporteur ISPE welcomed the opportunity to provide additional recommendations, explanation and justification on where formal application of Annex 2A should commence for mRNA and Plasmid DNA Advanced Therapy Medicinal Products. The direct follow up interaction with the PIC/S rapporteur was by means of teleconferences and PowerPoint presentations. This provided ISPE with the opportunity to explain and justify industry proposals for application of science- and risk-based GMPs to new types of Advanced Therapy Medicinal Products and is considered by ISPE as particularly helpful to industry in the implementation of appropriate GMPs. Application of risk- and science-based GMPs should allow new types of Advanced Therapy Medicinal Products to be available to patients quickly and safely. The rapporteur indicated that both original comments and additional feedback were valuable and thanked ISPE teams for their quick, positive reactions.
An article, ISPE Comments to the Annex 2 PIC/S Draft Revision, has been published in Pharmaceutical Engineering® magazine which summarizes the ISPE commenting processes and includes the comments.