Industry Panel On Annex 1 Implementation Strategies
Annex 1, the European Union's revised GMP requirements for the manufacturing of sterile medicinal products, will take effect on 25 August 2023. In this panel, experts involved in industry's commenting of the draft versions of Annex 1 offered background information on how the document was developed and answered questions on its implementation.
Annex 1 will also be adopted by the Pharmaceutical Inspection Convention and Pharmaceutical Inspection Co-operation Scheme (PIC/S) and the World Health Organization (WHO) and the requirements will become global. However, companies will have to start preparing for implementation immediately and key questions need answers. Nidhi C. Shah, Director Aseptic Processing SME at Sanofi Pasteur, moderated the panel "Annex 1 Implementation Strategies" at the 2023 ISPE Aseptic Conference in Bethesda, Maryland. The panelists were:
---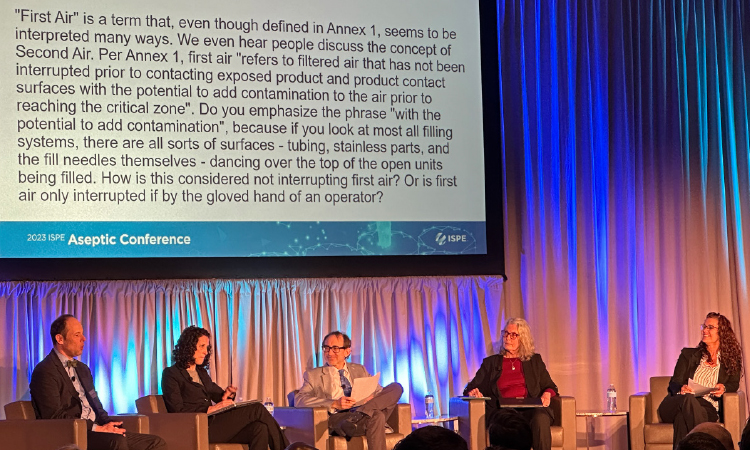 ---
What is a good concept for introducing a contamination control strategy [CCS]?
Myers responded that most elements of a CCS have been there, but Annex 1 is now asking for an overarching strategy for contamination control strategy, written down in a document. This systematic approach should include a description of all measures taken to avoid microbial, endotoxin, and particle contamination.
"This question has been answered in almost all sessions today, and the answers have always been about airflows, room pressurization, and cleaning protocols," she said. "Annex 1 is just a little bit more prescriptive. The regulation now tells you what is needed, and which chapter covers it. I see it when people are doing gap assessments: there is almost a list they can go through to see what they are missing in CCS, from operators to cross-contamination from products. With CCS we have all the elements, while QRM is the basis."
What different isolator technologies exist, and which cleanroom zone can be used according to Annex 1?
Denk said that Annex 1 describes two different types of isolator technologies: opened and closed. Open isolators have mouseholes for feeding containers like vials continuously or semi-continuously in and/or out. Open isolators can be placed in a class C environment. Closed isolators have no mouseholes and work with material transfer locks like with hydrogen peroxide decontamination or RTPs and can be placed in class D environment according to Annex 1. "With both isolator types, humans have no direct access to critical aseptic operations," he said.
Is RABS [restricted access barrier system] retrofit on existing filling lines possible?
Zimmermann stated that RABS retrofits are possible, but not for all lines. "We've done it in our company for several lines. The key in operations is to have the doors closed during setup and operations: if doors are opened, we stop the batch," he said. "There was a nice definition of active/passive, open/closed RABS in the draft glossary. They took that out of Annex 1, but it might have helped us."
Myers emphasized that for RABS and isolators, the operation is as important as the design and build. "They are not just the magic box," she said. "They are a fully integrated system."
Rauschnabel said that Annex 1 seeks to "get humans out of the process as much as possible."
What is the right material transfer system from a Grade C/D environment into Grade A?
Rauschnabel said that it was common to have pallets in the isolator fill suite, but this is changing with Annex 1 because pallet disinfection is a challenge. "For a room at minimum Grade C, people have to depalletize things: That is a change coming and that will require new handling and transfer equipment."
Denk said that material transfer should always be unidirectional from a lower cleanroom class to a higher cleanroom class. There are validated systems on the market, as already mentioned: material airlocks, e-beam, or rapid transfer ports. Denk stated that in Europe, it was common practice to have open isolators in class D environments with appropriate material transfers. "Annex 1 is now demanding class C background for open isolators and this change will require an upgraded cleanroom design."
What is important to consider when working with high potency products in terms of airflow, and what is the history of 0.45 meters per second airflow in cleanrooms?
Rauschnabel said that although proper airflow at the working position should be set at 90 feet per minute, the draft version of Annex 1 said at working height. "I'm glad they took that out and put in 'working position,'" he commented, stating airflow should be set according to ISO 14644 (150 to 300 mm from the entry plane) and measured "where working takes place."
At 0.45 meters per second (m/s) at working height, the airflow can create turbulences that increase the risk of contaminating the product. He told attendees that the ISPE Germany/Austria/Switzerland (D/A/CH) Community of Practice for Aseptic Processing has generated data on this issue. (See "Air Speed Qualification: At Working Position or Working Level?" on page 34.)
Zimmermann offered historical background on cleanroom airflow speed, noting that the 90 feet per second (0.45 m/s) principle came from the nuclear industry in the 1960s, and relied on the work of Willis Whitfield, the inventor of the modern cleanroom. Speeds set above 0.45 m/s caused cleanroom fans to be too loud and created an uncomfortable draft for people working in cleanrooms. It was finally established that 0.45 m/s was a more comfortable airflow for working in and that speed became part of ISO.
The session ended with questions from attendees and back-and-forth discussion between the floor and panelists regarding some of the finer points of and pros and cons of pre-use post-sterilization integrity testing (PUPSIT).