Research Triangle: Building a Foundation for Pharmaceutical and Biotechnology Excellence
North Carolina's Research Triangle is the largest of its kind in the US. Thanks to years of effort from industry, pharmaceutical professionals, and education institutions, it is synonymous with pharmaceutical and biotechnology excellence.
The Garment District. The Diamond District. The flower markets blooming on 28th Street. In Manhattan, each of these neighborhoods specialize in one thing. These areas raise the question: How does an area become a hub for competing businesses?
This phenomenon is repeated on a much larger scale in pharmaceutical manufacturing in regions around the globe, such as Boston, the San Francisco Bay Area, San Diego, and others in the US; BioValley and D/A/CH in Europe;and clusters in South Korea, China, and India in Asia. These regions are known for their concentration of pharmaceutical manufacturers, contract development and manufacturing organizations (CDMOs), excellent life sciences educational institutions, and supporting trades and companies. Although many of these regions are also home to other industries, one is synonymous with pharmaceutical and biotechnology excellence—North Carolina's Research Triangle.
The Research Triangle
North Carolina has 790 life sciences companies employing 70,000 people within 94 biotechnology and pharmaceutical manufacturing sites—including heavy hitters like Eli Lilly, Pfizer, GlaxoSmithKline, Novartis, Thermo Fisher Scientific, FUJIFILM Diosynth Biotechnologies, Biogen, Novo Nordisk, and bluebird bio. It's estimated that the life sciences industry generates more than $88 billion every year for the state's economy.1 The heart of this booming environment is Research Triangle, an area bounded by three cities with exemplary life sciences universities: Durham, with Duke University; Chapel Hill, with the University of NC Chapel Hill; and Raleigh, with North Carolina State University.
---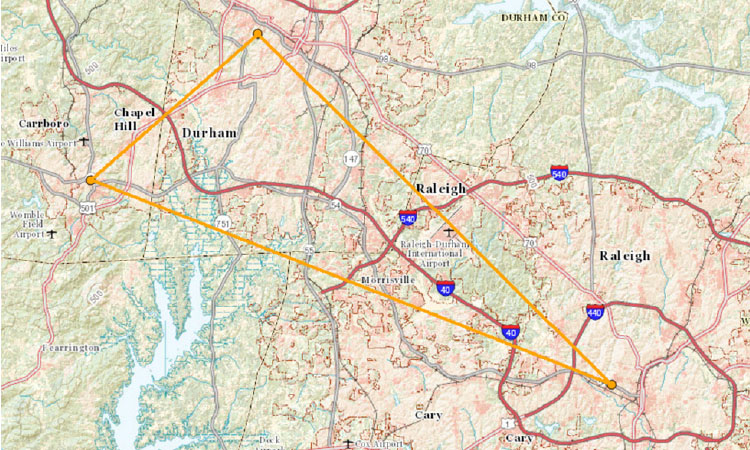 ---
Origin of the Research Triangle
In the 1950s, North Carolina had a struggling economy, the second lowest per capita income in the US, and was largely dependent on tobacco farming and industries requiring manual labor. There was a brain drain as university graduates looked for opportunities outside the state. Government and business leaders came together with a plan to meet these challenges and, in 1959, created Research Triangle Park (RTP). Its goal—to attract high-tech companies to the state—was successful, as companies like IBM and Burroughs Wellcome opened research and development (R&D) campuses.
Surrounded by universities and community colleges with life sciences programs, companies in RTP were able to access highly skilled graduates, increasing employment in the state. By the 1990s, pharmaceutical companies were looking to partner with contract research organizations (CROs) for drug development and clinical trials. By 2000, 61% of new businesses in the area were involved with drug discovery and the development of medical devices.2 Today, this 7,000-acre research park is the largest of its kind in the US. It includes 300 companies in biopharmaceutical and other life sciences and technology. The RTP Foundation, which runs the park, supports collaboration between universities in the Triangle, fosters cooperation between universities and biopharmaceutical companies, and works to improve the state's economy.
The Triangle has become well-known specifically for cell and gene therapy (CGT), in part due to the long history of CGT in the region—the UNC School of Medicine Gene Therapy Center in Chapel Hill was founded in 1993 by one of the pioneers of gene therapies, Dr. Jude Samulski. Jaguar Gene Therapy is building a $125 million facility in RTP to manufacture adeno-associated virus (AAV)-based gene therapies, Beam Therapeutics is constructing an $83 million plant to develop precision medicines, and IQVIA, a CRO, opened an innovation lab in the park in 2021, focusing on bioanalytics, vaccines, biomarkers, and genomics. This is by no means an exhaustive list: other companies in RTP include Pfizer, Novartis Gene Therapies (formerly AveXis), and Audentes (an Astellas company).
Success and Expansion
The phenomenal growth of Research Triangle, with long-standing companies expanding their footprints and new companies constantly entering the region, is made possible by one of the strengths of the region, a characteristic that differentiates it from more built-up hotspots—there is room to grow.
For a company like FUJIFILM Diosynth Biotechnologies, which already has deep roots in the Triangle, continued expansion is an easy decision. It is one of many companies building out existing facilities—such as an expansion of its BioProcess Innovation Center in Morrisville that will double the company's process characterization and clinical process development capacity—as well as opening new facilities outside the Triangle.
The following are a few of the many places that contribute to the success of the industry beyond the Triangle.
Holly Springs
Only 23 miles from RTP, Holly Springs has become a vibrant extension of the Triangle. It's now home to numerous biotech companies, including CSL Seqirus, which completed construction of its cell-culture flu vaccine manufacturing plant in 2008; Amgen, which began construction of a $550 million drug substance manufacturing plant in 2022; and FUJIFILM Diosynth Biotechnologies, which is currently building a $2 billion expansion facility for mammalian cell culture, complete with 20,000-L bioreactors.
Sanford
This city is home to Abzena, a CDMO specializing in mammalian cell-based biologics and bioconjugates, which is building a 120,000-sq.-ft. plant containing eight 2,000-L single-use bioreactors; Pfizer, which has a 230-acre site focusing on vaccine intermediates and gene therapies that also includes microbial fermentation, purification, conjugation, and cell banking; and Astellas, which opened its 135,000-sq.-ft. AAV gene therapy plant in 2022.
Clayton
Southeast of Raleigh, Clayton hosts Grifols, which has a blood fractionation facility that won an ISPE Facility of the Year award in 20143  and Novo Nordisk, with its well-established injectable finished products plant and recent $2 billion expansion into active pharmaceutical ingredient (API) production.
Eastern North Carolina
In Rocky Mount, Pfizer has a 1.4-million-sq.-ft. manufacturing site on 250 acres that produces almost one-quarter of all sterile injectables used in US hospitals. Greenville, home to East Carolina University, has Thermo Fisher Scientific, a contract manufacturing organization (CMO) manufacturing solid dose drug products and sterile injectables, and Catalent, a CDMO that recently acquired a 333,000-sq.-ft. solid oral dose manufacturing plant that produces more than one billion units per year.
Reasons for the Triangle's Success
The Triangle has been successful as a hotspot for pharmaceutical R&D and manufacturing due to the confluence of four resources:
A skilled, well-educated, and trained workforce
Robust infrastructure, including transportation networks, business development supports, and tax incentives for businesses
Presence of tradespeople and companies providing design, engineering, construction, and validation services
Amenities for an attractive quality of life
Access to a Pipeline of Skilled and Well-Educated Workers
"The number one benefit to being in the Triangle is the talent pool," said Charles Crosier, Associate Director, Engineering Science, FUJIFILM Diosynth Biotechnologies. "There are so many other biotech and pharma companies in this region that all the necessary departmental needs are here, including manufacturing technicians, facility mechanics, process and automation engineers, supply chain, validation specialists, and those experts in QA and QC."
This pool is filled with graduates from the numerous educational institutions in the Triangle and throughout North Carolina. Many of these colleges and universities have established specific programs, certifications and degrees structured around a pharmaceutical and bioprocessing core curriculum. These local universities and colleges provide the various talent and skill sets required to operate a complex biopharmaceutical facility, Crosier estimates that "6 out of 10 people that come to us are graduates from these local universities and colleges."
For example, FUJIFILM Diosynth Biotechnologies and NC State recently enhanced their strategic partnership with programs to focus on research and facility design related to sustainability goals and to create new bioprocessing techniques.4  NC State also contains the Golden LEAF Biomanufacturing Training and Education Center (BTEC), which provides education and training for students and industry professionals at a GMP biopharmaceutical manufacturing facility. Also, on the campus is ASSIST, an engineering research center that develops nanotechnology-powered wearable medical monitoring devices.
North Carolina Central University (Durham) has the Biomanufacturing Research Institute and Technology Enterprise, which funds health-related research and workforce training.
Wake Tech Community College has seven campuses running numerous programs to train students to work in the pharmaceutical industry. These include its associate of applied science degrees in biotechnology (for CGT and R&D roles) and biopharmaceutical technology (for drug manufacturing and protein therapeutics), and the BioWork certification program for process technicians with a high school diploma. The college also runs the NC BioNet-work Capstone Center, at NC State University's BTEC facility, to teach new skills, technologies, and regulatory requirements to those already working in the pharmaceutical industry.
"We teach real-world applications when it comes to making medicine, from the innovation to create novel cures to large-scale manufacturing processes," said Leslie Isenhour, Dean, Biotechnologies Division, Wake Technical Community College. "Our programs are designed to provide the best hands-on technical education you can get outside of an actual company. Industry supports us in our efforts to purchase new equipment, as well as elevate the skills of our faculty. Our students are choice candidates for so many local companies that job opportunities are plentiful even before they graduate."
Wake Tech's campus in RTP houses the Lilly Science and Technology Center, as well as the FUJIFILM Diosynth Biotechnologies Early College Suite, which encompasses the Wake Early College of Information and Biotechnologies. The Early College Suite supports high school students interested in earning college credits in the life sciences. Once it's full, the suite will enroll as many as 100 high school students for each grade level.
Campbell University College of Pharmacy & Health Sciences was the first university in the Triangle to offer an educational program in the pharmaceutical sciences. Its Pharmaceutical Education & Research Center (PERC) is a US Food and Drug Administration (FDA)-registered, cGMP-compliant, single-source CRO equipped with the latest equipment and technologies, for most dosage forms, found in the pharmaceutical industry. PERC provides R&D for the pharmaceutical industry while also training students on analytical testing, drug development, manufacturing, clinical protocol development, animal screening, and FDA compliance.
"We work with smaller companies and startups because we are nimble," said Dr. Charles Carter, Chairman of Pharmaceutical & Clinical Sciences at Campbell University. "PERC has the resources and experienced personnel to help our clients with formulation development, as well as analytical and stability testing."
---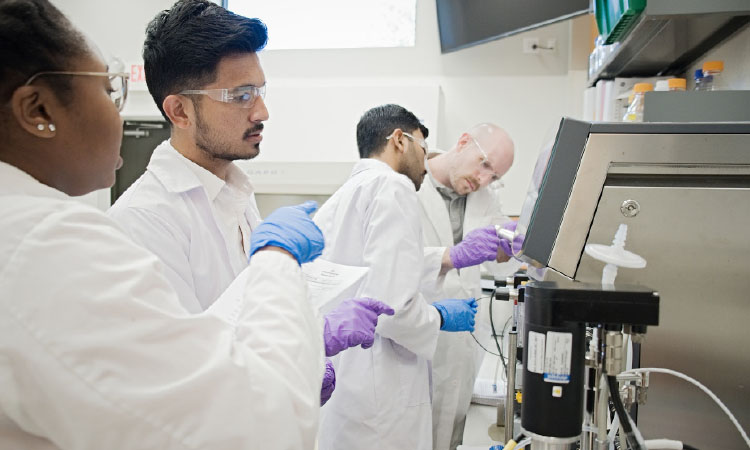 ---
Making the high school connection
"Developing your workforce is good, but only if you have people to train," said Bo Crouse-Feuerhelm, Vice President, Client Solutions, J.E. Dunn Construction Company. Crouse-Feuerhelm is an active member of ISPE, sits on the ISPE Women in Pharma®and ISPE-CaSA Technology Show Committees, and is a former president of ISPE's CaSA Chapter. "This is why it's beneficial to go into middle schools—and even elementary schools—to create STEM programs." She and her colleagues have spoken at these schools about the design and construction job opportunities available in the industry.
Whether a student wants to work in architecture and construction, as a process engineer, in quality control, or in a skilled trade, they likely will need a strong background in science and math. As automation and Pharma 4.0TM continue to transform biopharmaceutical manufacturing, it will be important to have workers capable of operating automation systems and robotics.
"I cannot overstress the importance of STEM programs at the middle school and high school levels," said Carter. "PERC offers hands-on workshop opportunities for schools and at our lab facilities to allow students to see what pharmaceutical manufacturing is all about. Not only does this help generate a pipeline of good workers, but it also teaches the teachers, who stay to guide future classes of students."
Another training program is at the Workforce Development Center, a public–private partnership between Novo Nordisk and Johnston Community College in Clayton. This 30,000-sq.-ft. educational and skills training facility works with students from elementary school through postsecondary education who are considering careers in the life sciences, particularly biotech. STEM RTP, an initiative that provides access to education and training, has grants for programs aimed at supporting those who are traditionally underserved in STEM education, including women and girls, minorities, and people from low-income backgrounds.
CaSA Chapter supports students throughout the Triangle and beyond
ISPE's Carolina-South Atlantic Chapter (CaSA) is active in six states, including North Carolina. In addition to hosting the annual Sciences Technology Conference—which celebrated 30 years of innovation this past February at the Raleigh Convention Center—CaSA runs student chapters that afford opportunities to network with professionals and develop skills to those looking to enter the pharmaceutical industry. It also awards the Jane Brown Scholarship to select CaSA Student Chapter members wanting to enter the life sciences industry who are enrolled in an undergraduate or graduate program. In Research Triangle, there are Student Chapters at Campbell University, NC Central University, NC State University, and UNC Chapel Hill.
"The centerpiece of our Tech Conference this year was the career fair," said Bud Watts, CEO, Hygenix, and President of CaSA. "We gave manufacturers center stage to create an environment in which student talent could identify companies that are hiring. Several major manufacturing organizations contributed to our student growth programs and were speakers for each education segment of the conference."
Robust Infrastructure and Economic Development Partners
North Carolina consistently ranks among the best states in which to do business. It has a lower cost of living than many other biomanufacturing hotspots and tax incentives—such as the state's Job Development Investment Grant (JDIG)—that are based on the number of jobs a company creates. For example, the local governments in Holly Springs and Wake County awarded job development grants worth a total of more than $35 million to Amgen based on the number of jobs its new manufacturing site will provide.
"Since 2017, Holly Springs has been a certified entrepreneurial community, which recognizes our support for small business development," said Ire-na Krstanovic, Economic Development Director for Holly Springs. "Every year we encourage new entrepreneurs through our policies and grants for small businesses."
The types of infrastructure specific to biopharmaceutical manufacturing—which requires great quantities of water and electricity, while also generating considerable wastewater—make it important to have access to the type of affordable, reliable utilities that are available in North Carolina. Additionally, the Triangle has good access to highways, airports, rail, and ports, all of which are essential for any pharmaceutical facility.
In addition to government incentives and support, there are a number of nonprofits and foundations that have been important to the economic development of the life sciences in the Triangle. The following are a few notable examples.
North Carolina Biotechnology Center
The North Carolina Biotechnology Center (NC Biotech) was established in RTP in 1984 and is, in some ways, the nerve center of the Triangle. This independent nonprofit collaborates with a range of partners to create employment, enhance educational programs in the life sciences, and entice new companies to the region.
"Our work is aimed at creating an environment to develop, attract, and retain talent," said Bill Bullock, Senior Vice President, Economic Development and Statewide Operations, NC Biotech. "Our portfolio of workforce and talent development programs work in collaboration with community colleges, universities, HBCUs [historically Black colleges and universities], K-12 schools, companies, and communities to provide targeted solutions to workforce development needs."
With the goal of making North Carolina a national and global hub for biotechnology, its mission includes:
Strengthening university research
Fostering collaboration between government, businesses, and academia
Supporting biotechnology business development and the creation of new companies
Educating the public about biotechnology
"Combined with the North Carolina Department of Commerce, the NC Biotechnology Center was the foundation that set North Carolina up for success as a pharmaceutical manufacturing hub," said Crouse-Feuerhelm. "It ties into the great universities and medical schools surrounding Research Triangle Park, as well as the community college system."
Golden LEAF Foundation
With the decline of tobacco farming—one of the mainstays of the NC economy for centuries—there was a concerted effort to diversify the state's economy. The Golden LEAF Foundation, established in 1999, kickstarted this effort, providing grants and other forms of support to communities adversely affected by the loss of the tobacco economy. For example, Golden LEAF awarded $1.9 million in 2021 to support the burgeoning biopharmaceutical industry in eastern North Carolina.
Economic Development Partnership of North Carolina (EDPNC)
The EDPNC is a public–private partnership that functions to attract new businesses to North Carolina while supporting those already there, including those in biotechnology and pharmaceuticals.
"Every day we're in conversation with companies thinking about where their next expansion is going to occur, and we're lucky that they're considering North Carolina," said Christopher Chung, CEO, EDPNC. "We try to capitalize on the area's success and leverage it to attract even more growth in the industry."As one example of the type of partnerships it forges, the EDPNC worked with the NC Biotech to win a federal Build Back Better award worth $500,000 to encourage the life sciences industry in traditionally distressed communities in the state.
---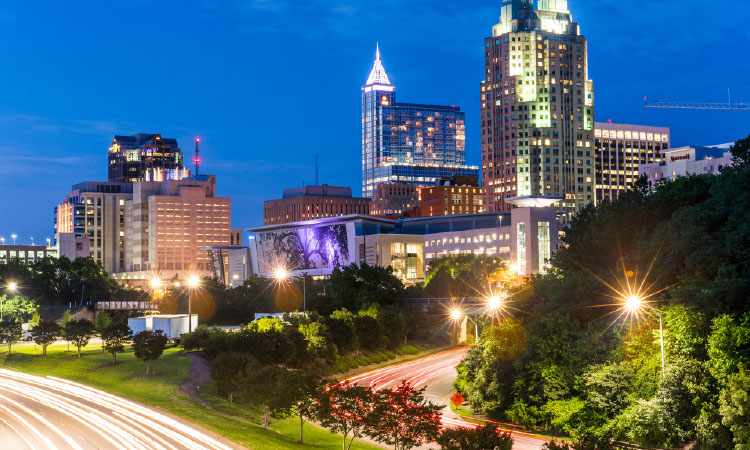 ---
Ancillary Services, Contract Firms, and Tradespeople
The Triangle also has a surfeit of contract firms, skilled tradespeople, and equipment vendors with experience working with the pharmaceutical industry. There are as many as 2,500 companies supporting the biotechnology and life sciences industry in North Carolina. The availability and quality of design; architecture; engineering, procurement, construction management, and validation (EPCMV) consultants; and utilities contractors in the Triangle has evolved, boasting companies like CRB, BE&K, DPR Construction, and JE Dunn.
"When I first came to North Carolina in 1993, you could name on one hand the companies to go to for design or construction services," said Crouse-Feuerhelm. "Now, there is far more competition in the life sciences space, including companies capable of managing a $2 billion program, as well as commissioning, qualification, and validation services."
"These services require a different knowledge base and skill set specific to our industry," said Crosier. He points to more stringent heating, ventilation, and air conditioning (HVAC) requirements, the fit and finish of all cleanroom surfaces, the need for differential pressures and proper airflow rates, and the ability to generate and distribute hygienic utility systems such as for water for injection (WFI), clean compressed gases, and pure steam generation. "There's a lot more engineering involved in terms of the design, functionality, and continuous monitoring of our manufacturing suites."
Crosier states that, "The RTP area is well represented with numerous specialized trades, equipment vendors, general contractors and engineering firms that focus on the life sciences industry. These unique companies continue to support the RTP area and its partners to provide rapid, turn-key solutions in the stringent timelines and budget allocated while meeting all of the client's requirements in terms of safety, quality, and sustainability."
"There are companies that have heavy rigging equipment, such as industrial cranes for setting structural steel, and a strong talent pool of skilled workers who can build facilities with GMP cleanrooms," Crosier said. "They understand what an ISO 8 cleanroom is and how it differs from building a box store."
Having local skilled tradespeople, contract firms, and equipment vendors also reduces expenses and increases the speed of building a new facility. "If we want a standard or custom heat exchanger or diaphragm valve, for example, we have local representation for all those main products," Crosier said. "Companies that support the biotech and pharma industry—including processing equipment and components, raw materials, and consumables—are well represented in this environment."
Amenities for an Attractive Quality of Life
In addition to the availability of talent, an excellent education system, government incentives, and business development partners that make North Carolina a good place to do business, cities in the Triangle are routinely ranked among the best places to live and work in the US. US News & World Report ranks Raleigh and Durham the sixth best place to live in the US, based on the Triangle's educational and employment opportunities and access to green spaces and entertainment.5
"The popularity of the Triangle applies to both businesses and individuals," said Crosier. "While the cost of living here has gone up, it's still lower than a place like Boston and Philadelphia. We also have available land to develop, unlike some of those other regions."
Environmental sustainability, which is of ever-growing importance to pharmaceutical companies, also contributes to the quality of life in the Triangle. For example, companies within RTP can only build on a fraction of the land they own, preserving the remainder as greenspace.
"The town of Holly Springs has long put sustainability as a priority," Krstanovic said. "We have one of the most robust reclaimed water systems in the county, which is a major reason we've attracted global companies who have championed sustainability goals. Also, we received grant money to fund public electric vehicle charging stations in our growing downtown and are always pursuing additional partnerships to increase our green initiatives."
Replicating the Triangle's Success
Those wanting to replicate Research Triangle's success—Crouse-Feuerhelm listed Virginia, South Carolina, and Austin, Texas, among them—need to keep in mind that the region didn't win a lottery and can't be duplicated simply by hanging up an "open for business" sign. It took an original idea, visionary leadership, decades of effort, and continued attention and care to make it the vibrant hub of biopharmaceutical research, development, and manufacturing that it is today.
"It's hard to emulate," said Chung. "It's hard to get the resources marshaled even to take some of those first steps. If you're an executive needing to defend the decision to put your manufacturing in this part of the country versus another, North Carolina's going to be seen as a hotbed and a safer bet—more business friendly and much more cost competitive."
"You have to have informed and engaged champions and leadership, appreciate the importance of talent, and build sustainable programs to develop and sustain a workforce across the entire education continuum," Bullock said. He then adds sobering recommendations for anyone looking for quick results. "It's important to be aspirational, but pragmatic and patient. RTP and its evolving economic impact on the Triangle and the state has been more than 60 years in the making. And you'll need to sustain the investment. Remember that the NC Biotech Center has been funded by the State of North Carolina for 38 years."
Conclusion
Like so many in the pharmaceutical industry, Crosier expresses genuine enthusiasm for the work his company does, and the way even different firms work together. "I have colleagues at other companies and, even though we work for different life science companies, we're all trying to make things better for everyone and the industry. If one of us comes up with a good idea or finds a great product or solution to a common industry problem, we're often willing to share it, as long as it's not proprietary or specific intellectual property such as information regarding batch recipes, source code and/or processing techniques."
When FUJIFILM Diosynth Biotechnologies was looking to install roll-up doors at the RTP facility, a local life sciences firm with the same doors was willing to give Crosier feedback and guidance so he could better understand their performance and reliability. "We installed the same doors and then someone from a third company asked the same favor of us. We were willing to give them a tour so they could see the doors in operation. By scratching each other's backs, we're able to achieve the goal we're all aiming for—to create life-saving medicines while improving the quality, safety, and cost of these products. That's why the life sciences industry matters, and that's why firms like ours exist."
One could expand this to say that's why Research Triangle exists. "There was a lot of foresight among elected officials and business leaders in North Carolina 60 years ago," Chung said. "It's much harder these days for public officials to make those kinds of long-term visionary bets. The governors at the time were willing to make a bet that what they planned would help North Carolina in 30, 40, or 50 years. And they were right."