Why is Data Integrity an Essential Part of the Pharma Industry?
In recent years significant problems with data integrity have been found in the pharmaceutical, biotechnology, and medical device industries worldwide. This ultimately affects patients, as patient safety is intrinsically impacted by the integrity and quality of the data on which a regulatory decision is based.
---
Charlie Wakeham, Regional CSV Consultant, Waters Corporation, and Guide Co-Lead, explains the importance of the GAMP® RDI Good Practice Guide: Data Integrity - Key Concepts. The Guide is 192 pages of real-life ways to overcome challenges. It is written by people who have tried to do this in real life, "we have all pulled our experiences and knowledge together and created really practical hands on approaches. Here is how to avoid the headaches that we had the first time we tried to do this, here is how to do something that will actually work and that can be implemented in the real-life organization," said Wakeham.
---
Lorrie Schuessler, Senior Director Computer Systems Quality and Data Integrity, Syneos Health, and Guide Co-Lead, shares her insights on how to implement data integrity practices and critical thinking skills. "The Guide includes 23 appendices, many of them are case studies looking at those specific topics of how to address specific issues and giving you ideas of how to look at that and ways of thinking about it," said Schuessler.
---
Additionally, the implementation of behavioral, procedural, and technical solutions to meet regulatory requirements throughout the business process proves to be challenging for organizations that do not have expertise in incorporating data integrity into their daily activities. Wakeham said, "one of the best bits in the Guide is the section on using risk management with understanding computerized systems that have perhaps an outer gate and that section is so very hands on practical and I know it's a problem, most companies are wondering how to deal with today". "The Guide has been reviewed by Industry sponsor CRO Regulators of what are the best practices and how should we attack these issues," said Schuessler.
One of the questions Wakeham and Schuessler have been getting about releasing the new Guide is Why are there now two GAMP Guides talking about data integrity?
This Guide provides guidance on how to integrate tools such as Cultural Excellence and critical thinking skills into data integrity practices which can help companies meet regulatory requirements and expectations. It is positioned under the ISPE GAMP® Guide: Records and Data Integrity and is aligned with ISPE GAMP® 5: A Risk-Based Approach to Compliant GxP Computerized Systems. "GAMP® 5 is a guide that deals with system lifecycle, it deals with computerized systems and it is a very high-level guide full of concepts and principals," said Wakeham.
Comparable to that "within data integrity was the Records and Data Integrity Guide, which again was a high-level guide and Data Integrity principles and looking at data life cycle," said Schuessler.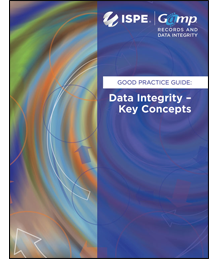 The Guide shows numerous examples of good data integrity practices along with ways to identify risks and detect issues are included to assist organizations in developing or raising their data integrity awareness. "The new guide which is the ISPE GAMP® Records and Data Integrity Key Concepts Guide sits under the Records and Data Integrity Guide and really gives a more practical approach to some of the issues within data integrity and discusses more of the key concepts for Data Life Cycle that were discussed in the Records and Data Integrity Guide," said Schuessler. "The Data Integrity Key Concepts Guide is going to provide practical advice whether you are a vendor, designing technical features into your system for data Integrity, whether you are a server provider offering client platforms and infrastructure or whether you are a manufacturing organization trying to manage and protect your GMP data," said Wakeham.
The GAMP® RDI Good Practice Guide: Data Integrity - Key Concepts will give you the knowledge to develop your program and implement a strategic process.