Regulators Discuss Distant Assessments During and After COVID-19
Søren Thuesen Pedersen
Alice Redmond, PhD
Thomas Zimmer, PhD
2020 ISPE Europe Annual Conference
This article covers a regulatory panel discussion at the virtual 2020 ISPE Europe Annual Conference on the topic of Distant Assessments on GMP and Inspection Reliance. Driven by digitalization, these assessments help the industry and regulators manage inspection challenges related to the COVID-19 pandemic.
The panel began with an introduction on ensuring quality and compliance of pharmaceutical products in light of travel restrictions and due to the COVID-19 situation.
Panel Discussion Moderators
Søren Thuesen Pedersen

Senior Director, External Affairs, Quality Intelligence & Inspection
Novo Nordisk
Is Distant Assessment Possible?
The first part of the discussion focused on the possibilities for using distant assessment of GMP now and in the future, and prerequisites needed for distant assessment.
Morenas opened the discussion by pointing out the importance of a harmonized approach among the National Competent Authorities, and in particular with regard to definitions and processes for assessments. Anne Hayes, Inspection Manager for the Compliance Department of Ireland's Health Products Regulatory Authority (HPRA), noted the need for reliable IT systems within companies and within the supply chain.
David Churchward, Deputy Unit Manager, Inspectorate Strategy and Innovation, MHRA, predicted that future assessments may be a hybrid combining distant assessment and remote inspections with assessments done on site, or the industry may see fully virtual assessments for some sites and fully on-site inspections for others. This outlook assumes that travel restrictions might persist for years to come.
Birse supported Churchward's comment and said that the industry and regulators need to prepare and to develop their collaboration for an extended time. Monika Mayr, Scientific Administrator Manufacturing and Quality Compliance for EMA, summarized the three main aspects for a good framework of distant assessment: (a) harmonization of terminology, (b) trust in the system and process, and (c) trusted, good collaboration.
With regard to the technical aspects of execution, Churchward emphasized the risk-based approach for distant assessments is paramount; for example, regulators may use risk assessment based on past experiences and former inspection results to determine when distant assessments are appropriate and when an on-site inspection is needed. Birse agreed that a mixed/hybrid approach to inspection that includes distant assessment may be adopted in parallel with traditional inspections.
Morenas addressed the need for a legal framework for remote inspections, which is not currently available. He said a "for cause" inspection should likely be done on site, but a legal framework is also needed for these cases.
Christian Schärer, Head Inspectorate for Swissmedic, the Swiss Agency for Therapeutic Products, introduced the idea of a layered approach, saying that in a mixed concept, international inspection agencies might rely on inspections by national agencies as the basis for assessment, allowing international inspections to be done virtually.
Vladislav Shestakov, Director and Deputy Head of the Russian State GMP Inspectorate, State Institute of Drugs and Good Practices, said he considers online inspections to be a temporary measure because it is difficult to evaluate online how employees operate in compliance in real time. He noted that he can imagine certain hybrid models being used for the near future and over the long term.
Practicalities of Inspection Management
Practical aspects of current inspection management during the COVID-19 pandemic were discussed next. Hayes encouraged agencies to share experiences conducting distant assessments under COVID-19 conditions. She said that organizations like ISPE can help by offering a platform to facilitate dialogue among pharmaceutical industry stakeholders.
Another key to inspection management right now is the announcement of the timing of inspections, to ensure that the right experts are in place and that companies can be well prepared to achieve good inspection results. Shestakov reported that in Russia inspections are normally announced 10 days before the inspection takes place. Mayr said that EMA has drafted a new, harmonized internal procedure for inspections during the COVID-19 pandemic.1 It is based on a two-step feasibility study and subsequent inspection. Mayr noted that it is important to speak directly with subject matter experts, and this is also virtually feasible using modes such as live video tours through the plant.
It was very positive to hear that all the regulators considered real-time video transmission to be a valuable addition to the inspection process.
Harmonization
In the next part of the discussion, several panelists spoke about the practicalities of harmonization.
Bernd Bödecker, a Germany-based freelance GMP consultant and former EU GMP Inspector, said data protection and a master data framework are most important. Schärer pointed out that the Pharmaceutical Inspection Co-operation Scheme (PIC/S) program gives guidance for harmonization of reliable assessments and building trust. Mayr said the EMA guidance1 provides a basis for harmonized processes, distant assessments, and remote inspections.
Domenico Di Giorgio, Director of the Inspection and Certification Department for the Agenzia Italiana del Farmaco (AIFA), said he could see opportunities to work with trusted authorities that extend beyond mutual recognition agreements. He suggested that National Competent Authorities can make better use of their existing capacities by participating in shared work with other parties, by using hybrid approaches, and through harmonization.
Birse said that common assessments could possibly be used in future hybrid approaches. Shestakov said it would be important to develop principles that minimize barriers and are transparent and harmonized. Common inspections may be the means to develop mutual trust in quality systems and qualification of industry.
Compliance
Pedersen raised a final question for discussion: how does the industry deliver a decision on compliance?
Mayr pointed out that in the EMA guidance on inspections,1 the harmonized procedures address ways to report on outcomes and there are answers for relevant compliance questions. Churchward said that the principles of compliance are always the same, and the most important aspect is to establish confidence among all partners.
Morenas agreed, saying "An outcome is needed in any case, traditional or virtual or hybrid assessment—but a harmonized approach is absolutely needed."
Conclusion
Taken together, the panelists' comments suggest that virtual inspection can work, but there are challenges to the execution, including the need for common processes and technology. Additionally, there are concerns about how companies can create rapport and build trust with regulators without face-to-face meetings. Despite the challenges, distant assessments seem to be worth pursuing as a way to support development of new, innovative drugs or and avoid drug shortages for patients.
Finally, the regulators agreed that two valuable resources for those interested in distant assessments are the EMA guidance on GMP inspections1 and a position paper from the International Federation of Pharmaceutical Manufacturers and Associations.2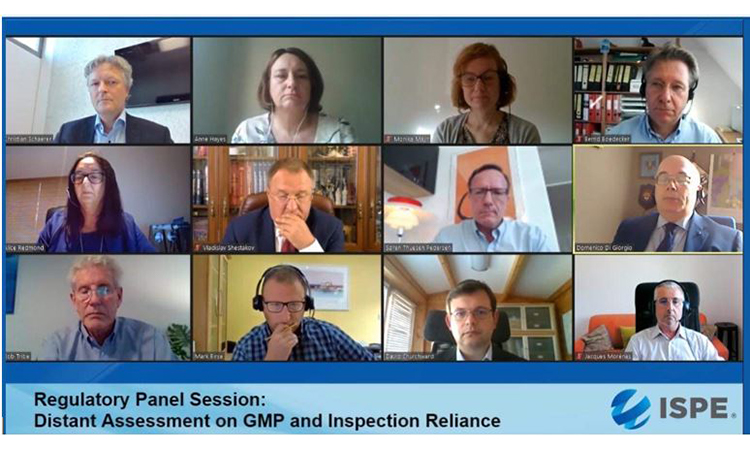 Top row: Christian Schaerer, Head Inspectorate, Swissmedic; Anne Hayes, PIC/S Chairman; Monika Mayr, Scientific Administrator, EMA; Bernd Bödecker, GMP consultant and former EU GMP Inspector.
Middle row: Alice Redmond, VP Europe Operations, CAI; Vladislav Shestakov, Director & Deputy Head Russian State GMP Inspectorate, FSI SID & GP; Søren Thuesen Pedersen, Sr. Director Quality Intelligence & Inspection, Novo Nordisk; Domenico Di Giorgio, Director Inspection & Certification, AIFA.
Bottom row: Bob Tribe, former chief GMP Inspector, TGA and past PIC/S Chairman; Mark Birse, VP Technical, Regulatory, Parexel; David Churchward, Deputy Unit Manager Inspectorate Strategy & Innovation, MHRA; Jacques Morenas, Technical Advisor Inspection Division Director, ANSM.
Disclaimer
This is brief and informal synopsis of discussion among regulators from various countries and regulatory and other organizations during a panel dialogue at the 2020 ISPE Europe Annual Conference in September 2020. It has not been vetted by any agency or regulator, and does not represent official guidance or policy of the regulatory agencies and organizations cited in this article.