Meet Eli Lilly and Company - 2017 FOYA Process Innovation Winner

Eli Lilly and Company is the 2017 Facility of the Year® Process Innovation Category Winner for the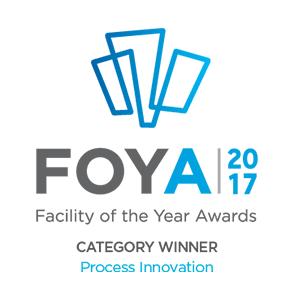 ir Continuous Direct Compression Manufacturing Kits 2 & 3 Project in Indianapolis, Indiana, USA and Carolina, Puerto Rico. Winners in the Process Innovation category exemplify the application of novel process manufacturing techniques on existing and new facilities, including fundamental scientific processing approaches and related applied science-based solutions to existing and new challenges. Lilly, headquartered in Indianapolis, Indiana, USA, is a global healthcare leader that unites caring with discovery to make life better for people around the world. Founded more than a century ago, they are committed to creating high-quality medicines that meet real needs. Oral solid dose (OSD) continuous manufacturing is undoubtedly a large and growing trend in pharmaceutical manufacturing.  In 2014, Lilly approved a project for the installation of a good manufacturing process (GMP) Continuous Manufacturing unit in an existing Indianapolis OSD manufacturing facility.
The installation of a second GMP unit, also in an existing Lilly OSD manufacturing facility at the Carolina, Puerto Rico site, began in 2015, and was qualified in less than 12 months. Both GMP Continuous Direct Compression (CDC) units are functional replicas with identical equipment, layout, Process Analytical Technology (PAT) instrumentation, and automation/control schemes. The Continuous Direct Compression facilities were designed with extensive capabilities for future expansion. Further avenues of technological evolution include true real time release, continuous coating, continuous encapsulation, emerging PAT technology, and more. Each of the three Continuous Direct Compression installations (one development unit and two GMP units) were built sequentially in existing, operating facilities at separate geographic sites. The project teams took on the additional challenge of executing a novel, robust replication strategy.
Process and facility replication was identified early in the project as a key enabler to not only improve technical transfers from development to manufacturing, but also compress the schedule/budget to achieve swift commercialization. As a result, the delivery schedule for each subsequent Continuous Direct Compression project continued to improve from the baseline case, and millions of dollars were saved from replication and learning. ISPE congratulates the Eli Lilly and Company team for their achievements and their Facility of the Year award-winning entry for Process Innovation. Learn more about the 2017 Facility of the Year Awards Process Innovation Category winner. Has your company recently designed, built, or renovated a state-of-the-art pharmaceutical or biotechnology facility that is best in its class? Submit your project for the 2018 ISPE Facility of the Year Awards Program, and your facility may win a coveted Facility of the Year Award.  
---
Facility of the Year Awards Banquet Join ISPE and prominent industry leaders as we recognize the 2017 Facility of the Year Awards (FOYA) Category Winners for their innovation and creativity in pharmaceutical and biotechnology facility design, construction, and operation, at the FOYA Banquet on the evening of Tuesday, 6 June 2017 in Arlington, VA, USA, during the ISPE/FDA/PQRI Quality Manufacturing Conference.