ISPE Quality Management Maturity Program: Advancing Pharmaceutical Quality
The ISPE Advancing Pharmaceutical Quality (APQ) Program has been developed by industry representatives, for industry use, to advance the current state of pharmaceutical quality by providing practical tools and approaches to enhance the effectiveness of the Pharmaceutical Quality System (PQS). The APQ Program recognizes that the ability to advance the maturity of quality management lies within the industry itself, and a key driver for this program is to provide a range of sustainable and practical quality management improvement strategies.
The ISPE Advancing Pharmaceutical Quality Program is intended to provide a practical framework that an organization can use to first assess the maturity and then advance the state of quality within their organization. It is a quality management maturity program that aims to identify good practices and good behaviors which support the continual improvement of quality management effectiveness within an organization. The Advancing Pharmaceutical Quality Program includes pre-assessment and post-action benchmarking tools developed by the University of St. Gallen.
The Advancing Pharmaceutical Quality Program has been designed to include the following key aspects:
It provides an industry-led program, which includes a structured framework to assess and advance the effectiveness of pharmaceutical quality management, which companies can leverage to assure a continuous supply of high-quality medicines to their patients
It is built upon the principles of the ICH Q10 Pharmaceutical Quality System (PQS) and is further enhanced to include operational excellence and cultural excellence tools, approaches and behaviors which can support the effective management of quality.
It is comprised of detailed self-assessments of quality management maturity and self-improvement tools and key performance indicators (KPIs) focused on advancing organizational capabilities across the four core ICH Q10 PQS elements:

Corrective Action and Preventive Action (CAPA) System,
Management Responsibilities and Management Review
Change Management System
Process Performance and Product Quality Monitoring System

It is complementary to current international regulatory initiatives which promote quality excellence
The basis of the ISPE Advancing Pharmaceutical Quality Program is the ICH Q10 Pharmaceutical Quality System Model. Figure 1 illustrates the Advancing Pharmaceutical Quality Program enhancements to the ICH Q10 model to incorporate the additional aspects of cultural excellence and operational excellence.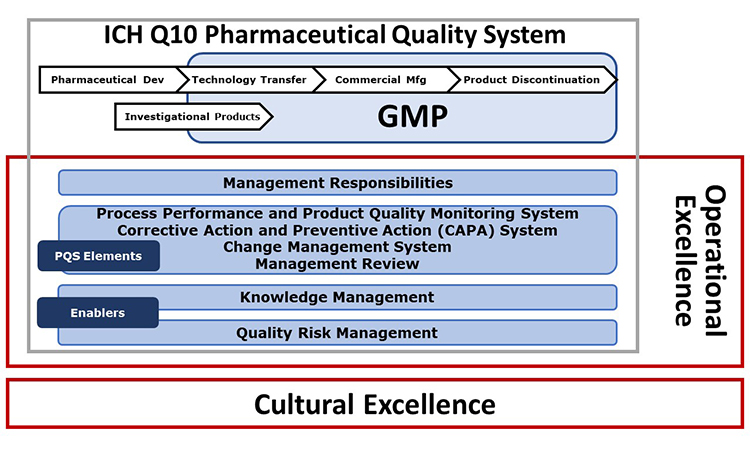 ---
The Advancing Pharmaceutical Quality program is intended to be comprehensive but it is not complex. It has been developed to support organizations to Assess, Aspire, Act and Advance the maturity and effectiveness of their quality management. The guiding principles of the ISPE Advancing Pharmaceutical Quality Program are:
Simplicity
Applicable across all sectors of the pharmaceutical industry
Deliver value and benefits for industry
Use "as-is" company data and site procedures as much as possible
Minimize additional work
Be 'by industry, for industry'
Leverage existing benchmarking, performance management and OPEX methodologies and principles where relevant
The ISPE Advancing Pharmaceutical Quality Program proposes that mature quality systems require the integration of excellence in quality with excellence in operations supported by excellence in organizational culture.
The benefits of the ISPE Advancing Pharmaceutical Quality Program for the various stakeholders are outlined below:
Benefits for Industry
Access to an ICHQ10-based quality maturity framework that can be utilized in full by an organization to understand the impact to the overall performance of the organization of their quality maturity assessment, KPI application, and improvement actions
Supports sustained, continual improvement of a firm's PQS
Benchmarking and best practice sharing to accelerate progress, for example using either the St Gallen Advancing Pharmaceutical Quality Benchmarking tool or Full Operational Excellence (OPEX) benchmarking program
Benefits for Patients and Consumers
Increased reliability of supply of quality product
Benefits for Health Agencies
Better insight into industry's focus and current expectations regarding critical quality areas for advancing pharmaceutical quality
Benefits for ISPE
Source of educational and training materials and ongoing publications.
Building an Advancing Pharmaceutical Quality good practice community for knowledge sharing and support
Benefits for Research
Increased data availability for researching the impact of quality maturity on plant performance
The overall ISPE Advancing Pharmaceutical Quality Program comprises of this structured self-assessment and self-improvement framework, an independent benchmarking process and a envisions a future community of practitioners sustaining these improvements by coming together in a range of knowledge transfer forums to sharing best practice, case studies and resources.
The Advancing Pharmaceutical Quality self-assessment tool is a deep diagnostic which can be used to evaluate the current state of quality management maturity against a 5-level maturity model and then set objective and measurable goals in a resourced improvement action plan. The included St.Gallen OPEX benchmarking tools can be used to demonstrate evidence of the benefits to the business arising from the improvement actions taken.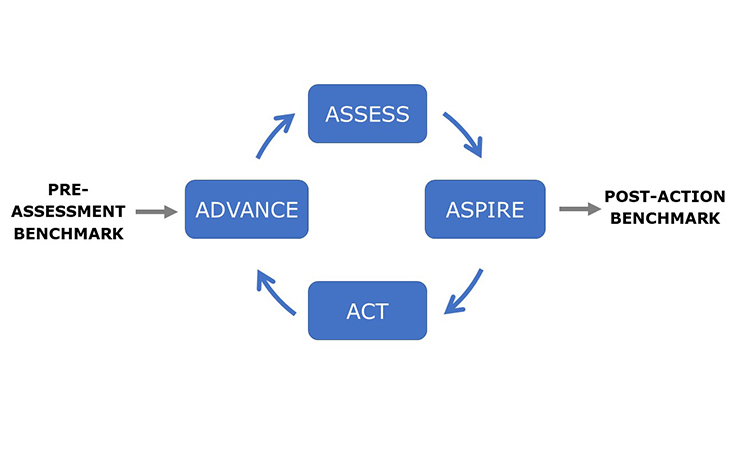 ---
The ISPE Advancing Pharmaceutical Quality Program provides specific guidance on how to assess and improve each element of the Pharmaceutical Quality System using the new Advancing Pharmaceutical Quality Assess, Aspire, Act & Advance Framework, shown in Figure 2.
The ISPE Advancing Pharmaceutical Quality Program will be presented in the upcoming ISPE Annual Meeting & Expo taking place on 2 – 6 November 2020. For more information on the ISPE Advancing Pharmaceutical Quality Program, please contact the Advancing Pharmaceutical Quality Team chair Tami Frederick.