Digital Transformation at the 2023 Annual Meeting & Expo
Line Lundsberg-Nielsen, PhD
Mark O'Connor
Robert E. Perks, MSc, CEng
Charlie C. Wakeham
Digital Transformation (DT) is impacting every aspect of our personal and professional lives, so it was no surprise that nearly one-third of all presentation proposals for this year's ISPE Annual Meeting involved DT topics. It is a testament to the breadth of DT that there are three ISPE Communities of Practice (CoPs) operating in this space, each of whom had submitted high-quality proposals.
Digital Transformation is the possibility that digital technologies can facilitate efficiency gains and increased customer satisfaction, but many assume just applying the technology automatically results in those improvements. As stated in the article "Digital Transformation is not about Technology" in the Harvard Business Review in 20191 "if people lack the right mindset to change and the current organizational practices are flawed, DT will simply magnify those flaws." That is why DT is not just about implementing smart technology, but rather a shift in our quality mindset and ways of working.
It was therefore paramount in our selection process to identify and sponsor those proposals that reflected how success was achieved by developing best practices rather than simply digitizing existing inefficiencies.

To err is human, but to really foul things up you need a computer
The ISPE GAMP® CoP has been prolific in disseminating pragmatic guidance on the use of computerized systems in regulated industries without which DT could not happen. Despite the light-hearted heading to this paragraph, the original need for GAMP® originated some 30 years ago when a series of serious patient safety events occurred, firstly when a bug in a radiation therapy machine caused painful deaths from radiation burns for four patients and left two more with lifelong injuries, but also a few short years later when a bug in data management software controlling a blood-bank could have led to the release of AIDS-infected blood to patients.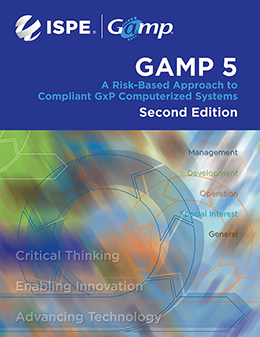 In their session CSA - Opportunities for GAMP® 5 Second Edition and Part 11, key GAMP® and CSA leaders examine the impact of GAMP® 5 Second Edition on the industry in the 15 months since its publication and how being compliant with 21 CFR Part 11 in 2023 differs to accepted practices from 1997 when the regulation was originally published. Moving from a compliance mindset to a quality mindset includes shifting away from precisely matching the phraseology of the regulations to focusing on meeting the intent of the regulations through critical thinking and pragmatic approaches leveraging the innovative technologies available to us now that were so lacking in 1997. With industry KOLs such as Sion Wyn, Heather Watson, Khaled Moussally, and Ken Shitamoto (to name just a few), joined by Cisco Vicenty (a.k.a. the FDA lead on all things CSA), this session brings vital insights into modern approaches to many of industry's long-term problems. I'll save you a seat if you like because it's bound to be a packed-out session!
All Things Connected…
Pharma 4.0™ is a holistic operating model for pharmaceutical factories and supply chains of the future based on Industry 4.0 capabilities, digital maturity, and data integrity by design. Digitalization opens new horizons to achieve new levels of connectivity, transparency, agility, and productivity by applying faster and more accurate information to enable (automated) decision-making. The Pharma 4.0™ CoP has created a Baseline Guide, due for publication in 2024, which will summarize and describe the structured approach for a Digital Transformational Process, and the guide lead Christian Wölbeling and contributing authors will introduce highlights from this guide.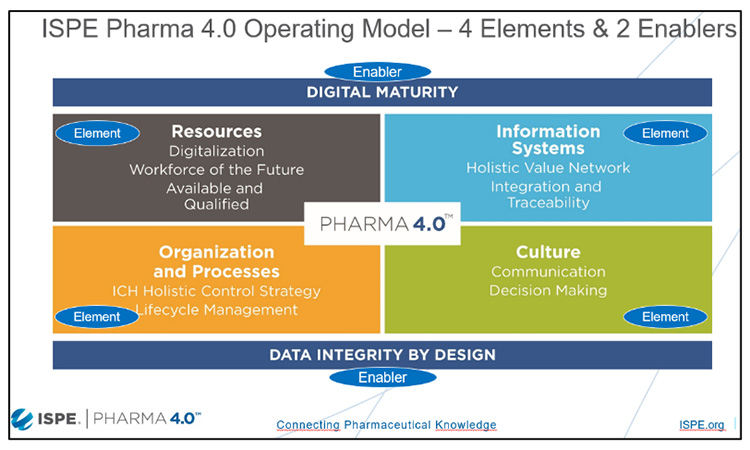 Core to Pharma 4.0™ is the concept of 'Plug and Produce' connectivity, with a dedicated team on this topic led by Wolfgang Winter, and this part of the session will go on to provide practical insights on Pharma 4.0™ Plug & Produce from the perspective of integration and connectivity, and recommendations and lessons learned from proof-of-concept projects on protocols, alignment with other initiatives, and Industry 4.0 concepts.
The Pharma 4.0™ discussion also continues on ISPE Engage, so do head on over and join the CoP.
Predictive not Reactive…
A desire to improve product quality and consistency in manufacturing by better monitoring of critical process parameters to achieve critical quality attributes led to the formation of the ISPE Process Analytical Technology (PAT) CoP in 2005, shortly after the publication of guidance on this topic from the US FDA. The PAT CoP has evolved from initially being purely focused on gaining process understanding to PAT to establishing control strategies based on PAT, which is now an essential tool for live monitoring and control of product quality and process performance in batch and continuous manufacturing. As a consequence, the life cycle of the control strategy (LCS) became essential, and the CoP changed its name to the PAT-LCS CoP.
The first part of the PAT session is a case study by Sebastien Bourgeois from Takeda's Neuchatel site, tying the strategic vision of digitalization in manufacturing to the real-time benefits of PAT. The Digital Twin Model allows monitoring, investigation, and prediction of critical quality attributes (outputs) by varying the process parameters (inputs). Predictive modeling is a key attribute to ensure operational excellence and a robust manufacturing process.
The second part of the session is by the PAT-LCS CoP presented by CoP leaders Line-Lundsberg-Nielsen and Dr. Hubertus Rehbaum, together with her PAT colleagues Andrew Palm. They discuss application of PAT for Real-World GMP Operations. This includes best practices in the design, implementation, and operation of PAT. The design and implementation drive the digital transformation. This includes the IT infrastructure requirements to facilitate the data management under GMP standards, the application of 'classical' PAT based on spectroscopic equipment through to soft sensors, i.e., data-driven analytics, and process insights revealed by PAT back to the control strategy as a holistic instrument.
This promises to be a great session showing how far PAT techniques and technologies have moved pharmaceutical manufacturing from feedback, reactive approaches to predictive modelling for maximum efficiency and yield. ISPE members can join the ongoing PAT journey in the ISPE Engage forum Process Analytical Control & Lifecycle Strategy.
There's no stopping AI and ML
While some technology leaders may suggest a 'pause' on AI, the life sciences industry is forging ahead in its quest for insights through Machine Learning (ML). There are so many great benefits available through AI/ML but its use in a regulated industry also brings in challenges around validation and ongoing control.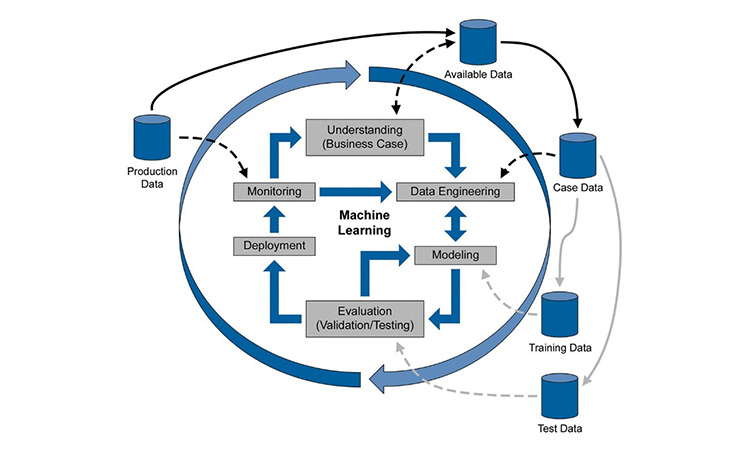 Tatum O'Kennedy will present a use case on how batch insights derived through ML have enabled quantification and root cause analysis of optimization opportunities in a process. With these factors identified, process control, predictions, and optimization are enabled for both processing and business trends.
Harshit Agarwal presents a particular example of predicting and optimizing purification processes to ensure viral safety during the manufacturing of biologics, demonstrating how machine learning-based approaches can be utilized in bioprocessing. The presentation also covers ways in which digital transformation, particularly approaches and methods related to data collection, visualization, and analysis, can be scaled up to an enterprise level, challenges related to the deployment, and approaches that can enhance adoption.
This session includes a panel discussion facilitated by GAMP leaders Eric Staib and Brandi Stockton, both of whom are active AI/ML SMEs and contributors to this topic in GAMP 5 Second Edition.
And there is much to be learned along the way
The final session in the Digital Transformation track is the Digital Journey. Chad Kellner, Kevin Hynes, and Matthew Beu share the vision, ambition, and reality of AstraZeneca's Digitalization Journey. The amount of data generated in pharmaceutical organizations is staggering, but the reality is that much of this data is not properly used and converted into real, usable knowledge for decision making. A good digital maturity framework, associated with a culture of data-driven decision making, can support a company's sustainability vision and goals. The presentation includes a demonstration of the unique integrated solution and framework - the "Facilities Intelligence Dashboard."
Heike Roeder and Dr. Paige Kane examine the need for Cultural Change in support of Digital Transformation. They promote holistic organizational and cultural development during the digital maturity as skill, behaviors, leadership, and organizational set-up will fundamentally change and they go on to demonstrate how typical roles in Quality and operations will change from now toward a data-driven environment. Even the digital transformation effort will fail if it doesn't bring the people on the journey too.
Finally, David Staunton will discuss in Connected by Intent how to take advantage of IT and OT integration to create a river of data flowing from the source of data in the instruments, equipment, and devices, through the IT and OT technology stack to the cloud to create a single source of truth for right first time decision making at all levels of the organization.
See you there
As track leaders, we look forward to you joining us at these sessions and hearing your feedback on whether we selected the right proposals for you for the 2023 Annual Meeting.