Helping Hope Become Reality
Day 2 Recap: 2019 ISPE Annual Meeting & Expo 
The second day of the 2019 ISPE Annual Meeting & Expo kicked off with a fireside chat with a key FDA official about technology and related issues, and two presentations about the industry's move forward to address patient needs through commercialization and scale for new drugs: one addressed the industry at large and what needs to change to commercialize and scale cell and gene therapy, while the other shared an industry executive's more personal journey into the rare disease realm.
Frances Zipp, President/CEO Lachman Consultant Services, Inc., and Vice Chair, ISPE International Board of Directors and incoming Chair for 2020 opened the morning plenary meeting. She pointed out that Annual Meeting is a global meeting, with attendees from 33 countries in North America, Europe, Asia, and Mexico and South America. Seventy percent of attendees are ISPE members and Zipp urged those who have not joined yet to do so. "I grew up in ISPE," Zipp said. As a member, "you gain so much and are able to grow your career."
 
Zipp noted three new offerings at this year's Annual Meeting: the first Hackathon at Annual Meeting took place, offering an opportunity for young pharmaceutical engineers to work on real-world challenges; Discovery Stage, featuring 20-minute demonstrations from 16 presenters; and live streaming of plenary sessions to provide remote access to major sessions at the meeting.
Michael Rutherford, Executive Director—Computer Systems Quality and Data Integrity, Syneos Health, member of the ISPE International Board of Directors, and 2019 Annual Meeting Chair spoke next. He thanked the program committee for their work in putting together the meeting sessions. Then Rutherford said to attendees, "I challenge you to take the knowledge, education, networking, and contacts you establish here at the Annual Meeting and in the Expo hall—take them back to your companies and apply that learning to continue to modernize and globalize and transform our industry."
FDA Fireside Chat
Zipp engaged in a "fireside chat" question and answer session with Amy Abernethy, MD, PhD, Principal Deputy Commissioner, FDA. Abernathy oversees day to day operations and special projects.
Zipp asked Abernethy to share key aspects of her background and the path that led her to the FDA.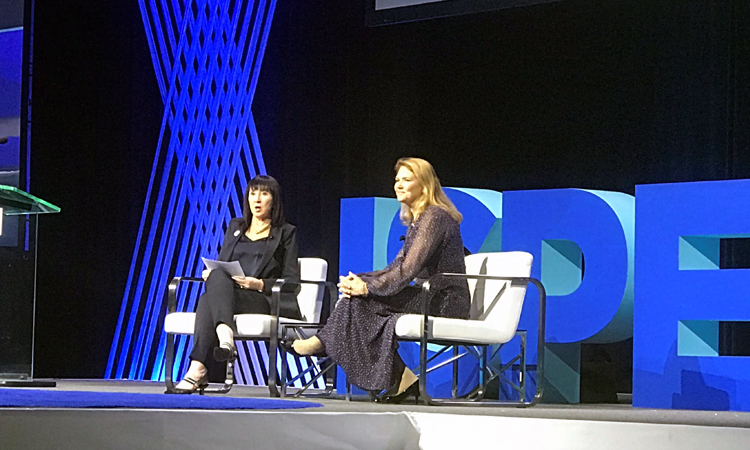 Abernethy said she is an oncologist by background. "My north star is the patient sitting in front of me in the clinic." She said she was "almost haunted: by the inability to get treatments to patients and clinicians. Interoperable data seemed like it could be a way to accelerate clinical trials and research to provide those treatments, but she found the engineering component lacking in development. Abernethy moved from working as a professor to a technology start up learn what it would take to motivate health tech to solve the problem. While she saw it was possible to move forward with health tech, engineering, software, and academia, "FDA was the place with the guideposts." So she chose to go to the FDA  to try to "shepherd the journey."
AI and the Industry 
In response to a question about development around artificial intelligence (AI) and how it may impact the FDA regulated industries, Abernethy shared that her background in data made her understand the FDA could not have a data revolution when she arrived there—the agency needed to be technically ready. Her role since assuming chief information officer responsibilities has been to "lead the charge." 
She outlined the FDA involvement with AI at this time in four areas:
There are AI solutions that the FDA regulates. These are primarily through the device center now.
There are AI solutions that sit next to the regulated work of FDA, such as data curation solutions, better patient matching for clinical trials, and helping automate different aspects of clinical trial conduct.
Considering how AI helps the FDA to do its work better and how to automate, such as scaling work to allow more efficiency, teaching what "good" looks like for better perspective in regulated work.
Considering what technology infrastructure needs to be for computation and scale, and what are appropriate controls and standards.
One example of current use of AI now in the FDA is the Predict program, a rules-based screening program of import entries. Rules get written once year, so there are 10 years of information in this program to work with to create a machine learning solution instead of a rules-based solution.  have 10 years info to work to create machine learning solution instead of rules-based solution. They are following similar steps to automate safety reports and other aspects through the FDA. She noted that CDER is watching the work being done with Predict, and Abernethy is looking to see what central infrastructure will need to look like to be scaleable for drug information. 
FDA Infrastructure 
When asked about whether the FDA is modernizing its infrastructure, Abernethy said that a stepwise path is needed to use data more efficiently. The first step is the technology modernization action (TMAP). Goals are to:
Make sure the FDA has the right infrastructure to be ready for data exchange of future, including "cloud forward plans," and changing culture and teams to allow forward-looking tech;
Focus on use cases, or "living examples that allow us to showcase what it looks like as a more modern, tech-forward agency, and also what we need to build"
Communicate and collaborate with greater stakeholder community to figure out how to talk to that community. 
"We know how to do this with pharma and devices, but we are not yet doing it with the data and tech industries," she said. The purpose of use cases "is to allow us to imagine what the world looks like and see what we need to build now and in the future—it is road-mapping," she said. 
Real-World Evidence 
Abernethy noted that "as an oncologist, real-world evidence is a landscape that I have lived." Real-world evidence is defined as evidence that is generated outside traditional clinical trials, based on real-world data, prospective or retrospective.  It could be electronic health record data or registry information, and may be randomized or not. It is not new—but what has changed, she said, is that there are so many new evidence sources, especially from electronic health records. The FDA's CDER has put out a real-world evidence framework.
Abernethy has made real-world evident a key area of her focus for a long time and anticipates a number of uses will be straightforward, such as clinical trials, who can enroll in them, and understanding how patients perform where they would otherwise not likely be in a clinical trial, such as kidney or liver failure. But using real-world evidence as control for clinical trials or to replace them? "There's a long way to go," she said, before that would happen. 
Moving to Mass Production
The second presentation at the plenary, "How to achieve industrialization and bring curative therapies to the masses," provided a direct perspective of what the industry must do to move ahead in scaling and reaching more patients with needed therapies. 
Alberto Santagostino, Senior Vice President, Head of Cell and Gene Technologies at Lonza Pharma & Biotech noted that the current standard of care is bad. "People die. With a new modality, people stop dying. It's transformational."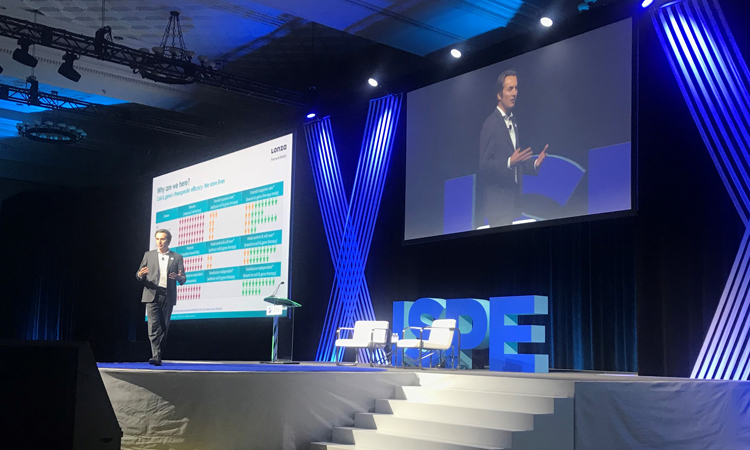 The environment is positive for making this transformation, he said. "Regulatory bodies have rarely been so favorable: they are enabling the industry, going a long way in supporting and creating an environment making these therapies possible."  
Another change in the current environment: "The game is different: CMC technical development is on the critical path. Large pharma companies are coming into the cell and gene therapy market, joining the small biotechs who began it. There is growth in viral vector, autologous, and allogeneic therapies. 
"We are at an inflection point," Santagostino said. Today, about 800 active INDs are on file now, moving to 200 INDs per year by 2020; by 2025, it is projected that there will be 70 to 90 approvals of cell and gene therapy.
The industry is not ready to manufacture to scale and to commercialize he said. Cell and gene therapy are still slow, manual, unscalable processes at the commercial stage.
To move beyond this, Santagostino encouraged attendees to consider three elements to make cell and gene therapies commercially viable: robustness, cost, and platforms. 
Robustness may be the most important of these, he said. It is another scale of complexity: diversity of underlying technology and actual products, lack of industrialized manufacturing processes and platforms, and different asset requirements based on technology/process. It is important to have scientific validation and have something that works, he said.
"We need to think hard about process development,"  Santagostino  said. "You would not build a house without a blueprint." Similarly, the industry must have a blueprint for how it will scale cell and gene therapy production. 
Cost is the second element. He asked attendees to consider that history repeats, and to remember the development of mAbs and recombinant protein industrialization. "The journey has changed" and the cost to manufacture went from thousands to fewer dollars. He expects the same changes to happen for cell and gene therapy, with the difference that cell and gene therapy is more complex. "It's not just optimization of throughput! Optimization for complexity is also an exercise. Multiple viral vectors, cell therapies, set ups, every process is different from the others." 
Nevertheless, mass customization is needed. He noted that demand forecasting can be challenging as well and differs from demand and production that can usually be predicted years out with traditional therapies. Curative therapies will be a bell curve, to a quick prevalence peak, then only new incidence remains.
The final element to consider is platforms, which "are at the core of the future," he said. "We are far from something that we can call a platform in cell and gene therapy." 
In closing, Santagostino said that "manufacturing will be in spotlight. We need to create an industry, and industrialization will be the answer. It will be a journey. Keep in mind it will be industrial mass customization, like the automobile industry: individual products for individual patients. Technical and process development is on the critical path. We must do it to have sustainability.
A Personal Quest
The final plenary speaker shared his journey into seeing solutions to his children's illness, which led to the development of two pharmaceutical companies and a business approach favoring compassion. John Crowley, Chairman and CEO, Co-Founder, Amicus Therapeutics, shared his story in "When Drug Research is Personal: A Lifetime Journey to Discover, Create and Manufacture Medicines for Rare Diseases." 
Two of Crowley's children were diagnosed with Pompe disease, which started him on the road to seek treatments. He started a biotech company and raised funds to initiate research into drugs to treat the disorder. His story was captured in two books and a movie adaptation, Extraordinary Measures (2010). 
His journey was one of entrepreneurship, and Crowley shared traits of great entrepreneurs.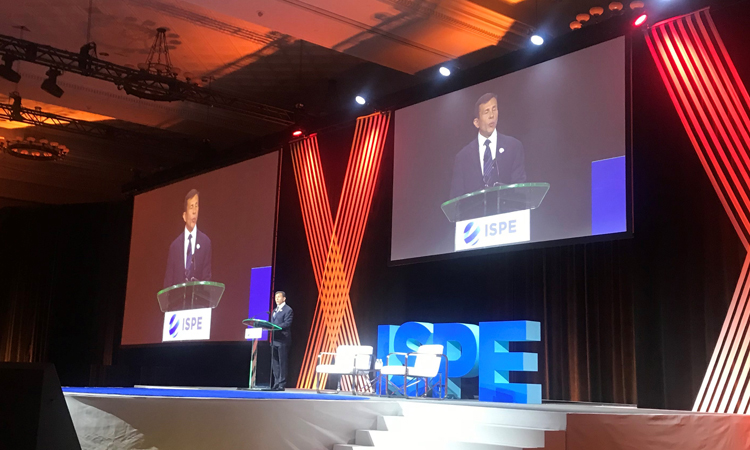 He noted the challenge to the industry. "Biopharma is in a tough place. On one hand, there are great opportunities to extend and enhance human life. On the other hand is public perception." Regaining public trust and putting the focus on patients is needed.
When his two young children were diagnosed in 1998 with Pompe disease, a rare form of muscular dystrophy, Crowley and his wife went through what he termed a journey that was not unique: the shock, grief, denial, and anger of other families receiving devastating news about a rare disease. They chose to learn all they could, then to seek a researcher who could provide hope that could change the course of the diagnosis. Crowley found researchers in academia, started a small company to develop a drug using a $100,000 home equity loan. His company, Novazyme, was later acquired by Genzyme Corp, which helped bring the drug to market in 2006.This was not a cure and Crowley's daughter and son are still affected by the disease, but the drug saved their lives, and gave them more years and a better quality of life. Both are grown now and while they require round the clock nursing care, wheelchairs, and ventilators, they are "bright, precocious, and tough" and living their lives: daughter Megan graduated from Notre Dame and is pursuing graduate studies, son Patrick lives at home and holds down two jobs. 
The great entrepreneur traits that Crowley demonstrated in his quest for medical solutions for his children start with hope "for those who don't know they need hope," he said, paraphrasing Christopher Reeve, who he heard speak at a conference early in his quest for a treatment for his children. Another quality is persistence: "this is a really tough business. We must deal with not only market competition, pricing, regulatory; basics of our science and tech translated all the way to process science. Everything we try [often)]doesn't work. But when it does, it can have profound effects to alleviate an enormous amount of human suffering." Optimism is another factor. Believing that the therapy will work is important—as is communicating it to everyone in your company and to patients. This is not blind optimism and often is against tough circumstances. 
"We need to take these traits forward in the industry," he said, noting that according to a recent Gallup poll, more people had a negative view of the pharma industry than any other. 
"We're now at major inflection point in the industry: what, for whom, and how fast, can we translate the great science. We need to ensure access for everyone living with a disease who may benefit from a medicine," Crowley said.
"We have moral obligation: affordable and accessible medicine. We need a new social compact explicitly stating what we do is different. It is an extension of medicine: we provide doctors and nurses with tools to heal. We need to put patients above profits."
His company is trying to live this, although he said Amicus is not doing this perfectly. Started in 2005, the company seeks to develop medicines for many rare diseases. A drug to treat Fabry disease has been developed, and the company is working on a Pompe disease medicine. With about 600 people in 27 countries, "we still have a big vision for what we want to build—we don't want to look back and think we dreamed too small."
Amicus, a public company since 2007, includes patient-centered approaches that include:
Patient advisory boards for every disease; 
A C suite Chief Patient Advocate who with her team "are the company's conscience. They are there to build a patient-centered culture";  
Access forever policy that provides medication for life for those who participate in studies to develop drugs; 
Fair price and broad accessibility. "With an approved product, we have to live it," Crowley said. When the drug for Fabry disease was approved and launched, the company promised that annual price increases would never be above the consumer price index.
Pledge to a cure. From an approved medicine, the company will take a meaningful portion of revenue and invest it back into that specific disease until there is a cure.
The final entrepreneurial trait that Crowley's company embodies: "Be empathetic, feel the hope of another." 
Disclaimer
This article contains an abridged, unofficial summary of an FDA regulator's responses during a discussion at a conference that has not been vetted by the agency. The responses are an informal and brief synopsis of the regulator's views, and do not represent official guidance or policy of the FDA.