ISPE's Advancing Pharmaceutical Quality (APQ) program is an industry-led quality management maturity assessment and benchmarking program that provides a practical set of tools and systematic approaches for organizations to advance the effectiveness of their PQS. The program is aligned with international initiatives that promote quality excellence, as well as with the FDA's focus on quality management maturity and rating the maturity of manufacturing facilities.
ISPE's APQ Program:
Recognizes that the ability to advance quality management maturity lies within the industry itself (developed by industry representatives for use by industry)
Builds upon the ICH Q10 model and enhances the PQS elements with the aspects of cultural excellence, operational excellence (OPEX), knowledge management, and continual improvement
Provides a comprehensive approach for assessing and improving an organization's quality management maturity to advance the state of quality within the organization
---
Good Practice Guides
The program consists of five Good Practice Guides: one for each of the four elements of an ICH Q10 Pharmaceutical Quality System plus Cultural Excellence, bookended by an optional benchmarking tool developed by University of St. Gallen.
The APQ Program was developed by ISPE members and evolved from the ISPE Quality Metrics pilots, representing extensive industry engagement, collaboration with academia and other associations, and knowledge sharing with regulatory agencies.
APQ Framework Overview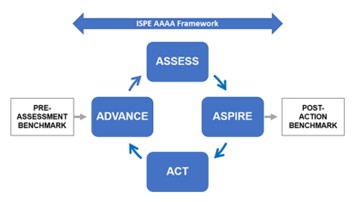 At the core of the APQ Program is the Assess, Aspire, Act and Advance framework. Each APQ Guide contains quantitative and qualitative tools to assess the organization's current state of quality, diagnose gaps, and identify improvement targets – Assess and Aspire. The Guides explain how to use this information to develop an Improvement Action Plan that the organization can execute and evaluate for effectiveness – Act and Advance.
---
APQ Resources
Articles
Webinars
Related Publications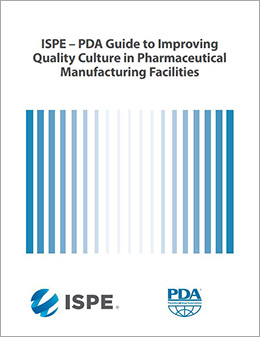 Module1: Root Cause Analysis Guide to Improving Quality Culture in Pharmaceutical Manufacturing Facilities: Root Cause Analysis
Published: 2019
Pages: 10
Quality Culture has always been important within pharmaceutical manufacturing operations. Strong companies know this and have invested resources in systems and personnel to support and promote a focus on quality processes, product quality, and meeting patient needs. More recently, health authorities have placed additional emphasis on quality culture by including it in guidance documents and inspection protocols such as PIC/S Data Integrity Guidance , FDA New Inspection Protocol Project (NIPP) , and MHRA Data Integrity Guideline.
ISPE and the Parenteral Drug Association (PDA) have jointly developed this guide which identifies specific aspects of quality systems and culture and recommendations for tools, techniques, and processes.