Welcome
EMBRACE. EVOLVE. EXCEL.
We believe the theme of this Annual Report really captures the spirit of what ISPE has accomplished as a Society in the past year. 
We EMBRACED change as we launched several new initiatives, including the ISPE Foundation, a new website, and a conference in the Asia Pacific region.
We EVOLVED as we watched budding programs like Women in Pharma® and our Young Professionals communities grow and mature. 
And we EXCELLED in our efforts to deliver world-class education to our members and the 
industry through our conferences, training, and publications, including hosting our largest-ever Annual Meeting & Expo in San Diego.
In nearly all areas of the organization, ISPE experienced real growth in 2017.
Global membership surpassed 18,000 members.
We enjoyed our largest-ever annual conferences in both the U.S. and Europe.
We published the largest number of Guidance Documents since 2012, strengthening our library of technical documents—already considered the gold standard in our industry.
But we couldn't have done it without the efforts of our tireless volunteers, our dedicated members, and our great staff in North America and abroad.
We're looking forward to what 2018 holds for ISPE as we move our publications to digital environments, explore the next frontier of the industry via Pharma 4.0 and Facilities of the Future, and launch programs to support the Workforce of the Future sponsored by the ISPE Foundation.
The staff and leadership of ISPE are working hard to create the best professional association we can for our industry. But we need your help to do it. We encourage all members to get more involved with YOUR Society in 2018. Volunteer for a committee, contribute to creating a Guidance Document, or simply invest in the future by donating to the ISPE Foundation.
Together, we'll continue to EMBRACE, EVOLVE, and EXCEL in 2018 and for many years to come.
---
New Initiatives 
ISPE Foundation
The success of tomorrow depends on the preparation of today's pharmaceutical professionals, so—in recognition of the importance of lifelong education, training, and research—ISPE announced the launch of the ISPE Foundation in 2017. Funded by the generosity of donors, the Foundation champions ISPE's mission—to serve diverse global communities by advancing, disseminating, and applying knowledge benefiting the industry and the patients our members serve—through three primary initiatives that will influence our future: Building the Workforce of the Future. Empowering Women and Increasing Diversity and Global Knowledge Exchange.
Women in Pharma at ISPE
The Women in Pharma® (WIP) community continued to strengthen and grow in 2017, with a focus on providing women in the pharmaceutical industry a common forum on which to connect and collaborate. The community's 2017 activities featured mentoring, educational sessions, and social and networking opportunities, all of which helped women in the industry achieve career success and work-life balance.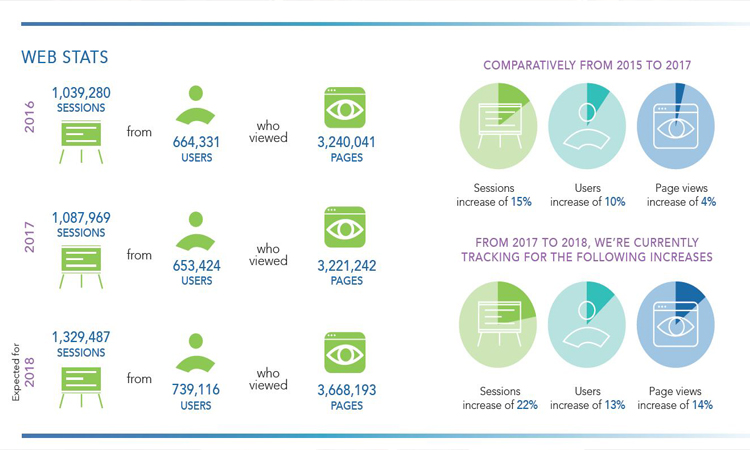 Taking ISPE's Global Growth to the Web
In 2017, we launched an entirely redesigned website to better reflect all that ISPE has to offer—incorporating streamlined navigation; clear design; enhanced searchability; improved accessibility to Chapter, Affiliate, and Communities of Practice sites; and a responsive layout.
Young Professionals Efforts Grow
With many of ISPE's Young Professionals (YP) groups first established in 2016, 2017 marked a year of growth for members who are either just starting out their careers in pharma or are making a career change.
---
Membership Map 
An association is nothing without its members, and ISPE closed out the year in 2017 with nearly 18,000 members, continuing the growth pattern of the last several years. Even more impressive—and indicative of our ability to accurately gauge and meet modern members' needs worldwide—we've seen an 11 percent increase in our member retention rate since 2013—an enormous accomplishment in a world with ever-increasing distractions and options.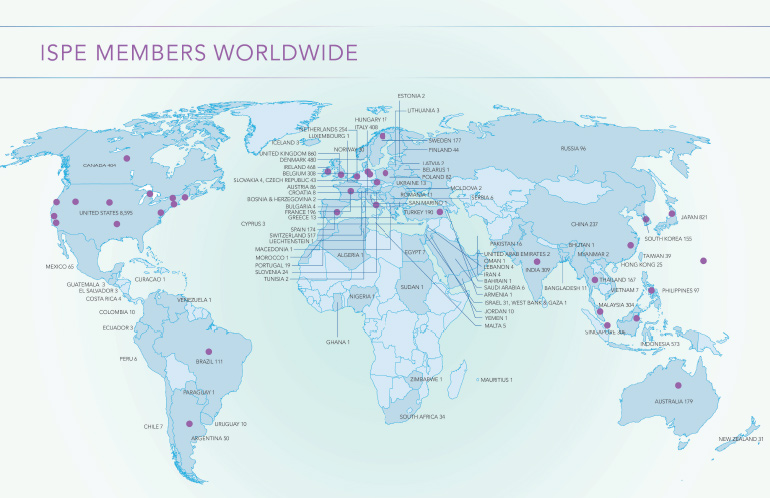 Membership by the Numbers

Argentina Affiliate (66); Australasia Affiliate (209); Belgium Affiliate (321); Boston Area Chapter (1531); Brazil Affiliate (114); Canada Affiliate (392); Carolina-South Atlantic Chapter (1210); Chesapeake Bay Area Chapter (292); China(271); Czech Republic/Slovakia (55); Delaware Valley Chapter (897); France Affiliate (219); Germany/Austria/Switzerland (1223); Great Lakes Chapter (710); Greater Los Angeles Area Chapter (407); India Affiliate (315); Indonesia Affiliate (574); Ireland Affiliate (472); Italy Affiliate (438); Japan Affiliate (822); Korea Affiliate (153); Malaysia Affiliate (299); Midwest Chapter (521); Netherlands Affiliate (247); New Jersey Chapter (870); Nordic Affiliate (738); Pacific Northwest Chapter (138); Philippines Affiliate (100); Poland Affiliate (82); Rocky Mountain Chapter (331); San Diego Chapter (338); San Francisco/Bay Area Chapter (847); Singapore Affiliate (333); South Central Chapter (231); Spain Affiliate (189); Thailand Affiliate (168); Turkey Affiliate (195); UK Affiliate (866)

Boston Area Chapter includes Massachusetts, Connecticut, Rhode Island, Maine, Vermont, New Hampshire, and Upstate New York; Carolina-South Atlantic Chapter includes Alabama, Florida, Georgia, North and South Carolina, and Tennessee; Chesapeake Bay Area Chapter includes area in and around Baltimore, MD, Washington, DC, and Northern Virginia; Delaware Valley Chapter includes Eastern Pennsylvania, Southern New Jersey, Delaware, and part of Maryland; Great Lakes Chapter includes Ohio, Indiana, Illinois, Michigan, Wisconsin, and Kentucky; Greater Los Angeles Area Chapter includes Los Angeles, Orange, Ventura, and Riverside Counties; Midwest Chapter includes Missouri, Kansas, Iowa, Nebraska, and Minnesota; New Jersey Chapter includes New Jersey, New York, and Northeastern Pennsylvania; Pacific Northwest Chapter includes Washington and Oregon; Rocky Mountain Chapter includes Colorado and Utah; San Diego Chapter includes Southern California and north to Orange County; San Francisco/Bay Area Chapter includes Northern California; South Central Chapter includes Texas, Oklahoma, and Louisiana.
---
Guidance Documents 
ISPE Guidance Documents, today acknowledged as the gold standard for the pharmaceutical manufacturing industry's technical content, have been offering practical answers to the complex, dynamic challenges facing pharmaceutical operations and facilities around the world since the first Guide, the ISPE Baseline® Guide: Volume 1 - Bulk Pharmaceutical Chemicals, was published in 1996. In 2017, ISPE published six Guides—the most we have published since 2013—expanding our efforts to meet the growing demands of the industry and ensuring a solid base for training programs that inevitably spring from these expertly written Guides.
---
Awards 
13th Annual ISPE Facility of the Year Awards 
ISPE's Annual Facility of the Year Award (FOYA) program recognizes the accomplishments, commitment, and dedication of companies worldwide that demonstrate innovation and the advancement of pharmaceutical science and manufacturing technology.
2017 International Honor Awards
Honoring our own and celebrating the best in our industry is, we believe, about far more than plaques and glittering awards. Rather, ISPE's International Honor Awards program allows us the opportunity to thank and honor the individuals who have served as mentors and inspirations. It gives us—by highlighting the notable achievements of extraordinary people and companies—something to strive for. And, it provides a platform for advancing the incredible work and advancements that our members and member companies have made in their respective fields and industry.