Cultural Excellence
The influence of an organization's quality culture has emerged as a key enabler from the recent public discourse on measuring performance and quality metrics for delivering outcomes that matter to the patient.
Cultural excellence requires that all employees are passionate about eliminating mistakes by making quality their driving principle.  It goes beyond following the content of the quality policies and procedures by creating an environment that is focused on continuous improvement and learning.
Examining the powerful force that culture exerts on day-to-day operations within organizations, ISPE's Quality Culture Team has established that although for many the concept of quality culture remains abstract, the behavioral impacts are very real indeed.
ISPE's Cultural Excellence Team has developed a collection of practical, powerful tools and a comprehensive behavior-based approach for improving quality culture as a means of delivering enhanced quality outcomes.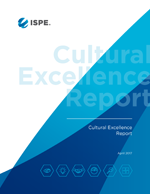 ---
Guide to Improving Quality Culture in Pharmaceutical Manufacturing Facilities
Quality Culture has always been important within pharmaceutical manufacturing operations.Strong companies know this and have invested resources in systems and personnel to support and promote a focus on quality processes, product quality, and meeting patient needs. More recently, health authorities have placed additional emphasis on quality culture by including it in guidance documents and inspection protocols such as PIC/S Data Integrity Guidance , FDA New Inspection Protocol Project (NIPP) , and MHRA Data Integrity Guideline.
ISPE and the Parenteral Drug Association (PDA) have jointly developed this guide which identifies specific aspects of quality systems and culture and recommendations for tools, techniques, and processes.