8 March 2023 | #EmbraceEquity
Today, and every day, ISPE's Women in Pharma is working to create an equitable pharmaceutical industry!
Equal opportunity for equal effort remains the goal for ISPE's Women in Pharma initiative, with women and their allies paving the way for a more equitable workforce.
Through global collaboration, important conversations, and educational resources, we continue to strive to create an industry where diversity of thought thrives and stereotypes take a back seat.
Here's How We'll Work to Create a More Equitable Pharmaceutical Industry in 2023:
We will highlight women and their contributions to the pharmaceutical industry through Women in Pharma International Programming.
We will connect women, and other underrepresented groups, on a global level to maximize their reach and impact.
We will empower our Affiliates and Chapters to provide women, and other underrepresented groups, the support and guidance they'll need to have their voices heard and maximize their impact.
We will provide opportunities for growth and understanding for all members of the pharmaceutical industry to ensure inclusivity and equitability.
We will empower allies to use their voice, influence, and power to create a path rooted in equal opportunity for equal effort, regardless of gender, race, or ethnicity.
How Will You #EmbraceEquity today, and every day?
Download the graphics below and share your commitment to a more equitable pharmaceutical industry online. Be sure to tag ISPE, and use the following hashtags: #EmbraceEquity #ISPEWiP
---
The Bags Are Back!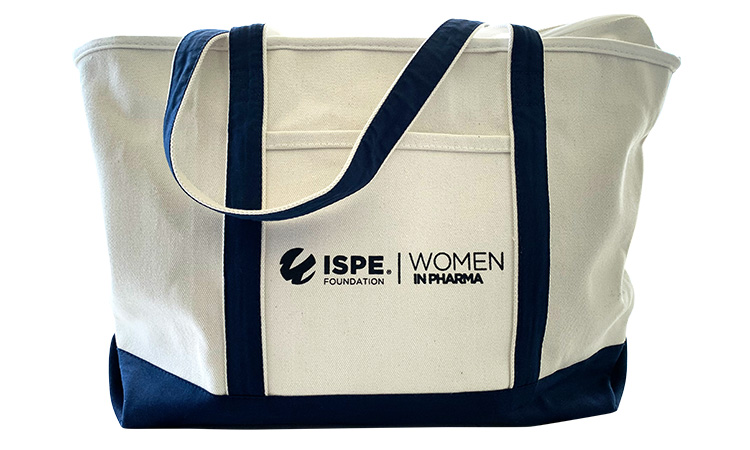 In celebration of International Women's Day, and back by popular demand, the Women in Pharma tote bags are back for a limited time only! Be sure to use the code IWD23 at check out when signing up or renewing your ISPE membership to receive this exclusive bag! Hurry! Only 100 available worldwide.
Disclaimer: not available for student members; Open to new and members within 90 days of renewal; You must join the Women in Pharma Community of Practice to be eligible to receive the bag.
---
International Women's Day Campaigns
2022: Break the Bias
2021: Choose to Challenge