Practical Application of Computerized Systems Compliance: Applying the GAMP® 5 Guide: A Risk-based Approach to Compliant GxP Computerized Systems (T11)
Overview
This highly interactive classroom workshop gives participants hands-on experience in applying practical techniques and solutions to solve computerized systems compliance challenges. Participants will discuss and analyze case studies, apply newly acquired knowledge to hypothetical case-study systems, and have the opportunity to discuss their own real-life challenges with other participants and an expert trainer. Participants should come prepared to work in groups to devise workable and creative solutions to realistic problems and case study scenarios, facilitated by the instructor.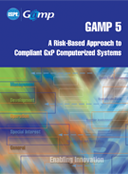 Immediately apply the course learning objectives using the electronic download of the GAMP® 5 Guide: A Risk-based Approach to Compliant GxP Computerized Systems you'll receive by attending this course.
Highlights of the course include:
Overview of key themes and concepts in GAMP® 5
Understanding the business and manufacturing process and the overall GxP Risk
Developing a strategy and writing a Computerized Systems Validation Plan
Supplier assessment and leveraging supplier knowledge and documentation
Choosing a suitable specification and verification approach
GAMP® 5 Quality Risk Management approach (based on ICH Q9)
Specific risk assessment tools for computerized systems
Selecting a suitable lifecycle and scaling the lifecycle based on risk, complexity, and novelty
Dealing with end user applications, including spreadsheets
Dealing with existing (Legacy) systems, by applying GAMP® 5 principles
Regulatory hot topics
Question and answer session to address any outstanding issues
This course was developed by members of the ISPE GAMP® Community of Practice. GAMP® was established by industry leaders to interpret and improve the understanding of regulations governing the use of computerized systems in pharmaceutical manufacturing.
Includes Webinar
This course includes a pre-recorded Webinar that provides a review of the basics prior to the classroom course. Access information will be provided via email one week prior to the start of the training event.
At the conclusion of this Webinar, participants will be able to:
Understand why the industry developed the GAMP® guidance, the objectives of the Guidance, the history of the GAMP® initiative and how it has evolved
Review the structure and content of GAMP® 5
Define key GAMP® 5 themes, concepts, and the GAMP system Life Cycle
Course Modules
Introduction and Overview
Industry Trends and Updates
Key Concepts
Lifecycle Activities
Regulated Company Activities & Supplier Assessment
Quality Risk Management
End User Applications
Applying GAMP® 5 to Legacy Systems
Take Back to Your Job
Build upon and expand understanding of the regulatory requirements and expectations for the compliance of computerized systems used in pharmaceutical manufacturing
Apply this understanding to example systems and case studies
Analyze case studies and apply the GAMP® 5 process for achieving compliance and fitness for intended use
Apply quality risk management and risk assessment concepts
Attendance Suggested For
Quality assurance and quality control specialists, validation specialists, manufacturing supervisors, technical support personnel, engineers, MIS professionals and all levels of management who need a practical understanding of computerized system compliance
Computer system vendors or consultants, engineering contractors, and validation service companies
Those who have previously attended a GAMP® Basic Principles training course or those whose practical experience has provided the equivalent level of knowledge
Community of Practice (COP)
This Training course is of particular interest to existing and future members of the ISPE GAMP® Community of Practice (COP).
---
Daily Schedule and Pricing
This course is not currently scheduled, but may be offered at your company site. Please
contact ISPE
for more information