OSD: Operations, Quality, Equipment and Technology (T10) – Updated!
Overview
This training course examines current technology and provides scenario-based exercises for system troubleshooting and investigational events for process deviations, discusses quality management and GMP inspection preparation, and provides guidance on advanced asset lifecycle management strategy. Using a Process and Production Video Simulation for Unit Ops, including Mixing, Blending, Drying, Sizing, Tableting, Encapsulating and Coating provides participants with a visual demonstration of current manufacturing and engineering practices. The simulation will vividly present real-time experiences for identifying and analyzing the problem to identify the root cause and present solutions. A case study for production related issues and concerns will also be utilized.
---
What You Will Learn
Understand the three main OSD processing methods: Direct Compression, Wet Granulation and Dry Granulation and complete a detailed review of all the major unit operations associated with OSD manufacturing processes including: Ingredient Dispensing/Formulation; Blending; Granulation; Drying; Compression/Encapsulation; Coating; Packaging and Receiving/Warehousing Operations.
A comparison of technical approaches and the different methods for OSD drug product manufacturing to identify the types of OSD manufacturing equipment and the technology advancements for achieving higher performance.
An overview of product characteristics and how they dictate the unit operations method.
The ability to know how to effectively utilize process monitoring techniques during scale-up and technology transfer to advance the delivery of drug products.
A summary of the principles of QbD in OSD manufacturing processes and how GMPs influence unit operations and subsequent equipment design, production suite design, control and monitoring requirements.
An analysis of PAT, MES, CMP, PPP, and PLC.
---
Resources and Activities
Pre-Course Work Materials
Interactive Exercises
Learning Assessments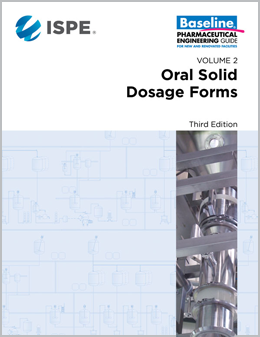 ---
Course Modules
Overview and Expectations, OSD Trends of Operational Integration and Continuous Manufacturing
Process Development Scale-Up
Manufacturing Processes
Mixing and Blending
Granulating Technologies
Drying and Sizing
Process Analytical Technologies
Tableting
Compacting
Encapsulating
Coating
Packaging
Facility and HVAC
---
Who Should Attend
Professionals working with the biotechnology, pharmaceutical and nutraceutical industries (R&D, pilot plant and scale up manufacturing), equipment suppliers, warehousing and distribution, technology and engineering.
Professionals in quality management and those working with inspectors and regulatory agencies.
Individuals with significant expertise from another industry who need to learn about solid dosage operations and those with new solid dosage responsibilities that want to gain advanced understanding of manufacturing operations and equipment applications, packaging, warehousing, distribution, quality control and management.
---
Additional Course Details
Current manufacturing challenges for OSD forms (tablets and capsules), that include Quality, Safety, and Productivity (QSP) continue to be paramount. This interactive course focuses on the quality controls, new technical advancements, production management and operational excellence for raw materials, processes and applications to improve manufacturing.
Technological advantages and opportunities, manufacturing strategy, innovative process and business development practices will be discussed along with a review of common problems in compliance, supply, and business management to address common concerns and issues with current manufacturing practice, for example, poor solubility of API and the impact assessment of the bioavailability of drug products, especially the efficacy of generic drug products to ensure the product is performing as intended.
The effectiveness of API controlled-release and drug product shelf-life require extensive knowledge of formulation development and mixing/blending processes and the knowledge of coasting application for quick release and delayed/controlled release of ingredient(s) will be reviewed.
Further, the course will emphasize the concepts of product, process, and protection (PPP) by applying right technology, right equipment and right quality management systems to align with the business unit operation. In addition, PAT (process analytical technology), MES (manufacturing execution system) and CMP (continuous manufacturing process) modular PLC (programmable process controller) and monitoring integration techniques will also be discussed and demonstrated.
Specific equipment types and technology used in modern manufacturing processes, for example, a discussion on granulation will include application criteria and technology advantages for different types of granulators (low shear, high shear, top drive, bottom drive, integrated processing trains) and typical challenges encountered during operation and scale-up will be reviewed. 
Additional content includes a review of known techniques for process monitoring with particular emphasis on their utilization in scale-up and technology transfer; an analyzes of the necessary steps in the packaging operation to get from the finished tablet or capsule to the final filled and sealed container. Also covered will be an introduction to packaging equipment for tablet/capsule counting, capping, security seals and bands, labeling, blister packaging, and serialization will be discussed.
Communities of Practice
This training course is of particular interest to existing and future members of the ISPE Oral Solid Dosage Community of Practice (COP).
---
Daily Schedule and Pricing
25 - 26 Oct 2023

Daily Schedule at a Glance

| | |
| --- | --- |
| 0830 – 0845 | Login |
| 0845 - 0900 | Introductions |
| 0900 - 1030 | Course Content & Exercise |
| 1030 - 1045 | Break |
| 1045 - 1215 | Course Content & Exercise |
| 1215 - 1300 | Lunch |
| 1300 - 1430 | Course Content & Exercise |
| 1430 - 1445 | Break |
| 1445 - 1615 | Course Content & Exercise |
| 1615 - 1630 | Wrap-up, Questions, Discussion  |

| | |
| --- | --- |
| 0830 – 0845 | Login |
| 0845 - 0900 | Recap |
| 0900 - 1030 | Course Content & Exercise |
| 1030 - 1045 | Break |
| 1045 - 1215 | Course Content & Exercise |
| 1215 - 1300 | Lunch |
| 1300 - 1430 | Course Content & Exercise |
| 1430 - 1445 | Break |
| 1445 - 1615 | Course Content & Exercise |
| 1615 - 1630 | Wrap-up, Questions, Discussion  |

Registration Fee

*ISPE Membership is required for these registration rates.

---

Now Your Whole Team Can Participate in an ISPE Learning Experience

3 - 5 participants - Save 10%
6 - or more participants - Save 20%

Group discount applies to Member/Nonmember rate only. To qualify, all registrant information must be submitted at the same time. Registrations that arrive later will NOT be eligible for the group discount. Cannot be combined with other offers. To register as a group, please contact ISPE by telephone, +1-813-960-2105 or by email, ask@ispe.org.

---

Cancellations/Refunds

Cancellations must be made in writing. If cancellations are received by 60 days prior to event start date, a full refund, minus a $150 handling fee, will be issued. After that time, no refunds will be granted. Please be advised that if your payment or written cancellation notice is not received prior to the cancellation date, your credit card will be charged the prevailing rate. Refund requests must be in writing and emailed or faxed to +1 (813)-264-2816. (Telephone messages are not accepted). ISPE reserves the right to modify the material or presenters for this event without notice, or cancel an event. If an event must be canceled, registrants will be notified by ISPE. ISPE will not be responsible for airfare penalties or other costs incurred due to cancellation.